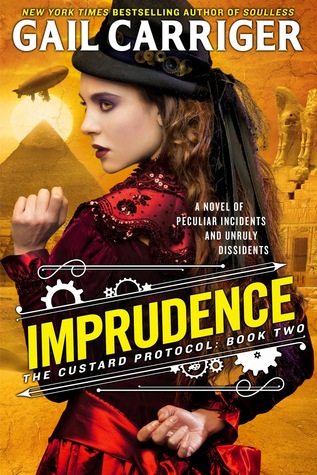 From New York Times bestselling author Gail Carriger comes the stunning sequel to Prudence. Rue and the crew of the Spotted Custard return from India with revelations that shake the foundations of England's scientific community. Queen Victoria is not amused, the vampires are tetchy, and something is wrong with the local werewolf pack. To top it all off, Rue's best friend PFrom New York Times bestselling author Gail Carriger comes the stunning sequel to Prudence. Rue and the crew of the Spotted Custard return from India with revelations that shake the foundations of England's scientific community. Queen Victoria is not amused, the vampires are tetchy, and something is wrong with the local werewolf pack. To top it all off, Rue's best friend Primrose keeps getting engaged to the most unacceptable military types.Rue has family problems as well. Her vampire father is angry, her werewolf father is crazy, and her obstreperous mother is both. Worst of all, Rue's beginning to suspect that what they really are... is frightened....
| | | |
| --- | --- | --- |
| Title | : | Imprudence |
| Author | : | |
| Rating | : | |
| ISBN | : | 9780316212212 |
| Format Type | : | Hardcover |
| Number of Pages | : | 355 Pages |
| Status | : | Available For Download |
| Last checked | : | 21 Minutes ago! |
---
Imprudence Reviews
* I was sent this book for free from the publisher, and from audible in exchange for an honest review *This is book #2 in this series and although it's not the final one, it's the final one for the time being whilst Carriger works on other things. This meant that I wanted to see a fairly conclusive end to where we are with the story right now in this book, and whilst I don't think it's perfect and clearly there is more to come, I am happy with the end overall. Once again in this book we are following Lady Prudence, a young metanatural (something rather unheard of) who is also the Lady Captain of the Spotted Custard (her airship). Prudence has just come of age and is now ready to galavant around the globe with her crew, much as we saw in book #1. The romance within this book felt a little contrived to me and I can't say I really see the connection between Rue and her beau. I do think maybe this will be developed later, but as it is currently I think it's a little lacking. The same statement does not apply for the character and wit of the story. This is definitely charming throughout with many playful names, quirky insights and funny moments. We have both humans, werewolves, vampires and other supernaturals, it always was destined to be pretty amusing! There were some more emotional moments too and I always find seeing Biffy and Lord Akeldama (my favourite characters) hilarious. They do have some great quirks to them, and I can't wait to see future stories about Biffy as I know Carriger has announced that as a new novella!! On the whole I really smiled whilst reading this and I actually listened a lot to the audiobook too. I have to say that the narrator of the audiobook really enhanced the story by adding some great voice acting. if you're looking for something light and humorous then this is a series I would highly recommend (but only if you've read the Parasol Protectorate series first). 4*s

Unforgettable adventures, an excellent fashion sense and ridiculous endearments helped Carriger's books become the huge success they are today. Although she never strays away from her well established world, she always finds some way to keep it fresh and endlessly entertaining. Imprudence is perhaps the richest, most enjoyable example of her work after her debut, a book strong enough to pull in new fans, as well as satisfy the old ones. We're already familiar with Lady Prudence Alessandra Maccon Akeldama and her shenanigans. Having first met her when she was merely a toddler and after following her on her first adult adventure, we know that she's determined, brave, intelligent and witty. Her crew is also pleasantly familiar – Primrose and Percy, Tasherit the lioness shifter, Spoo, and of course, young mister Quesnel Lafoux. We find Rue in a bit of trouble with Queen Victoria herself for protecting the weremonkeys. She is stripped of her status and protections, the implications of which she doesn't understand, and sent on her way to fend for herself. With her majority, she even lost the protection of her powerful parents, which left her free, but also very vulnerable. Still, it's not Rue who is in danger in Imprudence – it's everyone else, it seems. Her Paw needs more help than Lady Maccon can provide, Percy has managed to unwittingly endanger the lion shifters, and Primrose keeps getting engaged to military officials with attractive legs. Imprudence is non-stop adventure with many laugh-out-loud moments. Whether it's a sky chase, academic dispute or a young lady's education of a very private nature, there is never a shortage of excitement. The adorable romance just adds another layer to it without becoming overwhelming or particularly angsty. Rue is not one to wallow in misery and she faces her challenges head on, so when a certain gentleman runs off in a huff, she does what any sensible lady would do – she cries in her teacup and then moves on. Quesnel is an excellent choice for her, charming and funny, with a spine made of steel.Traveling to Egypt on The Spotted Custard would be fun under any circumstances, but with Rue's companions and some very dear characters from The Parasol Protectorate, it's a true delight. I just hope that more is yet to come.

I love that the Parasol Protectorate characters have such a strong presence in these books. It's definitely centered around Rue, Quesnel, Primrose, and Percy, but seeing old familiar faces always makes me happy. The romance aspect didn't bother me because I was used to it in the PP series, but I will admit the whole experienced-man-with-inexperienced-woman trope REALLY grated on my nerves in this book. With the precedent Gail's other books have set (interracial relationships, LGBT main characters, etc) I was hoping she'd do something different here, but alas. That aside, this was a great romp. Some pretty major stuff happened in this book, so I'm really looking forward to the next two.

3.5 starsGreat improvement over Prudence in plot, characterization, and vivacity! Many thoroughly enjoyable moments and revelations. Only negative factor is how much I disliked the romance.Prudence and her paramour have zero chemistry. And love? Nope. Didn't feel it AT ALL.But the plot is so much better!

I put off reading this for, like, FOREVER because I was hesitant about it. I enjoyed Prudence when I read it last year, but I didn't LOVE it. And I was scared I'd feel the same way about this one. Thankfully, I didn't. I feel like the story in this one was more coherent, like the characters had settled into their various roles more. I loved that it dealt with stuff that came up in the final book of the Parasol Protectorate series as far as Rue's parents go. I love that there were some sneaky little Sophronia (I assume, anyway) references. I ADORED the reveal about Lord Akeldama to the point where I audibly gasped on the bus, and the bus driver gave me a weird look. I liked the relationships that crop up in this one and the hints at a relationship that's going to crop up in the future. In short, it's fun, it's diverse and it builds nicely on the Parasol Protectorate.

I don't know how I can wait a whole year for the next book to release. RIP me. Pros – I love the characters so much: All of the characters are so fun-loving and crazy - I love it! I also simultaneously love and hate when you adore characters so much that you literally hurt when their lives are sucking at the moment. – Adventures: The adventures they go on and the discoveries they make are both fun and thoughtful. I love that the author includes a political perspective in their amusing, crazy journey. – The emotional aspect: This book is far more emotional than the rest of the series. There will be sad tears and happy tears.– Alexia and Conall: I am glad to see that Alexia and Conall are more present in this book. They are so funny and protective with Prudence. There are definitely some heartwarming moments there.– Prudence's growth: I appreciate seeing Prudence grow up. She is realizing to appreciate all her parents more. She is realizing that she has been spoiled and careless for not realizing that her parents' overprotectiveness actually meant that she has been lucky to be safe so far, being what she is.– Perspectives: I was skeptical a bit seeing the emphasis of British imperialism in the previous book and the beginning of this book. However, it is nice to see that the author is also expanding the characters' mind. They learn that British imperialism, while perhaps great for the British, might not be great for other people. This is a good humanity lesson, for them to see that just because what the British Empire brings to others may seem to be progressive and "enlightening" – people of other kind might not want the attention or the "help." To disregard their choice, their freedom because of your own presumptions is basically treating that person as an object, as one character learns. – Friendships: Prudence's friendship with Primrose is my particular favorite because I love the support and banter they have with each other. However, I also appreciate her friendships with other people on her crew. Lots of cute, funny interactions. – Inclusion of LGBTQ: There is inclusion of LGBTQ for some of the side characters. Cons – Tears: The tears I shed gave me a headache. Final Thoughts 4 stars because I love the wacky characters, the adventures, the humor, the sense of camaraderie, the new discoveries, the thoughtful moments, the strong family and friends theme, etc.Things that you might want to know (WARNING: Spoilers below)Is there a happy/satisfying ending? (view spoiler)[Happy enough, but not the last book. (hide spoiler)]Love triangle? Cheating? Angst level? (view spoiler)[No, no, medium. (hide spoiler)]Tears-worthy? (view spoiler)[Yep, but not a particularly depressing book. Just a lot of emotional moments. (hide spoiler)]Humor? (view spoiler)[Yep. (hide spoiler)]Favorite scene? (view spoiler)[When Alexia is saying goodbye to Prudence, and it's emotional, and cute, and funny, and heartwarming, and a little bit sad too. (hide spoiler)]Do you have to read all of the other books, including the original series, to read this? (view spoiler)[Definitely think you should. There are so many references to characters and events that you'd be confused if you didn't. Also, the original series gives a better layout to the politics and how things work in this plot.(hide spoiler)]What age level would be appropriate? (view spoiler)[There is a sex scene, no explicit details. There are some action scenes, but not too gory. Mature teenagers and up, maybe. Sensitive topics about imperialism and slavery and prejudice.(hide spoiler)]

This is my favourite instalment in the Parasol Protectorate/Custard Protocol universe so far. As much as I enjoyed Alexia's adventures in PP, and I think they will still be my comfort reads, I much prefer following Rue and her friends. The writing continues to be hilarious and fun and whisks me away on the Spotted Custard. I'll admit that I could have done with a little less of certain characters being obliviously in love (just TELL each other for goodness sake) but I am rooting for all of them as I really enjoy their interactions and relationships. This is shaping up to be just as, if not more so, wonderfully diverse and engaging with complex characters in difficult situations who ultimately care more about the amount of available tea and their fashion than whether they live or die, as its predecessor series. So much whimsy, wit and fun. Cannot go wrong with this Victorian, paranormal, steampunk fantasy.

I am a huge Gail Carriger fan. The Parasol Protectorate is one of the few series I wanted to own in paper copy because I love them and the covers are great. I also really enjoyed the finishing school series. The Custard Protocol...not so much. I thought the first book was decent, maybe promising, but this second book just went wrong for me from nearly the beginning. The book seemed to be pretty much all about Rue's intimate "education" with Quesnel, and while that was okay as something they started to dance around in this first book, it was terrible here. In the finishing school Sophronia's somewhat scandalous with kisses, in the Parasol Protectorate Lord Maccon and Alexia get caught somewhat compromised early on but it's still tasteful . . . in the Custard Protocol Carriger went kind of Harlequin on us with each "lesson" between R & Q. I kind of liked Quesnel as a character in the first book but here he didn't really get the chance to be interesting. I don't like Rue. She's spoiled and annoying. I like Percy and Primrose and how the crew comes together. I was perfectly happy when wolves were the only weres in the world. Alexia and Lord Maccon had a brief appearance in this installment, but they were pale versions of their younger selves. (view spoiler)[And seriously, Akeldama is Alexander? Really? No...just don't go there...oh wait, she did. (hide spoiler)]I'm sorry to be so negative, but maybe it's time for Carriger to move on to a new world, not just a different time in the same world.

I loved both of Carriger's previous series in this universe immensely, so when I didn't love the first book in The Custard Protocol nearly as much, I was worried. I liked it, but it didn't really feel the same to me. The humor was different and I didn't connect with the characters as much. But I gave the second book in this series a chance and I'm glad I did. Imprudence succeeds for me where Prudence failed. It gave me the same feeling I got from both the Parasol Protectorate and Finishing School series, which is something I find hard to explain, but I loved it. I felt closer to all the characters and I understood them better. I think the author did a nice job combining the old cast from her first series with the next generation, without having them overshadow the plot. The one thing I wasn't a huge fan of was the romance. Their romantic scenes were sometimes cute, but the nature of their relationship makes me feel a little icky. (view spoiler)[Quensel is a lot older than Rue (I think about 10 to 12 years? Which makes her 21 and him about 32) and their relationship is largely based on him teaching her about kissing and sex. While it's nice to see a lady in this time period take these things into her own hands without being shy about it or feeling like she immediately needs to get married, it also creates an even bigger imbalance between the two of them. I didn't hate it, but I feel somewhat conflicted about it. (hide spoiler)]

And this is where Rue and I shall depart.I liked Prudence well enough, so I'm surprised that upon reading this one I couldn't get into it. I couldn't connect with the characters, nor did I find them interesting. Carriger was always slow when moving the plot, but it seemed like this one didn't move at all. Seventy pages in and NOTHING had happened.My second gripe is the romance. Alexia and Conall's relationship was fantastic. They had their ups and downs, but in the end their love was believable. With Rue and Quesnel... I just don't buy it. To me it seems their relationship was purely based on sexual attraction. Sure, Alexia and Conall got down and dirty plenty of times, but at least we knew there was more to them than sex. This new romance pales in comparison to their's. It also doesn't help that I don't like Quesnel. I personally think he was a terrible love interest, and I hope Carriger replaces him for someone better, though I doubt that will happen.The Parasol Protectorate will always be a favorite series of mine. Unfortunately The Custard Protocol does not hold the same charm. Perhaps my love for Carriger's writing style has waned because I don't feel any drive to continue.

2.5 This rating truly hurts my heart. I love the parasolverse. But I can't believe political intrigues and werewolf/vampire drama in London society got replaced with one of my least favorite tropes of all time: Inexperienced virgin gets a proper "education" from the highly experienced love interest. Ugh. I hate it.

~Full review appears on The Bent Bookworm~I've been waiting so long on this book! I had so many expectations. As I've stated before – I love the world Carriger has created. I've read every single book (not all the short stories yet, I'm working on those!) and enjoyed them all. I love the characters. I love hunting for references to the various storylines in the different series. When I sit down with a Gail Carriger book, it's like sitting down with an old friend and hearing what they've been up to.That said, I need to get something off my chest: I will never love Rue as much as I love her mother, Alexia.She's charming and winsome in her own way but Alexia has my heart. The entire time I was reading this book and the first in this series, I was missing Alexia and the Alexia/Conall vibe. I have tried to get as much behind Rue as I did Alexia and…she's definitely her mother's daughter, but she's not her mother. Which is a good thing! But I just wanted more Alexia. I need to re-read the original Parasol Protectorate series in its entirety. I've read Soulless I think 3 times but definitely time to go through all 5 again. Anyway, on to the actual review!Imprudence picks up almost exactly where Prudence left off (WARNING: spoilers for the FIRST book). The queen is, as expected, rather displeased with Rue's handling of the weremonkey situation, but that quickly takes a back seat to Rue's family troubles. Perhaps it's awful of me, but I was so glad that Alexia and Lord Maccon were more in the forefront of this one! We see them through Rue's eyes, which was rather entertaining, but they are there for a good portion of the book. The family is struggling to deal with Lord Maccon's oncoming Alpha madness. He's slowly losing his grip on reality and becoming entirely werewolf. It was so sad. By the end of Chapter 5 I was bawling while reading in bed. My husband was very concerned. Thankfully they didn't just sit around moping about it – this is Alexia's husband, after all! They were very quickly off to do something about it, and rampages and capers ensued.Well, Lord save anyone if a vampire tried to steal a werewolf's prey, even if only to kill that prey himself. Especially then.I love how Rue and Alexia share the tendency to go off on their own and drag everyone else along in their wake. Also have to love that Rue seems to be the only one capable of dragging Alexia herself around – Alexia is much more concerned about appearances than I remember her being, perhaps a by product of all her time serving the Queen. Rue…Rue gives almost no fucks. Especially where her relationship with Quesnel is concerned."Like to go somewhere more private and be scandalous some more?"Ah, yes, Quesnel, the little Frenchman we all fell in love with when he was just Madame Lefoux's charge and constantly running amok. Quesnel, as we saw in Prudence, has grown up to be a innovative inventor in his own right. He's also quite the ladies' man…but somehow Prudence has managed to twist him right around her little finger. Despite her repeated insistence that their relationship is only for "lessons" and her own experience…Ok. This is the big reason this book didn't get 5 stars for me. I can't get behind Rue and Quesnel. I wanted to. I really did. But I just…can't. Quesnel is too much of a pretty boy for me…I am Team Big-hairy-dominate-but-gentle-werewolf (aka Lord Maccon) all the way and I guess I was hoping the same for Rue. Of course she's entitled to her own taste! But it just…it seems forced. I didn't feel it, and I'd like to think I can usually feel a character's emotional involvement even if the parties involved aren't to my own preferences.Like Tasherit and Prim. I feel their attraction. I feel Prim's confusion and anxiety and flutterings. And I'm very eager to find out what happens to them in the next book!Gail wrote in one of her newsletters/posts that she was trying to wrap a lot of things up in this book, since there will not be a 3rd Custard Protocol book until at least 2018. I think she did that very well while still leaving several storylines open for exploration. Like Tasherit and Prim. Like the Woolsey Pack – oh, I almost forgot.OMG, my beloved Woolsey Pack. I can't believe what happened. That was also a large part of the tears.WHAT HAS HAPPENED TO WOOLSEY??? This was a huge turning point in the first third of the book and then…crickets. AAAAAHHHH. I think we were supposed to kind of forget but I can't. Buffy. Lyall. Channing. And of course the Kingair Pack too, even though God knows they're still off brawling in some distant land like good Scottish boys – capably led by their fierce female Alpha (who, thank GOD, will be having her very own novella some time in the near future). I really hope we have more werewolves in the next book too.Anyway, overall, 4/5 stars. And I will be eagerly awaiting whatever comes from Gail Carriger's pen next.

I opened the book and immediately wanted strong, hot tea, even though it was 2:30 a.m. That's the sense memory of these series by Carriger. I liked this book much more than I liked Prudence. It gave me that feeling of comfort of visiting with familiar friends that both Prudence and Etiquette & Espionage didn't. Though it was often quite harsh toward my dear Alexia. But daughters and mamas…sometimes they don't always see each other as outsiders might. What I think is charming and amusing might not be so great to Alexia's kid. Though I'd think she'd at least be glad that her mom wasn't restrictive and frivolous as regular society mothers. I'm sure she appreciated it when she wasn't getting sex and pregnancy prevention talks. It wasn't deep, or as charming and funny as the Parasol Protectorate books, but I really enjoyed it.

Lady Prudence Akeldama Maccon and her crew fly the Spotted Custard to Egypt to convey Lord & Lady Maccon to the only place they can safely retire. After leaving both of her parents under the influence of the Godbreaker Plague, Prudence continues further inland in search of a secretive pride of werelionesses. Her voyage is complicated by the carnal relationship she shares with her chief engineer, and the tensions it is causing amidst the crew. The latest novel in Gail Carriger's steampunky, Victorian urban fantasy universe & by far the most disappointing. I loved parts of this book, but most of the story centered on the elements I enjoyed least, namely Rue & Quesnel's relationship. I didn't find him likable or charming at all in the first book & I was hoping he would turn out to be the losing side of a love triangle (look, a character has to be pretty bad for me to hope for a love triangle!) but that wasn't the case. I hated everything about the way the main relationship was developed. It was obvious, predictable, tropey and sexist. The whole thing left a sour taste in my mouth. Less slut-shamey plots in which I'm supposed to root for cocky stereotypes of my home country *NAMED AFTER FISH SAUSAGE* and more political intrigue & werewolf/vampire drama. Thank goodness there's a shorter piece coming about Lyall, Biffy & Lord Akeldama.

Gail Carriger is such a fun author. There is nothing resembling literature to be found on her pages, but there is so much fun! And not a little risky business presented in such clean terms that they are even more titillating than they would be if presented as R-rated dialogue!I classify these as Steampunk-lite. You don't get chemistry or engineering lessons, but Carriger throws in enough that smacks of reality that you can almost imagine Rue's Spotted Custard soaring the world in the same way it's described in the book. You don't need to be convinced of it's possibility anymore than you need to be convinced that Vampires, Soulless and Weres live among us. They exist in the book(s) so it works.Carriger has a knack for creating prickly characters that you can't help but fall in love with. She always presents us with an ensemble cast so that someone will appeal to you regardless of what you like. Someone else will irritate you, but how do you know light without having darkness to compare it to? :)I gobble up these books as quick as I can and I read somewhere she was taking a break. Too bad, because I wish I had another at hand. I'm on the mood for her special fun.

Why does it seem like every time Rue turns around, someone is attacking her airship the Spotted Custard, [although likely Spotted Ladybird (since this is England after all) would be a better name]? The Spotted Custard and Rue are needed to help her father and set sail for Egypt. There, mysteries start to unravel as well as multiply until Rue realizes that family history is more than boring speeches by her disliked mother but highly relevant to her own life. And the unbirth of a former butler/valet belonging to her mother's time should add a lovely character to the following titles in this series! Queen Victoria makes a quick appearance, delightfully and annoyingly irritable. Easily my favorite character is the werelioness, Tasherit! Rue is delightfully dense in matters of love, even though she considers herself competent to tell her best friend, Prim about her love life! I'm just sorry the next title is going to take a while to appear while the author takes a well deserved break.

I think it could have used a bit more editing, but like all Carriger's books, it managed to make me feel happy and entertained. :)

Actual rating 4.5 starsThis review was originally posted at https://freadomlibrary.wordpress.com/CriticallyPlot – 4 out of 5 starsThe plot of this book picks up right where the first one left off. My biggest issue with this series in particular is that the pacing is really slow, when I'm used to Carriger's books being constantly fast paced and entertaining. This one has specific scenes that are action packed and some that are full of crazy and unexpected situations but its definitely not the entire time. This book in particular deals with a lot more romance and familial relations, from the main character's perspective as well as others. I definitely liked the story line in this one a lot more than the first book.Writing Style – 4 out of 5 starsThis is the part that I can always count on when it comes to these books. The writing style is done really well in my opinion. It's always really descriptive and detailed, though it can get a bit much for some people. While it's historically accurate and really verbose, it's easy to read and really freaking funny. As for the narration, there's a lot more growth in the character from the first to the second book and that is shown in the way she speaks to the reader. It's still quirky and entertaining but you can see how the adventures she's had and her current struggles have affected the main character's thought process and personality.Characters – 4 out of 5 starsI'm happy to say that this part has improved, yay! I was not the biggest fan of this cast of characters in the first book but they've definitely improved in this one. There's a lot more character development, a lot more background on most of them and some new editions that I really enjoyed learning about. Rue as a main character has also improved for me. She got on my nerves really easily in the first book and while she's still kind of arrogant and spoiler, she's also a lot more mature. She's not as annoying though still kind of clueless about some things though very smart about others. She's struggles a bit emotionally in this book, considering the family issues she has, and I enjoyed seeing more depth to her. She's honest and bold though very guarded with her heart. I really loved the views on sexuality that this book had, specially considering the time this book is set in. Rue is very clear on her wants and desires as a woman, and has a very forward thinking approach to sex. I loved to see a historical romance starting in such an unconventional way for them. The side characters are definitely more developed in this book as well. Each one has their own little things going on as part of the whole plot process. There are always so many different pieces to Carriger's book and it's always plausible to expect to see characters from the earlier series show up again. This one has a lot more new and old character show up and I have to say that in this entire cast my favorite is Tasherit.She's badass as hell.Emotionally(view spoiler)[I definitely liked this book a lot more than I did the first one, though it's still not my favorite Carriger. I think her older series are a lot better than this one as of these two books.The plot is heartfelt yet entertaining. We follow Rue, right after the events of the first book, she comes home to political upheaval and family strife. She's officially of age, an adult, and she must take her parents to Egypt and ends up running into trouble. I have to say that I was disappointed in the first book of this series, but this one is a lot better. I was much more emotionally invested in this story, specially because of the family/pack situation in the first part. That's the part that kept me interested and motivated to read at first. It's such a chaotic time, and poor Rue is completely and totally lost because no one is telling her anything. She manages to find out on her own that her family has always been planning a move to Egypt at some point because of the Alpha's Curse and that has finally reached her father. I have such a soft spot for Lord Maccon that it really gutted me to see him so lost and reluctant to let go of something that has defined his life for so many, many years. Because I'd read the original series, I knew this moment was coming at some point or another. I'm really glad that we got to see it come to fruition but it's also really heartbreaking. Specially for Rue because her entire connection to the pack has shifted now and she had no forewarning and no way to really prepare herself for such a change. I wonder if we're gonna see her interact with all these men that she's grown up with as her uncles in future books because I think it'd be really interesting to see what character development can come from such a rift and Rue learning to move beyond that. Though the first part is definitely my favorite, the rest of the story was entertaining though I'm getting a bit tired of these "unknown enemy" until the very end that this series has. It's reminiscent of the first series but because there's been so many books in between I'd like to see something more cohesive between books. On the other hand, I really love how all this mayhem has made the crew on the ship much closer. Everyone works together and each person kind of has their own job. We don't see a lot of those people close up, except for a few of them, but the general atmosphere of the entire crew is so nice and fun and funny and welcoming. I wouldn't mind taking a trip with them. I want to mention that there's a central romance as part of the book's plot and I really enjoyed it. It's pretty unconventional for the time and I really enjoyed the mindset that it shared about sex, very positive and conscious. It's a pretty demure kind of friends with benefits sort of thing but slightly more complicated with a little bit of drama and I really loved the development of it. I definitely ship it with my whole heart and I can't wait to see how it continues to grow and to see if more romances come up later.Rue has grown on me. She's still a bit naive about a bunch of different things and still a bit annoying. However, she's growing and maturing as she continues on her crazy journeys and meeting a lot of different people. I think seeing the changes happening in her family have really affected her and her view of her life. She's gotten herself into quite a pickle this time and I really hope this particular story line continues on in the next two books. I'd like to see her come into her own and to really become more comfortable and understand who she is. I really enjoyed her views on sex and love, it's very refreshing specially in a historical fiction setting. I like how she took matters into her own hands and decided what she wanted, screw whoever wanted to judge her and her decisions. I love the way the relationship she's involved in progressed and while I love how she wanted to be disassociated with love and all the sappiness of it, I'm glad she let her guard down in the end and I can't wait to see how that affects her personality and actions.As always, lastly, I want to talk a bit about the side characters. I felt like all of them in their own way had some development which I really appreciated. Percy, who's a know it all, socially awkward little butt face makes a hugee mistake in this one and goodness, I was so aggravated with him. I felt like he wasn't treated very fairly in the first book, he did a lot of great things that helped and saved a lot of people from shitty stuff happening to them. But in this one, that kind of attitude escalated except it was actually deserved this time. He went and did some things that were really self-absorbed and not thought through though I can say that he was very remorseful and I think he did his best to make up for his mistakes. However, if it hadn't been for Quesnel being also a little butt face, Percy wouldn't have done anything. The men in this series are kind of insane in a bit of an unattractive way. They don't treat each other very well and it causes a lot of problems for every body else. That was a bit annoying. However, Quesnel is also really sweet and caring, though an unstoppable flirt. I really like his personality since it reminds me a lot of his mom, he's cheeky and a bit naughty but has a good heart and good intentions underneath it all. I want to get to know him more. Like I said above, Tasherit is my favorite character from the cast. She's the typical badass female that is un-apologetically herself that I just love no matter where that type of character shows up. She's powerful and strong and I just really love her! I want to know more about her past, specially since we got a glimpse of it in this book and I know there's a lot of juicy things in there! Lastly, there's Prim who I still really like but damn girl, stop with the denial. She's so sweet and always aware of what everyone needs. However, she has society's rules and regulations in her head constantly which keep her from seeing what's right in front of her! And I want her to have what's right in front of her! Oh my goodness, I want that for her so much and I really hope it happens.Overall, I really like this book more than the first. The plot felt like it was divided by two different things: the emotional and tough changes happening in Rue's family and the aftermath of Percy's decisions and traveling. I liked the first a bit more but I was still entertained by the second part until the end. I felt like all the characters grew in this book, there was some much needed character development for Rue and I'm so happy about that! There was more romance in this book and we get to see so many more of the old characters, even some I wasn't expecting and that was awesome. I'm really looking forward to seeing what the rest of the series has to offer. (hide spoiler)]

Lizard: 4⋆.Wombat: Pending⋆.Overall: Pending⋆.

I wasn't as crazy about Prudence as I had hoped to be, but the way things developed towards the end of the book left me excited to see what Imprudence would bring us. I can honestly say I enjoyed Imprudence so much more than I enjoyed Prudence. If I'm completely honest, it's mostly because of the events at the beginning of the book.With Prudence, I was disappointed by the lack of appearances made by the cast of the Parasol Protectorate series. I know the two are separate stories, but the two are tied so tightly together that I had expected a little bit more. If only so we could get to see how certain elements had developed. Thus, you can imagine my joy when the start of Imprudence focused upon bringing those elements from the Parasol Protectorate series together. I'm not going to say much, just know certain scenes broke me. It was the perfect way to bring these elements together, giving us peace of mind about what happened. It gave us what we wanted, linking it in so well with this story, preventing those nagging questions from lingering for any longer than is necessary.In addition to giving me what I'd so desperately desired from book one, Imprudence seemed to move much faster. It wasn't the speediest book in history, but events did seem to take place at a more rapid pace than they did in Prudence. I believe this is because Carriger has now opened up where she plans to take this series, having now started the extension of world building. I feel as though this series has so many possibilities regarding the potential directions it could go in, and I'm curious to see where things head.However, I found myself rather annoyed by the romance in this one. In all honesty, I use the word 'romance' rather loosely. It didn't feel romantic to me at all. It was annoying. It felt forced. I wanted it over and done with. Honestly, I'm really not enjoying this element of The Custard Protocol at all – the glimpses in book one were enough to leave me complaining, this one just left me feeling annoyed.Overall, though, this was much better than book one. A solid four star rating compared to my rounded up four star rating of book one.

I like Imprudence better than Prudence the first book in the Custard Protocols. Once again Prudence and her crew are off in the Spotted Custard, her airship. Part of the book finishes out the Parasol Protectorate; something I had wondered about. As it turns out everything happens as planned in the last book Timeless. From there Pru and friends are off in another interesting adventure. This could be the last book in the series as things ended on a high note for Rue and Quesnel. We will see if there is more to come. This would stand alone but is much better if you have read Prudence and the Parasol Protectorate series.

Pfűűű, mindenki csapjon a kezemre, ha valaha még Carrigert akarok a kezembe venni. Ez egyre silányabb. Egyre több a feleslegesen eseménydúsnak vélt akciójelenet, történet szinte semmi, tehát paradox módon mégis eseménytelen marad a regény, és továbbra sem sikerül személyiséggel felruházni a korábbi, jobb főhősök halovány másait, a fiatal generációs karaktereket. Az meg a slusszpoén, hogy némelyiket összekevertem a Finishing School sorozat alakjaival, annyira jellegtelen mindenki. A szerelmi szál pedig zavarbaejtően ... szar! Csakis az eredeti Napernyő Protektorátust fogom újraolvasni valamikor, ha elmúlik a keserű szájízem. Carriger meg próbáljon írni valamit végre, ami nem YA, újra humorosan kedves, és a romantika és az urban fantasy kellemes elegye, sok szarkasztikus párbeszéddel, nem ilyen a semmiért rohangálós semmit. Ja várjunk, nem is kell, mert már mindegy... Elvesztettem a bizalmamat, ld. első mondat. Hamarosan (gőz)puffogok a blogon is.Íme: http://pupillaolvas.blogspot.com/2017...

This was a wonderful continuation of the Custard Protocol. There are at least two more books scheduled for this series; although Carriger said on her blog that the next Custard Protocol book will not be released until 2018...sadness :-( All the books in this series have been incredibly entertaining and just a ton of fun.I listened to this on audiobook and the audiobook was excellent. The narrator does an absolutely wonderful job narrating and it was a joy to listen to. I kept finding myself creating reasons to listen to the audiobook so that I could listen to more. I would definitely recommend listening to on audiobook if you enjoy audiobooks.I pretty much love everything about this series and think that it is Carriger's best series yet. I love the quirky, yet lovable, characters and the amazing world. I love the adventure and magic as well. This is an absolutely fantastic steampunk world. This book had a bit more romance than the first. Quite a large portion of the story is dedicated to Rue and Quesnel dealing with their personal issues. I don't usually like romance taking over the story; but I love Quesnel and Rue so much that I ended up thoroughly enjoying these parts of the story just as much as the adventures in Egypt. I love that we have immortal characters from previous series that pop up in the story, yet we also have new fresh characters that are incredibly interesting and entertaining as well. I love that there are tidbits that we learn that expand on the history of the older characters as well as the new ones.The story wraps up very nicely and could have wrapped up the whole series. However, I was thrilled to hear there will be more stories and adventures in this series. This is one of those books that I was incredibly eager to read and sad when it ended.Overall I adore this series. This story is just so much darn fun and I love the world and characters. I just absolutely loved everything about this series. I would highly recommend to those who enjoy humorous steampunk reads with some adventure and romance. I absolutely am dying to read the next book in the series.

I really enjoyed this sequel, though not quite as much as the first. Same everything I love from book one, but the plot didn't feel as interesting. A lot about the world is revealed and things are set up for the next book to be awesome! Warning: the word 'gypped' is used once and it pissed me off greatly.

I really love the universe created by Gail Carriger. "Imprudence" the second novel in the Custard Protocol series. It is as usual really fun. It follows the "Prudence" almost immediately after the finish of that novel. Now Rue messed stuff up in India, and the Queen is not really happy with her. So straight out she declares all of Rue's protection from the Empire to be forfeited. Immediately after that Rue learns about her father. Lord Maccon is in the final stages of the Alpha Curse and needs to leave town. Double Whammy! Then our favorite Lord Akeldama reminds Rue that she is now of age. Sure has reach adulthood and she also loses protection from the vampires. Does triple whammy even exist. Well Rue takes it. So Rue and her ship are on the fast track to Egypt to deliver her parents. From there it is another frontier adventure for Rue and her Custard compatriots. Carriger really is having fun on this novel. Unlike the previous one where the constant mentions to society became an issue. She goes modern on this one. Oh yeah very modern! The liberal Rue is falling for Quesnel and this becomes a side note to the adventure in Africa. One I really enjoyed. If you like Steampunk, Carriger is on top of her game with this one. Lots of aerial battles and skirmishes. The crew is really growing on me. Highly recommended.

Ich werde nach wie vor nicht warm mit allem :D

I enjoy this whimsical series, although I like it better with spaces in between reading the different books. I'm not sure if I like these as much as The Parasol Protectorate (which really SHOULD be read first), but the characters are growing on me.In this installment, we get to return to Egypt aboard the Spotted Custard. Prudence takes French Lessons :). And other things happen too!

It took me a chapter or two for my memory to be jogged back into place. I also found that I just wasn't enamored with this book compared to previous books of the other series. The writing was still just as witty and charming, but the plot seemed a bit worn. Though I will still look forward to more of the author's work in the future.