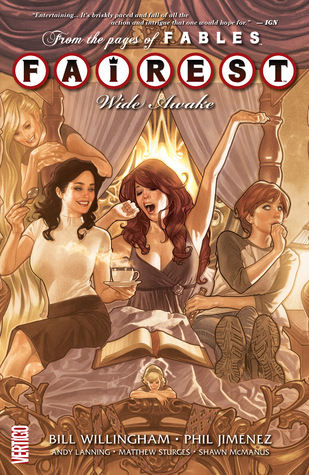 New York Times bestselling, award-winning creator Bill Willingham presents a new series starring the female Fables. Balancing horror, humor and adventure in the Fables tradition, Fairest explores the secret histories of Sleeping Beauty, Rapunzel, Cinderella, The Snow Queen, Thumbelina, Snow White, Rose Red and othersThe first 6-issue tale follows the misadventures of BriarNew York Times bestselling, award-winning creator Bill Willingham presents a new series starring the female Fables. Balancing horror, humor and adventure in the Fables tradition, Fairest explores the secret histories of Sleeping Beauty, Rapunzel, Cinderella, The Snow Queen, Thumbelina, Snow White, Rose Red and othersThe first 6-issue tale follows the misadventures of Briar Rose immediately after the events of Fables 107 (collected in Fables, Volume 16: Super Team), in which she was stolen away by the goblin army.Fan-favorite artist Phil Jimenez (Wonder Woman, The Invisibles) returns to Vertigo to pencil the opening storyline. Award-winning cover artist Adam Hughes (Wonder Woman, Batgirl) provides covers, starting with a wraparound cover on issue 1 that spotlights the lovely ladies who will star in the series.Collecting: Fairest 1-6...
| | | |
| --- | --- | --- |
| Title | : | Fairest, Volume 1: Wide Awake |
| Author | : | |
| Rating | : | |
| ISBN | : | 9781401235505 |
| Format Type | : | Paperback |
| Number of Pages | : | 160 Pages |
| Status | : | Available For Download |
| Last checked | : | 21 Minutes ago! |
---
Fairest, Volume 1: Wide Awake Reviews
I had fallen out of touch with Fables. I read through the set of graphic novels covering the fight with the Adversary, and then wasn't paying attention as my husband got the other ones out of the library.Note: The rest of this review has been withdrawn due to the changes in Goodreads policy and enforcement. You can read why I came to this decision here.In the meantime, you can read the entire review at Smorgasbook

Well, i was not expecting THAT. "Fairest" is a series designed to explore the lives of the various female Fables (largely princesses & queens so far) from Willingham's larger series, "Fables". It's the second such spin-off, improving (so far) on the rather tiresome antics of Jack of Fables (whose spin-off series concluded in 2011 with the title character's death and what I now suspect was a parody of all the big "world-changing" "event" comics DC & Marvel have been shoveling down the line for the last three decades).I honestly wasn't sure what to expect, fearing that it would turn out to be exploitative (like "Jack of Fables") or excessively snarky (again, like "Jack of Fables"), but the first storyline turned out to be pretty dang solid. The bulk of the volume is taken up with the story of Ali-Baba and his imp Jonah, who together free Briar Rose and Lumi the Snow Queen from the former's enchanted sleep -- Rose & Lumi were last seen being carted away by Goblins in the pages of "Fables" and I was curious as to what would happen to them, so it was a pleasant surprise to see them popping up in their very own mini-series. Briar Rose is something of an enigma, as most of the times she's appeared in "Fables" it was as an agent or a weapon, but we get a whole heaping helping of Rose here and apparently she's something of a bitter loud-mouth -- though really, with the life she's had, who can blame her? But the real gem was the reappearance of Lumi, my favorite of Fables various female characters. I love winter and I love snow, and "The Snow Queen" was one of my favorite fairy-tales when I was a boy, so it makes perfect sense that Lumi would stand out to me. And for the first 2/3 of this story, she's the real stand-out: Ali-Baba is a typical rogue, but an extremely competent and realistic one; Briar Rose is, as i've mentioned, bitter and loud-mouthed; and Jonah is self-consciously obnoxious; but Lumi...ahhhhh, Lumi. Lumi is powerful, confident, and witty. And over the course of this story we discover that her apparent devotion to the Empire was not all that it seemed, that she's been entirely absent from her kingdom since signing on to serve the Empire, and that she's more than a little unsure of what to do with herself now that the world has changed. We also learn that her shift from merry snow-maiden to cruel tyrant was not simply the result of Jack's betrayal and abandonment. Great character development and insight! Unfortunately, Willingham then saddles her with Ali-Baba as a love interest, something which makes sense in context (she's always had a thing for bad-boys) but which disappoints me as a fan of her character.The final portion of the book is taken up with a one-shot palate-cleanser story set in the 1940s. "Lamia" is a noir tale involving Beast tracking down a rogue Fable in Los Angeles and it's dang good. I always enjoy these flashbacks to the lives of the Fables before the start of the series, and this one begins with Beast himself musing on the ways in which mundane literature and storytelling have forced him to take on different archetypal roles since his flight to the mundane world, from knight errant to master detective to P.I. And what a closing note! What a finale! If only the rest of the volume could have been as unerringly great as this little story.Overall, i'm pretty pleased with this volume. The first story felt a bit thin, but did what it set out to do, and the second story was a extremely strong. I didn't enjoy the art in either story (the first was clumsily realistic and the second was excessively cartoonish) but the writing was crisp and quick and it works as a good set-up for "Fariest", establishing the tone and the themes of the series. I look forward to the next volume.

I'm sad to say that I wasn't blown away by this first volume of Fairest. I thought the art work was ok, of course every woman was drawn perfectly built and even fully clothed looked naked. Another thing I could that bugged me; every time a person was talking there was always a word HIGHLIGHTED. EVERY single time. It was VERY distracting and UNNECESSARY. It's ANNOYING isn't it? Also, I just couldn't get into the plot as much as I wanted. The only reason it's getting 3 stars is because I did like the art and the story of Beauty and the Beast. Hope it gets better in the next volume.

I fear for when I finish the Fables series. I love it that much. I am glad there are some spin-off series that I can enjoy, although I'm not too in love with Jack as a character, so I probably won't read that one until I'm desperate. However, when I looked on Bill Willingham's website, I saw that he has a reading order and I was cool to start the Fairest series even though I haven't finished Fables yet. So I read this one on Saturday.Overall, I really liked it. I'm having trouble concentrating on books right now, so it took me a bit to get into this. However, I did enjoy it a lot. I like that he does something different and deeper with the Snow Queen. Something I was not expecting, but I was pleasantly surprised. I also like the twist on the "True Love's Kiss" rule. I liked the match-making Bottle Imp, and the fact that Ali Baba was the hero. In this book we actually have two heroines, so that was cool as well.The artwork was gorgeous as usual. I loved the detail that the artist put into drawing and painting the characters. I studied the artists' lines and use of color to draw and paint the characters, and it inspires me to develop my own artwork to a deeper level.The story at the end about the Lamia was dark. I was really shocked at how it ties into well-known Fables' characters ongoing storyline. It's something that will make me think harder about these secondary characters.I honestly cannot get enough of these graphic novels. Looking forward to reading more in this series, in addition to the main Fables series.

This one focuses on Ali Baba and his love for the Snow Queen and Rose Red, taking place shortly after Gepetto loses. It's done well, the artwork is at it's usual height and there are some interesting themes on love and how the Fables are impacted equally by it in comparison to "mundies". OVERALL GRADE: B to B plus. .

If, like me, you thought these were going to be the stories of the women of Fables, you will be EXTREMELY disappointed. In fact, it turns out to be about men in the Fables universe viewing and living the women's stories. I mean, I knew, Fables wasn't much of a feminist universe, but COME ON !! Couldn't we at least avoid some of these sexist stereotypes ?The worst thing is the stories are quite cool, they just completely miss the point. Yes, it's nice to see Briar Rose again, but couldn't we have her point of view on the events ? And yes, I can understand how Beast is necessary to the second, side story, but wouldn't it have been as touching and powerful if the Lamia herself was telling it ?Oh, and that bottle imp really needs to check its fact on men being stronger than women. Seriously.I'll keep reading these because I really like the universe and want to see what happens next, but I'm still pissed off about all that.

Why is the main character of the series about the women of Fables a dude??

I've not been enjoying Fables very much recently, and I hated the spin off Jack of Fables. This first volume in a new series came as a pleasant surprise, though. It picks up a lot of threads left danging throughout the main story line and weaves them into a very nice tale of its own. While the story is supposedly about the women of Fables, the bulk of the first story is taken up by Ali Baba, prince of thieves, and his never ending quest for treasure. The treasure his find this time though consists of not one but two sleeping beauties. The first is Briar Rose, used as a weapon by the Fables against the Adversary (remember him?) to send his capital city to sleep and therefore knock out the administrative heart of the empire. The other is Lumi the Snow Queen, one of the greatest weapons in the Adversary's arsenal, also trapped in the capital city. Along the way we get to hear a great retelling of the story of the Sleeping Beauty, and learn a lot more about the Snow Queen. There's an immense battle at the end between Lumi and Hadeon, who was the evil fairy who cast a wicked spell on Sleeping Beauty when she was a baby. It's all beautifully illustrated and there is a genuine happy ending as well.The second story is is a story of Beauty and the Beast, set as a flashback to the 1940s. It's a great little tale, with a real surprise at its heart, when we learn that Beauty isn't what we all think she is. I will be looking forward to more of these stories if they are as good as this

I like the idea that this series spins off into standalone stories about individual fables. I'm not sure it needed to be the female fables in particular, or that having chosen that mission, it lives up to it. The first volume consists of two stories: a main arc concerning Ali Baba, Briar Rose, and the Snow Queen, and a single issue story concerning Beauty & the Beast.The odd thing is that both of these stories ostensibly about fable women start out with male POV characters. Both hinge upon decisions made by the male characters. Both involve female fables getting rescued, even if they are also allowed to turn the tables at other points in the story. The main story spends a lot of time following around fairies with strategically shredded costumes, striking poses that seem anatomically problematic (I may just be sensitive to this right now because of Jim Hines' cover photo poses and the Hawkeye Initiative). In other words, these stories may include some strong and independent female fables, but the creators still assume that their audience is straight males (or that female readers will put up with the things that are necessary to invite the male gaze). That said, the art is excellent, and the issues raised in the final story are intriguing and disturbing.

What happens when you combine fairy-tale characters? With the help of a genie, Ali Baba rescues Briar Rose with a kiss, even though he'd planted a smooch on another girl just mere seconds before. Does true love actually exists?Let me start by saying that I've never read Fables. I had no clue what I was getting into. It's quite entertaining to see these flawless (talking about the Disney version) characters with faults. The illustrations are fast paced, with arguments and fights at every two pages. Although, I didn't understand some of the characters motives, the story is entertaining enough to make me want to pursue the series.

I can't review this book by divorcing it from the context of its creation. Fairest, as solicited, is a Fables' spinoff that focuses on female characters, and yet it ended up indistinct from its flagship. The cover depicts every Fables women -- and they're gorgeous depiction courtesy of Adam Hughes -- but nearly all of them are absent. Instead, we get by-the-numbers heist plot and some sorcery fights so prevalent in Fables. Ali Baba and a djinni of sorts, both of them men, have more scenes and dialogues than Briar Rose and Ice Queen. As modern twist on fairy tales are reaching oversaturation point, Fairest does itself no favor for being samey. Oh well, at least Phil Jimenez can draw, even if his style is too realistic to match Mark Buckingham's more exaggerated artwork on Fables.

I left Fables a long, long time ago. It completely ran out of steam around issue 70 and was just puttering about, wading in its accolades and praise for a while before that. I did read the Great Fables Crossover, which isn't even worth mentioning and just had me shaking my head in confusion. The reason I picked up Fairest was because Lauren Buekes was writing it ( starting at issue 8 I think, and I started getting the single issues ). This volume before LB took over, Willingham wrote a few one and done stories that were fairly fun and outside the regular Fables continuity. There's enough here to make it worth the read, but don't expect the early brilliance of Fables. Ever again, I would imagine. Writing: BArt: B-

I actually think this is better than Fables.Better stories, better art.Only thing is, I am currently reading Fables as the Deluxe edition hardcovers come out, so I'm a little late on whatever "current events" that are happening in that world.This book contains some major spoilers to the Fables stories which wouldn't even count as spoilers were I read up on Fables.Too bad the powers that be didn't publish this as a Deluxe Hardcover as well.

I think I enjoyed this spin-off of the Fables universe more than any of the main series run. I say this despite being put-off by the overly super-hero style of the artwork. I like Briar Rose as a character, and I wonder if knowing her eventual fate in the series - which is non-traditional and heroic as hell -influenced my liking of this piece. I have also always been a fan of the Sleeping Beauty fairy tale, despite its misogynistic overtones, and this really dives into that and probably enhances it. My only complaint is Ali Baba, who seems included simply because he isn't anywhere else in the series. He is largely irrelevant, despite being an important pair of lips. Maybe that's fine.

Fine. I admit it: I am a comic book junkie. Especially now that I am teaching five different classes at three different universities and reading tons of student essays and Literature ("L" capitalized purposefully) I am even more voracious for my popcorn reading, comic books. So I had a coupon from Barnes & Noble*, so I thought I would try the second spinoff series from Fables, even though the first spinoff series, Jack of Fables, was not only painfully awful, but also painfully sexist. So, I was prepared for Fairest, in that it is supposed to be about the female characters of Fables to also be sexist and painfully terrible. The first volume, which features Briar Rose, Snow Queen, Beauty, and introduces Hadeon, the evil fairy who cursed Briar Rose to die in the first place, is not as bad as I had feared. The story, thank goodness, is not overly sexist. The gifts which Briar Rose is given by the fairies are not unchanged from the original story: beauty, grace, kindness, all traits specifically associated with women, and not with power or men. But, fine, there is only so much that can be manipulated from the original story. And, of course, there are lots of skinny women with big boobs, but you can't expect for the artists to switch that up, when the male readers have expectations and needs from their comics. Fine. But the tellers of the stories are predominately male. First, there is the Imp, Jonah, who, though not human, is drawn to be male. He orchestrates the first two-thirds of the book, convincing Ali-Baba to pursue Briar Rose, on the promise of riches, and then to confront the Snow Queen. As Jonah seems to be Ali-Baba's helper, the story belongs more to him than to Briar Rose, who does not choose who wakes her and also has no guarantee on the true love that is supposedly needed to wake her. The female characters, though they are not necessarily the main players, do have some agency. The Snow Queen, after being under the control of Geppetto for much too long, has finally broken free from his influence, and as Jonah points out, now gets to choose what kind of character she is going to be. At the same time that he is encouraging and manipulating the Snow Queen, Jonah manages to attract the attention of Hadeon, the evil fairy who is simply evil and has no intention to be anything else, and shows just this by picking a fight with the Snow Queen for no other reason than that she can. So, ultimately, the story points out that women have the opportunity to break out of their type casting (although it might mean stepping right into another unoriginal role), and also discusses love in a more realistic, albeit also pessimistic, way.Following the main story is a short about Beast chasing a beautiful and deadly woman. Though she harms many men, he cannot bring himself to hurt her, just as she seems to have no control over her desire to lure in men with her looks and then to murder them, with great pleasure. In conclusion (as I cannot get my students to quit writing)**, I will probably read the next volume, but I do not expect the same greatness as the first story line of Fables. *Don't fret—I still frequent Labyrinth, the local independent bookstore, and Fallout Shelter, my comic book dealer in Highland Park. **I kid—my students are pretty freaking awesome.

Note this is based on reading Fairest #1-6. The actual TPB when released will contain the first seven issues of the series.The recent publication of issue 6 of Fairest marks the end of the first story. Fairest is the latest spinoff from Fables and will focus on the female characters in the original series. This first story was written by the main man himself, Fables creator Bill Willingham. The truly fabulous interior art was pencilled by Phil Jimenez and inked mainly by Andy Lanning with some help along the way from Mark Farmer and Andrew Pepoy. The fantastic covers were by Adam Hughes. The wraparound cover to issue 1 shown above features mainly easily recognisable characters to regular readers of Fables but there were a few I did not recognise.The story follows on from the abduction of the Snow Queen and Briar Rose by a goblin army from the Empire's capital city in Fables #107. Ali Baba is looting the city when he comes across a minor bottle imp in a bottle. Although not able to grant him three wishes, the bottle imp promises to use his skills to guide him to vast wealth. He is led to the goblin camp where he frees Briar Rose with a kiss and both find that true love is hard to find and hold on to - even with seven fairy godmothers on your side.This is an excellent start to the new series. Willingham has produced yet another fabulous tale from his winning formula of retelling classic fairy tales and updating the characters involved. This story focuses on true love and loss but is also a tale of revenge and redemption and is bound to be an instant hit with fans of the main series. It is also the perfect introduction for those who have missed out on Fables and don't want to play catch-up or commit to the longer story arcs.With the conclusion of the first arc, the series is being opened out to other creators for their take on these characters. The proposed format reminds me of the Legends of the Dark Knight comic that also featured standalone tales from different creative teams. Issue 7 is to be a single issue story by Matthew Sturges and Shawn McManus which is to be followed by another six issue story featuring Rapunzel by Lauren Beukes and Inaki Miranda. While I am excited about some of the new writers and artists involved - I am looking forward to seeing more of Inaki Miranda's work after Fables #99 - I am slightly worried that the quality may vary with the introduction of writers new to the characters.Having said that, this first arc has left me excited for the future of the series and it is worth picking up when it is collected - sometime after the publication of issue 7 which will also be included in the TPB.

It was a fun, a happy surprise. Admittedly my standards were a bit low, I just haven't been enjoying the series very much lately. Or at least it's awfully variable, I just never know what I'm going to get. But the first part of the book, the Fairest story, was fun. Briar Rose was strong and brave, this Sleeping Beauty was no wilting flower. The imp was pretty funny, especially at the beginning. And it was great to finally see Lumi, the Snow Queen, shine. She's been one of the most interesting characters in the series, and it was certainly teased in Jack's series (I think it was in Jack's where he met her, right?) that there was a lot more to her story than just the ice cold servant to the Emperor that we first encountered. (view spoiler)[I think she deserved a better guy than she got, I'd like to see her with hero and not such a rascal, but I also get the idea that she needs entertainment and laughs more than she needs a hero; she's can handle the hero business all by herself after all. (hide spoiler)]As for the art in the Fairest stories, it was kind of a mixed bag. Most of it was really good. There were crisp images that made me want to look at all of the details. The imp, the wooden soldier at the beginning, even the skulls on the ground or the ice sculptures, were all terrific. But the women's faces were terrible. Which is really odd in a book called Fairest! They just looked like transvestites, they really did, it was such a shame. The noses, chins and jaws were all so big, none of them had any delicacy. I like strong women, don't get me wrong, and there's nothing wrong with a handsome woman. And I do not at all like the overly sexualized, ridiculous looking women in some comic books. But it just kept striking me over and over how masculine the women looked. It felt like when I'm listening to an audiobook and the male narrator just isn't good at doing the women's voices. I kind of shrug and get used to it but still have to mention it in the review, even if he's still a good narrator.Then at the end of the book was one more short story called Lamia. Again, I was skeptical because frequently I haven't really liked the short issues that diverge from the main storylines, and this is a black and white story about Beast set in the 1940s. But I was wrong, not only was it OK, but it answered some big questions that have begged for answers for a very long time during the main Fables series, including why Bigby and Beast hate each other and other big questions. Which may be a bit annoying to fans who didn't plan to buy this book or who can't borrow it from a library like I did, but there you go. If you want spoilers, let me know and I'll be happy to fill you in. But I won't tell it as well as Willingham did, I'm a terrible storyteller.I hate to get my hopes up, but now I'm looking forward to the next book, which appears to be about Rapunzel and going more into Beast's past and that situation. The description also says that Lauren Beukes is the/a writer and I love her, so I'm interested to see what that means and how it works out. Could be great or terrible, we'll see!

The art is stunning, but I just couldn't get into this one. :(

IDK why I thought this might be better than Fables in it's handling of women but at least now I know not to expect much improvement from what we got there. If anything, the misogyny is just allowed to take center stage, and the quality of storytelling has gone down so much that there's nothing to distract from it.Most of the development of the "plot" centers around interpersonal relationships that haven't been established, much less >seen< by the reader (SQ loves AB so much he's become her "reason to live"? What? THEY HAVE HAD LIKE ZERO SCENES TOGETHER WHAT THE FUCK). Absent motivations abound (why is the bottle imp doing ANY of this?), and even the characters are forced to acknowledge in-universe that there's no REAL reason for them to do much of what they do, eh, but fuck it, we're here already, right?To top it off, once again Willingham creates powerful, autonomous women and decides that their powerful autonomy was simply a phase, and that in the end, all it really takes to "tame" them - fucking TAME, they ACTUALLY USE THAT WORD - and is a man. A man, clearly the endgame for any and every woman.SQ gets the shittiest end of the stick here. At least in Fables she was allowed to have a smidge of agency - presumably she'd at least >chosen< to become one of the Emperor's generals - but here it's all explained away, her villainy retconned into victimhood. If the book were about exploring that, devoted more to the SQ's personal journey, then it might not be SO bad, but instead it's just used to justify giving a former villain a shoddily-arranged happy, man-ful ending despite her past atrocities. What the fuck ever.BR doesn't make it out much better. Her relationship with AB is barely touched on, and most of their scenes together have her pretty reasonably rebuffing his advances (they've literally only just met). Yet by the end of the book she's dressed down for being such a "bitch" to him, where it's revealed that she's acting so (apparently unreasonably?!? SORRY I GUESS YOU FORGOT TO SHOW THAT SCENE) hostilely toward him because she's jealous that he's "in love" with someone else.WHHHHAAAT? WHERE DID ANY OF THIS COME FROM? OH I GUESS YOU FORGOT TO SHOW US THOSE SCENES TOO.This book was a clusterfuck of awful, worse than usual for Willingham. Phil Jimenez's art is nice, but 100% not worth the rest of this crap.

So I'm a great lover of the Fables graphic novel series of which this is a spin off series. The premise of this series, as I was aware, was that it concentrated on specifically female characters of the fables realm (aka fairytales). For the first 50% (a rough estimate) of this graphic novel however I was particularly underwhelmed by the 'female centric' plot, in fact I felt as though the main character for a lot of this story was a man. The fairytale characters who are covered in this book are Sleeping Beauty, the Snow Queen, Ali Baba and his djinni/genie/imp type creature who lives in a lamp. A lot of the plot was also a very bog standard rendition of Sleeping Beauty. I don't know exactly why this series starter just didn't live up to Fables for me but I am hoping for more from the following volumes because I can't deny I love the Fables universe. On that note, however, I would not describe this as a bad read, it just had high expectations to meet. I enjoyed the overall experience, it was not a wasted one, and like I said, will be continuing on with the series with hopes for more. One of the things I did enjoy in this volume was the standard of art, which I feel has its ups and downs in Fables whereas this volume felt meticulously drawn.

4.5 stars, ratherGood lord, I love me some fairy tales, and these were definitely inventive - with gorgeous art to boot! Can you stand how beautiful the cover art is?! This first collection (Wide Awake) focuses mostly on Sleeping Beauty/Briar Rose, but then we also have the Snow Queen (did they totally predict the Frozen fever??) and Ali Baba,a genie, and a little madness. Issue #7, "Lamia," is better a surprise, but I felt like it was a bit Neil Gaiman inspired. (Which is terribly good!) I don't know which I liked better!I haven't read Fables yet, actually about to start, but I was under the assumption Fairest would be the "more for girls" directed stories. Where that might be the intent, it's a little annoying how all the women have huge tits and revealing outfits (which is why I shaved off .5 out of spite). Then again, how else do you sell comics in this economy? It makes me cringe any time the "main" character gets called a bitch for being totally justified for her irritation, which is exactly what Ali Baba does to Briar Rose. There's a good message somewhere in there, but I don't know if it's going to be buried for young girls that might read this. Nevertheless, this comic is widely creative and I look forward to reading more.

A solid start to another companion series of Fables--I didn't care for Jack of Fables, but this more female-centric spinoff looked more worthwhile. A mix of the Snow Queen, Ali Baba and Briar Rose? I was sold pretty quick. It was nice delving back into the Fables world but with some new origin stories to read.The Beauty and the Beast one-shot issue at the end was a a real surprise. I hadn't expected such a twist of the origin to that, and it will be interesting to go back to Fables with this new truth in mind.

(Re-read)I started reading Fairest last year, but when I found out it was a "spin-off" of Fables, I started that series instead. Now, hungry for news of my favourite Fables, I return. Love-love-loving the artwork (still), and I got so much more out of Wide Awake now that I know the background story.

I thought this story was charming and the art work was exquisite. Fantastic addition to the Fables Series! Loved it!!

I enjoyed this even though I'm just starting this series.Kudos, to the illustrator on not making these ladies all slutty looking.I'm looking forward to reading more.

Originally read January 18, 2013

The story jumps ahead with the last page of more than one issue, only to fill in the blanks in the following issue. The flow isn't really broken, in fact it's humorous. Pretty much every character has funny moments, a thing made funnier considering several of them have destructive magical abilities. The artwork has a great deal of detail, like the Fables series has gotten its readers used to. The pages don't have any adornments, but the overall graphical effect is still pleasant. I was barely able to put this book down.Ali Baba is in search of treasure, as always. The bottle he finds doesn't hold a d'jinn, but the imp inside it, Panghammer, has information about a sleeping princess with limitless wealth, Briar Rose. Ali Baba finds two sleeping women, kisses the Ice Queen first, then Briar Rose, defeats a wood soldier from the imperial army and they all make their getaway with the Ice Queen's army on their tracks.They are captured and brought before the Ice Queen while retelling the story of the celebration of Briar Rose's birth. The event was maked by blessings from several fairy godmothers abd also a curse from one fairy who wasn't invited, Hadeon the Destroyer. The curse has Briar Rose prick her finger and die(view spoiler)[, but she is saved by a final blessing that spreads the curse over everyone around her, putting in an ageless sleep until Briar Rose is awakened by true love's first kiss.The story brings out Briar Rose's effect on the Ice Queen. The latter was a mind-controled general in Geppetto's army and Briar Rose put her to sleep by pricking herself. The long sleep purged Geppetto's control over her.The mentioning of her name also draws Hadeon to the Ice Queen's castle, starting a fight between the two. The Ice Queen almost loses, but calls the names of the other fairies in Briar Rose's story, making them show up too. Unfortunately, they can't help the Ice Queen, as Hadeon hasn't gone against a treaty the fairies have. Briar Rose is able to defeat Hadeon because the latter's magic sees Briar Rose as being dead as a result of her curse. Instead of killing her, Briar Rose chooses to magically transform Hadeon into a sporty car. (hide spoiler)]

I'm pretty picky when it comes to spin-off series. The Sandman derivatives do nothing for me and I'm probably the only Hellboy fan on the planet who isn't interested in B.P.R.D.. Spin-offs end up being major bummers because they just don't seem to ever live up to the originals. So I wasn't expecting much of this companion to Vertigo's ongoing series Fables. But its almost impossible for me to resist a book with an Adam Hughes cover, so I decided to give it a go and hope that it was at minimum tolerable (if not, then at least I would have a book containing Hughes covers uncluttered by text). Well, I'm glad that I did! Fairest, Vol. 1: Wide Awake, the first in a series of story arcs about the female residents of Fabletown, is just as much fun as the original series. When I was finished I was actually pumped. This one is a spin-off you don't want to miss.The heroine of the first arc is Sleeping Beauty. Awakened from her slumber by a kiss from none other than Ali Baba, the King of Thieves - with a little help from his smooth-talking genie Jonah - she finds herself right smack in the middle of a goblin camp. But that's not all. The Snow Queen just so happens to be there as well, also awakened by a kiss from our handsome thief, and when that happens all hell breaks loose. The characters make for a fun mix of personalities and the six-part story has plenty of action, not to mention Bill Willingham's signature sense of humor. I won't lie, though, the final battle tested my patience a tad, feeling a bit stretched with maybe too many long-winded speeches (a la Bleach) And I was disappointed that the fight was wrapped up with what felt like a technicality. Likewise, there isn't much I can say for Phil Jimenez's art other than that house-styles are better than Photoshop-colored fan art if not particularly eye-catching. Still, the ending the arc was fun and sassy, and I'm happy for Sleeping Beauty. Not to mention jealous of her sweet new ride.The volume wraps up with a one-shot written by Matthew Sturges and illustrated by Shawn McManus, the perfect team for this Noir piece featuring the Beast and a mysterious woman named Lamia. It really does capture the feel of a 1940s murder mystery without seeming too silly a setting for the Fablesverse. Bigby also makes an appearance (as does St. George!), and I always love a Bigby appearance. One-shot format is probably the best length for this story, but I do kind of wish that it was arc-length. I want to see these two creators work together again! On the side, this chapter (Issue #7) features my favorite Adam Hughes piece. I bet he had a blast with that embedded "Indiana Jones" reference (wink).I should probably be reading further along in Fables instead of jumping right into Fairest, but I'm glad that I did. Female characters are always my favorite and Fables has some of my favorite ladies in comics. This book is well worth picking up if you're a fan, even if you're a picky fan like me. Good thing my buddies are up-to-date on the single issues, because I can't wait for the second volume to come out. Rapunzel is next! Awesome!

This is the first volume in another Fables spin-off. A lot of the Fables spin-offs have not been great, and I was a little worried about Bill Willingham focusing on "the ladies" of the Fables series, since he's turning into a bit of a right-wing crank with a stick up his butt about Political Correctness and all, and you can see where that's likely to go. However, I was pleasantly surprised that at least the stories in this volume were quite good, with a lot of the old magic of the best Fables stories.The main story in this volume is that of Briar Rose, aka Sleeping Beauty, who we last saw in the main series having pricked her finger, sending herself and most of the Adversary's army into a magical coma and thus ending the war.She is woken up by Ali Baba, who with the help of a lowly bottle imp (Ali was quite disappointed, having hoped to get a full-fledged genie or efreet) gives her "True Love's Kiss" and awakens her.Sadly for Ali, Briar Rose is not impressed."You woke me with true love's kiss. Do you know how many times I've been woken with true love's kiss?""Well...""Dozens! Hundreds by now! And how many times has it ended up in true love forever and ever? No times! No times have I ended up with anyone who had the slightest intention of loving me forever and ever! Zero! Zip! Nada! True love's kiss is a lying dungsack!"They have bigger problems, though, because by waking Briar Rose, they also woke up the Snow Queen, and the entire goblin army. The Snow Queen, you may recall, was one of the nastiest and most powerful of the Adversary's lieutenants.So, surprisingly, Fairest #1 is actually the Snow Queen's story, hers and Briar Rose's, as we learn the true and complete origins of both, and they both reveal hidden layers. Then there is an epic magical battle between some of the heavyweights of the Fables universe, and then True Love. Or something like it.I enjoyed it quite a lot. And Willingham only got his crank on a little bit. (The bottle imp, whose magical gift is "knowing things," like a living library, gives Rose a lecture early in the first issue about how women are physically inferior to men and that's why they have to give stupid separate prizes to women in marathons and since it's coming from the magical bottle imp he/Willingham is making a point of emphasizing that this is actually Objective Reality Deal With It hur hur.)There is a small side story at the end starring Beauty and the Beast, with a surprising and dark twist to their story which kind of casts everything we know about this couple from the main series in a new light.4.5 stars for the story (Willingham being a cranky old sourpuss gets a half star deduction) and 4.5 stars for the artwork. Recommended for fans of the Fables series, and it's a fun read as a stand-alone, though it probably won't be as much fun if you are not already familiar with the characters.

As a fan of fairy tales, retellings and fantasy, I couldn't pass on Bill Willingham's Fables comics once I knew about them. As of today I've read through compilation volume 8 in that series – far enough to resolve Snow White's romantic plot. I liked the stories, the threads of myth and familiar tale-telling, and I liked Willingham's novels even more (Peter & Max, for instance). When I found myself in a comic book store the other day, the Fables series was the first thing I looked for. That's how I discovered the author's newest release, Fairest: Wide Awake, a spinoff featuring the women of the Fables universe.Wide Awake is a compilation of the first 6 single issues in the Fairest series, and it contains a story arc that brings together familiar characters Sleeping Beauty, the Snow Queen (who was on the wrong side in the original Fables series), and Ali Baba of thieving fame. The other main character is Jonah, a diminutive bottle imp, and it is through his meddling (and ceaseless exposition) that the story comes together.All series start somewhere, and fleshed-out character motivation and back story is something that a successful tale doesn't skimp on. Unfortunately, Fairest: Wide Awake doesn't have much in that department. The story is interesting on its own, but it lacks cohesion unless you've read the majority of the Fables series, and that recently. Although there is ample time spent on Sleeping Beauty/Briar Rose's past, Ali Baba and the Snow Queen are on their own, and imp Jonah's past isn't fully explained either, though that doesn't keep him from talkingandtalkingandtalking.Don't let me drive you away from this comic series, though – there is much to recommend it. First, if you have read Fables recently, this will flow nicely, and it's refreshing to see a familiar cast of characters get more air time. Another thing I appreciated was the focus on the female characters of fairy tale – if this is anything to go by, a continuation of the series will be entertaining. Add in gorgeous art throughout, and this is not only a fun story, but a visual feast. A note: in addition to issues 1-6, there's another story featured in Wide Awake. It's a detective noir retelling of an interlude between Beauty and Beast in 1940s Hollywood. While its placement is curious, the history of Beauty is done to a T, and mimics the success of black and white cinema noir. All in all, a delightful addition to an already entertaining volume.Recommended for: fans of Willingham's Fables, those interested in fairy tale and myth, and anyone interested in kick-ass women in the world of comics and graphic novels.