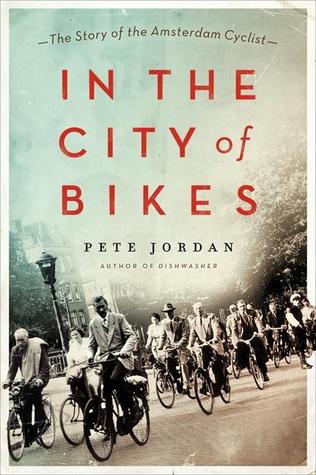 Pete Jordan, author of Dishwasher, tells the story of his love affair with Amsterdam, the city of bikes, all the while unfolding an unknown history of the city's cycling, from the craze of the 1890s, through the Nazi occupation, to the bike-centric culture adored by the world today."Few people are audacious enough to lead a memoir-worthy life. Even fewer people are talentePete Jordan, author of Dishwasher, tells the story of his love affair with Amsterdam, the city of bikes, all the while unfolding an unknown history of the city's cycling, from the craze of the 1890s, through the Nazi occupation, to the bike-centric culture adored by the world today."Few people are audacious enough to lead a memoir-worthy life. Even fewer people are talented enough to write said memoir. By the grace of the literary gods, Pete Jordan is both." -San Francisco Bay GuardianPart personal memoir, part history of cycling, part fascinating street-level tour of Amsterdam, In the City of Bikes is the story of a man who loves bikes in a city that loves bikes....
| | | |
| --- | --- | --- |
| Title | : | In the City of Bikes: The Story of the Amsterdam Cyclist |
| Author | : | |
| Rating | : | |
| ISBN | : | 9780061995200 |
| Format Type | : | Paperback |
| Number of Pages | : | 448 Pages |
| Status | : | Available For Download |
| Last checked | : | 21 Minutes ago! |
---
In the City of Bikes: The Story of the Amsterdam Cyclist Reviews
I met Pete in Portland in the summer of 1999. He was zinester-famous, being the publisher of Dishwasher Zine, chronicling his itinerant dishwashing lifestyle. Fast forward to 2013 and I got this book as he came through Pittsburgh on a book tour. This book is partly about his move to Amsterdam because of the cycling culture there, but mostly about the rich history of cycling in that tiny country. It's a very interesting read, on both the personal and historical counts. My favorite parts were the chapters devoted to the Nazi occupation of the Netherlands and its effect on cycling. I would actually give this book four and a half stars if I could. I would only take that half-star off because of the frequent reference to beautiful women on bicycles.

I really enjoyed this book. I am not a cyclist. I visited Amsterdam and spent many hours watching the bicycle traffic with great fascination. It is impressive to see peak drive times and busy intersections. The style of bikes, the various ways passengers are transported, all varieties of clothing, are all entwined in the commute. Initially it seems so random and out of control, yet from an American perspective of gas guzzling consumerism, it's absolutely beautiful.

If you haven't read "In The City of Bikes: The Story of the Amsterdam Cyclist" by Pete Jordan yet, I highly recommend it. Whether you are specifically interested in Amsterdam or are fond of biking, it is a good read. I am an expat, just like Pete, and I have been biking in this city for four years now. Yet through Pete's research and words I learned so much about Amsterdam and the biking culture. I have many pages bookmarked, noting interesting facts that I want to share with others. Sometimes when I mention certain stories and quotes to the Dutch, they are surprised to learn something new about their country. I especially love how he weaved in his own memories and reflections, adding this personal touch. He keeps the story exciting despite its length, writing about history in a creative, captivating way. At a certain point, I didn't want to put it down. It is clear how much research and time he put into this book, for which I commend him.

I love books that go into depth on relatively obscure topics, like Mark Kurlansky's "Salt." I enjoy learning about what fascinates an author and making connections to disparate fields of knowledge. So I'm all for a deep dive into unknown waters. After reading this book, I can say that I know far more about cycling in Amsterdam than I ever wanted to know, but as a reader who respects an author's passion, here are the big take aways: people love to ride bikes in Amsterdam; lock your bike if you don't want it thrown into a canal; it's possible to fall in love with a place simply because of how people there get around. I salute author Pete Jordan's passion for cycling and for Amsterdam. However, this book could have been way shorter and gotten its ideas across. Or it could have been far more personal (the personal chapters were engaging) and less detailed on the micro-politics of the Amsterdam city council's cycling debates. Or it could have put Amsterdam into a larger context about cycling in cities. But it plodded along in a chronological fashion decade by decade through the history of twentieth century cycling in Amsterdam. I should have stopped reading after the first 150 pages or so. But sometimes I can't help myself. I did make it to the end, and Pete Jordan's easy prose helped, but his editor should have intervened.

Part memoir, part travel log and part history, Pete Jordon takes readers on a trip through the streets of Amsterdam on bike, sharing at the same time, his family's permanent relocation to the city. Filled with humorous antidotes and historical details of how crazy this city is for cycling, it offers a stark contrast to America - the city of cars.Overall, this was an enjoyable account for anyone who loves quirky travel stories. Pete's search for the perfect biking city in the USA had fallen short and a study opportunity in Amsterdam affords him the perfect opportunity to find the city of his dreams. Just off the plane, he walks into a bike shop to buy "Brownie" - the first of many bikes.The part that is so amazing about this story is the biking subculture of Amsterdam, and how it developed and evolved. People are crazy about their bikes! Even during WWII, cyclists offered soft resistance to the Nazis through a variety of means - and never got over the German's pilfering their rides. Many more idiosyncrasies and the history behind them dot the pages of this book. The Dutch do love their bicycles!I liked the story of Pete and Amy Jo, and their decision to remain in Amsterdam. I wished they had shared a bit more of that journey. Jordan did a great job of intertwining the history of the city with their own personal experiences. But as the primary characters of this adventure, I would have liked to get to know them a little more - especially Amy Jo. Watching them grow and change through their time in the city, was rather like watching Amsterdam itself fall in love with cycling.Recommend for: Biking enthusiasts and lovers of unusual travel books or anyone who might want to peek at Amsterdam through the lens of a bike lover.Note: I was provided a copy of this book by the publisher. All opinions expressed are my own.

An interesting read about the history of cycling in Amsterdam, the eponymous city, written by an American cycling aficionado. He writes extensively about the current status of city biking in Amsterdam, bike theft, the history of the politics of bicycling there, incorporating details about the German occupation during WWII, etc., so you'd better have an interest o you'll drown in the details. It was fairly engagingly written, for all that, because he writes from personal experience living there with his wife, another cyclist.

There was definitely some good stuff here, but not enough for a book -- it felt like an incomplete reworking of the research papers he was writing for his urban planning program. Jordan's own stories of his Amsterdam bike riding experiences were solidly interesting and well written, but as for the decade-by-decade history of bike riding in the city -- meh.

This book uses way too many quotes to illustrate its points. Often three or four quotes in a row to illustrate the exact same point, so I ended up skipping some.Apart from that, I generally enjoyed the book. It felt too long in some places, as if the author wasn't willing to part with any of his research even if it didn't add much to the book. But in other places I loved every bit, and it didn't feel long at all.The book included some interesting history of Amsterdam, particularly during WWII, and made me more keen to ride my own bike. I can't wait to visit Amsterdam now, and see the city of bikes for myself.

I liked this book very much, both because the subject and the way it was handled was appealing (to me) and also because I think it is well written. I was confused however by title - I only understood what it meant properly after I had read 50 pages or so. In particular, "the story of the Amsterdam cyclist" can be understood as "a social history of cycling in Amsterdam" - "the Amsterdam cyclist" is meant to indicate Amsterdam cyclists in general from the 1890s to today. (Probably this confusion is just my problem.)The blurb on the back cover states, "Part personal memoir, part history of cycling, part fascinating street-level tour of Amsterdam, In the City of Bikes is the story of a man who loves bikes-in a city that loves bikes." But really 90 percent of this book (which is almost 400 pages of text plus 40 pages of notes) is a history of urban cycling as transportation in Amsterdam, and to some extent in the Netherlands more generally. There is some comparison to cycling (and use of cars) in the United States, but not so much as to seem polemical. The "tour of Amsterdam" referred to in the blurb is, I think, incidental to the history of cycling for the most part (and that's fine). The personal memoir aspect is ten percent or less of the book and mostly at the beginning and end of the book and the beginning and end of chapters. The transitions from the memoir portions to the more purely historical narrative are smooth and the style is consistent and at least for me; I was just as interested in both parts. Everyone has read a nominally "travel" book where it feels like the author is padding his or her experiences with "historical context" and the shifts from the personal travel anecdotes to the "history" portions are clunky - there is none of that here.In fact, even though this could have been reworked as academic work on cycling history, it is far more pleasant (and just as instructive) to read the way it is, with the unobtrusive memoir sections providing helpful context by providing an understanding of "where the author is coming from." When I got this book in my hands, I was a little doubtful - looking at a 400+ page book entirely on cycling in Amsterdam I wondered if it could really be something I would be drawn into and enjoy. Well, that turned out to be no problem - I liked it a lot.My only slightly negative comments are minor. The chapters about cycling in Amsterdam in World War II are interesting but of the entire book it was the one part that seemed a little long. It was somewhat surprising that the "modern era" (the 1980s on) is dealt with in about twenty pages at the end (although there are mentions of modern Dutch cycling throughout, when I think about it). Having read this, I somewhat oddly feel I can tell you more about policies for Dutch cycling in WWII than today. Hmm. It was also odd that the author's one previous book credit is writing a "memoir" of his experiences washing dishes (professionally!) in all fifty states. I regard such "listicle" type books as an artifact of our time (although I'm probably wrong about that) and not a good one. That doesn't mean I don't read such books from time to time, but many of them seem like clever ideas and don't read well - anyway, it wasn't exactly a hint in my mind of what is in this book.For an American reader interested in cycling for transportation as an alternative, this book is a gentle (and I guess extensive) historical introduction or overview. While it is obvious that the author has a point of view and what that point of view is, the book is not written to hit the reader over the head with that.The Publishers Weekly blurb states, "the readers will understand that the bike is to Amsterdam what the car is to America" - yes, and will understand in a helpful way why.

This book is worth reading if you're willing to skim (or maybe skip entirely) Pete Jordan's chapters about himself and his own biking experiences. The really interesting stuff was all the fascinating things he shares about the history and culture of biking in Amsterdam: the tradition of "troublesome" Amsterdammers who buck rules and authority and have, decade after decade, stood up for their rights; the role of bikes as a form of both oppression and resistance during the Nazi occupation in the 1940s; why bikes became so important in the Netherlands and why cars became king in the U.S. -- all that stuff was really interesting.Not so: his own anecdotes as an American living and cycling in Amsterdam. I'm guessing someone advised him to sprinkle in his personal experiences to give the non-fiction work some heart and context, maybe to create a connection with the author. It mostly serves to alienate him. I have a healthy interest in bikes, but this dude is obsessed, and it's hard to relate to. What I found most irritating, though, was his downright smugness about the things he knows about Dutch history that the Dutch themselves didn't know. He sounds like he's bragging. Jordan also tends to overdo the details, including data he's collected that no one should collect, ever (e.g. counting how many passing bikers had decorative flowers on their bikes, and then breaking down that number by gender). More isn't always better.Definitely worth reading if you stick to the historical chapters.

neatly written history of bikes in amsterdam and holland, and travel autobio of moving and living in amsterdam from usa. dutch having a fairly unique take on bicycles, city life, transportation, peoples's rights, OTHER peoples's rights, and how best to balance freedom, liberty, compassion, openmindedness, fairness, justice, there-ya-go-ness, personal responsibility.so: no helmets really used much ; multiple locks used and still huge bike thief problem ; infrastructure constraints (not enough room not enough money) overcome by sheer bull headedness (lots of bike ways, but not enough, lots of cars, but they must wait there turn, cold nasty weather but just bundle up) interesting history like when nazis took over and shut things down, partisans used bikes to move clandestinely. also, during '60's there was a lot of direct action, only nominally about bikes, but as a practicality, bikes were involved, and now? bikes everywhere. this book needs way more pictures, maps, biblio, etc

Dreadful. This book really needed a strong editorial hand. I borrowed it from the library because I was intrigued about how cycling became so popular in one of my favorite cities. The TOC also hints at the importance of bikes during WWII. Alas. There was way too much about the author, too much gee whiz, and the style was sloppy. The worst thing, though, was the way Jordan trivialized the Dutch privation during the war. It was as if the confiscation of bikes was the worst the Dutch had to endure during the occupation! Yes, he does mention the Hunger Winter, and occasionally, Anne Frank, but somehow, there was more passion about the state of cycling.Badly done. And no, I didn't read the whole thing.

I really liked this book but I think you would have to have an interest in biking and urban planning or at least the history of Amsterdam to enjoy it. You learn about the role that biking played in Amsterdam's history and an American bike fanatics' personal experience living there.I am not ready to move yet but I certainly want to visit soon.

Definitely made me want to visit Amsterdam. Not so much with wanting to start cycling more.

Pete Jordan grew up in Pittsburg commuting by bicyle in the snow. He realized he didn't belong in the midwest when at one point he was so excited to see just one other bicycle track in the snow on his ride home from work (hoping he had found another cyclist) only to realize the tracks were his own. Pete tried bicycle friendly cities like Davis, California and Portland, Oregon...but found his home in Amsterdam (The City of Bikes)..and goes on to tell his family's story of living above a bike shop against the canals of Amsterdam and the greater history of why Amsterdam became a bicyclist heaven. Amsterdam is flat as a pancake (except for a few canal crossings), densely populated, has narrow streets, and a mild climate..all perfect for cycling. Pete is the kind of author I would love to meet. He has a fondness for old bikes, beat-up, barely held together... the kind that bike mechanics in the states snub their noses at..but Pete finds kindred spirits in Amsterdam. He finds a job as a janitor and his wife becomes a bike mechanic. They live out their dream of owning their own bike shop and living above it. They have a son and Pete buys a bike seat that rests between the rider and the handlebars and they travel Amsterdam with his son pointing the way (note..put the children up front if you can..better view than your back).In Portland Peter was excited to see 19 cyclist in 30 minutes. In Amsterdam 19 cyclist ride by in 30 seconds. Everyone rides. Infants ride in seats with windshields, babies ride in slings attached to their parents chests. Women sit side saddle behind their husbands with their legs dangeling comfortably and flowers decorating their bikes. Men and Women "dink" on bikes holding hands and kissing. And the bikes are nothing like the polished racing bikes in America. Pete was fascinated by these old heavy clunkers the Dutch rode. Suit and tie closed businessman rode unbashedly in beat-up old bikes held together with tape, rubber bands...and the city was quiet. And people were happy. And they stepped on and off their bikes like ballerinas. Pete goes into the history of bikes in Amsterdam. He follows the problem of theft (the railings in Amsterdam are covered 4-5 bikes thick..all locked at least twice) to attempts of a free bike program. Pete discusses pneumatic tires and stryrofoam and wooden tires to alleviate the problem of flat tires. He looks back in the Nazi takeover and theft of bikes. He has a chapter on bike fisherman (those who dredge the canals of Amsterdam to find bikes).Many people would be healthier and happier (I am the days I commute to work by bicycle) if they got out of cars and on to bicycles. Pete and the city of Amsterdam have recognized the wonderful contribution of bicycles. 5 stars! I got to visit Amsterdam.Now as a former dishwasher..on to his next book....Man's Quest to Wash Dishes in all 50 states!

Yes, 400 pages of Dutch bike trivia, and, to invert Dr. Johnson, one is even more surprised to see it so well done as to see it done at all. Jordan cobbles together newspaper accounts, letters, historic documents, travel guides, and personal letters to create a light and enjoyable history of Amsterdammers and their anarchic attachment to their clunky stolid bicycles. There are celebrities: Queen Wilhelmina in exile demanding her staff get her a used cycle; Tony Blair pedaling madly ahead of other attendees at an international conference; Anne Frank wondering at the speed of riders "whizzing" by; even Audrey Hepburn smuggling newsletters during the occupation under woolen stockings.The author punctuates all of this with occasional personal anecdotes: "For almost an hour and a half, I followed the bike fishermen [sanitation workers who clean the canals]. While the claw operator did the actual fishing, the other crew member piloted the boat at a speed slower than a walking pace (so slow, in fact, he was able to tend to other tasks, like preparing the tea.) Along the way the number of onlookers rhythmically swelled and contracted. Whenever the fishermen had a dry spell, the crowd grew as people lingered and expectations increased. Then, when a bike was finally nabbed, the seemingly satisfied crowd would disperse. Though the claw hoisted up otehr junk -- three car tires, two scooters, a no-parking sign, a long metal pipe, a chair -- the vast majority of the time, when a catch was mae, it was a bicycle. In less than 90 minutes, I watched the fishermen land 47 bikes." (p. 331) Most of the quoted accounts (according to the sources) are translated from Dutch, and Jordan seems to supply his own insouciant style to the speakers: "After the announcement of Willem-Alexander and Maxima's [Zorreguieta, an Argentine] engagement, the nation took an even greater interest in the question of the woman who would be marrying the heir to the throne. And still, the question persisted: Could this foreigner cycle? When a reporter asked Maxima if she knew how to ride a bike, the soon-to-be-princess shot back, 'Yes, what do you think? I'm not from another planet. Of course I can ride a bike.' When Willem-Alexander and Maxima biked together through a Dutch town, one witness reported back to the rest of the nation: 'Maxima has a good, confident style. She doesn't look like a hesitating refugee who has mounted a Dutch bike for the first time as part of the integration process. One had on the handlebars, the other one waving. Easy peasy.'" (p. 379)

This is an excerpt from a review I wrote on Forefront. Here's the first few paragraphs: To be a cyclist in America is to be hated by mostly everyone else. I've been a committed urban cyclist ever since I first moved to a big city when I was 20 years old. On one of my first commutes across the city of Washington, D.C., I remember braving the center of Connecticut Avenue as I prepared to turn left, and getting so flustered that a cop pulled up to ask if I was okay riding there. I said I was, though then I really wasn't. Now I can handle just about any street, but my attitude these days can only be described as "battle-hardened." You shouldn't have to be battle-hardened just to get across town. But that's what it's like to be a cyclist in this country.So I began reading Pete Jordan's In the City of Bikes: The Story of the Amsterdam Cyclist with an optimism that the book promptly squelched. I had heard that, in Amsterdam, the culture of cycling is so strong that cars actually defer to cyclists. I had also seen this photo and wanted to read about a magical place where the rules and people were so different than they are here. It sounded too good to be true and, as Jordan tells it, that's because it is.In the City of Bikes reveals that it is indeed much, much better to be a cyclist in Amsterdam — but not because the powers-that-be have embraced the way cycling benefits the city, nor because the city is so well designed for it, nor because non-cyclists have a respect for people on bikes. The reason Amsterdam cyclists have it better is because so many people in Amsterdam ride bikes.

Selected due to our recent trip to Amsterdam, this book was a delight. What is it about Amsterdam that makes one think that even after being there only 3 days that I can picture the settings described in this book? Place names evoked a memory, and so I could understand and appreciate the author's descriptions of the struggles the city has faced as automobiles invaded what was previously already a chaotic traffic jam of people and bikes. And indeed, the bikes are among the first things one notices in Amsterdam. In contrast to so many scenes in this book, the traffic appears to run smoothly, with bikes, people, trams, taxis, and cars sticking in their own spaces, for the most part. (A pedestrian must keep a sharp eye out, though, as there are separate traffic lights for the bike and for the car traffic, and both are coming from both ways!)This book may have been the result of graduate school work, as it is full of research, quotes, statistics, etc. about bikes in Amsterdam - throughout history, with especial attention paid to the 20th century. The occupation years during WWII were most interesting. The author was a little fanatical in his focus on bikes. But he seems to have adopted the perfect city and lifestyle to fit him and his family.

This is the second book I've read this month by this author. I was completely liberated by the idea of someone moving to a foreign city and then proceeding to take the city's signature theme, research it to the hilt, and then write a completely delightful and engaging account. Once again--we come with so few rigid instruction books! We can write out own life!!

Simply marvelous. An very engaging pop history and memoir.

In the City of Bikes: Peter JordanTraffic jams, overwrought motorists, cyclists and pedestrians trying to share the streets, the pathways and hoping to get to their destinations. But, what happens when all of these people converge and traffic gets bottled up and the end result is chaos or a bottleneck. Peter Jordan takes us on his own private journey through the many cities in Amsterdam, to back in time when the first bikes were invented and allows readers to join him on his special journey. Imagine finding your way to Amsterdam and deciding to become immersed in the culture and the customs but first having to decide your mode of transportation. Bicycling came to Amsterdam in the late 19th century. The city itself had many changes in urban development and become conducive for the cyclist and the bike use. Most cities at this time had seen a lot of suburban growth but the inner suburbs was better suited for bike riding. As we hear the voice of our author we get his reaction to seeing so many different people riding bikes. From women in long dresses, short skirts, men in suits and others in different attire you can feel the excitement within him as he takes us across the many streets, cities and routes in this insightful memoir titled In the City of Bikes. Amsterdam is better suited for the cyclist than for cars. A network of canals and bridges spans the center of this beautiful city and the result of their urban renovations resulted in trying to widen their roads but that did not work. Congestion problems soared when more people bought cars. Kids riding bikes, infants in little seats, some on the rear rack of a bike, these are the impressions related by the author to readers as we learn more about his yearning to live in this city and the fact that what he witnessed we would not here in America. Narrow streets, canals that could not handle car traffic and finding himself in need of a mechanic when he was in the bike lane just walking as he shares his experience on page 9 with readers. He gives readers the history of bikes and describes the many people that he sees riding. One all "dolled up, another with stiletto heels and still another rolling a cigarette while riding. But, the author decided to take his journey even further by learning Dutch and then hoping that his soon to be bride would join him. We learn that at the beginning of 1890 we would see bikes with high mounts, solid tires and even four huge front wheels. The author continues on pages 22-23 telling everyone about what happened to Princess Wilhelmina and why she was not allowed to ride. In reading this book I decided to learn more and found the actual article written about this soon to be queen. I need to state that Amsterdam is a bike friendly city the most friendly in Europe. Believe it or not it has about 280 miles of cycling lanes. Most of the people living there ride bikes and as many as 43 percent ride them to work. Bikes are popular here and many of its city officials and planners would prefer their residents to ride bikes. But, between 1955 and 1970 cars became more popular creating traffic jams. So, in 1970 those living in Amsterdam who were citizens voted in favor of bikes allowing the planners to invest more time and money creating a better and safer routes for cyclists. Bike lanes were created, and believe it or not they even have special areas for cyclists to park. But, of course those using cars or buses were not happy. The author shares some history with readers about German Queen Emma just before Wilhelmina would become Queen in 1898. Poor Wilhelmina was not allowed to ride a bike for fear she might have an accident and get hurt. Challenging her mother she actually we learn she actually went to the Council of State, but they did not side with her. They felt that " the matter of her Majesty's life and death is too important for too many of her loyal subjects, to take the risk, how ever small it may seem." They also stated it was undignified for a Queen. She of course obeyed the rule and the cycling ban until the early 1930's and after her the death of her mother she began to ride along public roads with her daughter Juliana. An advocate of cycling she did a lot to encourage others to do the same. Learn more when you read the chapter titled Lucky Few. This is the actual article and here is her picture. Amsterdam and the history behind cycling is exciting. They even opened up Cyclist Schools, which the author describes on pages 26- 29. He continues to enlighten readers with the many laws passed, the job of one man to control the traffic and next Bike Thievery. The author shares stories about many bike thieves, the law passed that states that bikes must be properly secured and his own naivety causing the bike he bought for his wife to be stolen. He then continues with his search for the thief and to what lengths he would go to recover the bike. Throughout the memoir we learn more about the history of the bike, the regulations that were made, the laws created and his love for the cycle. Imagine trying to cross the street and some who wanted to rule the road. As the author takes us back in time to the first 2 decades of the 20th century and explains in detail why everyday transport was expensive and how it changed after WWI. The book then continues with the history of that time period, German bikes of all sorts that were made and which firms received them. Every class of people wanted bikes and each person had a particular one that suited them. Read King of the Streets to learn more and understand why Queen Wilhelmina loved cycling. But, like everything else remember there are those that would be against it and that the author elaborates on in pages 59-64. Okay, so they even instituted a bike tax law whose enforcement was transferred from tax agents to traffic police. Read the chapter to learn more. Everyone has their own preference so as you will learn in Chapter 6 which focuses on Automobile vs. the bike. We learn more about Amy Joy and their life in this city in Chapter 7. He takes us inside their apartment, the renovations need and the new definition of Cyclomania and how it affected everyone. He calls it the Amsterdam Cycling explosion beginning in the 1930's and then booming in the present. Read Problem Children and Which Ones' the Wrench to learn more where he shares his job, how he managed and his feelings for the city. He even includes statistics for those who smoke and ride, those with two bikes and those that ride with beer bottles and even those that ride with their arms in a sling. Next, he shares Remembrance Day in Holland in Chapter 9 followed by Chapter 10 which is quite compelling and focuses on WWII and anticyclist measures and banning Jews in the country outside of Amsterdam from riding, renting or borrowing bikes. The rest of the chapter you have to read for yourself to understand just what was done to so many. Nazi occupation described, the fact that Amsterdam was the home to about three hundred thousand bikes at the time including women and children. But, the Nazi decided it would be easier the author states to net 8000 bikes. The rest you can read including statements written by a diarist about how when the police took their posts most bikes were gone. There is much more that is shared and what part the police played. Then the final years of the Occupation followed by The Mystery Rider where the author describes his life in Amsterdam, moving into his fifth apartment and hoping to upgrade his bike which his wife did as a surprise. Added in his some history about Theo Van Gogh the great-grandnephew of the painter and the fact that he used to ride an old, black bike with a wicker basket. What happened and the attack on him is described and who did it was exposed. Van Gogh was murdered and this for some reason remains in the author's mind till today. He even recounts events after his murder and an incident that happened to him. The rest of the book focuses on The Chaos with the Bicycles: the 1950's, new additions to bikes and bike programs and successes. Sharing with readers the typical bike fisherman so why did he think Amsterdam did not match up to Copenhagen where he realized that a public-use bicycles program according to the author really worked.He describes their arrival at the Danish capital and shares with readers the difference in the cities on page 328. Bike keys, bike thieves, keys in the locks and sharing the history with Amy Joy and his family we learn that upon being in Copenhagen for four days and further investigation that many bikes were secured by three locks where in Amsterdam only two. There is much more that he shares within this chapter. Let's not forget the information about the bike fisherman within this chapter. So, why would you not need a car and what does Death to the Car mean? For someone that has never ridden a bike because where I grew up there were no bike paths, huge streets with heavy traffic and nowhere for kids to really run and play I love reading It's a Joy to Be On Bike Again where the author shares how he managed to ride and replacing the front seat of his bike with a rear one thanks to his wife and hopefully allowing his son to have a safe place to ride. Riding with his son Ferris will definitely bring smiles to reader's faces when you read this story and the chapter. Conditions were changing for those who rode but the rudeness of many did not. So, the author shares on page 373 what the police think and feel about cyclists and what they plan to do about their disruptive behavior. This book is filled with great stories, great history and will definitely make you want to go out and cycle in the park, on bike path or with your kids on a safe street that has of course very little traffic and very few cars. He even shares fact that he still has the snapshots of bike repair shops and rental shops. He is leads "enraptured foreigners on bike tours, and he still rides on the Spuristraat bike path the first day in town. The rest read it for yourself and take go alone with Peter Jordan and his family on this exciting tour, by bike through the city of bikes: Amsterdam. Don't forget your helmet. Don't forget to secure your bike when not in use and don't forget to take some pictures along the way.Fran Lewis: reviewerHow about : Five Golden Handlebars and Five Golden Safety Locks

I enjoyed the book very much. I loved that the author decided to both write about the history of the cyclist in Amsterdam and also about his personal life (not to much). The historical facts are well documented and many quotes from papers, books, declarations etc were used to explain or show better the status back then. In some parts was a bit too long and I would have loved to have the historical parts chronologically mentioned (there was a bit of back and forth that was hard to keep up with sometimes). My favorite parts and things I have learned from the book are: the difference between America and Netherlands in regards with cars and bikes as a way to commute, the WWII and the impact the occupation had over the cyclist (the confiscations, the light ban, the laws to protect German cars and their users, the fear or lack of it sometimes, the "First, return my bike" movement), Anne Frank references, the "hippie flights", the assassination of Theo van Gogh (the artists' s nephew), the ministers on bikes, shared bikes programs like Provo's white bikes, removal of abandoned bikes, Wim Pijbes and other directors of Rijksmuseum and the debate over the passages, the royal family and their example, women's side of riding - including Muslims, the bike thieves and their own history too, safety on bikes, and the "Ah, those anarchistic, chaotic cyclist of Amsterdam!" when 95 percent of Amsterdam's cyclists obey traffic laws.Some great quotes from the book:"But it had been Van Gogh's steadfast refusal to not relinquish his cycling habits—a basic right taken for granted by hundreds of thousands of Amsterdammers (myself included)—that had made him so vulnerable.""Pijbes complained. "A reporter for the New York Times recently asked we if I was still dealing with the cyclists. He had a grin on his face." On another occasion, when speaking of his foreign colleagues in the art world, Pijbes grumbled, "When I'm abroad, they speak not about the museum's collection, but of the cyclists.'""By featuring the 5 percent of the cyclists in view who were scofflaws, the film helped to embellish the image of the Amsterdam cyclist as out of control. Yet if the film had highlighted the law-abiders, the message could just as easily have been this: 95 percent of Amsterdam's cyclists obey traffic laws. Maybe we aren't such a bad lot after all."" Lang: But don't you think it's antisocial to occupy more Space in the city than necessary? You could just as well have ridden a regular bike if you wanted to cycle so badly, Bakker: It was a demonstration to make it very clear to the public just how crazy it is for everyone to ride alone in a car. Lang: But you stopped traffic with your bakfetsen. And you incensed a few high-strung people, Bakker: We, ourselves", were traffic."

My two main take-aways are (1) effects of physical space and pace of life on how well cycling is accepted as a mode of transportation (ch.6); and (2) the absence of mention of 'Stop de kindermoord' public campaigns, instead exploring political parties and the 1965 public/white bicycle provocation scheme (which, original 1958 proponent Hugo Brandt Corstius explained, was "'a beautiful idea, but can be made even more beautiful. The Provos should bestow just one bike upon the community, but this time a black one. Then, if you see a black bike somewhere'--in a city full of black bicycles--'don't hesitate to make use of this gift from the Provos. And when you get where you wanted to go, just leave it for the next user.'" (p.299)

i wanted to like this a lot more than i did. i was so excited about the subject matter! but idk his writing style really wasn't working for me. i think i was first put off by the intro including a solid two pages on how hot the women cyclists in amsterdam were. the history of cycling could have been interesting, but something about his writing style made it a chore to get through. i think the overuse of quotes really hurt, where maybe using them more sparingly in better places could have made them more meaningful. the section on wwii was just awful imo. i know this is a book about cycling, but to downplay the real atrocities people faced, to mention jewish people mostly in passing, and to act like taking peoples' bikes was the worst thing just felt pretty insensitive to me. i did like the sections about his life in amsterdam a little more, so maybe i was hoping for more of a personal story and less of a history. either way, the author's tone was p offputting to me and it was tough to get through the book.

After spending a week in Holland/Amsterdam for the sheer purpose of looking at Dutch bicycle urbanism, I appreciated this in-depth context of the history behind what I saw in 2017. My mental map of Amsterdam is juuuust barely sufficient for some of the places referred to repeatedly in the book are familiar to me. While I was hoping for more of a memoir-style read (the book jumped out to me in the library shelf; I hadn't heard of it otherwise), it was still interesting, especially the part about cycling during WWII.

Would have given this book 3.5 stars, if possible. I enjoyed it--especially the chapters about Amsterdam and cycling during World War II. While I didn't find all the other periods it covered equally as interesting, the author's enthusiasm for the subject was infectious and his writing clear and well-researched. I would recommend it to anyone traveling to Amsterdam, as well as anyone just looking for something different and interesting to read.

This was a little too heavy on the history side for me and a little too sparse on the narrative of his life in Amsterdam. It had lots of potential to be great, but got too sluggish for me. Though I really enjoy biking and the history about it in this particular part of the world is interesting, it was too intensive.

Since I am a cyclist and I love Amsterdam, I figured I'd love this memoir/history mash up. Unfortunately much of it reads like a dissertation and the memoir portions can be very self righteous. I did find the chapters about how the Nazis tried to confiscate bikes during the occupation interesting though.

In the City of Bikes captures the calm and chaos of riding a bike through the magical city of Amsterdam. What makes this read especially nice is the way he incorporates the rich history of Amsterdam into his personal experiences living and working in the city.

No sooner had Pete Jordan stepped foot outside the Amsterdam airport than did he nearly get run over by a rushing cyclist. He met his near-miss with utter delight, for that was precisely why he was in Amsterdam. He'd come as a student to the Netherlands, to study urban design and the role of bikes in Dutch culture. But the student would become something else, as In the City of Bikes documents his first decade as an Amsterdammer, a man whose career, family, and every joy were nurtured by the closely-knit buildings of this bike-and-canal city, where anything can be walked to but everyone rides bikes instead. For a reader who sees in Amsterdam hope for humane urbanism, Jordan's work is a delight through and through.Why are the Dutch so crazy for bikes? It's not a question they'd ask themselves: in a city where over two-thirds of the people use bikes on a daily basis, the elegant little machines are nothing extraordinary. They don't require helmets, lycra, and a man-against-the-world attitude like cyclists in America bring to the saddle. Cycles fill Amsterdam -- its streets, its sidewalks, its culture. Early on, Jordan speculates on why the United States and the Netherlands developed so differently in terms of transportation; he highlights the comparative availability of land, the scale of the American nation, and the abundance of domestic auto manufacturers as key reasons why the United States quickly embraced hordes of automobiles. Cars only emerged as a serious rival to Dutch bikes in the 1960s, and just as they were provoking serious resistance from student movements, the nations of OPEC thoughtfully banned oil exports to the Netherlands and bikes made an epic comeback. (This is, I submit, the greatest gift OPEC ever made to humankind.)In the City of Bikes is essentially a personal approach to Amsterdam and its cycles that mixes in tales of Jordan's first decade of life in Amsterdam with a narrative history of the city and bicycling. In the late 19th century, bicycling enjoyed intense support as a short-lived fad in places like the United States, but the elegant machines had more staying power in a place like Europe with human-scale urbanism and close connections between worthwhile places to be. The Netherlands' flatness made it especially easy to cycle, so cyclists' numbers only grew and grew. The cyclists swarmed in such abundance that mayor after mayor despaired of their anarchism; even the Germans, after seizing the Netherlands, were frustrated. Rule after rule the new overlords posted, and the Dutch ignored them. (Among the objects of Nazi irritation: Dutch cyclists not staying to the right, as well as holding hands and riding two to a bike. Roads and bicycles are only for transportation, thank you, no joy allowed.) Only when the Nazis began methodically searching and seizing bicycles for use by their own troops did bicycles disappear -- broken down and squirreled away, or tossed into the canal just to spite the greycoats -- with the exception of those so badly maintained that even fleeing Nazi officers couldn't make use of them.Cycling in Amsterdam is an utterly democratic mode of transportation: every class uses it regularly, and there's no real relationship between the wealth of the cyclist and the value of the bike. Parliamentarians and bank executives pedaling to work in their $3000 suits often had the same beaten-up wheels as everyone else. This may owe to Amsterdam's intense amount of bike-thievery: Jordan lost three bikes in his first two years there, and with theft that common there's no point in sinking money into a machine to begin it. (On that note, the black market in bikes is amusingly perverted; when people have bikes stolen, they simply buy a stolen bike -- which is then stolen again. It's rather like a twisted kind of bike rental.) Dutch cycling isn't limited to the young and intense: children grow up on bikes, and bike to school on their own accord. The elderly are mobile -- even pregnant women can cycle. Jordan's wife, for instance, transported herself to the hospital to have her baby, and when she left the place a mother, she returned home by bike. During bicycling's first flare of popularity, Queen Wilhelmina was an ardent cyclist and remained so throughout her life, taking great pleasure in pedaling about incognito.In the City of Bikes is not a guide to bicycling infrastructure. It's simply a story of humans living well -- Jordan, and the people of Amsterdam as a whole. It is connected but free, rebellious but highly functional for human needs. If you like the city at its best, or like cycling, or simply have a care for human flourishing, this is a wonderful little book. I loved it before I bought it, I was thoroughly enblissed while reading it, and I already know it's one I will keep remembering with the thought: this is how life should be. Related:Pedaling Revolution: How Cyclists are Changing American Cities, Jeff Mapes. Amsterdam shows up in chapter one, naturally -- with Copenhagen right behind it. http://thisweekatthelibrary.blogspot....Flickr search for "Amsterdam bicycles". Behold! https://www.flickr.com/search?text=Am...