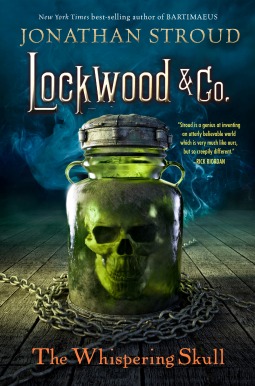 In the six months since Anthony, Lucy, and George survived a night in the most haunted house in England, Lockwood & Co. hasn't made much progress. Quill Kipps and his team of Fittes agents keep swooping in on Lockwood's investigations. Finally, in a fit of anger, Anthony challenges his rival to a contest: the next time the two agencies compete on a job, the losing sideIn the six months since Anthony, Lucy, and George survived a night in the most haunted house in England, Lockwood & Co. hasn't made much progress. Quill Kipps and his team of Fittes agents keep swooping in on Lockwood's investigations. Finally, in a fit of anger, Anthony challenges his rival to a contest: the next time the two agencies compete on a job, the losing side will have to admit defeat in the Times newspaper.Things look up when a new client, Mr. Saunders, hires Lockwood & Co. to be present at the excavation of Edmund Bickerstaff, a Victorian doctor who reportedly tried to communicate with the dead. Saunders needs the coffin sealed with silver to prevent any supernatural trouble. All goes well-until George's curiosity attracts a horrible phantom. Back home at Portland Row, Lockwood accuses George of making too many careless mistakes. Lucy is distracted by urgent whispers coming from the skull in the ghost jar. Then the team is summoned to DEPRAC headquarters. Kipps is there too, much to Lockwood's annoyance. Bickerstaff's coffin was raided and a strange glass object buried with the corpse has vanished. Inspector Barnes believes the relic to be highly dangerous, and he wants it found....
| | | |
| --- | --- | --- |
| Title | : | The Whispering Skull |
| Author | : | |
| Rating | : | |
| ISBN | : | 9781423164920 |
| Format Type | : | Hardcover |
| Number of Pages | : | 435 Pages |
| Status | : | Available For Download |
| Last checked | : | 21 Minutes ago! |
---
The Whispering Skull Reviews
4.5 StarsRating: ★ ★ ★ ★ and a half / 5 starsLead Male Character: ★ ★ ★ ★ / 5 starsLead Female Character: ★ ★ ★ ★ / 5 starsPlotline: ★ ★ ★ ★ / 5 stars Genre: Mystery, middle-grade, thriller, action, adventure, ghostsWill I recommend this book to others?: Of course!Will I reread this book?: Yes! Overall story summed up in one word: Marvelous! There are just some books out there that are so good that words can't do it any justice. You simply have to pick up the book and read it for yourself to see. With that being said, The Whispering Skull falls under this category. It's really difficult for me to explain with words what a beauty this book is unless you read it yourself. Now I'm just going to tell you this: If you haven't done so yet, PICK UP THIS SERIES (The Whispering Skull is book two and the first book is The Screaming Staircase). Though I'm barely on the second book, I already know this series has a lot of potential. It's beautifully written and it definitely sucks you in from page one and you would never want to put the book down!Please read this and you won't regret it one bit! ~ ~ ~ ~ ~ ~ ~ ~ ~ ~ I'm totally not ashamed to say that I am now officially Lockwood trash thanks so my babe, Sauna 💖 (I'll link when I get home :)Oh and before I forget, Mr. Anthony Lockwood and I are getting married soon and you all are invited!RSVP now due to limited seats! Hope to see everyone there! :D

Y'all wanna know a secret?? I read this book back in June and I seemed to have forgot I had to write a review for it. 😉 😉 😉There's something with the books in this series that starts off REALLY slow and takes me quite a while to get into, but once I'm into it, I CANNOT PUT IT DOWN."It's hard to say no to him. It always is"- you know you got issues when you're more invested in shipping 13 year olds than actively living your life- ft. a type 3 whispering skull that is a savage and prefers to roast rather than haunt- gr6 kids flirting:- He took my hand, and placed in it a necklace...It was really very beautiful.'What?' I stared at it. 'Where'd you get this?''Just something I had. I suggest you close your mouth when you wear it – it's more elegant that way." - Its been 2 months and im still not OVER THAT SCENE- Kipps being a grade A butthead- Lbr Lucy can kinda be annoying but she has a good heart- Lockwood is a precious little baby- George is still my spirit animal and prefers food to humans - The mystery is actually pretty creepy - Idk how middle grade kids are reading this and not crying bc I almost am- I literally got chills while reading certain parts - Anyways the beginning dragged and I was falling asleep- But by the time I reached the 50% mark, I was FLYING THROUGH - And the ending was WHOA !!- I wanna read book 3 real real real soon(s) 4 stars!!~~~~~~~~~~~~~~~~~~ Continuation buddy readingwith my Charlotte

This is a reread.LOOK I'M CRYING. I AM DYING. THAT ENDING IS SO SWEET AND I JUST WANT TO CRY. The characters, the plot twist, this entire story is just so incredible, hilarious and everything I need in life. I love George, Lucy and Lockwood more than I love myself and that probably sounds really sad lmao. I'm incapable of writing a review bc honestly i don't know how to for this. All you need to know that this series is perfection. So get your butt to read it, if you haven't??

my personality literally changes minute by minute but i will never stop being more emotionally invested in this series than i am in any of the relationships i have with my family members!!!continuation buddy read with: this muggle

4 starsReview to comeStill great but I didn't love it as much as the first.This one had a big of a drag in the middle.But still an awesome series for all ages!!

So this sequel finds Lockwood and Co. on the hunt for an artifact known as the bone mirror (which has powers that are speculated upon, but never fully explained):They are guided by a glowing green head in a jar:Along the way, they find themselves in a restricted library:And then sword-fighting ensues because they carry rapiers around everywhere for some reason:Then there's a final showdown with a shadowy figure:I have to say the storytelling seemed quite scalloped to me, in that there are many lulls and info dumps punctuated by peaks of action. The cover artwork is excellent, but the interior illustrations need more contrast to actually see what they are. All in all, this was just an okay book for me.

4.5 starsThis was just wonderful. The action, the romance, the suspense. Agghhh I can't get enough of it! Lockwood, Lucy, and George have become my newest book BFFs. AND THAT ENDING.So I can't really review this without spoiling the first book, so if you haven't read the first book stop reading this review and go read the book!!Lucy's Talent becomes more and more intriguing....and in this one, we find out that the ghost in the jar is actually a Type 3 and our girl Lucy can communicate with him. I loved the banter between the two of them. The ghost is hysterically sarcastic and I feel like we would get along splendidly. But naturally, Lockwood stole the show as The Most Charming Character Ever. And George aka my son got caught up in some bad juju which made my heart sad. However, it was interesting to see how Lucy, Lockwood, and George's friendships changed and grew through this. Ugh it is 3:30am and I can't brain right now. Suffice it to say, this book is awesome (but I did like the first book a wee bit more....this one got a bit long in places) and everyone should read it. Bedtime or book 3? Um, yeah the answer is obvious........ Hello again, Lockwood =D-------------So I was going to be patient and wait for a copy to become available from my library. I lasted 24 hours. I am now the proud owner of book 2 of my new favorite series =D

So you live in a haunted house, and are regularly disturbed by... erm, supernatural beings day in and day out. You have work in the morning, but god forbid that female ghost roaming in the halls freaking you out to the point of pissing your pants. You want to sleep but you can't shake off that weird feeling following you around the house. One day, your patience has been stretched to the point of no return when a hostile entity manifests itself, and you promptly realize that this has to be stopped.So, who do you call?LOCKWOOD AND CO.!!!Friends, what a series this series is turning out to be. I read the first book last year and enjoyed it immensely. Not only does it have a cast of memorable, interesting, and flawed characters, but it has a world and society that are equally intriguing and riveting. It's like having a bunch of Ghostbusters around, trying to put down malicious spirits and entities, but I guess with a lot more intrigue and fun.I'm not going to go for any specifics because I would hate to spoil the rest of you if you haven't read this yet, but know this: Book 1 was already so good, and Book 2 just got even better! Last book, we met three characters who decided to team up together to fight ghosts and phantoms: Anthony, Lucy, and George. It's so refreshing to see a group of characters not only fun and interesting as a group, but fun and interesting individually as well They all have their own secrets and quirks, and in this installment we get to know a little more about each of them, and it's awesome how these things are smoothly incorporated in the storyline. Usually when there's a reveal of something important in a character's past or actions, it can get sidetracked pretty fast and veer away from the main storyline, but Stroud is just so excellent in transitioning and weaving them all together. And that, my friends, is awesome storytelling.The plot here is far more sinister this time around, as our trio has to face a more powerful and mysterious foe and may have to team up with their rival teams in order to defeat it. I loved how the interaction here branched out from the three, and we find them reaching out to other people for help, other individuals with quirky personalities of their own. It was definitely interesting and I liked the different dynamics and conflicts that were shown - between Kip and Anthony, between Chief Inspector Barnes and the two of them, between George and another smart-dude... BETWEEN GEORGE AND THE TALKING SKULL... man. It was a blast reading about them, and it's all thanks to the carefully thought-out characterization and development all of them has to go through. Also, did I mention that the ghosts here are not the goody-goody kind? They are ghosts and they are out for blood. I love how they are not taken lightly and how dangerous they really are, so there is a sense of urgency and danger when it comes to dealing with them. They touch you, and whatever part they touch will rot. They can make hallucinations, they can rip your heart out, you feel their depressing presence and it weighs you down. I love how the author utilises them in all kinds of situations and possibilities, making every scene different and exciting.Overall, The Whispering Skull is a brilliant second installment to a series that has proven itself promising and consistent in its characterization and storytelling. Am I waiting for the next book? Eagerly.

5 Words: Creepy, friendship, secrets, adventure, GHOSTS!I love this creepy alternative world that Jonathan Stroud has created. It's dark and twisted and I can't get enough.These books are creepy. These books are excellent.The Whispering Skill is just as well written as the first Lockwood & Co. and doesn't fall into that second book trap. If anything, this one is filled with even more heart-pounding action!And I love Lucy.She's just as kick-ass as she was the first time round, still a complex character. We learn more about her, and I loved the slow ebb of information throughout the story. She's strong and she's special, but in a good way.Lockwood is still as infuriatingly mysterious, but I felt he started to grate on me a little - what's so bad that he has to hide it? (Speaking of... THAT ENDING?!)George is repulsive, just as he was in the late book. Urgh *shudders* those mannerisms of his.I read this pretty much in one sitting, with a supply of tea and a craving for a jam doughnut.I received a copy of this for free via NetGalley for review purposes.

This series is fantastic. I liked book 1 a bit more but this was great anyway. I hope book 3 will be a 5 star read again. Oh and why the hell is there a different narrator in every Audiobook?¿? Unacceptable.*grumbles*

Still so much months to go *sigh* *sigh*Is anybody else seriously starting to feel like this too?:The perfect sequel!I loved how Lucy starts to understand her powers and that she feels more confident because of them.

I read the first book in the Lockwood & Co series over a year ago, mainly out of nostalgia - I was a huge fan of Jonathan Stroud's Bartimaeus series when I was younger, and it was fun to discover Stroud's newer series. It had everything I expected from a Stroud book: scary paranormal stuff, sassy banter, fast-paced action, and a setting that I still cannot stop imagining as Victorian England. (I think it's the fact that the kids use rapiers as weapons that's throwing me off, but there's honestly no reason for me to get the time period so wrong, except for the fact that this series feels so much like a Victorian Gothic-style ghost story.) The first book in the series was purely a nostalgia-driven delight for me, so I was excited to dive back into the story. Maybe this was just a weaker story - other reviews seem to agree that it wasn't as strong as the first book - or maybe the joy at finding a new Stroud series had worn off. Either way, I found a lot more things to nitpick about this one, and even though it was a solid, fun ghost story, I didn't enjoy it as much.The story picks up six months after the events of The Screaming Staircase. Lockwood & Co, the ragtag agency consisting of teenage ghost hunters Anthony Lockwood, Lucy Carlyle, and George Cubbins, are still struggling to compete with the larger ghost-hunting agencies. Their latest case concerns the recently-excavated body of Edmund Bickerstaff, a Victorian doctor who was obsessed with trying to contact spirits. A powerful object was buried with him, and is quickly stolen. Lucy and the others have to track down the object and destroy it, while also trying to figure out the exact circumstances of Bickerstaff's death. Meanwhile, the skull in a jar that they acquired in The Screaming Staircase is communicating with Lucy, and getting more involved in her life. It's all good, scary fun - there's a talking skull that's kept in a jar, for Christ's sake! But it's not as tightly constructed as the first book, and I kept finding issues. For one thing, Stroud has a lot of plot points to juggle, and some of them get forgotten for too long. At the beginning of the book, Lockwood makes a bet with a rival agency that will pit his agency against theirs, and the loser will have to publicly admit defeat. By the time they get around to actually doing this (the two agencies fighting ghosts together) the bet just seems unnecessary and stupid. There's no central haunted setpiece, like the haunted house in The Screaming Staircase, so the final ghost-hunting adventure feels a little less impressive. And, as I noted in my review of The Screaming Staircase, the murder-mystery subplot is pretty weak - once again, the kids are trying to figure out how someone died, and once again, the solution is pretty simple and anti-climactic, and I didn't even care anymore. There was just a lot of stuff that felt like it was dashed off in a hurry, and Stroud didn't bother to spend the time making it better. At one point, the kids have to steal an object from the bad guy, and their plan is so insultingly simple and never should have worked, but it goes off without a hitch. Similarly, the ending felt way too easy. (view spoiler)[So the cursed object they're trying to track down is a mirror that kills anyone who looks into it. Such a powerful, deadly object must be pretty hard to destroy, right? Nope. The kids just smash it, and the day is saved. I almost expected one of the characters to say, "Wow, that was easy." (hide spoiler)]But the biggest issue was the central three characters. Lucy is the strongest, but she's also the narrator, which means we get to be inside her head the whole time, so obviously she's going to be the most fleshed-out. Lockwood remains mysterious, or at least Lucy keeps telling us that he is, but the problem is that whatever Lockwood's deep dark secrets might be, Stroud isn't revealing anything, and the total lack of information just makes me not care. Oh, Lockwood has a secret room in the house that no one is allowed to go into? Look Stroud, we're kind of busy with the ghost investigation right now, can we put a pin in that? And then there's George. Poor, forgotten George. After leaving him out of almost all the action in The Screaming Staircase, Stroud apparently decided to fix the problem by giving us an overdose of George. But it doesn't work, because George is always either a non-entity, or he's wildly inconsistent. Apparently George's primary personality trait is his intellectual curiosity (did we see that in The Screaming Staircase? I can't even remember), and in The Whispering Skull we learn that he got fired from his previous job for asking too many questions about the agency. Okay, so George is curious, and that curiosity provides a major plot point. Here's the problem: remember Lockwood's mysterious Room of Secrets? George, based on everything Stroud has established about him, should be going crazy trying to figure out what's in there. But does he? When he and Lucy are discussing what might be in the room, George is just like, nope, not curious at all, that's Lockwood's business and I don't need to know. What the hell? It's pretty clear that Stroud doesn't really have a clear idea of George as a character, which is not a problem that we should be having in the second book of a series. So overall, not nearly as fun or well-done as the first book. But I'm still going to read the third one, because of course this one ends on the world's biggest cliffhanger. Because Jonathan Stroud is a jerk.

I forgot how much I love Lockwood, George and Lucy. They're one of my favourite trios in children's fiction at the moment, rivalling the most famous of them all. Each character shines, from Lockwood's inexplicable ability to act and think both like a teenage boy and an old man, George's chaotic dedication to researching archives and consuming biscuits, and Lucy's impressive intelligence and determination to solve even the most dangerous of cases and support her argumentative friends. She's been working at Lockwood & Co. for a year now – and they'd be lost without her.The Whispering Skull shares a lot less backstory than The Screaming Staircase because the reader is already familiar with the Problem and different types of ghosts, meaning we're thrown straight into the mystery. This time, powerful supernatural artefacts across London have been stolen, and their warders brutally murdered. Lockwood & Co. have messed up yet another case and are feeling dejected after their triumph solving the mystery of the screaming staircase. That is, until they are called to investigate serious paranormal activity at Kensal Green Cemetery. A suspicious grave of a Victorian doctor has been discovered and inside it, a mirror made of bones with mysterious powers. It has been stolen in the night and it's up to Lockwood & Co. to solve the case. They must reluctantly work alongside fellow detectives – the Fittes Agency – with a little healthy (and humiliating) competition. And with help from the mysterious whispering skull, housed in a jar in the Lockwood & Co. residence – one of the strongest characters in the book!The Whispering Skull is a worthy sequel to The Screaming Staircase. It's full of mystery, adventure, humour – and lots of ghosts! I loved getting to know the trio even more, especially the reserved Anthony Lockwood. I enjoyed watching Lucy's crush on Lockwood develop, with tension that rivals young adult contemporary romance ('He'd looked smarter in his time, but I can't say he'd ever looked better to me.')! It is such a fun series – with the character interactions being a memorable highlight – and I have heard that the third book, The Hollow Boy, is the best so far. I should probably pick it up soon, yes?"Well, I make that one murder victim, one police interrogation and one conversation with a ghost," George said. "Now that's what I call a busy evening." Lockwood nodded. "To think some people just watch television."Thank you to the publisher for providing this book for review!I also reviewed this book over on Pretty Books.

Fand es wieder mal sehr gut, allerdings muss ich sagen, dass mir der 1. Band besser gefallen hat.

4.5"Well,' Lockwood said, "if you judge success by the number of enemies you make, that was a highly successful evening."I had high expectations for this book, having loved the first one, and thankfully The Whispering Skull didn't disappoint. Stroud builds on the previous events as well as on the characters' development. We are once more thrown into ever more thrilling action, suitably creepy, interspersed by scenes focused on our protagonists, while resolving an intriguing mystery. I must admit, I love this trio and their idiosyncrasies. And let's not forget that hilarious skull! More, please!

Great book, reminds me a lot of the kinship in the Harry Potter series, the author's has a great writing style! he does an amazing job at keeping the balance with thrilling and humar and curiousity!

I really liked the first book but this was so much better than the first. Even though I had a bit of a slow start with it, once it did get going I had a hard time putting it down.The characters are more fleshed out as well as the modern yet almost steampunk/Victorian feel to the world that Lucy and gang live in. Plus, the ghosts were scarier and the stakes were higher. Can't get much better than that. I'm really looking forward to reading the third book (hopefully) soon.

Lucy, Lockwood and George are ghost hunting again, and the humour, horror and sarcasm fly equally. This time, the head in the jar provides equal measures of assistance and insults while the trio work on their latest large case to find and secure a dangerous mirror with a deadly history.The series continues to be fun, though I felt uncomfortable by how often George's weight was brought up and used to insult him. Lucy's discomfort, and at times, insulting assessment of the other females the group encounters also made me uncomfortable. There don't appear to be any other female characters other than Lucy, at least so far in the series, that have admirable characteristics.

Last year, The Screaming Staircase was one of my most anticipated - with a certain amount of anxiety - books of the year. I didn't actually expect to love Lockwood & Co. as much as I'd loved Stroud's Bartimaeus series, but I hoped to love the book anyway.And I did like it. I did. I just never really connected with it. Wanting to love it, so badly, probably didn't help - my expectations were so high that the book, which was, actually, really pretty good, ended up a little bit disappointing.Never mind, I told myself: it was only the first book, setting the stage. The second book is what really counts.Now that I've read The Whispering Skull, I have to admit I rather ended up with the same problem: once again I'd got my expectations, although more tempered this time, high enough that the reality just couldn't quite meet them.It's a beautifully written series, it really is. Stroud's a fabulous writer - children's books these may be, but the writing is competent, skilled, never coming off as "writing down for the kids". The plot's solid, the characters, Lucy in particular, likeable. And yet again, it just didn't really "click". That connection, that thing one can't really describe but that elevates a "very good" book into the category of "I'd have this book's babies if I could" - that's still missing.For most of The Whispering Skull, my rating would have been three stars. It was good. Stuff happened. Lucy's showing progress (also in using her Talent - listening to / hearing the voices of ghosts, or Visitors), Lockwood's pleasant but mysterious, there is some (not entirely friendly) rivalry going on with a team from one of the largest agencies, some people die - everything was there.It was also all quite ... slow. While I actually enjoy a leisurely pace often enough, for the first three quarters of the book, I completely lacked any sense of urgency. And I think I should have: dangerous artefact on the loose, people dying and being killed over it, what not. The action did, however, pick up considerably in the last quarter of the book, and that's when I finally started getting into it. If I can't feel scared (hey, it's a spooky ghost story, shouldn't I feel at least a tiny bit anxious?), I at least want to feel excited, and the last quarter, for me, delivered on that front.The book also ends with a revelation that, I think, is going to play a rather interesting role in the next book, and uncovers a tiny bit of Lockwood's mystery. I'm glad about that as so far, Lockwood himself has really come off rather ... flat. We're told (repeatedly) that he's got a mysterious past, that he doesn't like to talk about himself, but the way it comes off has made Lockwood a little bland for me so far. I know Lucy likes him (probably even likes him, although any hints at a possible future romance have been extremely downplayed so far in the series), but other than "he's handsome and doesn't lack courage", I've yet to get a good idea about him.I think that now I've moderated my expectations for this series, I'm probably going to end up quite happy with it. There are also some possible deeper plot points afoot, regarding the entire nature of "the Problem" (i.e. the Visitors/ghosts popping up everywhere, killing people and all that), and I'm genuinely curious about whether we'll find out some more of the theory behind that in future books.* ARC of this book was provided by the publisher through NetGalley in return for an honest review. Thanks!

"Well, I make that one murder victim, one police interrogation and one conversation with a ghost," George said. "Now that's what I call a busy evening."Lockwood nodded. "To think some people just watch television."Lockwood, Lucy and George are back and at it again, diving straight into another perilous assignment this time involving the most dangerous Visitor they have yet to go up against. After a recent job goes awry and the recently excavated burial site has been looted, including a most peculiar bone mirror, Scotland Yard hires the trio to track down the object as it seems to leave nothing but death in its wake. In addition to that adventure, the strange skull in the corpse jar is talking to Lucy much more frequently and he seems to actually be of some help with their latest case, but whether he can actually be trusted is the real question.'There are other things in the house to fear, besides me.'The skull's communications with Lucy added a strange and mysterious side story to The Whispering Skull since this skull seems to know a bit about the secretive door that Lockwood has forbidden everyone from entering. It arouses her curiosity and she has enough on her mind as it is and can't afford to be distracted. This case involving the bone mirror is far more intricate than any of them seem to think, and will involve many close calls before the final page is turned. I'm constantly enthralled with the cases of Lockwood & Co. and this one was no exception. Not quite as scary as I found their Screaming Staircase case to be, but it was certainly no less engrossing and was actually quite a bit more fascinating.​​'And a quick word of advice. No cheap comments at her expense. She's easily offended and would probably disembowel you.' 'Story of my life,' George said.Once again though, I find myself completely smitten with this cast of characters. The stories themselves are phenomenal and will no doubt keep you entertained, but Lockwood, Lucy and George are characters you will wish could come to life and befriend you. The Whispering Skull succeeded in expanding our knowledge of the group and leading to tremendous growth in the characters themselves. The new addition to the trio was a surprising new favorite, but you can never go wrong with a hilariously snarky character even if he is a skull trapped in a jar. The skull had his malicious moments and certainly complicated things occasionally but really added a welcome level of hilarity to the story. I'm hoping we continue to see him in future installments.Such fun and entertaining stories, I look forward to more tales of the groups thrilling adventures and hope they take their time growing up. It will be devastating when they are forced to retire from ghost hunting. Once again, I must highly recommend this undervalued series that is perfect for all ages and for fans of mysteries, ghost stories and anything Victorian.I received this book free from the Publisher in exchange for an honest review. This does not affect my opinion of the book or the content of my review.

Having gained a bit of a reputation for solving the problem of the Screaming Staircase, Lockwood & Company get hired to tackle another troublesome ghost -- this time, in direct competition with their arch enemies, the Fittes Agency. I don't want to say too much about this second book in this series. It continues in the same vein as the previous volume, with equal mixes of humor, tension, mystery, and complicated plot threads that tie together in the most unexpected ways. I greatly enjoyed it. Well, mostly.The good news is that the fat-shaming which annoyed me so much in the first book is gone; I think there's one, maybe two references to George's size, and they're just statements, basically establishing that he is still fat, the end, no judgement or slurring.The bad news is, there are several girl-hating comments which just ticked me off no end. Lucy hates one of the Fittes agents for being blond, slim, and pouty, for instance, and asserts that these are "three good reasons to dislike her." Um, sorry, because no, they're not; but the text never questions that this is how girls do and should feel about each other.The one that rankles me most, though, is when Lucy & Co. are trying to identify just who The Whispering Skull might have been in life, and when they guess a woman's name, they get this response: "You think I might be a girl?" the voice spat. "What cheek!" I'm pretty sure that if you were to substitute a variety of other descriptions here: "You think I might be black? Gay? Jewish? Catholic? Lebanese? A Gypsy? A midget? Retarded? Handicapped? What cheek!" they would have been edited right out as obvious hate speech. And yet this misogynistic statement is allowed to stand and slap female readers in the face. IMO, it's one thing to read all the snarkiness and insults in the Bartimaeus books by this author, since my understanding is that in their proper plane, djinn have no corporeal shape or gender or race or any of the other characteristics to which we humans apply prejudice. But the body-shaming and gender-bashing of actual people in these Lockwood books bothers me. I want to ask the author, "Why sink to this level when, as so many other people have already pointed out, there are are so many REAL reasons to hate people?" And this leaves me worried as to what what I have to look forward to in the next installment.That said, I really did enjoy every other moment of this book, and recommend it. But it bothers me that this series has these problematic elements.

3,5 SternePuuh, das Buch und ich, wir hatten schon unsere Hochs und Tiefs. Das lag besonders daran, dass mir hier der Mittelteil nicht so recht gefallen wollte.Wie auch im ersten Band waren die Charaktere und deren Konflikte wieder super herausgearbeitet und auch der Humor hat mir wieder richtig gut gefallen. Lucy, Lockwood und George sind einfach herrliche Charaktere und ihre Dynamik ist wirklich toll. Aber das klare Highlight dieses Buches ist und bleibt der wispernde Schädel, der meiner Meinung nach auch dem eigentlichen Fall die Show stiehlt. Nicht nur hat der Typ Drei Geist, der in dem Glas eingesperrt die Abenteuer der Lockwood Agentur miterlebt, immer einen lockeren Spruch auf den Lippen, sondern er sorgt auch das eine oder andere Mal dafür, dass bisher ungelöste Konflikte zwischen den Charakteren hochkochen und endlich angesprochen werden. Auch Flo war meiner Meinung nach eine gute Erweiterung und ich hoffe, dass sie in den Fortsetzungen vielleicht noch das eine oder andere Mal vorkommen wird.Der Einstieg in die Geschichte war sogar noch ein wenig besser als das, was ich vom ersten Band gewohnt war, aber danach hatte ich ein wenig das Gefühl, hingehalten zu werden. Wie bereits gesagt war alles, was mit dem Schädel und den Charakteren zu tun hatte, super, aber was den Fall um den Spiegel angeht… Für meinen Geschmack wurden hier zu viele unnötige Umwege gemacht, um zu dem großen Finale zu kommen, das mir genau wie das vom ersten Band super gefallen hat. Es war spannend, es hatte Plottwists und es stellte unsere Protagonisten auf die Probe, genau das, was ein Finale tun sollte. Nur auf dem Weg dahin habe ich einige Stationen als unnötig empfunden, was dazu beigetragen hat, dass sich der Mittelteil für mich wirklich gezogen hat.Trotzdem möchte ich die Reihe unheimlich gern noch weiterlesen, weil mir die Charaktere mittlerweile wirklich ans Herz gewachsen sind und ich besonders den Schädel echt ins Herz geschlossen habe. Und ja, ich weiß, dass das ein hinterhältiger, mieser, kleiner Sack ist, aber hey, viel Entwicklungspotential!

What? This ending? That is SO not fair!I think this book was slighty less good than the first one. There were parts that seemed too strechted. But all in all I liked the story very much, espacially getting to know more about that skull and Lucys talents.

Lauri die Geisterjägerin war wieder am Start xD

3.5/5 StarsThere were some parts of this book that I liked more than the first, but there were also so many parts that were kind of boring and my mind kept slipping in and out of focus and wandering off like a naughty little puppy without a leash. I'm not sure if that's my fault, or the book's, but the struggle was real. I would read a few pages, be super into it, and then my eyes would glaze over and I'd have to go back and reread a paragraph because I had literally no idea what just happened. Sounds like a brain tumor to me. lolAnyway, What I Liked:1. I LOL'd- Only once, but still... I felt the humor was better in this book. Still wish there would have been more of it though.2. THAT ENDING - SEIJ#(%N$#@O! WTH was that? (view spoiler)[IS HE KEEPING HIS DEAD SISTER IN HIS HOUSE? SOMEONE PLEASE TELL ME! (hide spoiler)] I know that I bitched about the cliffhanger ending of the first book, but dag nabbit, this cliffhanger has my eyes bulging out of my head. Again, sounds like a brain tumor to me. lol3. Lucewood - There were a few little moments where something seemed to be blooming between them. I liked it because I have no love life of my own to speak of. Gotta live it vicariously through young teenagers.What I Didn't Like:1. Not Enough Ghosts - Listen, I'm reading this series in October. I want ghosts, dammit! Lots of em! There was entirely too much human vs human fighting in this book. That's not what I signed up for. Just like on The Walking Dead, I was enjoying the show just fine the first two seasons when it was more about zombies and survival, bring the mayor into the program and I'm out. I feel like the author didn't utilize his unique ghost-riddled world to its full extent in this book, instead choosing to focus the plot on a living villain. To quote Casper, the friendly ghost: BOO! 2. Too Much Down Time - As I mentioned earlier, there were a lot of dull moments that allowed my mind to wander. If I'm going to get into a book, I need to feel handcuffed to the dang thing by the eyeballs. The story should be so awesome, it's all I can think about. For about 50% of the book throughout I wasn't paying attention. On to book 3...["br"]>["br"]>["br"]>["br"]>["br"]>["br"]>["br"]>["br"]>["br"]>["br"]>["br"]>["br"]>["br"]>["br"]>["br"]>["br"]>["br"]>["br"]>

Urban fantasy middle school level book about ghost detectives. I enjoyed this even more than the first. Very good for kids of that age.

Ahoy there me mateys! Day two with book two of the Lockwood & Co. series completed. Challenge is going well so far. Arrr! If ye haven't read the first book in this series, the screaming staircase, then ye might want to skip this post and go read the first book. Worth the read. If ye keep reading this log then ye have been forewarned and continue at yer own peril . . . . . .It was absolutely wonderful to get back to Lucy Carlyle and the rest of the agency run by Lockwood. The gang survived the big first adventure (cause this is book two – duh!) and about six months or so have passed. The slightly bumbling but lovable trio has had a slew of successful if mildly routine cases. Then they are hired for what should be more of the same. But of course everything goes wrong. A Victorian artifact goes missing and the bureaucratic government agency wants it found at all costs. And if things weren't bad enough, Lucy's powers are strengthening and a skull is talking to her. Can the Lockwood agency solve the case? Will the voices drive Lucy insane?I loved this book too and read it in one sitting. The highlights continue to be the relationships and banter between Lockwood, Lucy, and George. The world building continues to entertain too. This mystery, must like the one in the first book, I mostly solved early on but there were details in the who-dunnit that I did miss. This didn't bother me in book one and certainly didn't bother me in this one. I just liked being present for the ride. We get a couple new characters in this novel that I loved and growth in some of the characters in the previous book. I also love the rivalry between the two agencies fighting to solve the case first. I know that's not a lot of plot information but I certainly don't want to spoil this story. This book did not feel as spooky as book one but I enjoyed it almost as much.Just pick up a copy and experience the novel for yerself. I am looking forward to attempting the third book tonight! Arrrrr!Check out me other reviews at https://thecaptainsquartersblog.wordp...

Erst vor kurzem habe ich Teil 1 verschlungen und war absolut positiv überrascht. Dementsprechend hoch waren meine Erwartungen für Teil 2 und diese wurden voll erfüllt.Wieder tauchen wir in die gespenstische Atmosphäre von London ein und begleiten Lockwood, George und Lucy bei einem neuen Fall. Dieser hat mir noch besser gefallen als der erste und ich fand ihn teilweise noch gruseliger. Besonders gut hat mir auch wieder der bissige Humor in der Geschichte gefallen. Der Schreibstil war gemäß meiner Erwartungen locker und leicht, so dass die Seiten wieder mal nur so dahin flogen.Interessant fand ich auch, dass einige Ereignisse aus Teil 1 wieder aufgenommen wurden, ebenso wie einige neue Charaktere.Eine tolle Welt mit tollen Charakteren und spannenden Geschichten. Ich freue mich, wenn es endlich weiter geht.

Eigentlich ist an dem Buch & der Reihe nichts falsch, aber auch hier war ich beim hören des Hörbuches relativ desinteressiert an dem ganzen Geschehen. Es hat sich in Band 2 bestätigt: Die Reihe ist nichts für mich, weil es mich irgendwie so gar nicht interessiert. Aber wie gesagt ist es objektiv gesehen eigentlich ein gutes Buch.

This is an excellent follow-up to The Screaming Staircase, full of adventure and terror. Once again I worked out what was really going on about halfway through, and once again I didn't really care, because I am a Really Suspicious Person and I felt it was reasonable that Lockwood et. al. didn't figure it out themselves. I love how very horrifying the scary stuff is, and how Stroud has put so much effort into creating a world full of haunts and ghosts where it's reasonable that children are the only ones who can successfully fight them. There's a moment where one of these former child agents is talking to the heroes about how awful it is to outgrow those psychic abilities--that he can still hear just enough to be terrified at not being able to defend himself. Very effective.George continues to be my favorite character; he's really well drawn and has interesting quirks and faults, unlike Lockwood, who is both gorgeous and mostly flawless (more on this later) and Lucy, who as the voice of the narrative is less character and more moving force. I don't want to call her a plot device, which is both wrong and snide, but for the most part she's there to represent how the reader would likely feel and act in her position. I like her, I just don't feel she's as strong a character as she is part of the action. Her interaction with the skull, on the other hand, is very effective, and I like her final decision with regard to how to dispose of it, or not. It felt believable rather than ARE YOU OUT OF YOUR STUPID MIND?!?!I also liked the closer interaction between Lockwood's agency and the Fittes team, though as an organization they seem a little too universally snotty. In fact, one of my complaints with this series is that there are very few people who aren't polarized in some way--pure evil, pure arrogance, pure goodness (not many of those). Two exceptions are Flo Bones, whose transformation from brash crazy person to uncertain girl is wonderful, and Penelope Fittes, who's got something nefarious going on but is also (I believe) genuinely grateful to Lockwood's crew for what happened in the previous book. (Though if that turns out to be a ruse, I won't be sad.)Lockwood remains too good to be true, and I dislike that; he's described as being slim and elegant on more than one occasion, he's rarely caught off guard and recovers quickly when he is, he's an excellent fighter, he's brave and clever and on and on. This is another problem with the series: everyone's character is linked to their physical description. Lockwood, as I said, is physically superior to pretty much everyone and is also a nearly perfect hero. Kipps is good-looking but short, as is his colleague, and he's nearly as good as Lockwood but falls short in a few ways. George, of course, is fat, slovenly, eats too much, and has some epic failures that the others are critical of him for. In fact, Lockwood (with one exception, and I anticipate that person being important in the next book) is the only person in the book who has no physical flaws AND whose personality flaws are the romantic kind. This is some sloppy writing, and I frankly expect better from Stroud.On the other hand, George seems to come off better in this book than the first one, where he was often referred to by his physical description ("the fat boy" etc.) When the skull taunts him about his weight, he's completely unfazed by it, and he's arguably the hero of the climactic battle (at least, I'd argue it). So I'm not sure what to make of that. Personally, I'd almost rather see Lockwood develop unflattering flaws than see George's physique be less frequently linked to his negative traits, though I'd be happy with both.Also, the ending: that is a how a cliffhanger should be done. I'm excited for the next book in the series.