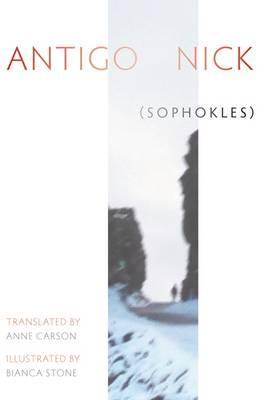 Antigonick is a translation of Sophokle's Antigone only in the loosest sense – with significant changes and metatextual additions to the original, an extra character, and illustrations with interpretations left open to the reader, it could easily be considered a different work altogether.With text blocks hand-inked on the page by Anne Carson and her collaborator Robert CurAntigonick is a translation of Sophokle's Antigone only in the loosest sense – with significant changes and metatextual additions to the original, an extra character, and illustrations with interpretations left open to the reader, it could easily be considered a different work altogether.With text blocks hand-inked on the page by Anne Carson and her collaborator Robert Currie, Antigonick features translucent vellum pages with stunning drawings by Bianca Stone that overlay the text.Anne Carson has published translations of the ancient Greek poets Sappho, Simonides, Aiskhylos, Sophokles and Euripides. Antigonick is her first attempt at making translation into a combined visual and textual experience: it will provoke poetry readers, classical scholars, theatre people and comic-book aficionados....
| | | |
| --- | --- | --- |
| Title | : | Antigonick |
| Author | : | |
| Rating | : | |
| ISBN | : | 9781852249397 |
| Format Type | : | Hardcover |
| Number of Pages | : | 112 Pages |
| Status | : | Available For Download |
| Last checked | : | 21 Minutes ago! |
---
Antigonick Reviews
Anne Carson's translation of "Antigone" has gotten more serious reviews than any but the most celebrated recent novels. She's been reviewed by Judith Butler, George Steiner, and Nick Mirzoeff. There are long, thoughtful reviews online, for example at piercepenniless.wordpress.com. I don't have anything to add to the reviewers' comments about the text. I agree it is problematic to have Antigone say things like "BINGO," despite Carson's clear intention to speak to a contemporary reader. And it is problematic to have the characters in Sophocles's play cite Hegel, Beckett, and Virginia Wolff, despite Carson's claim that the idea was just to show that "Antigone" has a history of reception that now includes those writers. (Carson makes that claim in a wonderfully taciturn and reluctant interview at suicidegirls.com.) There are, as George Steiner points out, some really wonderful passages in the translation--more than enough to help me overlook the quirks that apparently enabled them.What concerns me are the illustrations. They ruin the book: for me, they make it nearly unreadable. Many reviewers think the illustrations are wonderful. They aren't: they are technically poor (at the level of a BFA student), stylistically outdated (they are an amalgam of 1970s cartoon surrealism a la Zevi Blum, with strands of Pop Surrealism and 1950s style realism as in Ben Shahn), poorly conceived (in one picture, for example, some people have temple forms for heads, which also look like cement blocks; but others don't, and there is also a book, a cup of coffee, a shovel, and a clay making tool, with no internal logic or surrealist disjunction to support the choices), and they are inconsistently related to the text (one picture shows a sink with dripping faucets, and a figure lying in the background, an arrangement that might have a connection to the story; but the next picture is just a stove, and it comes right after one of the strongest and most tragic lines in the translation). It's sad that the pictures, by Bianca Stone, don't try to either work with the text, or against it; it's sad the artist seems to think that this kind of freedom is both expressive and appropriate; it's sad that Anne Carson chose this artist for this project: but worst of all is that reviewers, with almost no exceptions, think the images are interesting, good, and even profound. For me, that points to a visual illiteracy that is wildly at odds with the reviewers' sometimes acute observations about Sophocles, tragedy, translation, theater, Brecht, and Hegel.Some reviewers let the artist off the hook by generalizing about what the images do. The pictures are "full of a sense of opposing, irreconcilable forces" according to one reviewer. (practicallymarzipan.com) But surely girls in miniskirts, with temples for heads, are not simply "opposing, irreconcilable forces": they are particular choices, and they are jarring in themselves, aside from their content.I only found three reviewers who paid attention to the images at all. One, on www.full-stop.net, says that the illustrations "lack the depth, in both subject and style, to dovetail with Carson's translation... Carson's work is so erudite, and Stone's so elliptical, that the composite effect is frustratingly opaque." This really can only be half true, because if it appeared that Carson and Stone both intended that effect, it could have worked: the pictures could have been intentionally shallow, intentionally dissonant with the text, intentionally hard to read... but none of that seems planned at all. Instead the collaboration is a typical effect of the latitude that is given to visual art: it's allowed to do whatever it wants, because it is thought to work on a different register--of visuality, of the non-verbal, of the incommunicable.George Steiner notes that the images "at best... imply a spectral domesticity or haunted landscape." That could also be true, if the illustrations were done in such a way that viewers knew those two themes were intended. But Stone's fantasies of horses, people with shovels, tables and stoves, shacks with crows, desert landscapes with small figures, schematic birds, ladders and stairwells, are the stock in trade of undergraduate art students. There is nothing to suggest that she was thinking of Antigone's missing domesticity. I have seen enough student drawings of things like horse's legs entangled with threads and punctured by nails (as in one picture) to know that those images from from the artist's previous studio experiments, not from "Antigone."Of all the reviewers, Judith Butler tries hardest to give an account of the pictures. She mentions one, an interior with a chair and dresser looking out on a smeared landscape. It seems, Butler says, that "some living character had departed the scene not long ago." (www.publicbooks.org/fiction/cant-stop...) But she knows that "spectral domesticity" isn't a satisfying reading, and in any case it would not be supported by the other pictures. So she makes a more abstract proposal:"It would probably be less right to say that this image interrupts the text as the unconscious does, or that it is the unconscious in some symbolic sense. Rather, as the scene switches between the textual and the graphic, a temporal shift takes place between the past and the present: something is gone, and something is caught, and vibrates still. The image is the nick of time." (She later says "the nick is the time of the line itself, the scan of poetic meter," leaving the images aside.)This passage is good, but it still isn't a reading of the individual image: it's a reading of any image (especially one with an empty room, but any image could be construed the same way). So it isn't an account of Stone's choices, or Carson's collaboration, or the particular images and specific words in this text.It is an unhappy reflection on some contemporary literary culture, and on how the art world presents itself, that a book as thoughtful, serious, eloquent, and interesting as Carson's translation can be marred by such an irresponsibly chosen, poorly executed, effectively random series of pictures, and almost no one notices.

Anne Carson is a brilliant poet and translator and one of my favorite writers-how could she not be? Everything I've read of hers- (Autobiography of Red-Canada, Red Doc>, Nox, and now Antigonick-has been thought-provoking, fascinating, filled with language and images that are hauntingly beautiful.Antigonick is a translation/adaptation of Sophokles' play. Perhaps it is more accurate to say that it is inspired by the original and plays with its meanings along with the meanings of other writers/philosophers who have been commented upon or adapted this text. The text is handprinted by Carson and creates a feeling of emotional fervor and highlights the poetic elements of the play. Carson's play was adapted with collaborator Robert Currie, and is accompanied by translucent vellum pages with drawings by Bianca Stone. These drawings overlay the text creating a powerful experience of the language shining through the drawings. The drawings force the reader into deeper contemplation in an effort to connect the two (I did not, for the most part, succeed in finding a connection but still enjoyed the visuals).In this adaptation of the ancient play, Antigone calls upon commentary written about her and uses of her as an image/symbol by writers such as Hegel, Brecht, and Woolf. And have I mentioned there is also humor? Amazingly, without losing the intensity of the drama, Carson also creates moments of humor that made me literally laugh out loud (perhaps it is the very contrast with the intensity of the rest of the play that makes the humor even more potent).Always with Carson, I find myself rereading the text, going back within the text, and rereading the entire work when "finished." I also seek out other texts that may illuminate Carson's which always seem just (tantalizingly) out of my reach, but close enough to hook my interest. With this work, I not only read reviews/essays but found a video of Anne Carson performing the work.But other texts/interviews/etc. only add dimension to a work that does not need any support to be completely satisfying and intriguing. Carson's work only deepens with each reading. This book, like Nox is a tactile experience as well as visual. This would not be, for me, a candidate for an electronic reading. The book needs to be held, the overlays played with, and the ability to flip back support by the physical text. I strongly recommend this work to anyone interested in the story of Antigone (I am obsessed with all things Antigone), beautiful language, and stunning books. Reading this book is a deeply satisfying experience on many levels.

What did Antigone do to deserve this? Carson's translation makes a mockery of translations – that seems to be half its point, the other being a kind of aesthetic experiment that I found irritating throughout. Great pains have been taken to produce a book that looks like art - vellum pages interspersed among the drawings that look to me like derivative Dzama (but that's probably pure ignorance) and Carson's hand-lettering which is crabbed and almost illegible, including silly errors (it's for its).After my first reading, I returned to Fagles's translation to see what I'd missed. Carson also induced me to pick George Steiner's Antigones off my shelf where it had languished for decades and read it straight through. Her translation is a refutation of the standard Steiner pieties (a view he seems to share). Antigone is a dodo.On second decipherment, at least I felt as if I understood her ironies. There are occasional grim felicities, but the effort still struck me as wilful and contrived, a knowing revenge on both Sophocles and his admirers. Generally I appreciate sacrilege, but this exercise left me nicked.

we all think you're a grand girl, anne carson

Again Anne Carson wins, and I skulk into a corner thinking I'll never assemble words together in any way that matters. Even the opening piece that introduces 'the task of the translator of Antigonick' contains lines and passages that I highlighted, phrases that seemed so new in the world. This short retelling of Antigone still managed to be a brand new story, and it somehow managed to make me laugh, to make me marvel, and to make me want to leave the world of men and their murderous ways.Again I'm left with no words that feel good enough to say how much I love Carson's work. I had only a few hours to read this before the library reclaimed it, and so I'll need to buy a copy so I can linger and return.

The book is a beautiful object - if not as heartbreakingly gorgeous as Nox - but I'm not a big fan of the illustrations: they're technically good but 90% of the time I can't see what they have to do with the, uh, play. The much-touted hand-lettering is also hard to read. (And, sorry, Anne, but if I were staging this, "Nick" and the Hegel ((Hegel?)) would be the first things to go.) But all that's quibbling - it's of course a fantastic interpretation of Antigone, and somehow she's made it stunningly, brutally new.I'm going to read it a few more times - already been through it twice - and try comparing it with another translation. (....Hegel? -- Oh. Hunh. //eyes Hegel suspiciously)

1) This book is gorgeous to look at2) This book is beautiful to read3) This book is occasionally hilarious4) This book is very sad5) Anne Carson knows how to make old greek things into strange new creations like no one else ever.6) Even if you don't care about greek things also Anne Carson is maybe just one of the best living writers. I'm just going to say it. She is maybe one of the best living writers. Okay. I said it. There. Everyone has to deal with me having said that.

This is less a translation of Sophocles' Antigone than a separate poetic drama inspired by the ancient Greek. Anne Carson is not only a poet, but a scholar of ancient Greek. Her Antigonick is in a modern way as powerful as the Sophokles original. Take for instance Kreon's realization of what he has done:late to learn O yes I amlate too late O then O thensome god slammed down on mea heavy weightsome god shook me out on those raw roadsalas for the joy of my life that I've trampled underfootalas for us all going dark

This one grew on me over the course of reading it. Antigone is probably my favorite of the classic Greek text and the image overlays and layout of the book were masterfully done. However, at first I wasn't quite sure they worked together. Carson also interjects ideas from more modern writers (Woolf, Beckett, and Hegel) in a way I at first found confusing. In the end though everything works together for a version of the text that I would call more sarcastic and more feminist than the original...

I've never been a poetry reader. But lately I've started asking the poetry readers who come into the store what to read. And Carson's name comes up a lot. Since I love Antigone, I pulled an advance copy of Antigonick, her rough re-telling and new translation, as soon as it came in.But Antigonick isn't poetry. Or sort of isn't. I mean, it's still a play, but Carson has taken it and thrown it through a cheese grater and a colander and a quick pan fry. Her Antigone is full of funny odd touches and endless head-scratching but beautiful illustrations. It's not quite illustarted since the illustrations often come at the text at oblique angles. I laughed out loud many times and many times wondered why Carson kept coming back to Hegel in the middle of the text. And damn, the book is raw. And creepy. The day after I started the book, I find out that Carson was going to preform Antigonik at NYU! And Judith Butler is in the play and part of a symposium on Antigone after! And it's open to the public! And it's free! So I send off my RSVP and... no response. The day of I go anyway. It's a mad house. There's no way I'm going to get in. But it turns out that NYU never sent confirmation emails; they only sent out rejection emails. Sure enough, I can go in! And I'm sitting behind Laurie Anderson, Lou Reed, and the actress who played Samantha in Sex in the City. (Throughout the play, Lou Reed kept nodding off and Laurie Anderson kept running her hand through the back of his and around his neck.)I was staring at Laurie Anderson's hand on Lou Reed's neck, not really paying any attention to the "visuals" of the play, which was more of a reading——a bunch of actors in chairs who would stand up to a microphone when it was their turn to speak. Anyway, I kept thinking, "Damn, I really like who is playing Creon. It's pretty smart to have a guy with an effeminate voice play the king." And then I looked up and saw that Juidth Butler was Creon. And she was damn good!Anyway, Carson's take on Antigone is pretty great. There's some weird intrusions of the contemporary in the play (the aforementioned Hegel, some slang, etc.) but the play is funnier than I remember and way more brutal and creepy. (According to Carson Antigone is a bit of a gangsta in her thoughtless obsession to bury her brother. And what the hell is up with the incest motif? Reflections of Oedipus?) Many in the crowd asked about the "Nick" but Carson retained her Cheshire smile and let the audience argue it out. (Nick was on stage measuring everything. Nick of time? Cut? Measurement? Mark? One thing for sure: everyone's timing in the play is off. No one arrives in the nick of time. Always too late or too early.) I know little enough to compare translations or to comment on what Carson has done. Hell, I didn't even remember large swaths of the play, even though I loved it when I first read it years ago, so I'm not much of a guide or a critic.But now I'm slowly starting to check out more poetry.

As most people who know me realize, I am, at heart, a classicist. I love Greek Tragedies in particular. In fact my favorite thing to teach in literature classes is Antigone- it's such a great story, and people of all ages can relate to it. I am also a bit of a snob when it comes to translations. All that being said by way pf prelude, this version is great. They way the illustrations work with the text (being placed over the text at times) is pretty innovative (at least I hand't seen it done before) and helps to accentuate the themes of the play. The translation is great, in that it modernizes the work, sometimes, and other times keeps the colloquial style intact, particularly with the chorus. I enjoyed the references to Hegel, because even though they came out of left field, they fit the theme and atmosphere for sure. The writing does a great job of getting the loneliness of both Antigone and Creon across, and the sad unstoppable nature of consequences. If someone hasn't read Antigone before, I don't know if this is the best place to start, but it's well worth checking out if you are a fan of Sophocles, like me, or want to see a new spin on a timeless classic. The kind of thing you will finish, put down, read again a few days later, and find tons of new meanings there. Well done.

Anne Carson will never cease to amaze me. I never know quite how to approach herbecause she is so far ahead of me. This translation/retelling of Sophokles Antigone is brilliant. I have read Sophokles Antigone several times in the past but this is something totally new. As with other works of Carson, I will reread many times to dig deeply into it. So much in so little space. But what is \nick measuring?

Difficult to say exactly what Anne Carson was up to with this one. more a variation or commentary on Antigone than a translation. Book as beautiful object again and also again circling a brother's death, as in Nox.

Cried in the Ike Box while Antigone lamented.

I love Anne Carson, but she has definitely inserted herself into this translation too much for me. She has always blurred the line between her and the ancient author, but I didn't enjoy it this time.

Chorus:you're lateto learn what's whataren't youKreon:late to learn O yes I amlate too late O then O thensome god slammed down on mea heavy weightsome god shook me out on those raw roadsalas for the joy of my life that I've trampled underfootalas for us all going dark[enter Messenger]Messenger: okay Kreonwiden your eyesKreon:what nowwhat worseMessenger:Eurydike is deadEurydike is deadKreon:O filth of Deathwho can clean you outO laugh of Deathyou crack meyou crack me openyou crack me open againhere comes KillKreon's verb for todaynow he is perfectly blended with painMessenger:Eurydike cursed youyour wife cursed youassassin of your own child she saidand she undid her eyes to the darkKreon:yes yes of courseof course she didMessenger:she blamed youKreon:and thenMessenger:stabbed herself in the liverKreon:yes yes she didof course in the liveryes I am to blametake Kreon awayhe no more exists than someone who does not existChorus:briefest is bestwhen evil is all around*

The most beautiful interpretation of a play I've yet read. The book itself is art with gorgeous water colours by Bianca Stone and the organization of the book and its reinterpretation is a work of excellence. I love this play so much and I love it even more reading Carson's understanding of it. Her addition of characters, playing with meta-theatre, and dialogue interpretations are mysteries which wind through the entire ancient play.

I just realized I forgot to add that I read Antigonick! I want to read a lot of Anne Carson this summer :) But this book was great, I read it because I love Anne Carson and also because I'm preparing for a show. Antigonick was really fun to read and also really powerful. I love it a lot.

I can't stop thinking about this play. I don't think I ever will.

Less a translation and more a collaboration in the sense that the surviving Beatles collaborated with the life-departed John Lennon in the 1990s, finishing two demos of his for their Anthology package, Antigonick is nonetheless a splendid variation on an enduring masterpiece.Carson translates Sophokles but also adds some bits and leaves out others. The intent seems to engage with Sophokles's text the way one might in one's mind as a viewer or reader. "We begin in the dark and birth is the death of us," the play begins in what could be an inspired paraphrase of the Greek. But it continues, "Who said that," asks Ismene. "Hegel," answers her sister. "Sounds more like Beckett," replies Ismene. Then sounding more like Beckett or perhaps Stoppard, "He was paraphrasing Hegel," says Antigone. "I don't think so." From there Antigone transitions back to Sophokles, "Whoever it was we are dear sister ever since we were born from the evils of Oidipus what bitterness pain disgust disgrace or moral shock have we been spared and now this edict you've heard the edict". The speed and energy here is literally and figuratively breathtaking and the interpolation at the start works.There are two other collaborative partners of this work, illustrations by Bianca Stone and type design by Robert Currie. Currie hand letters the text and except for colons following speaker identifications and some apostrophes for contractions there is no punctuation. Carson and Currie's treatment allows the speeches of Antigone and Kreon their headlong and headstrong rush to tragedy. (The periods and commas above in the Hegel/Beckett bit were mine.) The text appears on the right hand pages with the left blank. Speaker names appear in red print; the dialogue in black, often in chunky blocks with some gaps in spacing, some small like an indent and others large, a line whose ending falls down the length of the page, for example. The illustrations appear on transparent pages so you can see the text behind them but when you turn the page the reverse image is again viewable on the left side. They are not literal but evocative of alienation and a disconnect that somehow connects past to present, the specific to the universal.Carson is daring—for one, unlike the Lennon demos, there is nothing unfinished in the Sophocles tragedy—and respectful. Whereas Paul Roche's translations of The Complete Plays, published in 2001, which ended with Antigone and which by coincidence I'd just finished prior to being gifted with the Carson, calls attention to the play's antiquity by blowing up the dust of the day to clear the way for his marble polishing, Carson uses her translation and interjections to call attention to the timelessness of the play, the way Sophokles not only captured the universal but anticipated ideas and understandings that were centuries to come.A brilliant scholar, adept at ancient Greek, and a poet in her own right, Carson has the knowledge and creative mind to make this endeavor work. Her translation is vibrant, even punchy. Her additions are the bits of dialogue like the references to Hegel (who repays the shout out with a book cover blurb—"The Antigone is one of the most sublime and in every respect most excellent works of art of all time." Most excellent? Is the German philosopher channeling Keanu Reeves?). A less intrusive (in the reading) addition is the character of Nick, who is identified in the cast listing and not again until the very last line(s) of the play. The front cover title splits Antigonick into two words: Antigo Nick. Nick is a mute character who never enters or exits but is always on stage measuring. Measuring what—the bodies for burial? The size of the failure of self-restraint? The gap between intention and outcome? The magnificence of Sophokles's accomplishment? If the latter, add some length for Carson's contribution.

Oh Anne. Oh Antigone. Oh ismene secretly the most fascinating character in the play

I love Sophocles' Antigone, I loved the Italian translation and I loved even more the original Greek. And Antigonick is on par with them. Antigonick is Antigone yet it's also not. The beauty of the tragedy is that you can read it on various levels, you can find multiple meanings in it – and Anne Carson aware of it (we get Hegel references for instance). Nothing has changed. The plot is the same. The characters are the same. The conflict is still there (Kreon says unlawful to do so / Antigone says unholy not to). The inherent characteristics of the scenes are the same. The themes (πολις/οικος, man/women, νομος/θεμις, old/young) are there. And like in Sophocles'' work, Antigone stands still like a heroin – she is cognizant, she knows what her fate is, she makes a decision perfectly recognizing the consequences, she picks family, she picks justice, she fights for what she thinks it's right. But Anne Carson eliminates the intrinsic misogyny of the Ancient Greek culture and now a more feminist theme (we are girls / girls cannot force their way against men // yet I will ) is prominent. Because the work is the same, but it's reinterpreted, it reflects a new society, it's modern. Thus, it requires a different language. Some words are translated directly, some are paraphrased, but it's all still there, yet it's different. It's a new voice. Antigonick it's a tragedy in its original meaning. Just like Sophocles took the mythical matter and transformed it, Anne Carson did. I like to believe that Antigone ultimately was about pride and υβρις, about lack of dialogue. No one was without wrong, no one was right, yet you had no possibility to escape your fate. Sophocles never explicitly took one side, just like the chorus does. But Anne Carson does. She's quite explicit in the foreword: "dear Antigone, / I take it as the task of the translator / to forbid that you should ever lose your screams". And indeed her screams are not lost. Antigone is the undisputed protagonist. In the end she emerges as a winner. I also wrote about it here

I recently told a friend that I think of translation as the interplay between two artists. That was an easy thing to assert in the wake of reading passages from Lydia Davis's translation of Swann's Way, Seamus Heaney's work with Beowulf, or Gregory Rabassa's pitch-perfect translation of Hopscotch.Antigonick reads like a challenge to that thought, as Carson takes it to its extreme. What she did with the text could more fairly be called a "riff" on Antigone than a "translation," but I think it's worthwhile because she balances two things to good effect: She reflects a meaningful conversation with the original intent of the text, and she explicitly mediates our relationship with it by inserting significant filters (Beckett, Hegel, Woolf, and some puns worthy of Sophocles).There is no shortage of translations that stick closer to the original wording. So Carson's project makes sense to me. Like The Albertine Workout, which was also several things at once, this work acts seamlessly as commentary, poetry, and comedy. The "translator" accomplishes her stated goal when she says,"dear Antigone,I take it as the task of the translatorto forbid that you should ever lose your screams"

((I just got a copy from amazon that doesn't have any illustrations & now I am Intensely Jealous that there are copies with illustrations))Anne Carson's lyricism, anachronism, and gleeful wordplay enliven and illuminate ideas of the old plays. It's not a direct translation, by any means, but more of a translation of the spirit of the play, an active commentary by the characters on their actions, but still maintains & develops the moral arguments that are central to Antigone. It's clever and humorous and tragic all together. Don't let this be your first reading of Antigone, but let it be your second.The translator's notes are written in verse but still provide historical context, philosophical connections, and an explanation of her editorial choices. I feel like this provides a suitable framework for how the play will play out.((I can never resist reading the entire play aloud because the words are too excited to leave on the page; they beg for the auditory connection. Anne Carson is a dream of a wordsmith.))

Well, okay, here's this. Pretty illustrated edition! I like pretty things.Here's an article about this translation. Note that Carson has apparently turned Antigone into "a suicide bomber."Compare with Seamus Heaney's translation, in which Creon turns into a dig on GW Bush. Antigone is a flexible piece of work! Or else it's just unusually tempting to distort. Thanks Jennifer for pointing this out.

Understand that this is for the book minus the illustrations. The handwritten business was great, the vellum was great, the illustrations sucked and were ugly and literally had nothing to do with the text and it was very like pedestrian boring art student thinks they're avant-garde. But the text itself was awesome!!! I was in love with it!!!!! It was just like very rad. Love Antigone and love this too.

This book is crazy. I can't really say I've ever read anything quite like it. It's one part translation, one part interpretation, one part experimental graphic novel, one part tongue-in-cheek epic poem. It's funny and certainly strange, and I would really love to see it performed as straight as possible. No matter what, the coolest version of Antigone you're bound to read.

My love for Anne Carson was the only reason I picked up this book (that, and very flattering review by Judith Butler). I'm forever glad that I did. Carson managed to make a play I otherwise had no interest in reading both spirited and urgent. She makes you into a scholar, in the best way possible--by telling the story not as a history lesson, but as a gut punch.

For a review and other thoughts, follow this link.

I'm not sure what happened in this story. And the pictures made no sense. I used to understand the story. Now I don't. Who's Nick?