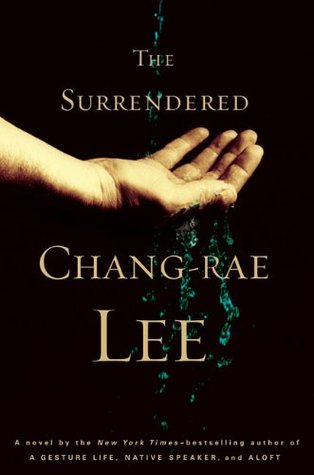 A stunning story about how love and war inalterably change the lives of those they touch, The Surrendered is elegant, suspenseful, and unforgettable: a profound meditation on the nature of heroism and sacrifice, the power of love, and the possibilities for mercy and salvation.With his three critically acclaimed novels, Chang-rae Lee has established himself as one of the moA stunning story about how love and war inalterably change the lives of those they touch, The Surrendered is elegant, suspenseful, and unforgettable: a profound meditation on the nature of heroism and sacrifice, the power of love, and the possibilities for mercy and salvation.With his three critically acclaimed novels, Chang-rae Lee has established himself as one of the most talented writers of contemporary literary fiction. Now, with The Surrendered, Lee has created a book that amplifies everything we've seen in his previous works, and reads like nothing else. It is a brilliant, haunting, heartbreaking story about how love and war inalterably change the lives of those they touch. June Han was only a girl when the Korean War left her orphaned; Hector Brennan was a young GI who fled the petty tragedies of his small town to serve his country. When the war ended, their lives collided at a Korean orphanage where they vied for the attentions of Sylvie Tanner, the beautiful yet deeply damaged missionary wife whose elusive love seemed to transform everything. Thirty years later and on the other side of the world, June and Hector are reunited in a plot that will force them to come to terms with the mysterious secrets of their past, and the shocking acts of love and violence that bind them together. As Lee unfurls the stunning story of June, Hector, and Sylvie, he weaves a profound meditation on the nature of heroism and sacrifice, the power of love, and the possibilities for mercy, salvation, and surrendering oneself to another. Combining the complex themes of identity and belonging of Native Speaker and A Gesture Life with the broad range, energy, and pure storytelling gifts of Aloft, Chang-rae Lee has delivered his most ambitious, exciting, and unforgettable work yet. It is a mesmerizing novel, elegantly suspenseful and deeply affecting....
| | | |
| --- | --- | --- |
| Title | : | The Surrendered |
| Author | : | |
| Rating | : | |
| ISBN | : | 9781594489761 |
| Format Type | : | Hardcover |
| Number of Pages | : | 480 Pages |
| Status | : | Available For Download |
| Last checked | : | 21 Minutes ago! |
---
The Surrendered Reviews
Onvan : The Surrendered - Nevisande : Chang-rae Lee - ISBN : 1594489769 - ISBN13 : 9781594489761 - Dar 480 Safhe - Saal e Chap : 2009

I don't think I've ever tried harder to like a book than I did Chang-rae Lee's latest, The Surrendered. But I think a book should pull us in to its world, make us want, no, need to know what happens to its characters. We shouldn't have to try to like it. The Surrendered is a departure for Lee. It is, perhaps, his most ambitious novel to date, and for this, I applaud him. His previous three novels were all written in the first person and revolved around a rather displaced male, who was trying to figure out just where he belonged in the world. The Surrendered, by contrast, belongs not to one person, but to three. One is June Han Singer, a Korean war orphan, who in the book's present of 1986 is a widow who runs a successful New York antiques business, is somewhat estranged from her only child, a grown son, Nicholas, and who, at the young age of forty-seven, is dying from stomach cancer.The second protagonist of The Surrendered is Hector Brennan, a former GI who served in the Korean War and after his discharge, worked at the orphanage where June grew up. The third story belongs to a woman who in 1986 is long dead (thirty years), Sylvie Tanner. Sylvie and her husband, Ames, were the missionaries who ran the orphanage that housed June and employed Hector. Each character - June, Hector, and Sylvie - is fighting his or her personal demons that threaten to destroy, not only them, but those around them as well.As Lee sets up his book and intertwines the stories of the three protagonists, the action of The Surrendered moves back and forth in time from 1930s Manchuria, to 1950s Korea, to New York City and Italy in 1986. At no time did I feel disoriented or "lost" during the transitions in time. In fact, they were very smooth, however despite this, the book still had a very static feel for me. I really didn't get any sense of the passing of time at all.The book begins in 1950, with the eleven-year-old June and her family fleeing North Korea for the south and Pusan. I must say, I found the opening chapter almost hypnotic, and Lee did an excellent job of pulling me into the book. However, after giving us an introduction to June, he leaves her behind to fill us in on the beginnings of the backstories of both Hector and Sylvie. This went on for so long that by the time we'd returned to June, I'd almost forgotten about her and almost didn't care.The three main characters' stories first overlap and intertwine in 1953, in that countryside orphanage, which wasn't too far from Seoul. It's there that the three form a deadly triad of sorts, with the beautiful, elusive, and very damaged Sylvie at its center, as both Hector and June, who see each other as mortal enemies, vie for Sylvie's love and attention. And in one of the book's best drawn scenes, we learn that in their own ways, both Hector and June were responsible for Sylvie's tragic and all-too-early demise.While I found Sylvie Tanner to be a beautifully drawn, if not wholly likable character, filled with both darkness and light, tortured by demons, yet still able, at times, to enjoy life and those around her, I found both Hector and June to be terribly underdeveloped. Hector is, outwardly, very handsome, a man with "movie star" good looks, someone who seems impervious to both physical pain and injury. However, in most every other way, he's a loser. He fails at everything he attempts - if another person is involved. And he does nothing at all to try to remedy this sorry state of affairs. He just accepts this as his fate. Then there's June. I don't want to try to second guess Lee, but it seemed in June, he wanted to create a woman who couldn't survive unless she built a strong shell about her, and in building that strong shell, Lee created a character that is just plain mean. I kept wanting and waiting for each of the three main characters to show us a redeeming quality, however as soon as one of them, usually Sylvie, would display even slightly redeeming qualities, he or she would just revert to his or her "old self" once again, June in particular. In the end, June wasn't strong, she as weak. She was too weak to allow herself to be vulnerable to others, too weak to really love, too weak to live, and I don't mean just in the physical sense. The secondary characters - among them, Benjamin Li, Ames Tanner, and Dora suffer from being very sketchily drawn, little more than ciphers. Dora had such terrific potential, but it seemed as if Lee couldn't decided whether to make her the town floozy or a sweet-but-frustrated hausfrau. June's son, Nicholas, in particular, is little more than a plot device, a "straw character," and the so-called "twist" involving him is insulting to the reader's intelligence and emotions. I can forgive Lee his problems with third person multiple POV. It can be very difficult for some writers to handle, but I can't forgive him for what he did with Nicholas. Lee wasn't playing fair with the reader regarding that one. And it isn't like we couldn't see it coming. The foreshadowing regarding Nicholas' fate was so heavy-handed, it was like Lee was hitting the reader over the head with the book, saying, "Pay attention now. We're foreshadowing over here." We get it, Mr. Lee, and subtlety is a virtue.For most of its 400-plus pages, The Surrendered is anything but subtle. In fact, it's operatic in its use of over-the-top melodrama. This is a book so filled with tragedy that it puts "Madame Butterfly" to shame. Some of these things, I think, will be acceptable to sensitive and sophisticated readers, while others will not. For the most part, however, The Surrendered is overwritten and terribly overwrought.The Surrendered isn't really "a war story," but because much of it takes place during times of brutal warfare, there is violence aplenty in the book - murder, rape, mutilation, torture, starvation, and more. Lee does an excellent job in portraying these events, and strangely, these scenes are the ones that are, if anything, underplayed, not overwritten and melodramatic. If only Lee could have exercised the same restraint in portraying his characters' emotional lives.I liked the darkness, the bleakness in The Surrendered. I liked the fact that the major characters were all damaged people even if I didn't like the fact that Lee doesn't develop them quite as much as he should have. What really turned me off the book are its deficiencies in craft, and The Surrendered contains many deficiencies in craft. There are the underdeveloped characters, whose motivations are, many times, at best, murky. There's the "straw man" role of Nicholas, one of the book's biggest failings, there is an abundance of coincidence and contrivance, and there's a scene with a passport at Immigration in Leonardo da Vinci airport in Rome that is completely unbelievable. I think some readers are going to ignore these deficiencies in craft, however, and allow themselves to be swept away in the melodrama of the characters' lives, instead. So is that good or bad? I don't know. I can only answer for myself. I found it impossible to empathize with or connect with any of the characters in the book. Their hearts were too closed to life, to love, to humanity. Maybe this is the effect Lee wanted to achieve. If it is, I respect it, but it simply didn't work for me.The Surrendered definitely has power, especially that final page. And I think there's a wonderful story in this book just clamoring to be told, but somehow, probably through the uncomfortable use of the third person multiple POV (at least for Lee), Lee let it (the story) get away from him. I realize Lee was aiming high, and I certainly commend him for that. And I don't want to sell Lee short. He's an excellent writer. Perhaps, in time, maybe with his next book, he'll be more comfortable with third person multiple POV. But in this book, the overall effect was melodramatic and messy.And while this might not bother some readers, there was way, way too much fornication and adultery in this book for me. It was tolerable until Ames Tanner pulled Sylvie (who he'd not yet married) out of the bathtub. From then on, I'd had enough. The rest was surfeit and really added nothing to the story.I did try very, very hard to like The Surrendered, and I felt bad when I couldn't. Really. Truly. I did. Will I read Lee's next book? Probably, yes, I will. Will I like it? That remains to be seen.2.5/5Recommended: Yes, with the caveat that the book isn't perfect. I'm recommending it because when it's good, it's very, very good, and as I said, despite being overwritten, the book does have power. Had Lee written the leaner story that was begging to be told, this book would have been a masterpiece.

The story in this novel is filled with flashbacks in the lives of two principal characters to earlier episodes during and following the Korean War when their lives intersected. There's a third principal character who's background is also explored. All three of them experienced tragic losses of loved ones or family members during their youth. Then as if the flashbacks were not enough, the reader is hit with a tragic incident and a terrible disappointment in the current time line of the narrative. The two principal characters come together thirty years after the Korean War to seek a sort of catharsis from their shared past experiences. The past is revealed through bits and pieces throughout the book, and the book contains hints along the way that it's leading up to a final and ultimate climatic incident from their past. It is the suspense of this coming revelation that pulls the reader's interest through to the end of the book. It is my understanding that the tragic incident described in the first chapter is based upon experience of the author's father as a child refugee in the Korean War. It's a story that will haunt the reader. The author does a neat job of bringing up this story again at the end of the book to wrap up the story into a satisfying conclusion. However, this is NOT a feel good novel. It's clear that the author's intent was to explore the lifelong damaged done to the psyche of those who have been exposed to violence and regret at an early age. However it's my observation that author tried to depict the tortured nature of their souls by exploring their sexual desires and actions. I wish the reader could have been provided more than a glimpse of their inner feelings and motivations. In short, there's too much sex for me and not enough psychology in this book. I tried to judge the appropriateness of this book for a reading group. The book contains much good discussion material, but the emphasis on sexual matters could turn off many readers. I'll probably not recommend it.It's interesting to note that a book about the 1859 Battle of Solferino in Italy plays a symbolic role in this story. That battle is a symbol of suffering leading to hope. The immense suffering caused by the Battle of Solferino and witnessed by Henry Dunant inspired him to a campaign which led to the founding of the Red Cross.

Well. Hard to say exactly what I thought about this book. OK-- I thought many parts were beautifully written. I also thought it was way too long, yet the character development was way too thin. For having so many pages, the author didn't seem to know what to do with them. Three stars is maybe a little harsh, but the book wasn't worthy of four, so, without a half star option, three it is.The book started out strongly-- you really felt that you were in the rice paddies, on the train, starving with June and her family. The sections of the book set in Korea and China were definitely the best parts of the book. Unfortunately, the book jumped from past to present and the present day sections weren't as well written. They had "issues", if you will.I couldn't believe that Hector's experiences were so damaging that he became this shell of a man. I just didn't get it. Many people survive worse and go on to have some kind of meaningful life. Hector's barroom experiences, relationship with Dora (Dora herself, in fact), relationship with the Korean friend, etc. just went on much too long. None of it was that interesting and could have been covered in a dozen pages instead of a dozen chapters. I truly didn't care about the Korean friend, the money the friend owed to the dying mobster, the mobster's dead daughter-- none of it had any relationship to the story except as background on Hector.In a similar vein, while June's war experiences were horrible, they didn't fully explain her adult actions-- in particular, her relationship with her son. Speaking of the son, it was difficult to believe that a 22 year old would leave for Europe, never to be seen again. Sure, June wasn't a perfect mother, but she wasn't that bad, and there was nothing to really explain why Nicholas vanished, except that the author needed him to disappear to move the story forward.Also, June had this husband that we knew nothing about, except a couple of brief mentions about the marriage and his death. Since he sounded like a normal guy, I was troubled by the fact that he never met his stepson, or seemed to care that his wife had a vanished son. None of it was believable.Lastly, there was the "book." I kept waiting, and waiting, and waiting for the book to be explained. What was it about this book that sent a dying woman to end her life in a small Itialian town? But at the end of the day, it was just a book, loved by Sylvie because it had come from her parents, and loved by June because it came from Sylvie. Perhaps if June had given it her her son, he would never have left for Europe. Oops, then we wouldn't have had a reason to go to Europe to look for him and there goes half of the story. You know, maybe that wouldn't have been a bad thing.

What happens to life after you survive the atrocities and randomness of war? Chang-rae Lee examines the deep intricacies of this question and its ramifications in THE SURRENDURED, portraying three survivors (Korean War, China-Japan War) whose lives mesh at an orphanage somewhere in South Korea after liberation. From that common crossroad, the lives of Sylvie, a missionary wife, Hector, a G.I., and June, a Korean orphan, are forever intertwined, shadowed by pervasive doom pitted against the human need to endure. Lee's strength has always been with his exceptional prose—the constantly surprising and original use he puts to words—and a sheer magnificence in the way those mere words rise up to deliver stunning revelations of simple truths in what makes us human. This book is rich in that tradition. I have tagged more than one hundred sections that moved me to wonderment. It's also probably the most physical and sensory book I have ever read, especially redolent in smells. There's a lot of sex and vivid description of sensation, and Lee's intense focus on physicality in itself seems to reflect the characters' bodily will to continue life, even as their hearts are blackened by tragedy. It is an intense and absorbing read, frightening for what we do to ourselves and how, despite all the darkness and violence we create in the name of war, some continue to persist in a semblance of life, and helplessly pass along the damage of war to those they touch as they reach out with a last shred of hopefulness. Is it all in vain? That's the question Lee poses in this masterpiece of writing.

There are a few prized novels in memory that ransacked me raw and bare while simultaneously enveloping me whole and full. This is a glittering example of one, a slow burn of a book that ignites slowly, gradually, like kindling around a giant bole. For the first half of the book, I admit, I wasn't seduced. I wasn't taken or thrown or fiercely engaged. For approximately 200 pages I held on ambivalently. Even my reader's body language was telling--the pages at arm's length, the angle of my body twisted away from the book. I was impatient for a gainful lift-off. I was poised to relinquish it for another. I needed a release, a cry, a laugh, a scream of my own.But there were embers flaring below the text. I trusted in the story's elemental power, despite my lack of commitment, even though I wasn't yet appreciably moved. I respected its lean, stark, clean, atmospheric prose, and the elegant construction, but I didn't know if it was gathering momentum or dust. Was the story going to progress in one plaintive note? Fortunately, I stayed with it, because once it does reach that point of critical mass (about halfway, give or take several dozen pages), it sears you with its ferocity. The narrative tension accelerates; the symbols and motifs are in full bloom; and the raw power of this epic story is manifest.THE SURRENDERED is now a treasured book for me. And, although it is austere--OK, bleak--it is not relentlessly dreary as a reading experience. There is an exciting current of electricity that carries you to astonishing emotional depths. It has contours, corners, cusps.I don't want to tell readers too much, and I urge you not to read reviews that give away major plot points and milestones in this powerful journey of redemption. The experience of turning the pages in discovery is paramount to its visceral, immediate pleasure. But even if you have already read bits about these characters or circumstances, nothing can remove the lingering exaltation once you close the final pages. This is a tour de force that is impossible to shake off. The characters are fleshed out and organic in every aspect of being. They are coiled, agonized individuals, but what makes them so tremendous is their brazen tenacity. They are cultural outsiders, alienated and severed, but savagely resilient. They are singular, wretched creatures who infinitely penetrate the reader--cruel but sympathetic, elusive and yet naked, authentically human.Three lives intersect in 1953 in this story that spans fifty years in backward/forward time sequences, from the 1930's to the 1980's. June Han is a refugee from the Korean War when she is brought to an orphanage in the early 1950's. By the age of 11, she had already suffered devastating adversity, enduring periodic starvation and witnessing unspeakable violence. Hector Brennan is a benighted ex-GI from Ilion, New York, a damaged young man who is already shorn of any noble ideals, depraved and sodden with whoring and drink, and who comes to the orphanage to work the physically strenuous jobs of construction and repair. Sylvie Tanner is the comely and mercurial wife of the Reverend Ames Tanner. She is the daughter of missionaries and is accustomed to being uprooted and exposed to shocking conditions. Sylvie and her husband oversee and teach at the orphanage with dedication and generous benevolence.Sylvie has a haunting past and is drawn to June's gripping isolation; Hector's derelict history and provocative good looks are equal burdens; June is terrified and truculent, insatiable, greedy for Sylvie's maternal love; all three are hollowed out and tormented. Through Lee's brilliant and tightly controlled narrative, the past is gradually revealed--brick by brick--masterfully, woven into and through the story as it takes place thirty years hence. At this future juncture, June is searching for her prodigal son, which is the seed for the redemptive action of the book and its germane themes of identity, love, and dislocation."War is a stern teacher," Hector's father quoted from Thucydides, from his perch at the bar. In every pore of this story, from the desolate, burnt, and barren fields of Korea, to the grey skies and filthy streets of Hector's seedy, combative youth, to the shabby, brittle, and frail hope of the orphanage, war communicates its harsh lessons.This is a shattering, phenomenal masterpiece. If someone asked me to describe my response to this novel, I would say, "I am undone, I am complete." A+

In "The Surrendered," Chang-Rae Lee examines the ruinous effects of the Korean War on two survivors: a child, June, who loses her entire family in the flight of civilian refugees southward down the Korean peninsula, and, an American soldier, Hector Brennan, caught in the same retreat."The journey was nearly over," the book begins; a curious start for a long novel that is more about endurance than endings. During this first chapter, we're introduced to June Han, a complicated personality who we first meet as June Han is a starving 11-year-old refugee fleeing military combat during the Korean War when she is separated from her seven-year-old twin siblings. By the time the book really is over, we will have come to understand June's "diamond hard" character so completely that she'll seem more real than some people we know. Eventually brought to an orphanage near Seoul by American soldier Hector Brennan, who is still reeling from his father's death, June slowly recovers from her nightmarish experiences thanks to the loving attention of Sylvie Tanner, the wife of the orphanage's minister. The three form a bizarre triad with Sylvie as the lovely but damaged object of both June's and Hector's affections.These three wayfarers' journeys first overlap in 1953, just after the end of the war, in a makeshift orphanage in the South Korean countryside not far from Seoul. The action swerves back and forth among 1930s China, 1950s Korea and New York City in 1986, when June, battling stomach cancer at age 47, is shuttering her successful Manhattan antiques shop and preparing for yet another journey. With her illness closing in on her, June plans to fly to Italy for a final reunion with her son, Nicholas, whom she raised alone while stoically building her business. Nicholas departed hastily for Europe after his high school graduation eight years ago and has contacted his mother only for money since. For thorny reasons, June decides she must enlist the help of Hector, whom she hasn't seen in decades to help her find Nicholas and convince him to come back home. Author Chang-Rae Lee's handling of the back-stories is extraordinary. The opening sequence with June fleeing South is gripping; Hector's adolescence in upstate New York looking after his bar-brawling father is merely ok, but his encounter with a young Korean prisoner is riveting; and Sylvie's violent introduction to love and betrayal is incandescent, far and away the strongest chapter in the book. Moving forward, the scenes in the mission, interspersed throughout the book, are generally well told. However, the scenes set in the 80s seem flat. The main problem with the book is that compared to June, Hector and Sylvie are just not as compelling. Sylvie, despite her harrowing childhood, congeals into a cliché, a tarnished beauty from some lesser-known Maugham story who speaks in stiff, romance-novel sentences. And Hector has only one note from the beginning. Named after the epic hero, his only miraculous quality seems to be that his liver has somehow managed to remain intact after decades of compulsive drinking. Contrast this with June, who blazes with obstinate life at every point of her journey: on a Korean road southward as a refugee child, where she ate mud to keep from dying of thirst; decades later in her oncologist's office, where she wrests control of her cancer treatment; and in the book's final scenes in Italy, where even here, hazy with morphine, she insists on stumbling forward. There isn't an ounce of charm in June, but her relentlessness always feels genuine. In tracing the long-term effects of warfare, Chang-Rae Lee has a powerful theme. But it is difficult to maintain interest in damaged characters who, even through no fault of their own, are only half functioning as human beings. Sylvie is addicted to drugs; Hector is a compulsive drinker; June is so far gone in her sickness that her actions are unpredictable, and even in the orphanage it appears that her moral compass is damaged or missing. They are all half-people at best. Although we sympathize with their tragedy, and even discern glimmers of goodness among the psychic rubble, they make poor companions on a long journey to a place that is not very meaningful anyway.

War is hell, a fact that is on display in nearly every war-related piece of fiction that does not somehow involve John Wayne. Less often explored is the toll that war takes on the civilians who are in the affected areas. Still less often explored is the Korean War, which is important to the plot here.The Surrendered could have filled a void and been one of those books that, while a work of fiction, kind of opens your eyes to something you never really thought about. It would have been this except for the fact that it is so full of depressing things that you can't do anything except ask, "Was all that really necessary?"I have read depressing books before and liked them. The Painted Bird, for instance, was a total gut punch from start to finish, but it never felt manipulative, to me. The problem with The Surrendered is that every last detail that is filled in is depressing. You can't take it seriously after a while.Let's look at the three principal characters for illustration.Character #1: a war orphan. This is fine. Her father is a suspected Communist supporter and is probably killed. OK. Brother conscripted, captured and reconscripted by the North. Mother and older sister are blown up by a bomb as they shelter in a military truck (which bomber flyover was the only thing that stopped an attempted rape). She has two younger siblings who end up in her orbit after this. They try to hitch a train all the way to the south towards some vaguely-remembered relatives. A bump in the rail knocks both off the side and each separately has a limb amputated by the train and they die.In the part of the story that takes place in 1986, she has grown up to be abandoned by the son she raised as a single mother, she has been widowed by the husband she found late in life and she is dying of stomach cancer.Character #2: Former soldier. He only joins the Army because his father, kind of a drunk, drowns in a canal after falling, drunk, into it. The character, despite being underage, was his father's drinking buddy/minder but left early one night to bang a war widow, and on this night his father died. This is why he enlists later when the Korean conflict erupts. He encounters the re-conscripted brother of #1 (he doesn't know this at the time, of course) who thanks to some cruelty of his fellow soldiers is pushed off a cliff; #2 tries to save him but #1 would rather die, pulling a grenade and holding it just long enough to get away.Later, we discover that as a boy he was in a choir at a Catholic church until the priest tried to abuse him. This is when I stopped reading; this detail on top of all the rest was too much for me to take seriously.Character #3: The wife of a missionary priest who comes to run a Korean orphanage. #1 in her orphaned years is drawn to #3, and this orphanage is where #2 comes to work after he gets kicked out of the Army for various misdeeds. (After the incident described above he is reassigned to the Graves Unit, meaning he works - with black soldiers, mostly - with dead bodies). Her parents were killed horribly, while she watched, by Japanese soldiers who were invading China (her parents also being missionaries), and she later became an opium addict.There is misery for all who are swept up by war, including the forgotten; for some, there is nothing but misery. But this book is just piling on at every turn. There is no comic relief, hardly any kind of levity at all. Every detail filled in is maximum suffering for its characters, even the throwaway details like "new sort-of girlfriend is singing so character #2 sings along and thinks about how he used to be in a choir." What a mess. You can't get emotionally involved in a story that is transparently and gratuitously trying to tug every heart string at every possible little turn. Stay away!

This being a book of historical fiction I thought I would get a little more history than I did. There is very little in this book about either the Korean War 1950-1953 or the Japanese takeover of Manchuria in the 1930s. The main focus is the relationship between the missionary Ames Tanner, his wife (Sylvie Tanner), an American GI (Hector Brennan)and an orphan (June Han)set at a Korean orphanage in the aftermath of the Korean War. There is another thread, set in 1980s when June, now elderly and dying, searches for her son in Italy. Although this may all sound confusing, it is not hard to follow, but that doesn't make it good!I felt no empathy for any of the characters, I learned little history and the book totally lacks humor. It is all about some weird relationships. In a good author's hands, weird relationships may become tantalizing, but not here. Perhaps I am being overly critical. There is a message; history sets a stamp upon the lives of those who live through it. I do admit it is hard to follow a book as excellent as To the End of the Land, which both taught history and magnificently rendered a triangle love relationship.The author, Chang-rae Lee, never brought the characters even within arms-lengths. Always they remained at a distance, and for this reason I have only given The Surrendered two stars. Not terrible, but just OK.

Gut wrenchingly sad and modestly joyful in alternating scenes. A racing crescendo bounding toward and end, but backward and forward in time. I stretched the reading of this book out too far, but still felt its grip as if I had never put it down.It's for people with a bleak outlook on life and think that there may not really be happiness outside of leaving this world. It's for people who think that the world is comprised of half truths and lies with certainty found only in the end.This isn't a lighthearted read by any extent, but it will leave you at ease at the end.

I think I have read one of the novels that will be on everyone's top ten list next fall, The Surrendered by Chang-Rae Lee. Are you thinking that given Lee's track record: Native Speaker, A Gesture Life and Aloft that I am going out on a tiny, tiny limb? Well I would agree with you if The Surrendered was the spare, wonderful portraits that those novels were, but it is not. Surrenderd is a Grand Scale novel. It is a quest for redemption, a search for survivors looking for forgiveness..The novel is told in flashback and that works perfectly for this book. As you meet the characters you are charmed by their imperfections. You fall in love and dread the revelations to come. June is a Korean War survivor. At age 11 she and her family were forced by the War to abandon their home. They struggled to make it to safety at a relatives house but along the way June lost her family one by one Hector is also a survivor of the Korean War. He was an American GI immersed in the carnage until discharged. Blaming himself for the death of his Father back home and not having anywhere to go he stayed in Korea. June and Hector's lives intersect for the first time at a Korean orphanage. There they meet Sylvie. She and her minister husband run the orphanage. Sylvie has her own tortured past having witnessed the Japanese kill her missionary parents in 1934 Manchuria. All three people have already survived horrendous experiences leaving them more damaged then they realize. This leads to a time bomb relationship between the three characters.I am not going to go beyond this small explanation of plot. This has given you the most basic of starting points. I could go on to describe more of the storyline but that list would do nothing to convey the vivid intensity of those same events written by Lee's elegant pen and broad range. My list would come off as melodrama whereas that kind of storytelling is completely removed from this novel.I have been a fan of Chang-Rae Lee for years and from the moment I heard he had a new book coming out I was excited (thank you Penguin USA for the reader's copy!) to read it. The Surrendered is a whole new start to Lee's already accolade filled career. He has produced something with all the masterful control of his earlier introspective novels and added the complex and universal themes of survival, heroism and the psychological destruction's of war. Lee has taken his character's 30 year heartbreaking road to redemption and created an engrossing and affecting book. The Surrendered is a big, ambitious and triumphantly well written novel.

A DNF for me, but I made it page 280 so I will share my thoughts.. The beginning had me hooked. An eleven year old June is struggling to save her young brother and sister in war torn Korea.. There is train hopping, food scavenging, and torn off limbs.. WOW. Then June is living in New York and looking for her art thief son. Fascinating.Then is switched to Hector. Hector is all about drinking, fighing, and fornicating. He is a former G.I. that worked at an orphanage that June resided at. The book goes from 1980s New York to 1950s Korea with Hector lusting after the minister's wife at the orphanage I mentioned. The wife is Sylvie and she has a drug problem and a few war secrets of her own. I never grew to like Hector or Sylvie and I just wanted it to go back to June but when it did finally go back to June, I didn't like her either anymore. I didn't like how she turned out. You got three people that have all been to hell and back in some way and not one of them becomes a better person from their experiences? Didn't work for me but a lot of people are loving it, so give it a go.

The book is all about human base desires and weaknesses. It suggests that even the best of people have horrible secrets. Which is fine but there seem to be no point to the book, like war is terrible and no one wins. It just seem to have one tragedy after another and suddenly the book ends with little to no closure on the plot.

I just finished this one and am still trying to catch my breath. The Surrendered is not just a novel, but an experience. A powerful one. I read Lee's Aloft and Native Speaker some years back, the same year he led my group at the Napa Valley Writer's conference, whenever that was. Both are fine works, but neither approached the stature of this one. We start with fugitives during the Korean war. A young girl, who eventuallybecomes "June," and the book's central figure (or one of three, depending on how you look at it) is fleeing from her village with her family, caught among the Chinese, the Americans, the South and the North Korean Armies. As a result of events I won't recount here, she lands in an orphanage run by American missionaries. Considered clinically, you might say that both she and the wife of the man who runs the place, a woman named Sylvie, are are victims of severe, untreated PTSD. However, Lee is not interested in clinical descriptions. He's determined to delve nto the deepest emotional and visceral lives of three people whose life experiences have damaged them beyond measure. The third person of the trio is an American soldier named Hector who, once discharged, stays in Korea with the orphanage as a handyman because he can think of no special reason to return to the U.S. As ugly as the events that have steered their lives in the direction they've taken, though, Lee doesn't treat his characters as victims. He digs deeply into how their individual personalities interact with their experience, combine to shape their lives. The who is as important as the what to defining the eventual self. The book covers several decades, and its central action is a quest June undertakes as an adult, having eventually made it to the States. Cancer is consuming her, threatening to end her life at any time during her journey. The first object of her search is a lost son, one about whom she carries enormous guilt for her inability to provide the emotional support he needed throughout his life. The second is for an Italian church in a village called Solferino, the site of a horrific 1859 battle crucial to the fight for Italian unity, and also a pivotal event in the eventual formation of the Geneva Convention and the International Red Cross. However, though the history may be important, it is not central to the journey June undertakes with Hector. The quest is intensely personal, not so much historical or academic. The history is useful for an intellectual consideration of its parallels with modern events, but for the characters (and reader) its impact is direct and emotional. Like any good quest story, Lee lays many obstacles and monsters in the way of his knights errant, each one more fearsome and wrenching than the last. And when you reach that final mountaintop, you know you've been somewhere, though you may not be sure where you've arrived. Structurally, Lee sets himself a difficult and risky pattern, and does so with extraordinary success. He spends pages and pages exploring minutely the reactions and musings of his characters, yet disposes of a couple of key events in the narrative within a few paragraphs. Ordinarily, this would go against my grain. In Surrendered, I never felt short-shrifted. He refers briefly to an event or circumstances, leading readers to believe they've gotten all they're going to get, then returns unexpectedly to that time and place, and we discover that something we thought trivial is suddenly key. Or he returns to something we know as key, only to find that the character or characters have changed their view or feelings about it, and we (and perhaps they) deepen their understanding of how it has affected their lives. The emotional landscape has shifted, moved around by earthquake of fresh experience. Seems real to me, and it takes enormous language skills to capture it. On a critique of my own work, Lee once wrote. "Remember, character, character, character." He's certainly followed his own advice and to the betterment of American Literature and to new insight into this period in American history--I'm talking both the Korean war and the wars that consume us now and whose traumas will reverberate down through the generations. Surrendered is a monumental achievement.

There were parts of this book that were so horrific and unsparing, I will never forget them. The depiction of the Korean war thru June's experience is one of the most violent (and sad) scenes I have ever read and Lee continues his brutal descriptions of war in his description of Hector's experience with the young bugler and Sylvie's terrifying experience in Manchuria during the Japanese invasion. This part of the book is riveting and unforgettable. But the story goes off on a tangent with June searching for a son we not only don't get to know, but don't even care about. It feels like a total contrivance to get Hector and June together at the end. We never get a sense of the relationship between June and her son - Nicholas is nothing more than a stick figure. Why is he a thief, why is he estranged from his mother? We never get any answers and when we find out what happened to him, we don't even care. The author never describes Hector and June's marriage - and it doesn't ring true that Hector would go to Italy with June the day after his girlfriend is killed, without a passport, to see a son he doesn't know or care about with a woman he hadn't seen in years and who he admitted to never loving. And even after she admits to starting a fire that killed Sylvie and was unintentionally responsible for Dora's death, the two women he did love. After awhile, the book was just maudlin. There was no joy in it at all. By the end of the novel, I was ready to slap Hector - he's a tragic figure that spends his life feeling sorry for himself. There was a lot of tragedy in this book . . but it never really touches you.

If you need Zoloft to get through the day and don't want to increase your dosage, run, don't walk, away from this book. It is about as far from a light, fun read as a book can be; the "serious literature" category is more apt.The story grabbed me at chapter one. That chapter is about a little girl, June, who is trying to escape the horrors of the Korean war in 1950 and save her siblings as well as herself. Chapter two is the same person, sharp-edged and not very likeable, in 1986 New York, preparing for a journey to find her son. Intermingled are the stories of June, an American soldier (Hector), missionaries turned social workers, orphanages, lovers, loss, and betrayal.While there are very dramatic events that take place, this is not an action story. It is a story about damaged souls going on to damage other souls. As is said of Hector, "Someone could easily argue that all of him had spoiled, even as his physique remained remarkably sound, that a special scan of his abstract being would show an unsettling result, revealing a soul neither bountiful nor spare but used up, right down to nothing." A minor character who especially touched me was Dora, a hard-shelled, vulnerable barfly who might finally find some happiness. The book bogged down a bit for me in the middle part, just a little too much description of that period in the story, but in the end, I was very glad I read it. The story is very dark but thoughtful and beautifully written.

I loved this book, which concerns the lives of two people, deeply impacted by horrors of war, in this case, the Korean War. There are other characters in the book, some of them quite major and others not, all of which are keenly depicted. I found myself alternately rooting for and despising the main characters. They are very, very real, and I was absolutely compelled by their trying to make their way through a life and make sense of themselves and their worlds in the aftermath of a war in which each had witnessed and participated in unspeakable acts of casual callousness at best, and deliberate cruelty at worst. Writing all of that, I feel this book might sound ponderous and slow, and depressing. Somehow, it is none of those things. It is, of course, awful to read of our capacity as humans for cruelty, but there is so much to love here in witnessing the struggles of these imperfect characters. The writing is gorgeous. I don't have my copy in front of me as I write this, but then I don't need to it remember one completely breathtaking sentence, just two words long: "Life gathers." Exhilarating reading. I was swept away.

This is a Pulitzer-prize caliber, epic and gripping novel that reveals the secrets and horrors that haunt those who are affected by war: an 11-year old war refugee, an American GI serving in Korea, a Presbyterian missionary who runs the orphanage, and more. Beautifully written, it packs a strong emotional punch; it focuses on the Korea War but the events could well take place in virtually any war. For those who revel in masterful literature with deeply flawed but authentic characters or for those who seek a more finely-tuned understanding of the US participation that left Korea divided into two partitions, this is an important book. Read it!

The review in the New York Times explains that this book is about the accretion of things - war, sadness, time - on people in a way that makes them who they are, often in a frustratingly unchangeable way. The book's language really hammers that point home; Lee made me feel like I was trudging through the book with the characters, slowly but forcibly making it to the end. For some people, this may have been profound and enjoyable. For me, it was tedious and exhausting and I didn't like my companions.

I feel horribly guilty rating this book only a three. It is well written, compelling, and extremely thought provoking. But it is also probably the saddest book I have ever read and because of that I can't say that I "liked" it. The Surrendered is told from the point of view of three different characters: primarily June, a young girl who fled war torn Korea with her family to become a successful antiques dealer in New York; Hector, a soldier who is responsible for burying the dead, and comes to know June at an orphanage in Korea; and Sylvie, a missionary taking care of the orphans. The war is devastating on everyone in this book and I can't say that there are many bright moments or happy outcomes. What Chang-rae Lee does incredibly well is to create very clear portraits of characters that have been affected by the war and then stay true to that throughout the novel, so even when a character's behavior is shocking it is definitely either consistent with what we grow to understand about their nature or seems very plausible. There are some very touching moments. In general, I think this novel left me with the impression that anyone who has experienced war, and lived, has in essence surrendered the life they had prior and really never gets that, or their sense of self, back. So sad. The sacrifices that June made in order to survive were particularly heart wrenching.I would be really interested in knowing what people who have experienced war felt about this book.

Had I stopped to rate this novel at the halfway point I'd have said it went off the chart, beyond a mere five stars. Such rich prose, heart-rending actions, characters I wanted to reach out to embrace, each one damaged by war and circumstance. Then, all of a sudden, the author slammed on the brakes and, just like one of his characters' driving habits, dawdled along for the next 200 pages, throwing in backstory after backstory for every character we encounter, including in one case the backstory of the character's parents, who never even figured in the narrative, all bridged inbetween by endless Sargasso Seas of third-person interior monologues consumed with misery. Every major and minor figure in the book is a complete emotional cripple, dragging him/herself and everyone around them (and the reader) into dank depths of depression. Those few characters who manage to begin to pull themselves free of their ruined and awful existences, just as they reach the cusp of a possible better life, suddenly meet a cruel and horrific death. Every single one!I don't mind depressing literature, especially when it's delivered in such soaring and original language as this novel. But the interminable wallowing in self-inflicted horror inevitably squandered my sympathy and lost my interest.

This is a book about deeply damaged people and the ways by which they adjusted themselves to the experience of the tearing trajectories of their lives. As is the case with many whose early life is comprised of a barrage of unspeakable loss and hurt the cahracters in this story close themselves down such that the experoience of their lives is filtered through a very narrow aperture because that is all the exposure they feel they can sustain.The early responses to twarted yearning for connection and love, validation of life wher hope is the drug and a person camn become a whore for love ultimately dies a strragled bitter death leaving only the struggle to survive. To simply live to be without the accoutrements of connection to others. People wo have passed thois threshold deaden their souls so as simply not to feel or if they do to experience merely the shadow of what might otrherwise be there. They surrender all to the driving impeccable thrusts of cruelty that comprise their lives, their simple existence somehow being enough.The pity of this stroy is that the need for love, the need to have loved just will not die in the face of everything. We can never surrender that need which always seems to express itself at the time of a person's slide towards death; the need to feel somehow that they have loved and been loved. It is the direction that is absoultely contrary to the spiritual and emotional isolation in which they have sought haven. Ultimately there is no way to successfully resist this need, despite the terrible pain that life can deliver. There cannot ever be that stubborn single willed reisitance, to feel nothing; to simply survive. We all musr surrender to this need; just as we must ultimately surrender our being to our inevitable death. These surrenders are so similar; every surrender in the face of terrible loss is but a rehearsal for this the last surrender.This book simply gripped my mind and heart from beginning to end. It is rare indeed that I am able to say that.

It's the feel horrible book of the year! I'm not one who minds a bit of tragedy and/or darkness in a novel, but this takes it to a whole new level. There is no redemption for the characters. People die, often senselessly always brutally. And every plot point ends in sweeping disaster. Despite all this, it's not even the atrocities of Very Horrible Events (take your pick...) it's the atrocities of everyday kind of living that are gut-wrenching. Some of the most heartbreaking scenes for me were not the more obvious signs of violence but the more subtle ones, like June's treatment of her nine year old son.The characters, with the possible exception of Hector, are wholly unlikeable. Even though the reader understands they endured unspeakable childhoods, at a certain point a miserable person is a miserable person no matter what he/she's been though. This makes the book very hard to get into – very hard. I almost gave up at least twenty times.This book somewhat reads like a series of linked (long) short stories. It shifts viewpoints but not quickly, or quickly enough. It's as though one person tells his/her story and the other tells hers. This makes the book inordinately hard to get through. The first 100-200 pages felt like backstory and, again, it made the characters cold and unlikeable no matter how horrible their pasts.All that said, the second half is remarkable. The writing seems to pick up. It becomes more lyrical and less utilitarian. Characters start to gel into people you can root for (or against) instead of amalgamations of worst case scenarios. Still, this book is hard to rate. Some places were a 1, others a 5. While the first half was painful to get through, the second was hard to put down. For me it started with Sylvie's background and I think I would've preferred the entire book centering on her. The ending is just as horrific as you'd expect it to be. The book is well done, but I have a hard time saying it is good.

The Surrendered starts off with a young Korean girl named June trying to make her way to her uncle's house during the Korean War. She's been newly orphaned, and at the age of eleven is now the sole caretaker for her seven-year-old twin siblings. The Surrendered is also the story of Hector, a young American man serving in the army during the War. And then there's Sylvie, a middle-aged American woman who (along with her husband, Ames) is in charge of a Korean orphange right after the war. There's much more to this book than that, but I hate to say anything else about it because I think some of the impact of this book is not knowing how everything fits together.This book is, emotionally, a hard book to read. Of course, being set partly during a war you except it to be gruesome and sad. But The Surrendered goes the extra mile by making the characters just about as low as a person can go. They experience many tragedies, and are damaged as a result. Yet there is also a feeling of hope in the book, in that the human spirit is able to survive so much and still want to live and go on. This is a book that really made me think, wondering how I would react in their situation. I can't recommend this book for readers who like only "feel good" or "light" reads, but for those who are looking for a compelling read that will really make you think, this book is a great choice. It's one I will never forget, that's for sure.

To what extent do we surrender to the trajectories of past experiences? When we move from a place of belonging to a place of not-belonging, what happens to our psyches?June Han Singer, successful antiques dealer in New York City in the mid-1980s, is dying, but she has some unfinished business to resolve. She tracks down Hector, a hard-drinking janitor in New Jersey, and pays him to help her find her prodigal son. June and Hector have a shared past, and that past gradually emerges in this skillfully crafted novel that explores with great intensity the themes that Lee has touched on in his earlier novels: the sacrifices and risks inherent in unconditional love, the need to belong, and the juxtaposition of brutality and mercy. We see June as a 14-year old girl, her entire family killed violently in the Korean War, find her way to a mission orphanage in South Korea. That is where she meets Hector, a young American GI with a less-than-honorable discharge from the army, who has been hired to do maintenance work. Both June and Hector become infatuated with Sylvie, the wife of the missionary who runs the orphanage, whose childhood experiences in the war in Manchuria have left her with a badly damaged psyche and a morphine habit. More than 30 years later, June and Hector are still tying to find meaning in past tragedies.This is a powerful novel that I couldn't read straight through. But it kept drawing me back, and the questions it raises continue to exercise my mind.

ebook.this book depressed me. it was full of awful characters, who did awful things, with awful results. nothing redeemed these characters. as the stories unfolded, and you found out the true history of each of their lives, i disliked them even more.it's hard to like a book where you dislike everyone.true, i had some feelings of sadness for both june and hector (not so much sylvie)...at different times in the novel...it didn't overshadow the looming iniquitousness that i felt lived inside each of them. and then...when each of them was punished, in their own way, i didn't feel relieved that they got their due. i just felt yucky (that's the only word that i can think of that fits my feelings...sorry). i don't want to feel yucky when i read a book. i don't mind moments of that, but i like to have a little bit of satisfaction when i turn the final page...this book didn't give me that.added note: (upon further thought. perhaps this is why the book is called 'the surrendered'...as a reader, i feel like everyone in the novel surrendered themselves to the evil and awful sides of their nature...and as a reader, i felt like i surrendered myself to reading the story of these horrid sad people.)

This book is about June, Hector and Sylvie, who are connected by their experiences during the Korean War and the atrocities each experienced.This book jumps back and forth in time and from person to person, so it can be confusing. (If you pay attention, you'll be fine, but I'd recommend not reading this when you're tired or distracted.)This is not a happy book. It's not as depressing as you'd think, but there are times when I had to make myself stop reading and walk away and do something else for a bit. There aren't many of those parts, but seriously, this is not a happy book. This isn't an easy book, either.If you're willing to go along for the ride, though, it's incredibly worth it. I can't say I enjoyed reading this book. (But then, I can't say I much enjoyed watching Schindler's List, either.) You're probably not supposed to enjoy it. If you think you can handle it--and there are parts that are incredibly vicious and heartbreaking--give this book a try. I can't imagine anyone finishing this book and being sorry they picked it up. I know I'm glad I did.

Thank you Goodreads for letting me win this book through Firstreads. I thoroughly enjoyed this book. Chang-Rae Lee has a wonderful writing style. The novel is about three people who are brought together because of the Korean war in 1950. June is an orphan from Korea who meets up with Hector, a GI, who happens to be on his way to an an orphanage. Hector offers to take June there and at the orphanage they meet Sylvie who is the wife of the missionary. The book goes back and forth in time while we follow the lives of these three people and learn about the hardships they have endured.June and Hector both have special feelings for Sylvie and this connection gives them a bond for life. Chang-Rae Lee manages to write a gut-wrenching portrayal of all three character. I would recommend this book to everyone. This is not a light read but it is beautifully written and the characters Lee creates are unforgettable. After reading The Surrendered I'm now interested in reading Lee's other novels.

This book is both gorgeous and awful. The writing is (and I hardly ever say this) exquisite. Seriously, there is no other way to say it. You can't help but noting how beautiful his prose is even while cringing at what he is describing. That said, the darkness of this book was almost too much for me (and I do not shy away from dark). At points, it did feel a bit convoluted and overly dramatic. Over all-amazing but not an emotionally easy read.

This is a story of three lives in Korea... Hector, June and Sylvia from 1950's to 1986 ... with many ... too many ... confusing flashbacks. It is on the best seller list so I pressed on to the finish ... but found it too overdone and wordy.