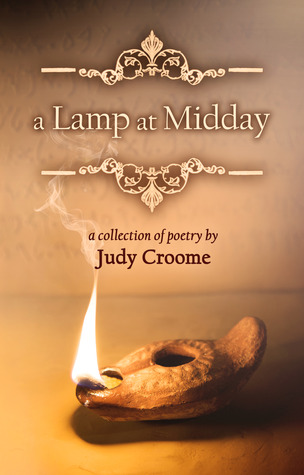 Containing a wide selection of poems, 'A Lamp at Midday' (Volume 1) gives voice to the contrasts and contradictions of modern life. As they challenge complex emotions and explore timeless themes, these poems also have relevance for the reader's own life.This personal collection of poems is a vivid celebration of one woman's spiritual questioning and earthly existence, speaContaining a wide selection of poems, 'A Lamp at Midday' (Volume 1) gives voice to the contrasts and contradictions of modern life. As they challenge complex emotions and explore timeless themes, these poems also have relevance for the reader's own life.This personal collection of poems is a vivid celebration of one woman's spiritual questioning and earthly existence, speaking with a haunting intensity of life, loss and love....
| | | |
| --- | --- | --- |
| Title | : | A Lamp at Midday |
| Author | : | |
| Rating | : | |
| ISBN | : | 9780987009067 |
| Format Type | : | Paperback |
| Number of Pages | : | 82 Pages |
| Status | : | Available For Download |
| Last checked | : | 21 Minutes ago! |
---
A Lamp at Midday Reviews
This is not a scholarly tome but a snapshot of real life, and unfortunately death. If you have have ever experienced the pain of caring for an ailing parent, Judy Croome's heartfelt poetry will speak to you. Croome has experienced much pain from her Father's illness, seemingly Alzheimers, and ponders the ravages of his body and mind while questioning his quality of life. She has obviously idolized her dad, and conveys this in a real way. Having experienced this myself, I felt as if I had a lifeline, one willing to put herself out there for the rest of us. The first half of A Lamp at Midday is a brave and haunting love letter to her father, while the second half focuses on a different kind of love and rebirth. I appreciated Croome's footnotes in places so the reader can share in her inspiration, and perhaps find inspiration of their own. Croome's imagery is relevant and relatable for any reader and I look forward to her future publications.

As the authors's sister, I know the depths of her soul she went to to write these poems. It is because she delved so deep that she was able to write such an emotional and heartfelt Anthology of beautiful poems. Thank you Jude x x x

This book made me feel connected. It's themes are recognisable to anyone who grapples with the "big questions" of life; to anyone who seeks, within the rush and confusion of modern day life, not to "wander from the path of love".These poems get under your skin, they feel like friends, they feel like truth. They are warm, passionate, and beautiful in their accessibilty. I am not a scholar of poetry. I seek connection and to make sense of the things about human life that often cannot be made sense of. In "a Lamp at Midday" the poet doesn't give us any easy answers; instead she gives us the gift of poetry that frames the questions on our lips, and that gives expression to the feelings that arise for human beings at their most dark and their most joyful moments.A tiny poem that seems hidden away on page 72, of "a Lamp at Midday", asks with it's last line, "Who, then, is left to read my ordinary dreams?" The reader might miss this poem, nestled at the lower right hand corner of the very last page. "Will anyone ever read this?" is the title of this final poem in her collection of forty-seven new poems by Judy Croome. It hints at the fear a writer must have, at releasing her words into the world, that her work will go unnoticed."There is a dream in my heart,I yearn to share with all the world.But no-one will ever read this.My voice drownsIn the resplendent chorus of a million voices,Each with a story of their own."On the same page we find "Water, Steam and Ice", which again seems to me to be a fitting way for the poet to send her precious words out into the world. I hear the poet encouraging herself, persuading herself, to send out her words. Indeed I hear her, clearing away the "layers of rubble" that are built "Up this simple truth". Thus way she appears to me to arm herself against the critics, with the knowledge that her work is "That which comes from Love."Everything about this book of poetry, for me, carries with it so much love, honesty and care. From the beautiful cover design by Michelle Davidson Argyle with it's warm colours, to the feel of the cool shiny cover, and the lightness of the book itself when I hold it.Then from the very first poem, "The Painters", the warmth and love that can be found in life, is felt by the reader. I was straight away hooked in on reading these lines,"Smooth strokes slide sidewaysAcross sun-drained wallsDull dirt blooming bright whiteSilence intruded by children's laughter,Dogs barking.Sweet sounds softly surroundA small haven of peaceShared by two working peopleNo words are spoken by father or daughter,None need be said.The forty seven poems are grouped into two main sections, the first entitled "Into the Moon" and containing twenty five poems which tell the story of the poet's love for her father, his long illness and then his death. On first reading I had to stop about half way through this section, the honesty and despair of someone caring for a loved one, and of watching the daily loss of the parent they knew, was just too raw.On second reading, I read the whole section at once. I felt that the poems need to be read together as they do map out that long painful goodbye, where relatives sit for hours by a loved ones bedside, pondering life and death. The section builds to a climax with "The Treasure" on page 23; some of the patience and control shown now erupts into sorrow and fierce anger about her father's life working in the gold mines for "the treasure man, above all else, prizes". The poet lifts up a desperate prayer in the last stanza,"Deep in the space between two worlds,Unseeing of the summer storm that rages destructionOn the garden even as it pummels our heartsWith unknown fears, you waste away,Even though we try to hold you tight,You quietly slip beyond our embrace.I lift my eyes to heaven above,Offering prayers and incense and tearsTo all the gods in the worlds,As I implore:Do not leave him alone.Wrap him in your loving embrace,Carry him on your strong back,Holding him in your divine hands,As, once more, he travelsDeep into the underworldSeeking man's most precious treasure:The golden path to heaven."The second section of poems is entitled "Vignnettes of Life and Love" and contains forty seven poems, one of these is really a group of Haiku poems which Judy has indicated are her favourites, and they really are beautiful. Almost like a snapshot of the main themes of her collection, man's destruction of animals and nature, love of animals, modern life, faith, history, the beauty of life's moments, time passing.The poems in this second section are ordered alphabetically, however appear to me to be loosely grouped in themes also. The first six follow on I think from the death of the poet's father, much as life does after a loss. They seem to tell a continuing story as the poet grieves, and also I thought, grapples to maintain hope and her faith in humanity. Contained here are poems of love, beauty and passion, the title poem "A Lamp At Midday"; the light hearted " A Fun Poem On Our Anniversary"; and "A Prayer for South Africa."A group of three poems then stand out as a turning point in the poet's grieving, with "Escape", the poet seems to see the world with fresh eyes once again;"Until the full moon slips out from behind a cloudTurning grey into silver.You feel that you have died and reawakened in a new world,Where you make soap bubbles in the kitchen sinkOr paint invisible pictures with the mopAnd sorting plain while from vibrant colours soothes your mind."The two Eulogies in this section, hint at the quest for faith the poet has, she speaks to her father, hoping that "If there is another world/ I hope you know/ That we know now/ How often you were right/ And we were wrong"; and for the soul of man she asks "Where are You now? Your light fades from our memory, Scrubbed away by a surging herd That despises truth and worships mediocrity I fear the darkness grows ever stronger and naught is left but a vanishing savannah."In the remaining groups of poems, including the Haiku's, the reader is stuck by the passion and anger sometimes expressed by the poet about modern life and humanity, the misuse of power, the destruction of nature and loss of faith. In "In the End", the poet wishes that "Love could leap across the abyss of modern rationality" and in "Rapture" she touches on the excesses of organised religions and hints that for her "the beloved" waits in nature and in silence.Throughout this section there are poems about nature and animals, I swear I heard a drum beat of fear as I read "Meandering in the Morning Mist" as an antelope smells the scent of man and is ready to leap away from the danger. The poet appears to have no time for man and the destruction we cause. In "Shadow" the poet appears to be writing to a human, and it is clear that she regards animals as equals to human beings, superior even.The poet touches on the New South Africa, and there are a small number of poems about divisions within society. It is clear that whilst she may despair at the direction in which the human race is moving in general, her compassion for ordinary people, neighbours, friends, loved ones, strangers is here too. Yes she is frustrated and angry, but she still turns gentle, humourous and compassionate eyes on her fellow man, yearning for peace and a more understanding, caring world. In "One Day In The Life Of A Soldier" and in "Perceptions" and In "Stranger in the Street", " My facebook Friends" and "The Gender Police" we see this clearly.As Judy lives in Johannesburg, South Africa and grew up in the Zimbabwean bush, some of the details of her contrasts and loves are of course different to those that are familiar to me. However her themes are very recognisable whatever the reader's culture or background. For example, she contrasts the city and the Bushveld; and explores how the wild places are being overtaken by "civilisation". I loved "Into the Bushveld" and "Locked in the City" both.My favourite poem is possibly "One Early Morning", though I have so many favourites."The home lies covered with calm,Gentle moments of heaven to treasure,Deep in the silence, lies an eternal voice.Who else wakes to this momentBeyond religion, race, sex or genderUntouched by man-made divides that wound so deeply?"Although the book contains some very challenging themes, the poems are never too bleak, or the poet's voice too bitter; her warmth and love are always with you as you read. As in the title poem, "A Lamp at Midday", the poet guides the reader through some of the darkest places of human life on this planet; through sorrow, fear, pain, loss, anger, destruction, war, cruelty and greed, with a lamp burning that allows all of these dark emotions, all of the contradictions, to be shown for what they are. With the lamp we can see where love still exists within it all.A must read!

Note: I received this as a Giveaway - thank you Judy.There are two ways to structure a collection of poetry - either produce a themed one, or have no structure at all and let the poems speak for themselves. Interestingly, this book chooses both ways, as the first part is themed, and the second is not. And for this author, I think the unstructured way does not work. The first part, "Into the Full Moon", shows the author's emotional journey during the last years of her father. All the poems taken together paint a sad and heartbraking, but very loving picture. There are some very spiritual poems which might turn some readers off, but I think they too fit rather well, as a comtemplation of life and death will always lead to such thoughts.The second part "Vignettes of Love and Life" still contains some beautiful poems - but also some that I could not get my head around. And, to be honest, there should have been a different order to them than just the alphabetical one. While I do see that life is random, there needs to be some kind of breathing space. (Which you get by putting the book down, but that surely is not the best approach.)That being said, all poems in the first part (and most in the second) are written in a similar style. You are put into the required mood within the first two or three lines, and then the poem will carry you through. Croome's writing also feels a bit tranquilizing, as her poems reach their impact through the inherent quietness. Those poems that don't follow this don't work for me, but that could just be because they put me out of the mood and thus felt odd.I still recommend this collection - with a small warning attached to the second part - as it is a good collection, and the first part is incredibly moving, especially if you have gone through such a time yourself.As this is a poetry collection, and you need to see what it is like, here is one of my shorter favourites (and, coincidentally, the last one in the entire collection): Will Anyone Ever Read This?I pour my soul onto the page.Word after wordI tear from the ether of my mind.There is a dream within my heart, I yearn to share with all the world.But no one will ever read this. My voice drownsIn the resplendent chrous of a million voices,Each with a story of their own.Who, then, is left to read my ordinary dreams?I am, Judy, and thank you for sharing it.

I won a free copy through First Reads.Judy Croome's poetry is, overall, very good. However, I did not like the setup of the book. It starts off with the first section being a chronicle of the slow loss of her father, mind and body, to three strokes. She addresses her sadness at watching her childhood hero slowly disappear. Her poems do let you in and allow you to imagine how she was feeling at the time. My problem with this part of the book is that it was just too much. I was afraid the entire book was going to be the same thing over and over, with each poem restating the words and ideas of the previous poem. Each poem on its own was great; however, in combination, it was too much.Thankfully, there was a second part of the book that contained a wide variety of poems with varied themes. She addresses a lot of current issues. A few of these poems are dedicated to the problem of how we spend all of our time fighting wars when we should be focusing on uniting. There are also a lot of love poems, my favorite being "A Fun Poem on Our Anniversary" because of its lightheartedness. There are also several pages of haiku. "The Cat" completely captures the attitude of cats in just 17 syllables. A few poems are also dedicated to animals. She even has a poem, "To Theodorable (13.09.1995 to 13.04.2012)", in honor of her late cat. All in all, I enjoyed these poems. "Monkey See, Monkey Do" is probably the only one I absolutely hated. It's not that it was a terribly written poem - I just didn't like the subject matter. I understand why all of the poems in the first part "Into the Full Moon" were together but, like I've said, it was too much all together like that. Croome did put a couple of poems about her father in the second part so it might have been better had she put more of them in that part. I think that she's done a great job expressing herself and had a fine talent for writing poetry. I give this 4 out of 5 stars.

Very many years ago, I was struck by something model Marie Helvin said, to the effect that the first time she felt truly adult was only after she no longer had a living parent.Poetry is intensely personal. Billions of poems go unshared because of this. It was an act of courage, deciding to make public the poems in the first section of this collection: these are Croome's reflections as her beloved father approaches death.As adults, we may imagine we're prepared for the deaths of our parents, but are we? Anyone who has experienced the complex emotional odyssey that is losing an elderly, helpless parent will find poems here that resonate, perhaps in the poignant beauty of Vigil or in the anguish of the searingly honest Cruel Regrets. It is always a shock, the first time we see a parent cry: our world is changed; it is that little bit less secure. Tears looks back on a moment most of us carry in our memories.The second section of the collection is called Vignettes of Life and Love. It includes over six pages of exquisitely controlled haiku. The poet shows a true gift for this form.There are clever poems such as Perceptions, while The Wild Wet Hills of Winter contains certain lines that recall Solomon's song, or perhaps the Psalms. In fact, much of the language in this book has a Biblical ring.This is a collection of poems of both celebration and lament. Will Anyone Ever Read This? is the final one. I'm glad I did.

An intensely emotional journey straight to the author's soul.In this volume of poetry, Ms. Croome invokes emotion with each word in each poem, from grief to joy to despair to love. Each poem grabbed me in a different way, some leading into the next on a themed story and others a stray spotlight (as life sometimes throws at us). What I loved about this volume is the progression of a story that starts off filled with grief and coping with heartache and the telling of the healing process and the flashback glimpses of a powerful love story.

This book touched my soul. I too lost my father to a similar disease and it was as if Ms Croome and I shared the very same experience. Her ability to capture life in her words is truly amazing. I would recommend this book as a must have. I won this book from Goodreads but will be purchasing copies to give as gifts.

Poignant, evocative poetry - this writer uses words that clutch at the heart strings. Please note: this review posted by author's Mom, so is, of course, completely unbiased!

I'm neither a writer nor a scholar but I feel I should write a review as a qualifier to the numerical rating I give this book of poems. After all, I don't want to deter all readers from buying it. Only those who share some of my tastes in poetry. First, why I give is only two stars: though I love poetry, this bored me. I wanted more originality, especially out of the first 24 pages. I felt like I was reading a grieving daughter's journal, which is something I'd never freely choose to do. In fact given a choice, I'd much rather read the sorrows and ravings of a man in pain, at death's door, yet compelled to cling to life with all its riveting horrors. But in the interest of objectivity, let me now share with you a few reasons many readers may appreciate and value this poetry collection though I do not. First of all, there's a real honesty to Ms. Croome's style. It's never forced, there's also little troublesome ambiguity (no, I'm not being sarcastic) plus, the themes are often universal. This is good. Best of all, the first half of the book reads almost lyrically like the soothing voice of an old friend sharing her burdens. In fact some poems, such as "Full Moon" and "Summer Snow" sound like pagan words of charm and are quite enchanting when read aloud. The two stars merely describe what I felt about the book as a whole. Please note that I received this book for free through a Goodreads giveaway.

Full disclosure: I received this book as part of the First Reads giveways from Goodreads. The collection of poems in A Lamp at Middday are personal, emotional, and full of feeling. Croome's free verse style is well done and allows her to bring forth emotion in her words. That being said, I found the first section of the book a bit overwhelming. The entire section is poems dedicated to Croome's father. The very personal nature of these poems left me feeling a bit removed from the work. That being said, two of my favourite poems in the collection were in this portion of the book -- Where the World Ends and Will I Remember? I also really enjoyed 'Haiku' in the second half of the book.There were a handful of excellent poems in the book, but I felt as thought overall the collection could have used some editing or weeding -- a selection of poems on a wider breadth of topics might have helped.

Judy spilled her heart, soul, love , sadness, happiness and life in this book of poetry. Each word would engrave in my soul and let me see what Judy was thinking while writing. She shares her life in every poem. I learn to love and enjoy the moments we share with our family. Life is too short to worry about negative things. Live life to the fullest and love one another.

I enjoyed this collection of poems very much. Maybe "enjoy" isn't the word to use, as part of the collection deals with caring for and losing one's dying father. The poems are very evocative, sincere and heartfelt. It has stirred up lots of emotions for me. There is intellectual enjoyment too, especially in the collection of cleverly-constructed haikus.

I don't read a lot of poetry because to tell you the truth I usually don't get it. But this collection of poems was lovely. Made tears come to my eyes, made me laugh, was totally enjoyable. Looking forward to reading her new novel when it comes out.

Well written, just couldn't find a way to connect with what the author was presenting

This came from the authors heart. you are moved as you read it. I received the book for free through Goodreads First Reads.

A collection of beautifully written poetry.I really like the Fun Anniversary poem it reminds me of my beloved. Thank you!

Some of these poems were simple, while some were complex. However, they all painted vivid pictures. I liked the author's choice of words. Not a bad read.

A great collection. Poems you can actually understand!

Poetry filled with feeling. I particularly enjoyed on e day in the life of a soldier, shadow and the gender police. Highly recommended for fans of good poetry.

Enjoyed it. Excellent pathos.