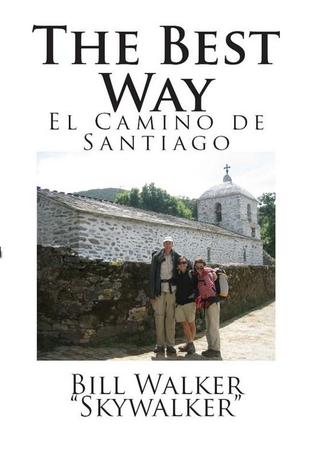 Since the times of Thomas Jefferson and Benjamin Franklin, Americans have headed off to Europe on odysseys of self-improvement. But until recently, Americans have not chosen 'the best way'—El Camino de Santiago. Bill Walker ("Skywalker") decided to undertake this 500 mile trek, that stretches from the Pyrenees in southern France to Santiago in Northwest Spain. Better yet,Since the times of Thomas Jefferson and Benjamin Franklin, Americans have headed off to Europe on odysseys of self-improvement. But until recently, Americans have not chosen 'the best way'—El Camino de Santiago. Bill Walker ("Skywalker") decided to undertake this 500 mile trek, that stretches from the Pyrenees in southern France to Santiago in Northwest Spain. Better yet, he did it in the 'Holy Year' of 2010. Fully 200,000 pilgrims were struggling on foot to make it to the Great Gothic Cathedral in Santiago de Compostela.The Camino is supposed to be a religious-spiritual pilgrimage. But Walker had also been told that it was "The European Divorcee Trail." At Walker's side was his 18 year-old nephew, Gavin, who thrives with his special brand of Fonzie-like charm. The towel-snapping banter between the two of them is reminiscent of the frat-boy dialogue between Bill Bryson and Katz. Better yet, the two of them learn just how delightful the French really can be (except, of course, when they're being impossible), why the Germans are almost all model pilgrims, and the tragi-glorious roots of the Spanish national character....
| | | |
| --- | --- | --- |
| Title | : | The Best Way: El Camino de Santiago |
| Author | : | |
| Rating | : | |
| ISBN | : | 9781621128717 |
| Format Type | : | Kindle Edition |
| Number of Pages | : | 308 Pages |
| Status | : | Available For Download |
| Last checked | : | 21 Minutes ago! |
---
The Best Way: El Camino de Santiago Reviews
The Best Way El Camino de Santiago is very different from other books I have read about the Camino. While I was reading the book, I felt as if I were chatting with the writer. Bill Walker's style is affable, at times opinionated, sarcastic, funny, and brutally honest. He tells it as it is, from his point of view, describing his adventures on the Camino Frances, the most popular pilgrimage across northern Spain. It is not a travelogue; there are only few descriptions of churches and towns. It is more about the impressions that towns, fellow hikers (pilgrims) and the Camino itself made on the author. I particularly liked the historical anecdotes that Mr. Walker includes in the narrative; many of these stories are obscure, making the book engrossing; and his juxtaposition of the past with the new makes for interesting commentary—on everything, not just the Camino. It is these observations and remarks that differentiate this book from others.There are a few detractors. There are a few quotes that are not cited, which drives me crazy. The book could have used a good copy-edit. Also, I would have liked to learn more about Gavin, Mr. Walker's nephew and companion on the pilgrimage. In spite of these, I did find the book a pleasant read and recommend it to those who enjoy seeing the world through another person's eyes. Mr. Walker's POV will definitely cause reaction: you will either like it or not. I enjoyed it and found his self-deprecating humor and honesty refreshing and entertaining.

This is the first (but probably not the last) book I'll be reading about the Camino de Santiago de Compostela, a 500 km. route across northernSpain to the Cathedral of Saint James near the Atlantic Coast. Friends of ours are trying to persuade us to join them on this long walk with them next spring, and reading books about other people's experiences on the trail is one way of helping me decide whether I'm up for the experience.This particular book suffers from the usual problems associated with its being self-published. It is poorly written, very poorly edited, and the author doesn't really have much to say. It's neither a day to day account of his actual experiences and the people he meets, nor an insightful rumination on what physical, psychological, social, or spiritual effects walking 15 km or more a day for a month or more has on a person. The author comes across as a pretty shallow middle-aged man primarily hoping to attract beautiful young women while hiking. His 18-year-old nephew accompanies him on this trip, but plays a very minor role in the narrative. The picture he presents of the hostels along the way is unattractive--snorers, sickness, and bed bugs being some of their associations--and he goes to some length to find remote places to camp instead of staying in them. Though he enjoyed the experience enough to repeat the pilgrimage the following year, he does not manage to convey exactly what it is that is so enjoyable to him about it.

Another Big Walker! And at the same time!July 23rd 2010 was my 70th birthday. On that day I terminated my own long-distance walk, 70 days, almost 2,000 kilometres, at the house of my birth in Northern England, having walked, most of the way alone, from my home in the South of France.On that same day, unknown to me of course, Bill Walker arrived at Santiago de Compostela, having walked for 5 weeks along the famous Camino. He did not enter the city until the following day, the holy day for this city in a holy year.As soon as I knew of Bill's book I just had to read it and compare his experiences with mine, as well, of course, as comparing my book with his.There were huge differences in the two walks. I walked mainly alone, at the age of 70. Bill walked in company with an apparently endless stream of people, for about half of my distance. His hike obviously had religious overtones and consequent musings. Much of his writing is about other pilgrims while my own is about people I met on the walk or musings and memories from my life.An amusing difference for me is that, although, because my project was called Vic's Big Walk, I am known to many people as Big Walker, despite being, at a push, 5 feet 7 inches tall. Bill really is a Big Walker, at over 6 feet 11 inches, obviously the cause of much attention on the Camino.There are some glaring errors which I hope he will correct, such as Christopher Columbus setting off for the Americas from the Galapagos Islands, the Basques being in North East Spain and the Inquisition having been invented in the late 15th century to deal with Spanish Jewry (it was actually started in 12th century France, in the area where I now live, to wipe out, in conjunction with a long and bloody crusade, the Cathars, who were Christian.I enjoyed Bill's book, its descriptions of the people, friends and otherwise, along the way - its depiction of the daily struggle to get a bed for the night - and his obvious falling in love with Spain and especially Galicia.But I think I will continue to walk alone.

Now I want to hike the El Camino. I enjoyed the history of Spain that was included in the book as well.

I find it funny that Bill Walker has both Hape Kerkeling and Jack Hitt in his suggested reading list as he channeled both in this book.There was a certain charm in the dynamic between Bill and his nephew, Gavin. It was a great part of the book, and while it is a big part of the narrative, a lot more of the back-and-forth between them could have been included. I hope Gavin does not mind me saying, but he is well on his way to been a smart alec like his uncle.A highly interesting read. Five stars

Good but not as engaging as his other two books Bill Walker tells an interesting tale of his journeys on the Camino. Many of the episodes are humorous and there is quite a cast of odd characters. My criticism is that Bill regularly diverged from the story of his walk to give chapters of historical content about the region or religion and also philosophical digressions. I would like to have had more content on the trail itself.

Skywalker on the el CaminoVery well written and honest account of walking the el Camino from France to Santiago in Spain! I especially enjoyed the history the author included! Also, I was happy that the author included a spiritual vein.

This is the second book I read by Bill Walker and I enjoyed it even more than the first. I read his book about hiking the Applachian Trail and afterwards wanted to go on a hike - no small feat if you ask my friends. But I enjoyed this book immensely because of the different cultures that Bill and his nephew experienced on the trail. His descriptions of interacting with different people and trying to find a language to use to communicate with them were entertaining. His interactions with Gavin and descriptions of the differences between them were enjoyable. I had the privilege of seeing several churches that are part of the Santiago pilgramage and it was nice to read about other churches and cities they encountered along the way. All in all - an easy, educational, and very enjoyable read.

An enjoyable but not deep book about the author's hike of the 500 mile El Camino de Santiago in France and Spain. Most of the focus is on capsule stories about the fellow pilgrims, usually encountered in 1 to 3 day stretches, and trends more gossipy than I care for. Enjoyable for the author's personality and his rapport with his nephew Gavin. Bill Walker conveys the rigors of the trail with a humorous tone, especially the tribulations of snoring and bedbugs in the albergues (pilgrim hostels) along the route. The text suffers from the curse of the self-published text: grammatical errors, lack of editing, trite phrasing. Ultimately a good-natured and casual personal account of the pilgrimage trail, nothing more or less.

Bill Walker and his nephew walked the Camino de Santiago in 2010, one of the Camino's "holy years" (years when the feast of St. James falls on a Sunday). This is Bill's account of their adventures. Although some of the reviews I read of this book accuse him of using the walkers as a dating pool, my impression is that his line about using the walk to meet divorcees, was just that, a line. In reality his observations of his own reaction to the experience were well thought out. I wouldn't want this to be the only book I read about the Camino, but it was a good one to add to the ones I've already read.

I enjoyed Bill's account of completing the pilgrimage from St. Jean Pied de Port in France to Santiago de Compostela in Spain with his nephew, Gavin. Most of the journals I've read focus on the other pilgrims with whom they shared their pilgrimage. While that is true in Bill's book as well, I love that he was able to speak Spanish and had much more interaction with the people of Spain and Spanish pilgrims that he encountered alone the way. I'd love to experience this first hand...maybe one day.

Brilliant National Lampoon-style tale of Europe goes hiking. Europe--there's a loaded word. This book shows the Old Continent with all its glory and warts. And it sounds like you're going to hear a lot more about this wildly popular footpath, the Camino de Santiago. It's not for the self-hating like the Appalachian Trail. But nor is it for the conventional vacation-goer, planned itinerary and all. A good balance, and that's why this book is called, 'The Best Way' (2012) (www.thebestwaycamino.com)

while this was well written, and flowed pretty evenly, i was expecting more writing of personal growth from such a journey. especially given the fact that he walked the Camino twice. the historical information summarized between day-to-day experiences were nice. though while reading the day-to-day experiences, i couldn't help wondering if earplugs were sold anywhere in Spain so that Mr. Walker could write about something else other than fat men snoring. my expectations for this memoir were not met as i had hoped.

Walking 500 miles across Spain in 5 weeks, following the same path pilgrims have been taking since medieval times, the author and his nephew join first hundreds, then thousands and finally hundreds of thousands of people headed to Santiago, Spain. Along the way they meet up with people from all over the world, stay in 180 bed albergues infested with bedbugs and yet seem to have a rollicking good time. The author also covers a lot of history as he walks across Spain.

Took me a while to read this one, parts were not interesting to me so I skipped over some of it.The story is a true one about Bill's journey on his walk on various trails, like the Appalachian Trail, then on to Spain. He tells of the people he meets on his way and the problems he has being 6 ft. 4 inches tall, he fits none of the beds so most of the time he sleeps on the floor our open ground. If you are into the walk a bouts this ones for you.

Bill does it againMy first Bill Book was the one on the Pacific Crest......bought this one a year ago and being a constant reader just got to it. it is a Very Good travel story about people places and religion. As with his last.....I want to go myself.Bill....please a book about when you taught has to be in the works. Thanks for a great read

I greatly enjoyed reading this book. It got me itching to travel and hike, not that this is a stretch for me, I greatly enjoy both! It was a nice blend of history and memoir. I think I may have to read his other hiking accounts of hiking in the US.

Another good oneI have now journeyed through all four of Mr. Walker's books Everyone is similar, yet the journeys he takes us on couldn't be more different. A joy to read and a high recommend.

Fans of Skywalker's previous adventures won't want to miss this chapter of his journey.

Great read. It's like having a conversation with the author. This is a story about his experiences and epiphanies on the trail. Not a day by day travelogue. Very enjoyable read.

Borrowed this from Amazon's Lending Library. Tried reading, but I couldn't get into it. I don't think it's for me. Bit to bro-ish for me.

I read the first 50 or so pages, but couldn't get into it.I liked the two Appalachian books, so I might try again later.

Enjoyable read. Great stories and wonderful writing style. I enjoyed reading the highs and lows of the Camino in a holy year. Also enjoyed the abbreviated description of the 2011 trek.

Enjoyable mix of history and adventure telling

I'm very inspired to walk the camino...as soon as my foot heals, it's summer, and I have the money.