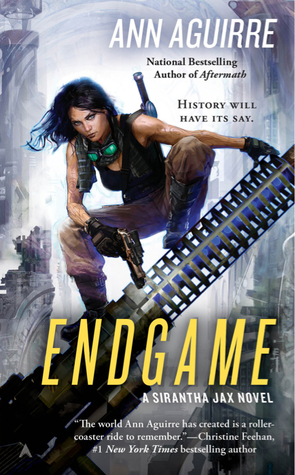 Regret nothing. Sirantha Jax has the J-gene, which permits her to "jump" faster-than-light ships through grimspace. She loves nothing more than that rush, but the star roads have to wait… Her final mission takes her to La'heng, a planet subjugated during first contact. Since then, the La'hengrin homeworld has been occupied by foreign conquerors. All that's about to change.Regret nothing. Sirantha Jax has the J-gene, which permits her to "jump" faster-than-light ships through grimspace. She loves nothing more than that rush, but the star roads have to wait… Her final mission takes her to La'heng, a planet subjugated during first contact. Since then, the La'hengrin homeworld has been occupied by foreign conquerors. All that's about to change. Now, as part of a grassroots resistance, Jax means to liberate the La'hengrin. But political intrigue and guerrilla warfare are new to her, and this will be the most dangerous game she's ever played—spies and conspiracies, a war of weapons and hearts, and not everyone is guaranteed to make it out alive......
| | | |
| --- | --- | --- |
| Title | : | Endgame |
| Author | : | |
| Rating | : | |
| ISBN | : | 15937790 |
| Format Type | : | Kindle Edition |
| Number of Pages | : | 352 Pages |
| Status | : | Available For Download |
| Last checked | : | 21 Minutes ago! |
---
Endgame Reviews
Yes. This is Sirantha Jax. And I DNFed at 20%.Lots of cursing to be expected, don't say I didn't warn you.Congratulations Ann Aguirre, you managed to ruin what could have been the greatest series ever, with the most amazing heroine ever. Fuckup doesn't even begin to cover it. Oh you really excelled here. You actually did even better than KMM with Iced and Burned. Now that is setting the bar VERY high. I didn't think it was possible but hey, you did it. I DNFed your book when I managed to finish KMM's. You win. Big time.I have three things to tell you Ann Aguirre:① You don't take what could have been the best series ever and turn it into The Young and The Restless in Outer Space. (view spoiler)[ A FUCKING LOVE TRIANGLE? With a bug as an added bonus? You cannot be serious.(hide spoiler)] This is just unforgivable.② You don't ruin it all at the end of book 5, then pretend nothing happened at the beginning of book 6 only to pull the very same bullshit out of your hat 20% into book 6. Hell no. (view spoiler)[●End of book 5: fucking love triangle between Jax, Vel (no comment) and March. Jax & March love each other forever and always no matter what but they can't be together blah blah blah. Jax leaves with Vel. ● Beginning of book 6: Jax & Vel living together. Oh would you look at that! March is back! Vel conveniently out of the way (very busy showing March's nephew the local sights ← eyerolling allowed here). Jax & March bonding and having lots of great sex. Things are actually going SO GREAT that Jax even gets along with March's nephew whom she didn't like 5 minutes ago (because she hates children you see). One big happy family. Yay! Book 5 forgotten!● 20% into book 6: Jax & March love each other forever and always no matter what but they can't be together blah blah blah. March leaves with his nephew. Oh would you look at that! Vel is back! "Hmmm," says Jax, "I'd love for him to spend the night in my room but I'm not sure if I'm ready. We wouldn't have sex (I'm not ready for that either. He is, after all, a BUG) but what we have is so deep and profound and meaningful I'm afraid his sole presence would give me too much pleasure. I'm not sure March would like that." (hide spoiler)]③ You don't ruin two of the most fantastic characters ever by turning them into two of the most selfish, egotistical, self-centered characters ever. Oh wait. That's exactly what you did. (view spoiler)[So let me get this straight. Jax & March are supposed to love each other forever and always no matter what blah blah blah. Right. That's why they both take off to different planets/galaxies/whatever every chance they get. Makes perfect sense. Oh wait, no. It's just that I'm too stooooopid to understand their characters. They have higher motives you see. They have to play heroes and sacrifice themselves over and over again. Jax has to save every human/bug/alien in the universe. And March has to protect his freaking nephew <-- YES, I'm talking about hot Theta Waves March. Playing stay-at-home dad. Wow. Exciting. Much more exciting than being with Jax. Obviously.(hide spoiler)]➽ So thank you, Ann Aguirre, for doing all these things you shouldn't have done. Thanks for brilliantly, amazingly, fantastically ruining it all. ✉ To all my poor friends and followers ✉I want to apologize for spamming you with my updates and for fangirling like a 15-year-old about this series only to have it come to this. I had made it my mission to unleash the greatness that was Sirantha Jax upon the world. Sounds ridiculous now doesn't it?➽ No matter how I feel about this series now, I still think books 1-4 are nothing short of amazing. Book 5 is actually pretty fantastic until you read the last chapters. Would I still recommend you read them? Book 1 certainly, since it can be read as a standalone. The rest of the series? I honestly don't know what to tell you, especially since book 4 ends with a cliffhanger. If you do choose to read the whole series, I hope it works better for you than it did for me. And I really hope you love it.☠ This was Sirantha Jax. The most amazing heroine that could have been ☠① Grimspace ★★★★★② Wanderlust ★★★★★③ Doubleblind ★★★★★④ Killbox ★★★★★⑤ Aftermath ★["br"]>["br"]>["br"]>["br"]>["br"]>["br"]>["br"]>["br"]>["br"]>["br"]>["br"]>["br"]>["br"]>["br"]>["br"]>["br"]>["br"]>["br"]>["br"]>["br"]>["br"]>["br"]>["br"]>["br"]>["br"]>["br"]>["br"]>["br"]>["br"]>["br"]>["br"]>["br"]>["br"]>["br"]>["br"]>["br"]>["br"]>["br"]>["br"]>["br"]>["br"]>["br"]>["br"]>["br"]>["br"]>["br"]>["br"]>["br"]>["br"]>

Ever since I started blogging, I've been going on and on about Ann Aguirre's books and how much I love them. The time has come for me to tell you why. Ann Aguirre understands life, she understands love, she understands war and the very basic human nature. She knows what makes people tick and how far they would go to defend what they love and that knowledge reflects in her work. Endgame is no exception. If anything, it is the best of her books so far.In Endgame, last book of the series, Sirantha Jax makes good on her promise to Loras and travels to La'heng, accompanied by Vel, to try to free the La'hengrin from the Nicuans. The cure for the shinai-bond is finally functional, if not entirely safe, and Loras's people have a chance to stand up and fight, something they haven't had in a very long time. When peaceful measures fail to convince Nicuan nobles to make the cure available to the La'hengrin, Loras, Jax, Vel and a few other very competent friends are left with no choice but to form the La'heng Liberation Army and start a war to free Loras's people from slavery. A war is never glamorous, no matter how just the cause. It always means hard choices and sacrifice for everyone involved. It means being hungry, filthy and cold. It means blurring the line between right and wrong, committing atrocities in the name of freedom and losing yourself while fighting for what you believe in. That is the side of war Aguirre decided to show us, and I can't thank her enough for it. It is the side we rarely get to see.Jax doesn't get to be a hero in Endgame. She doesn't get to rush in, make a wild and stupid decision that somehow ends up working despite the odds, and save the day. Not because she isn't capable of pulling it off, she is, she's done it before, but because we all become insignificant and small in the face of war, including Sirantha Jax. It is hard to believe that something that started as a sci-fi romance series, a sub-genre that's rarely taken seriously, ended up being so full of valuable lessons. Seeing the world through Jax's eyes, enjoying her unique worldview, learning about the way she prioritizes and deals with the consequences taught me a thing or two about myself. And yet, Jax never took the intensely philosophical and lecturing tone. If anything, her chopped up grammar and matter-of-fact way make her a very unlikely source for Big Truths of Life. She just told her story like it is and you're free to take away whatever you want from it. This is not a love story.It is my life, and as such, there is love, loss, war, death, and sacrifice. It's about things that needed to be done and the choices made. I regret nothing.Eleven is the number of books by Ann Aguirre I've read and loved so far. She is the only author in the world I can say that about. The fact that she'll keep writing makes it easier for me to say goodbye to Jax. No one will ever replace her, but I know that so many other fantastic heroines sleep in Aguirre's mind, waiting to be awoken and introduced to the world. Jax deserves her rest. Goodbye, Jax. Mary bless and keep you.

(Note: Ann Aguirre provided the galley for this book. I LOVE her.)I love this series. It's been awesome since GRIMSPACE and has only gotten better with each installment. I love the world building, the characters, the overall plot, the individual novel plots, the evolution of Jax, and just about everything to do with this series. I have been heavily emotionally invested in Sirantha Jax and her life for a few years now. I was enthralled and saddened with the announcement that ENDGAME would bring the series to an end. It's so hard to let go of such a great character and an amazing world, but I'd rather a series go out on a high note then peter out with a whimper.I'm keeping this short for now. I may expand it once the book hits the shelves and I've read the series again.WHAT I LIKEDTHE MAIN CHARACTERWe have been living in the mind of Sirantha Jax since the first book. She wasn't always the most likable character at the beginning. She was a wounded person and behaved in ways that really pissed me off more than once. That being said, over the course of the books she grows, evolves, and becomes a much stronger person. In ENDGAME it is clear she has learned to listen to others, to step back and obey orders, to allow other people to do what they need to do, and to embrace her own feelings fully and without regrets. She owns up to her mistakes, but stands her ground when she knows she's right. She's still a kick ass woman, but she has learned to be a much wiser woman.This especially came into play with March (who I almost liked this time around), and I wanted to cheer when she told him how it is in no uncertain terms. I loved that she took control, called him on his shit, and then waited to see if he'd step up.I also loved how she interacts with Vel throughout the book. These two have the healthiest and strongest relationship in the entire series. It's been pretty obvious that they are both in the relationship for the long haul. Sirantha Jax will outlive all the people around her except Vel. They are merely at the beginning of a very long life spent together and it was cool to see that acknowledged. Of course, they also struggle with the reality that either one of them could die a violent death and this is played out in the course of the novel. There is one particular moment when...TEARS. I also loved how Jax steps back and acknowledges Loras's new role as the leader of the resistance on his planet. She is finally over her impetuousness. She realizes that in war, her tendency to spring into action without thought will not help. She doesn't override Loras, but becomes a very good soldier under his command.Though some characters are not in this book, their lingering presence and impact in Jax's life is acknowledged and cherished. I appreciated that as well.THE PLOTEver since the first book, this last story was germinating throughout the series. We finally see the aftermath of Jax's promise to Loras to help him and his people. And it is very messy business. One thing I have always loved about Jax is how she doesn't back down from a promise made. Because of this, she ends up in the heat of battle for a very long time and suffers through some very sad losses.This book has some great action sequences, but it's also damn bloody at times. So well done.THE SUPPORTING CASTI'm a Vel girl. I love him. He's such a great character. His personality has been very well-defined from the first book. He is always there for Jax and never falters. I love that about his character. There are some really great moments with him in this book. Every Vel fan should be more than satisfied.March is a bitter pill for me. I don't like him. If Jax was my girlfriend, he'd know by my stink eye that I was watching her back. I have always had an issue with March putting everyone else ahead of Jax. He has abandoned her more than once in the past. He's not there for her when she needs him, while she has put herself out for him over and over again. This is finally acknowledged by March himself, which lessened my stink eye just a little. Jax holds March accountable and stands her ground. Basically, March has to finally own up and decide if he's willing to accept Jax on her terms. Of course, he also has to survive a war he never wanted to be a part of. Zeeka is adorable and I love how this sorta adopted kid of Jax teaches her a lesson or two about life. Sasha, March's adopted son(nephew), shows more personality and spunk in this book. We see the full strength of his abilities. It was impressive! THE ENDThe ending was perfection. It made me smile. It made me cry just a little bit. I was happy for Jax as she flies off to her next adventure. The series ends at just the right moment and in such a way that we know what the future holds for her. It was the ending I was hoping for.WHAT I DIDN'T LIKESaying goodbye! Oh, wow. This series ending hurts. I'm so going to miss all the characters (not March..hehehehe) and all the excitement. My only consolation is that we can visit this universe again in the Dread Queen series.IN CLOSINGENDGAME finishes the series on a highest of notes. On a perfect note. It honestly could end any other way. The ending is AWESOME in its perfection.ENDGAME brings everything full circle from the tale's beginning in GRIMSPACE. All that was set in motion in that first book has a resolution in ENDGAME.It's the perfect ending point of this cycle of Jax's long life. I am so glad we shared it with her. I'm going to miss her. P.S. I tried not to devour this book, but failed. I read the last half in a major reading marathon. Yep. It's THAT good.

I'm so glad that I picked up this series – it has been a diverse and turbulent road for Sirantha but a most enjoyable and intriguing one for me.Endgame is the final book in the series and it wraps up the series quite nicely with a satisfying conclusion. This series is about Sirantha Jax's life journey, set in a science fiction world where Sirantha is determined to live life to the fullest and explore new planets and species. This is not a love story. It is my life, and as such, there is love, loss, war, death, and sacrifice. It's about things that needed to be done and choices made. I regret nothing. Endgame was a great read, but I did miss the other crew members which are not in this book – Hit, Constance, Dina & co. though I suppose it replicates real life where people do come and go in our lives. Sirantha becomes part of a resistance group in order to free the inhabitants of La'heng, who have been enslaved by foreign conquerors. Sirantha, March & Vel put their lives on the line in order to outsmart and outmanoeuvre the enemy. The risks are high and they realise that freedom will come at a high cost.Her friendship will Vel is strong as ever as they go undercover to ferret out the enemy plans. He's my dearest friend… He's always supported me, believing the best of me even when I screw up, even when I don't deserve it. He's my true north, my compass for what's right. And her love for March is still intense and unwavering, and though they have not had the easiest of paths, she is determined to make it work. I'm not one who gives up because things aren't perfect. You fight for what you love. You commit to making the relationship better. I don't believe in the perfect match. There's the one you love enough to stay with; there's the one who puts up with your shit. When all the columns are tallied, emotional profit and loss reckoned, I will always, always love him. I love how Sirantha stays true to herself and gives 200% to right past mistakes and try to make the world a better place. The war is not glorified and shows the harsh brutality and ruthlessness of both sides. War is never clean. It never comes down to heroes and villains. Everyone does terrible things, and the scars stay with you always, even if they don't show on your skin. What stands out to me in this series is the deep, real relationships between the characters and fascinating world that Ms Aguirre has created. Though I am going to miss Sirantha, March and Vel, and their adventures, this is certainly a series that I will cherish and re-read again and again. And I will certainly be reading more of Ms Aguirre's books – I love her writing style and the originality of her characters and plots. So in summary, Endgame is a fitting conclusion to a great series and I highly recommend this series to all.

This review is spoiler free, but assumes a familiarity with the Sirantha Jax series.I have put off writing this review, because it is, for me, the final step in accepting that the Sirantha Jax series is over. How do I write about a book that concludes one of my most cherished series, and somehow manage to do it the justice it deserves? I will certainly try now.Engame starts out with Sirantha Jax continuing in her mission to liberate La'heng from the Nicuan nobles. A long time ago when humans first arrived to L'heng, they covered the world with a chemical that changed the La'heng natives, making it impossible for them to fight, and easy to enslave. Jax has funded research that has led to a cure, allowing the La'heng natives to become self-sufficient again, but of course the Nicuan nobles want nothing to do with that. After being denied an appeal by the Imperial board of governors to make the cure widespread and available to the La'hengrin, Loras and Jax start a rebellion to deploy the Cavati's Cure to the natives, and begin an initiative to train them to fight back on their own behalf.As Jax says in the opening line of the book, "This is not a love story." No, this is a war story, and all the things that come along with with fighting a war are present. There is a lot of downtime and waiting, as much as there are chases and battles.Those who were worried at the end of Aftermath over whether we'd see March again and when, need not worry. March meets up with Jax very early on, with Sasha in tow. Upon their reunion, with Jax's introspection I am easily reminded why I love her so much. This quote sums up one of the many things I love about her:He's said that about me before— that I'm the strongest person he's ever met. I tend to think I'm dumb. No matter how many times I get knocked down, I always stagger up again. If I had a brain in my head, sometimes after one of those hits, I'd just kiss dirt a little while. Save myself the pain. But I always find myself on my feet, swinging wide, no matter what.March and Jax have many grievances from events over the past five books that they must air in order to move on and salvage any kind of future together. Add to that the uncertaintly of whether they can remain in each other's lives during wartime, and the intensity is jacked up several notches. And then add to it the Sasha factor... you really just don't know if Jax and March will get that HEA, but you want so desperately to believe that they can and will."Fair winds carry you from my side and back again, brown bird." - VelAnd then there is Vel. Sigh... Jax has complete and unwavering faith in Vel, Vel is always there for her, always has her back and sadly… March has not. It's a fascinating situation, and the way it plays out is beautifully done. Readers will be pleased.Once the rebellion turns in to an all out War, it is super consuming. I felt myself growing weary with Jax over all the death and waste. Endgame spans several years, and it is dense with battle, strife, drama, tension and loss. Along with all the battles and loss, come the silver linings. Now thoroughly trained in combat, weapons and gunnery, Jax is relieved to discover that when she returns to jumping the star roads, it will be out of love and not necessity. Her ability to do just that becomes part of that HEA I kept holding on to for her.And what would a final book be without all the secondary characters we have grown to love? There is a lot of Constance, one of my favorite secondaries, Jax's PA. I looked forward to her in each book. I also grew to adore the adult Z, his charming nature kept the spirit of the book up when the events of war became too much to bear. And new characters are introduced that all complement this series conclusion.Upon finishing Endgame, I was equal parts super sad, and equal parts thoroughly satisfied. Endgame is most definitely a worthy ending to one of my favorite series and now, I must go re-read the entire Sirantha Jax series again. Thank you Ann Aguirre for giving us this incredible series! *snarfle cry*

No more hiding. No more secret schemes or sneaking around. It's time to fight.If only there was more fighting and less useless bullshit going on. If only.Endgame is, as the title suggests, the final book in the Sirantha Jax installment. It's supposed to bring peace and happiness to us readers and fans. It's supposed to. The painful truth is that it doesn't. At least for me it doesn't.I was a bit afraid of Endgame considering how strange the last two books were. Since it's the end, I was expecting it to touch a soft spot and get me angry. I was totally prepared for it.No, I wasn't. However, maybe this review will help you be more prepared for it.This is not a love story.The book starts with this quote, and it made me think that Jax will finally stop bitching about March and do something useful with her life. It was not a love story in the end, but it wasn't far from it either. The whole story revolves about how Jax wants to settle things between her, March and Vel. Yes, another love triangle, even if it's slightly different from the usual ones. At least they solved it peacefully, and she didn't have to choose between them. At least that.Jax and March's relationship is still fucked up, and this book won't make March be any better. Hell, this book only made Sasha look better. Is he the soon-to-be hero in Ann Aguirre's new project? It could be. However, I did not give a fuck about Sasha. I wanted more from the main characters: Jax, March and Vel. I got lots of annoying Jax, a bit of asshole March and almost nothing for Vel. I wouldn't complain much if this was in the middle of the series but having Aguirre end it with this is not cool. I still can't believe she ended the series with this useless book! That's what Endgame is for me. Useless. I could go on thinking that Aftermath is the last book in the series. My life would be ten times better.A short conclusion?Endgame finishes the Sirantha Jax series in a slow and boring way. The story is extremely chaotic and useless. Please believe me when I say that I did not like any part of it. Not a single bit. I am completely disappointed by it, and I wish I could turn back time and avoid reading it in the first place. At least I'd have a sweet memory left for the previous books.Endgame can get pretty confusing at times so my advice would be to read Aftermath as close to it as possible. Review also posted on

I'm a little unsure about quite a bit of the content of this one. But, I (mostly) liked the ending. More to come, when I won't be spoiling it for my maniac mates Shelly and Sarah .

A little disappointed. Overall, I still liked the author's writing style, the character development, and the closure. YET.I feel like the end of the Jax-Vel-March triangle was a little too contrived to actually be the ending of the series. We're REALLY supposed to believe Jax & Vel are just friends, even after his speech about realizing just how much she meant to him and all the hints that in time there might be "something more"? We're really supposed to believe March is cool growing old & decrepit while his girl actually gets a decade knocked off her appearance and may live for CENTURIES after he dies? We're really supposed to believe that Jax wants to get matching tats with March to make the same kind of commitment to him that she made with Vel? That this doesn't somehow cross some boundary with Vel given what taking on a partner's colors means to Ithtorians? We're really supposed to believe that after hearing one simple story about Vel's past with Adele, March has a change of heart and no longer views Vel as competition? It sounds to me like the author tried too hard to please EVERYBODY while somehow striving for maturity. After the character development in the other books in this series, I'd really hoped that there would be some maturity involved. Instead we got an ending that's decent on the closure end, but just feels too forced.

Spoiler alert....this review is full of themThe Sirantha Jax series was the first series I read after Harry Potter and the Hunger Games. I cut my Ann Aguirre teeth on Enclave and was seeking another book in which to lose myself. I was thrilled to find stories that were as good as my then favorites, Harry Potter and Katniss Everdeen. In past books, Sirantha Jax fights corruption, evil warlords, the terrifying Morguts, and the even the betrayal of one her own (aka Jael). I love Jax's commitment to do what is right as she hurls herself headlong into the fray. Unfortunately, her willingness to sacrifice all to do the right thing is always at the cost of a loved one. But that's what makes her life so heartbreaking. It is a sacrifice to those she loves as well. But, this is not that book. This is a book about redemption. The redemption of planet La 'heng, the redemption of her relationship with Loras, the redemption of her relationship with March. This isn't the Jax story filled with wild escapes, chases, terrifying creatures and unbearable loss. Despite the fact that the backdrop of this story of is the fight for freedom from the oppressive rule of the Nicuan, it is a love story. There is more romance here than all five previous books combined. It is the reconciliation of Jax and March. And this one is deep. They literally get to the heart of the matter - why it is so difficult to love one another so deeply but keep hurting each other so profoundly? It is also the clarification of the love between Sirantha and Vel. Some might claim that Ann Aguirre ties up the end of this series too nicely. Maybe she does. This book does not evoke the roller coaster emotions that is associated with fear and loss as some of the others in the series. In the other books, Ms. Aguirre is not afraid to lose main, beloved characters and that is shocking. The losses here are less so. In fact, throughout the book I found myself waiting for the other shoe to drop. Things seem to be going just a little too well. In the end, there is no drop dead shocker and really, thank goodness for that. Because when it comes down to it, with everything that Jax has gone through, doesn't she deserve a happily ever after? I, for one, am not going to begrudge her that. If you are new to Sirantha Jax, I would not recommend starting with this book. It will not accurately represent the heart of the series. Instead this book is truly the concluding episode in the evolution of Sirantha Jax.

I caught this series at the tail end of it's publication. After reading Grimspace and subsequently devouring the next four books, it was tough to wait even the two months for Endgame to be released. As expected, I gobbled this book up as quickly as the rest. Aguirre's prose is both casual and beautiful, as always, layered with lovely turns of phrase without the pace suffering for it. Endgame does not disappoint.Jax has come so far since we were first introduced, and I think the events of this final book are perfect to encapsulate how much she's grown -- she's willing to sacrifice everything, to endure hardships unimaginable, for a cause that is not even her own.The La'hengrin have been enslaved for centuries, after a chemical was released into their atmosphere with the intent to neutralize their more savage natures. Humanity could not know that the La'hengrin's adaptive physiology would internalize these changes, rendering future generations totally helpless. Humans pledged to protect the La'hengrin through what became known as the shinai-bond, but over time this devalued them in the eyes of their "protectors", their homeworld continuously ravaged and repopulated by the conquerors du jour -- at present, the Empire of Nicuan, whose exploited the helpless La'hengrin and the natural resources their planet has to offer for too long.How does Jax enter the picture? After having to abandon him to what she thought would be his death, Jax reunites with Loras during the Morgut Wars, a La'hengrin who was once bonded to her through sheer accident. She makes a promise to him that she'll see his people free, and she's here to fulfill that promise, the final one... to wipe the slate of her conscience clean. Only when the La'hengrin are liberated will she feel like she's earned the right to return to Grimspace, to wander the star lanes and seek her heart's content at last.This war is perhaps the most brutal of all -- although it's waged primarily against corrupt politicians and mercenaries willing to kill for a paycheck, they are still very much human (unlike the Morgut), and there are plenty of innocent bystanders as the chaos heats up and the casualties start to mount. Jax can't know the full gravity of her commitment going in, can't fully understand that turns of war and the atrocities that come with will alter her forever. This book is full of poignant reminders of what really matters in life -- the love of others, and the gratitude you can feel for each moment, knowing that it all ends. And it's a reminder that war is terrible, and it changes people, no matter how noble the ends.The supporting cast really shines. Both Baby Z (now Zeeka), the Mareq Jax nurtured from infancy, and Sasha, March's world-weary nephew, really come into their own in this story, even manage to retain some of their innocence, as they look toward their own futures with hopeful eyes. Loras is totally changed, not just by the war, but by all his experiences in Jax's absence; he and his fellow La'hengrin are painted well, and you come to care for them and their cause. As for those who we've lost (Doc, Rose, Evie, (view spoiler)[and then Constance, when the base goes down... bless her! (hide spoiler)]), and those who've already said farewell (Dina, Hit, Argus), Jax remembers them fondly. They are not truly forgotten.But it's Aguirre's ability to write a fully functioning love triangle that truly blows me away. (view spoiler)[Despite the appalling backdrop of war, Jax manages to settle her relationships with both March and Vel, to maturely dissect each relationship's seperate issues and make peace with them. Quite a feat. In the case of March, his time with Sasha has evened him out, made him a happier, more purposeful man. He's ready to be Jax's rock, and to spend his life with her, wherever that may lead him. While their relationship has been turbulent throughout, I was pleased with this resolution, particularly since he's willing to accept Vel's place in Jax's life.That might've been the coolest part of the book. That all three parties -- Jax, March, and Vel, could acknowledge where they stood, without ultimately letting their emotions rule. March knows that Jax loves him completely, but due to the nanites coursing through her bloodstream, she will easily outlive him. She and Vel both. That he can accept that, even take comfort (at least in my mind), in knowing Jax will be cared for by Vel, after he's gone (and he can set aside any lingering jealousy), says a lot about the measure of his character.And Vel. His devotion to Sirantha is the purest thing in the series. As an Ithtorian, he is not bound by human concepts of love, lust and possession. Instead, he adapts the best qualities of each, without being burdened by their drawbacks. His love for Sirantha (and her love for him) are wholly independent of her relationship with March, and due to the vast difference in their physiology, Vel does not even have the same physical needs, making it possible for Sirantha to be March's lover without any feelings of jealousy or betrayal on Vel's part. But he still seeks the trust and comfort that comes with companionship, a desire atypical of his race, and that is something Sirantha can provide, both now and in the future.While her relationship with March is hot and heavy throughout, we see only glimpses into what her relationship with Vel will be like, later down the line, when only the two of them remain. But it's enough to leave a spot of warmth in my heart, remembering all they've been through together, knowing that they have already cemented a union that will carry them through centuries of further exploration and new adventures.I only wish Aguirre would write another series in the latter half of their journey together. I'd love to see how the inevitable progression of time has changed them, and likewise, how they've managed to stay the same. I have always been particularly drawn to immortal/long-lived characters, for the sheer fact that the duration of their lives is so far beyond my scope. I can only begin to imagine the kind of wisdom, sorrow, joy and experience you'd gain throughout such an existence. Perhaps that's why Vel in particular is so memorable to me, and Jax as well, as her story comes to a close. (hide spoiler)]While this series certainly falls within the realm of "Romantic Science-Fiction" (and holds up its end of the bargain), it's so much more, a veritable Space Opera, rife with the kind of larger-than-life characters, interesting species, gripping moral dilemmas and galactic-scale political intrigue that makes the latter sub-genre great. Aguirre successfully serves up sex, a kick-ass heroine, and an engrossing narrative to boot, full of unexpected twists and turns. This story and its characters will stay with me, and I look forward to rereading this series in the years to come.Bravo, Ms. Aguirre. Bravo.

What happened to this series?I remember reading Grimspace and being completely entranced - entranced by the universe, the action, the writing, and most importantly, the characters. So, it pains me to see the series fall so far, but I don't necessarily hold it against Aguirre. She probably got burned out with the series, or stuck, or unsure how to end it... and well, Endgame is the result. But, alas - gone is the snarky heroine I've come to love. And without her, this book just crumbled.It didn't take long upon starting Endgame for me to become uneasy with it. It becomes evident pretty early on that this book is about Jax leading a terrorist-esque guerilla movement against the Nicuan nobles in La'heng, in order to free the enslaved La'hengrin people. Essentially, the La'hengrin are enslaved because after a conflict, the humans put a gas in their atmosphere that made all La'hengrin unable to commit violence. So, some advantageous humans moved in and took the La'hengrin as slaves in order to "protect" them. In the previous book (Aftermath), Sirantha commissioned a doctor to make a cure to the gas, that would allow the La'hengrin to be violent again. Now, stymied in her attempts to administer the cure to the La'hengrin through legal means, she and her loyal followers decide they have "no choice" except to start an open rebellion on the planet.Okay well - that's a bunch of crap. Sirantha can't get a permit to begin trials on the drug because she's not a citizen of La'heng. She applied for citizenship, but it was denied due to her, erm, colorful past. Rather than appeal the denial ("He knows that will take turns, damn him," [Sirantha indignantly thinks]), let's start a war! Here's an idea, Sirantha - appeal the denial, and in the years it takes to get it overturned, how about you get the drug fine-tuned so that it doesn't have a 5% casualty rate?A few have died taking Carvati's Cure; they succumb to the bloodlust and have to be put down. So far, our casualty rate is holding steady at 5 percent.Is it me, or does it almost seem like Sirantha is boasting about this? Oh, 1 in 20 people have to be put down, but we're holding steady at that, so, yay! I mean, even if she did get a permit to begin drug trials, does she think the cure would be allowed to be distributed with this high of a casualty rate? So, I think taking a few turns to fine-tune the drug might be a good thing.But, taking that many years out of her life would be a major inconvenience to her - she's already getting restless for grimspace, of course - so, let's start a war instead. (NOTE: Why couldn't she had an actual citizen, like Loras, apply for the drug trials permit? Or, if a La'hengrin doesn't count as a citizen, why not have someone like Tarn apply for citizenship? They'd have a much harder time denying him. Or, if that fell through, how about trying to bribe a citizen to apply for the permit? I'm just saying, it doesn't seem like they exhausted all their options before deciding on WAR.)[Tangent: While we're on the subject, why are they talking about the war and all of their war plans in front of a twelve-year old boy?! This should be "after bedtime" talk, people. /Tangent]Okay, so here's where things get tricky. I'm not saying that freeing an enslaved people isn't something worth going to war over. But, the way that Jax was just so callous about the whole thing chilled me.For example, their treatment of a prisoner of war:The machine she used on him is wildly addictive. If we cut him loose at this point, he'll go mad wanting that pleasure again. He's ours to keep, now.Stay of execution for the centurion. He won't be beaten or killed while Vel needs to learn the lines of his face."I will prohibit the free La'heng from making sport of him until after you complete your assessment."Are you frakking serious?!? He's "ours to keep?" Plans to execute? Letting the La'hengrin make sport of him? This is the Sirantha Jax that I thought I knew and loved, this is, as a reader, what I'm expected to rally behind?!? No thanks.I marked this book as "abandoned" because after that (about 21% in), i could only skim the rest. But regarding the Jax/Vel/March situation, which has to be addressed... oh man, but did this ever piss me off. Don't kid yourselves, and don't let Aguirre fool you - this is a love triangle, even if it's different than the norm. And, in a way, it's even worse than an "actual" love triangle, because due to the differing nature of the relationship between Jax/Vel vs. that of Jax/March, Aguirre doesn't have to grow a pair (or make Jax grow a pair) and force Jax to make a choice. (view spoiler)[So, of course, she doesn't, and instead takes the safest route possible - Jax gets to end up with both March and Vel. There's even a March/Jax/Vel group hug at one point - kumbaya! And, on top of that, Sasha is conveniently written out of the picture, so March is now free to travel the stars with Jax, just like she always wanted. Everything wrapped up in a neat little bow, just how Jax always wanted it!!!Worst. HEA. Ever. Or, if not the worst, at least the most cowardly and vomit-inducing HEA ever. And don't even get me started on the March/Jax "matching tatts," because then I really will vomit. (hide spoiler)]Just, avoid this book if you don't want to see the destruction of all the characters you've come to love. Know that whatever "satisfaction" and "resolution" this book may bring, it's all just superficial. You can determine whether or not that'll be enough for you - I know that it wasn't for me.

Posted onUnder the CoversOpening line:This is not a love story.It is my life, and as such, there is love, loss, war, death and sacrifice. It's about things needed to be done and choices made. I regret nothing. These opening lines summarize the entire Sirantha Jax series for me. What a journey it's been! Ann Aguirre has accomplished a great feat with this series. Infusing love and war together to make a pulse-pounding, heart-breaking read, the Sirantha Jax series has become a series that will remain on my keeper shelf for some time.The first thing I want to mention is Vel. There is a good chuck of him in this book and his presence makes Jax consider her feelings for him."Vel and I came to a new understanding. It's not the same relationship I have with March, but there are feelings, and we've been together for the last turn. I'm not sure how March is going to react to that, if he'll think he's got competition, which seems silly, considering Vel and I aren't even the same species. It's just not the same. Hopefully, March is enlightened enough to get that." If you've followed this series from the beginning then you know of the developing friendship Vel and Jax have. I love the friendship that Vel and Jax have. It's so nice to read a book where different types of love are evident. It's not always the romantic kind and I think Aguirre shows just how well bonds can be forged without sex being involved. However, I never once thought that Vel was competition for March. However, March doesn't feel this way..."You're jealous of him?" "He put his mark on you, Jax. Of course I hate it...but then, I'm a primitive male. Obviously, I don't get your 'special connection' that transcends sex." Anger radiates from him. "You know how that makes me feel? Like you get all your emotional needs met somewhere else, and you just come to me for a good, hard-""Seriously?" My jaw drops. "You've been inside my head repeatedly. You know that's not true.""All I know is that you love someone who isn't me. You'll go anywhere with him...but you never stay with me." It's times like these that break my heart. March and Jax are perfect for one another, but their relationship is far from perfect. They fight often and communicate less but the fact that neither one is willing to give the other up is a testament to their love. Aguirre showcases the ups and downs of a relationship. It almost mimics the acts of war – there are moments of triumph and happiness and there are also moments of extreme loss and grief. Love and war couldn't be any more similar in this series.In my AFTERMATH review, I noted some similarities I've noticed to Suzanne Collins' The Hunger Games series. As I was reading ENDGAME, I felt that once again. Sirantha Jax is now at La'heng, a homeworld that has been conquered by foreigners. As a part of a grass-roots rebellion, Jax does her duties to broadcast the first communiqué from the La'heng Liberation Army and tell those who have had humanity stripped of them that there is a cure – the Carvati's Cure. This scene reminded me of MOCKINGJAY where Katniss does her own broadcast to rebel against President Snow. However, while I absolutely despised the ending to MOCKINGJAY, I can say that I thought ENDGAME finished on a high note. I'm saddened to see this series end, but am thrilled with what journey Ann Aguirre has taken me on.*ARC provided by publisher

Disclaimer: I am a tad biased in this review, and I am a fan girl! You've been warned!!!***Slight spoilers from previous books in the Sirantha Jax series***No matter how interminable something feels, there is always, always an ending. Sometimes that's good, and sometimes it's bad; sometimes it's a matter of indifference, and sometimes it's heartbreaking and your life is never the same thereafter. ~ GrimspaceOh, Sirantha Jax! How hard it is to say good-bye to you. You've kept me reeling through six books, and now your journey is complete. You've made me root for you, and you've made me cry. You've made me angry and you became one of my book addictions. Endgame is the end, as the title implies, and you will be missed very much.I've had a lot to say over the last year about this series, mostly on GoodReads, because it is one of those series that seeps into your soul. As if Jax, March, Vel and the rest are actual, live people as opposed to fictional creations. I have vented about this series, and it's one of the only series that has truly gotten under my skin. That being said, although I am happy with how Endgame ended, I still have some issues with exactly how this book ended - but more on that later.But the truth is, the longer you love the same person, the more mysterious they become. March is like a pocket universe, full of stars, and I will never learn all his light.Jax and March are seemingly together in a long distance relationship at the beginning of Endgame. Jax is on La'Heng with Vel and Loras, helping to free the natives of being slaves for noble races from other planets while March is on Nicuan raising his nephew, Sasha.Jax is able to complartmentalize her feelings for March so that she doesn't drive herself crazy thinking about her life and the turns that it has taken. She is on La'heng, and she has a job to do. A promise to keep. Jax is full of altruistic notions, and nowhere is it more evident than in this book.Work kept me busy, but deep within their complartmentalized slots, my yearning for him - and grimspace - never faltered - twin insatiable addictions.March and Jax are still trying to find a way to be together, even though they are on different planets. There has been a lot of Vel vs. March talk concerning this series, and it's no secret which male I have been rooting for since the beginning. Looking back on things, it seems silly. Throughout all six books in this series, it is apparent that March and Jax share a complicated, imperfect, deep and unwavering love for one another. I just don't know if that's enough to take them through the remainder of their lives, but the feelings have always been present. It is my opinion that these two are meant for one another. We are given more information in Endgame concerning Jax's relationships with March and Vel, and how March views these relationships. Vel and I came to a new understanding. It's not the same relationship I have with March, but there are feelings, and we've been together for the last turn. Jax goes through some serious thought about whether or not she and March can actually be together like normal people, and comes to a decision by the end of the book. My only problem with this storyline was that I felt that there was a strange fickleness to Jax and there were times when I thought she wanted to have her proverbial cake and eat it, too. It is made clear throughout this book and the five prior to this that she is in love with March, that he's an addiction and that she will always come back to him. Vel is written as more than a best friend - almost as a soul mate. Endgame finds Vel mourning the loss of Adele and it is written that he will mourn her for many, many turns. Although there are some sweet moments between Vel and Jax, it didn't feel sexual to me. It is obvious that Jax will never live her life without Vel, but she ends up making a surprising commitment by the end of this book. Jax, herself, states in this book that she is self-centered, which is a conclusion I've been waiting for her to come to for a long time.Regret should wrack me from head to toe, but the truth is, a kernel of happiness burns inside me. I want him, even if it's not by choice. That's how self-centered I am.There are a couple of great scenes where March and Jax finally have it out. Where March and Jax exchange their feelings about what happened between them in the past. We, the readers, already know a lot of this, but March and Jax have never really discussed their feelings. I think this is an obstacle that absolutely had to be overcome in order for this series to end. Jax and March are able to work through these feelings - her feelings of abandonment and the idea that she couldn't count on March, and March's similar feelings of abandonment and his jealousy issues. Neither one lets the other off easy. "While we're clearing the air, Jax, what about the colors Vel wears? Tell me that's nothing to do with you. I looked up that symbol, and it means 'grimspace" in Ithtorian. So while you were with him - and I was waiting - you gave him some kind of commitment? That's more than I ever got from you." A problem for me in this book was the absolute lack of grimspace. Jax says multiple times throughout this series that she is addicted to grimspace. She can't live without it, yet she goes through this entire book without once traveling through it. I missed the beautiful colors and the high Jax always got from it. Although there are reasons why Jax remains dirt side in this book, it was hard to not see her doing what she loves most - traveling through space and exploring.An issue I had with this book was the lack of action sequences. Ann Aguirre is known for writing kick ass action scenes. There was a lot happening in this book, but Jax, March, Vel et. al. seemed to be removed a bit from it. The characters seemed to be watching and participating up unto a point, but the trademark brutal scenes were missing from this book. One thing I did love was that Jax was not the hero in this book. She didn't go off on her own to kick ass and take names, she didn't sacrifice herself or her relationship with a loved one to be the victor - she played her role and helped accomplish a goal and keep a long ago promise. The rest of Jineba can go to hell. I've sacrificed enough in this war; I won't give up March, too. Onto the supporting characters:Vel wasn't the lead character that he was in the previous book. He was ever present, and acted as Jax's corner stone. When she needed advice or non-sexual comfort, she turned to him. Vel was one of the leaders in the rebellion on La'Heng. He asked Jax to change herself in a major way, which she of course accepted (what Jax does to assist in the rebellion for Vel's plan is just plain weird, in my opinion. I'm not sure I agree with it, and less sure that I liked it). He understood Jax's inner turmoil concerning her relationships and her role in the rebellion. I just felt he was on the side, which I guess when looking back, is where he belonged the entire time. Sasha, March's psy nephew, was a great addition to this book. When we last saw him, he was much younger and not in control of his abilities. We see him in Endgame as a teenager, rebellious in his own manner and hell bent on helping in the La'Heng rebel effort. I enjoyed the father-son relationship between him and March, and surprisingly, I adored his relationship with Jax. Jax comes to truly care for Sasha, and not just because he is March's nephew. Sasha proves himself over and over again in this book, and I hope we see more of him in the future spin-off series. Loras is not the same man we met way back in Grimspace. He has been cured and has become an angry man, fighting for the good of his people. Although he takes counsel and help from March and Vel, he is the true leader of the rebellion on La'Heng. Loras is all business, and decides that he will free his native planet or he will die trying. He is capable of making very difficult decisions, and is ultimately focused on his goal. He is willing to sacrifice anything and anyone to reach that goal. He transforms from what amounts to a slave to a brilliant rebel leader.Zeeka has grown into an integral part of the "Jax team." He is happy to fight along side of Jax and her friends. He became one of my favorite characters in this book, even though he has a smaller role. It was lovely to see Zeeka as an adult (his species matures at a much faster rate than humans or Ithtorians) and how he came to be, with the help of March, Jax and Vel. The ending of this book left me a little cold. As much as I was happy for the characters, there were a few issues that bothered me. For example, the nanites in Jax were never fully addressed. There was some talk about rejuvenex, a treatment that can extend life spans, but I thought it was clear that eventually, all of Jax's friends would eventually die, leaving Jax alive for a much longer time. I think that Jax does get her "happily ever after," but it's not what I expected. I don't think that Jax can ever be too happy for too long. She's the type that will settle down for several turns, exploring the universe, but then something will spur her to action in the future. I just don't think it's in her to lay back and travel for the next several decades. All in all, Endgame was not as action packed as the previous books in this series. As this book begins with the quote, "This is not a love story," I think it's proven beyond a doubt that it is a love story. Obviously it's a love story between Jax and March, but it's also a love story between Jax and Vel, Jax and herself and Jax and grimspace. For me, and I know many of you out there will disagree with me, this entire series was a personal journey for Jax and an epic love story. I'm just so very sad to see it all end.When the columns are tallied, emotional profit and loss reckoned, I will always, always love him.My favorite quotes from the Sirantha Jax series With a nod, he brushes his lips against my ear. Sparks shimmer down my spine. This man's pure narcotic, delicious and addictive. Don't know how I though I could walk away from him for good. ~ Grimspace"I need you, March. I was scared as hell to admit it, but I can't do without you, and if that makes me broken..." I shrug. "I'll take you any way I can get you. And I don't give a damn what you've done. You will never be rid of me." ~ Wanderlust"I'll always want him. Until ever sun goes dark in ever sky, until I am nothing more than long-forgotten cosmic dust, I will want him. And even then I suspect my particles will long for his." ~ DoubleblindHe kisses me then, his hands in my hair. For one glorious moment, I'm overflowing with him. The loneliness receeds, and I'm reminded why I wait for him, why nobody else will do. ~ Killbox"Jax ...you know how I said...before your trial - that I'd be there waiting? I always will be. Five turns. Ten. Twenty. There's no one else for me. I live in the hope that there will come a time when you'll need no more wandering, and you'll come home to me....I will come for you. Always." ~ Aftermath

This one is so, so hard for me to rate. Honestly, I always kick out reviews (when I am going to do them) immediately after reading the book, when I'm still breathing the story... but I wonder if I wouldn't be better off with time to digest. Ah well, onward.Let's begin with: this is one of my very favorite series ever. This book in no way diminishes that - it was a good cap to the series, and will keep it solidly in my favorites pile. But was it everything it could be? I just don't know. While I am left with a general feeling of satisfaction, there are definitely some things that don't sit perfectly with me.I'm just going to throw this whole section in spoiler tags.(view spoiler)[Firstly, a Jax book with literally no space travel, NO GRIMSPACE, it leaves me off-kilter. I think that the "she's grown and changed into a whole new woman!! kitsch was taken a bit too far in this book, and this is one place where that was definitely true. Yes, I liked that Jax no longer needs to be defined by her addiction to Grimspace, but at the same time... it is who she is. So much so that, for example, that is the tattoo that Vel wears in honor of her (the Ithtorian for "grimspace"). So much of the theme of this series seems to be that you can't find happiness if you subjugate yourself for someone else - a theme that I am completely in support of - but to literally completely deny this aspect of Jax in the final book of the series feels to go against that. I love that she no longer embraces Grimspace like a thrill-seeking addict, but at the same time, that space-faring Jax is Jax at her most alive. Her most vital. Her most real. It is hard to feel happily complete without a whole, vitally alive Jax. Even better would be a whole, vitally alive Jax, paired with March in Grimspace navigation.That brings us to March. I'll be honest... I was pretty disenchanted with March coming into this book. Part of me hoped that, in the end, it would be Vel - the way the relationship between Jax and Vel has grown in this series... it is one of the most beautiful relationships that I have come across in any book. I was angry with March. Angry that he would set Jax aside for his needs, time and time again, but that he was pissy when she wouldn't give up everything she loved to live the life he chose for himself. He had a double-standard that was beyond unfair, and he'd been hurtful and hypocritical more times than I thought I could forgive. But it was hard... I still loved March, even while I resented him. Even when I felt like he was so inconsistent that I couldn't imagine how he could possibly ever really work out with Jax. Because Jax is many things, but inconsistent isn't one of them. She's loyal - sometimes too loyal - and she will always, always have your back once you've become part of her family. But the only person who has ever had Jax's back time and again is Vel. Not March. Not ever. When it comes to doing the things she feels she needs to do, he is not there at best... and a judgmental douchecanoe at worst.That said, I was happy with Aguirre's resolution here. The conversation, at about the halfway point, where Jax and March put all the cards on the table - all the hurts they had been harboring - and discussed whether they really had a chance together... this was an excellent moment in this book. Jax said all the things I was thinking - she called him out on his double-standard (what's okay for him is somehow not for her) and most importantly, she called him out for being a martyr. She said she deserved better than to be his hair shirt. And it felt like March finally - finally!! - got it. And yes, I know, Jax has faults too... but she would be the last person to deny that. If anything, she beats herself up too much, takes too much onto herself. But March is just so uncompromising.Until now. In this book, March learns to compromise... about everything. About the war, about Jax, about needing to be true to yourself, needing to keep your promises, needing to assuage your guilt... and most importantly, he learns to compromise about Vel. Because I just really couldn't have taken it if he had made her choose. If he had driven a wedge between them. Vel has always had Jax's back, he has always had the utmost faith in her, and more than anyone else, Vel's unwavering love and faith has helped Jax grow into this capable, unselfish human being that she has become. For anyone to try to separate them... it would have been devastating. But March comes to understand that you really can love someone without being in love with them (as Jax does with Vel), and you can be in love with someone without closing your heart to everyone else (as Jax does with March). It is such a beautiful, grown-up statement, and it was satisfying for that arc to resolve in such a peaceful way.Do I think that Jax and March can really make a go of it? I... do. I really think I do. And I went into this book thinking the opposite. So make of that what you will.Moving on... war. While I don't discount the importance of the war for hte La'heng, I guess I felt like it dominated the plot in a way that... well, I don't know. Maybe it has been too long since I read the other books, but I wasn't emotionally invested enough to spend the whole book there. Not as the LAST book in the series, you know? Again, not to say that I didn't support Loras and the La'heng's quest to be free, but... to have this book literally encompass 5 years of war just felt... I don't know. I understand the tying up of loose ends. And I understand that Jax felt like she needed to make amends to Loras (though promising to help free his entire race to make it up to him seems a bit excessive). I guess I just feel that, for the final book in this amazing series, I'd like to end somewhere more transcendent, more climactic for the series as a whole. Maybe exploring the Makers, or what Grimspace really is. I think this is where the root of my weird feeling is on this book. I wanted more, I wanted bigger. We've fought planetary wars, we've fought intergalactic wars... to end with a grueling space-less ground war that drags on for literally years, has no greater implications for the mythology of the series and ends with the La'heng saying "thanks so much for the help, now GTFO of our planet" just feels really unsatisfying. *shrug* (hide spoiler)]Oh well. I could talk about this series forever, because I really do love it completely. It has been an incredibly emotional journey. I just wish it ended with more of a bang and less of a whimper.

To read this review and others like it check out www.badassbookreviews.com Waiting to start this book was like a blessing and a curse. I was very excited to have an ARC from the publisher but I knew that every page I read would bring me closer to the end of Sirantha Jax's world. I shouldn't have been torn. Aguirre writes it brilliantly. Endgame will not disappoint readers and fans of the Sirantha Jax series. This review is filled with emotional reactions and no spoilers I promise. I will just say that readers who finished with #5 and were torn or worried about the direction of the series -- have faith! Ann Aguirre has created a very unique series with characters that push the boundaries and do things completely unexpected -- Aguirre writes a great closing novel.Endgame is filled with war, action, emotional loss, and March and Vel and March and March (there, are you relieved?). Several years have passed since Aftermath (Sirantha Jax #5) and guess what, Jax has continued to mature and grow. The Jax we have in Endgame is not the same Jax of Grimspace. She understands consequences she is a woman and no longer an irresponsible media starlet. March has evolved as well. But despite that, Endgame is still fun to read -- come on Jax can only evolve so much. :)Missing from the book is the old gang. I would have loved for a few scenes with Hit or Dina. But this book is not about revisiting old relationships or redoing past adventures. Aguirre definitely takes the projectory of the story and pushed it. So while I wanted Dina and Hit to just show up -- they weren't really needed for the storyline.Aguirre has a certain style of writing in both this series and in the Corinne Solomon series where much of the story is internal dialogue or thoughts in the main characters head. Jax is thinking, reacting and that is where the story is. This wouldn't work if done by other authors or in other books and in fact doesn't work in other books but Jax's head is an interesting place to hang out in. I don't appreciate this technique as much in the Corinne Solomon series as much as I do in this series. What does Aguirre have planned next? The truth is that nothing else she has written has captured me like Sirantha Jax captured me. While I didn't love her other series like I love Sirantha, I will say that Aguirre writes characters so well. That is her forte, she writes about people who few other authors are writing about. And it is pure fun to read about these characters and see them interact. So I will be watching her new releases closely in the hopes of catching another amazing gem like Sirantha Jax.

Well the series definitely didn't go where I expected it to. For a while there it seemed like it was going the route of Jax always being the center of interstellar politics and it got to the point where it was a little much for one woman to play such a prominent role in such huge sweeping stories. It made sense to try to bring the scale of the story back down a tiny bit and focus more on the characters that we care about, while still having an important mission for them to focus on. Using the commitment Jax felt to Loras to help free his people from the slavery they were under from the chemical warfare that they had undergone was a smart storyline. It brought the series full circle in some ways, because the story with Loras went back to Jax and March's relationship with him in the first book and throughout the series. There are a lot of fans who don't like it, but I thought it was a smart choice.There was an awful lot of military action in this book though, for a romantic sci-fi series. I'm more of a sci-fi than romance reader, but military sci-fi is not my thing and it did get to be a bit much. I did like how realistic it was. I liked the timing, she didn't try to rush things and act like rebellion and war were something that could happen quickly or without great pain and sacrifice. She also managed to show how time passed effectively without being boring. And it showed the toll that time and stress placed on Loras as a leader, on Jax having to be a soldier again and being grounded, on March trying to raise his nephew and being grounded as well, and on Jax and Vel, and of course on Jax and March. It was good storytelling. But... it just wasn't always exactly my favorite kind of storytelling. Just a matter of taste.As for the romance aspect, I always complain about books and series that feature relationships that happen too quickly and unrealistically, sudden-love syndrome. Usually followed by ridiculous obstacles to keep the couple apart. So this series did have tons to the second, the obstacles were many and insanely frustrating. But in the end there were two well developed loving relationships that got explored because of it. I'm a huge fan of Jax and Vel, their love is so deep and real, it's been a real pleasure to watch it develop. As for Jax and March, suddenly-in-love didn't necessarily mean working thing out for these two pig-headed, determined people. Which is mostly interesting. Sometimes they were just childish and annoying, but generally it was good that they both had things that they needed to work out and that it wasn't easy, it was a real adult relationship and that's more interesting to me than an everything is easy fantasy. Jax standing up for herself, insisting that it wasn't selfish to put herself and her needs first, or that if it was selfish that was still the right thing to do, that was good reading. This notion that love has to be about sacrifice is kind of bizarre, I enjoyed the idea that maybe love is stronger when it's equal and balanced instead. And if that means walking away, then sometimes that's what you have to do.There were some weird things in the book too. I really didn't get the stuff about her face change. That whole section seemed out of place and it just seemed like such a bizarre thing to do for one short mission. Yeah, she gets to go be anonymous now, but is that such a big deal? March's face is known. And Tarn and Leviter being there is just odd. Tarn was the most powerful guy in the entire galaxy wasn't he? What the heck is he doing there? It's never really explained. Overall I thought it was a very good story. It showcased how much Jax has grown and matured, which seems to be the overall goal of the series. It also showcased the special relationships that the fans have come to cherish. It was a fitting end to the story.

Rating: 4.5 StarsI thought I was ready to say goodbye to Sirantha Jax after Aftermath, but Endgame is such a brilliantly plotted novel that I feel nostalgic, bittersweet, and ever-so-upset after all. Aguirre's Endgame weaves together everything I've loved about this series since Grimspace: excellent world-building, blooming character growth, and complex relationships. Once again, Sirantha Jax is a solider, a fighter, a warrior. On La'heng now, she is determined to free an enslaved race of people--despite knowing the mission will keep her on ground for years to come. Endgame has no shortage of well-written battle scenes, devious schemes, and military plans ensuring its plot is set at a break-neck pace. Nevertheless, the strength of this novel stems from Sirantha herself; from the bond of friendship she sustains with Vel and the lengths she will go to aid him, from the relationship she shares with March and the difficulties they endure, from the new characters she meets and the sacrifices she makes even for them. Endgame doesn't allow Sirantha to take the "easy" way out, charging in guns blazing and somehow saving the day. Instead, it pushes her to her limits testing her patience, her unselfish desires, and her loyalty to those around her. It compels her to both stay and to fight, though not always in combat. Where this novel suffers, in my eyes, is in the odd jumps of time. The war on La'heng takes years and for Sirantha to oddly mention that a year or six months have passed from the turn of a page is jarring, to say the least.Yet, despite it all, I love her and her romance with March undergoes necessary strife in this novel. Unlike past novels where Sirantha and March have been thrown into dramatic situations, likely to prolong the story, in Endgame these two finally embrace the honesty of their relationship and unearth their hidden insecurities. It isn't always easy, between these two, but it's always strong and sure. Sirantha's relationship with Vel is of a different--and frankly easier--nature, but that in no way diminishes its strength. For me, this series is defined by the two men in Sirantha's life; both their respect for her and her respect for them. Aguirre never fails to create fascinating, equal-footed relationships and that isn't different even with this volume. Endgame is, well and truly, the end. Aguirre has not left this world, thankfully, though Sirantha and her journeys are behind us now. Will I miss her? Yes, undoubtedly. Somewhere between all the psychological probing of Sirantha's mind, I fell in love with her, flaws and all. Nevertheless, all good things must come to an end and, as always, Sirantha goes out with a memorable bang, never a whimper.

Several times over the course of the last two books in this series, I found myself wondering whether this is what Ann Aguirre had planned for these characters from the beginning. We have ended in a place so very different from which we began, and in so many ways. This book felt nothing at all like Grimspace. The characters have changed drastically. Their relationships are fundamentally altered. Even the focus feels less about Jax and more about a bigger picture. It's almost like reading an entirely different series after book 4, yet… Aguirre laid the groundwork for every one of her story arcs. It was done with care, so I guess that means that it feels different on purpose and I have mixed feelings about that.There has been major upheaval in this world from day one. Corrupt governments, killers, political machinations. But it used to feel like an adventure. Here, it is simply a war. And the author has broken my heart so many times, I honestly spent the entire book trying to steel myself for whatever crushing blow she was planning to drop on me at the end. Would she kill Val? March? His kid? The sweet new froggy guy? It felt inevitable and it hung over me like a cloud the whole time. Maybe I should have gone into it spoiled, because the tension was almost too much for me be able to enjoy it.It's definitely dark. Maybe bleak is a better word. The entire story follows Jax's mission to free Loras's people and it can only be done through straight up war. Not the kind of intergalactic stuff we saw with the Morgut. This is dirty, regular war. And though it's done through the lens of an alien environment, the horrors are all too human themes, like slavery and oppression. Things blow up. People harden or they die. Bleak. I find I don't really like books about war.I do, however, still very much care for these characters, even if only a few of the original team are still with us. The book starts off reminding us that this is not a love story. But it's the love I have come to feel for Jax, March, and Vel that make the book worthwhile. And I do love them. Their relationships have become so complex that I found myself in the very unusual situation of not knowing exactly how I wanted it to play out. Vel is such a standout character and has been since day 1. Yet my heart has ached for March and Jax to get the chance to be together that they have missed time after time.Aguirre takes a road I truly didn't expect and, for me, I think that was what made me walk away from the book in a satisfied way. It wasn't favorite in the series, but it gave me closure in a way I could live with… and, frankly, that was more than I though I could get. It had some good moments and in addition to the core trio, I enjoyed spending time with Zeeka and Sasha as well.Overall, it's been a spectacular series and one I would definitely recommend. I will read the spinoff books, but I think I need a little time to let this all sink in before my return to grimspace. It's been pretty epic.Rating: B

Catch-22, damned if you do, damned if you don't. Fidelity, immortality, and cross species devotion, Aguirre has written a relationship unlike any other. In ENDGAME Aguirre attempts to offer these beloved characters closure. This last book doesn't dethrone AFTERMATH as my favorite in the series, but it did make me nostalgic to go back to book one and start reading this series all over again. Poised between futures with Vel and March, I could have been happy being left with only Sirantha's possibilities. This last book closes doors, buttons up loose ends, and despite a happy ending, didn't impact me as deeply as AFTERMATH. In an effort to free an entire planet enslaved, Jax goes to war. The initial surgical strikes are vivid and elegant, but before long things begin to go wrong. No war is clean, and Aguirre writes a guerilla war that devolves into masacres, weapons of mass destruction, and heartbreak. Somehow, despite the high stakes, ENDGAME still manages to revolve around the tangled relationship of March, Jax, and Vel. I couldn't help but feel that March and Jax rush to fit a lifetime of emotional growth into one book. Usually I'm not one for melodrama, but I have to confess that I responded more to the emotional wrenching parts of this love story than the happily ever after. Full review to follow.Sexual Content: Sex scenes.

Endgame is a satisfying conclusion to the Grimspace series. The whole series ended up being different than I expected, not having one epic story arc with a cataclysmic ending. By the time I reached this book, I understood that better. The entire book takes place on one planet again, involving the long struggle for freedom for the natives of La'heng. I have to say that although I missed Grimspace and some of the crew from the past, I was still captured by this story. I love Jax's relationship with Vel, and the way she continues to mature (finally!) in her relationship to March, as well as others. As Jax matures, the combination of desperate action, friendship and loss makes this war feel real. I'm happy with the ending, but I wish there was more. Since it's not an epic with a final goal, there could be room for more someday - right? I'll miss this world and these people.

I know others in my circle didn't care for the last two books in this series, however I did. I thought the ending of this series was epic. Such an evolution of characters. Difficult and touchy, I thought the author gave me an exquisite study of love and friendship. More thoughts to come.

This world is so rich, and there's so many more stories that can be told. I hope Ann starts a new series with a different POV. The nephew, for instance. I started the first book four different times before I got into it. I'm so glad I stuck with it!

After Aftermath I was a little nervous about reading Endgame, I was worried about the direction certain things went and I wasn't happy at what seemed to be turning into a love triangle between Sirantha, March and Vel. As it turns out I'm actually quite glad that I did read it, if nothing else it means I have closure on the series and there were things I really enjoyed about the story.To start with the positives I was really pleased to see Sirantha follow through on her promise to Loras to help him free the La'hengrin. They had been treated horrendously by humanity and have been suffering ever since we decided to meddle in their biology so it was great to see Sirantha step up to do something about it. I enjoyed watching Loras lead the rebellion, they're in the middle of an all out war so things aren't easy for any of them but Loras has come a long way from the beginning of the series. Vel as always stands out as a brilliant character and I love the humour that Baby Z always brings to the show.I'd been really angry with the way things ended between Sirantha and March in the previous book so I was pleased that they manage to turn things around here. At the same time though I do think the way things were resolved just made the drama from the last book feel even more forced and just a cheap way to tug at readers heart strings. If there is one thing I really think ruined this series it's the constant issues between the main couple. They were absolutely fantastic in the first couple of books but from there onwards it's been one thing after another keeping them apart and putting blocks between them. Vel has been one of my favourite characters since the moment he was introduced but I love him as a friend for Sirantha and I think their relationship got far too complicated and blurred a few too many lines for me. I know they've never actually crossed the line completely but I'd have enjoyed it much more if they'd been firm friends and allies all the way through. I just reached the point where I struggled to believe Sirantha's proclamations of undying love for March because she always treated him badly. He wasn't much better at times but at least he usually had better reasons.I also missed the wider scope of the earlier books, it was so much fun to see them travelling through space and visiting different planets so I got a little bored when they spent the entire book in one place. They had an important mission but I'd have liked it to tie up a little faster and for us to actually see them start their next adventure. Especially because that would have given us a chance to catch up with characters like Dina and Hit who were completely absent from this book. Considering what major characters they were early on it was disappointing that we didn't get the chance to catch up with them one last time in the final book of the series.Overall for me this series started out amazingly strong and fizzled out a bit in the last couple of books. I still think it was well worth reading, particularly for the AMAZING early books though and I'm looking forward to trying the spin off series too.

I am so, so sad to say goodbye to this amazing group of characters. They have been with me for so long; it's almost like losing a limb. I'm not even ashamed to admit I got weepy a few times. Nevertheless, in the end we must all let go at some point and spread our wings wide in hopes of experiencing even more wonder and amazement that is just waiting to be found. This is also what I believe Jax and Company are out there doing at this very moment. (I'm such a sap, I know.)I am very happy with the way things ended, for now. I do have high hopes of seeing them again, even if only a glimpse, in Ann Aguirre's new upcoming series in the same universe 'Dred Chronicles'. YAY!I did, however, have some minor issues that bugged me. And, yes, I know, "This is not a love story, it's a war story", but the characters are where it is at for me. Besides, I thought the war part of this story was amazing and pretty much perfectly ran its course. So here, I present my grievances on the love part. First I must say, I love Vel, I really, truly do, but (view spoiler)[I *never* saw him as a romantic love interest for Jax. However, this book had me disliking him at the few too many mentions of how "intimate" something was between them. Or all the mentions of wearing each others colors on their throats. And the fact that, to me it seemed its being set up that Vel is now just holding a place until March's time is expired and Vel can have his time with Jax. Now before you get pissy with me, I know Vel is her best friend, they have been through so much together, they have a different kind of love and will *always* be there for each other, but to me, the conversations kept leaving that opening of "We can be together after...". Or" I didn't think I felt that way but…" To me this took away from the new stronger bonds Jax and March were forging, hoping to *finally* be together without anything in the way. (hide spoiler)] Sigh. I know this is all probably just my romantic heart getting in the way of Jax's life and heart, which is by far an extremely unique entity in its own, but I cannot help how I feel. Side-note; I severely missed Dina and Hit. :(Anyway, enough of all that. I am and will always be one of Ann Aguirre's biggest fans. I love her brilliant storytelling, the remarkable worlds she creates, and those one of a kind, never-in-a-million-years-forget-you characters that always grasp your heart with unforgiving anchors and never let go. Do yourself a favor and read one of her books…any of her books, hell, read them all! You will always walk away with something wonderful and unforgettable. And I can honestly say this series will forever hold a space as one of my favorites.

I'm not sure reading all six of these books back to back was such a great idea. I kind of got burnout and had a hard time finishing. But at the same time, I really liked what Aguirre ultimately did with this series. I thought Endgame was a great ending and really served to showcase just exactly what was important to her about Jax and Jax's story. Jax herself tells us in the opening sentence, "This is not a love story," so I'm not sure exactly how much clearer Aguirre could have made that.Spoilers ahoy (probably shouldn't read this unless you've already read the book).This book wraps up the last and biggest of the dangling threads from the previous three books: Jax's promise to help her friend Loras free his people from the genetic slavery they've been condemned to for the last century or so. It's interesting the way that Aguirre has Jax recognize that a large part of her motivation comes from guilt — and the way other characters interact with her because of that — but also just because she knows it's the right thing to do. Endgame takes us from the very beginnings of the revolution in La'Heng, with Jax covering their asses legally with the occupying government by submitting formal request after formal request for trials for their "cure" (which would end La'Heng dependence for good, essentially wiping out a planet-wide source of free labor for those used to taking advantage of it). And of course the current occupiers (the Nicuans) don't want to give that power up, so they block her at every turn. From there, she and her group of friends build up the resistance piece by piece, and it's to her credit that the whole thing reads as believable as it does. She also doesn't give in to the temptation to have everything resolved in a short period of time. The span of this book covers years of story.And then there's Jax's personal issues, which I thought were also handled very well. She kind of gets to have her cake and eat it, too. Due to events from previous books, Jax has a drastically expanded life expectancy, and she can certainly expect to outlive almost everyone she knows and loves, including her lover, March, who has accepted that fact and the two end up committing to each other for as he long as he lives. But once he goes, she's got Vel to travel the universe with. I can see how some people might be discomfitted by this ending, but it worked for me. Overally, glad I picked this series up, and will definitely be checking out Aguirre's other (many) books.

"But the truth is, the longer you love the same person, the more mysterious they become. March is like a pocket universe, full of stars, and I will never learn all his light.""March knows what I want and what I can offer. He gets me down to my breath and bone; he will not try to change me. For him, I need not yield that which makes me Jax; I need not surrender the universe for March's sake. He will share it with me."I've been all over the universe with Sirantha Jax, March, and Vel. This was a fitting, engaging, and impressive way to end it all.

"This is not a love story. It is my life, and as such, there is love, loss, war, death, and sacrifice. It's about things that needed to be done and choices made. I regret nothing."A perfect ending to one of my most favorite series. Ann Aguirre is an amazing author who has given me many hours of reading pleasure.

Great ending to a fantastic series. I actually thought that book 5 was the end of the series (I don't know why!) and I thought it's bittersweet ending was perfect for Sirantha Jax's life. This was not quite as perfect (IMO) but I think other people will actually like this story more.

I was so bugged with the choices Jax made that I couldn't finish the last few pages. Definitely not my fav.