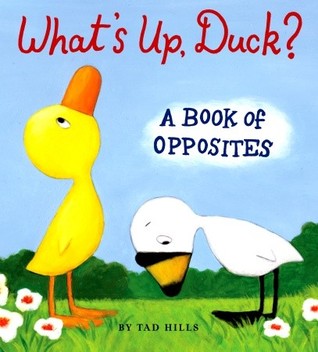 A quacktastic springtime read! The stars of the bestselling Duck & Goose and Duck, Duck, Goose return in this board book for preschoolers, this time, to introduce basic opposites.In this ALA-ALSC Notable Children's Book, Goose carries an oh-so-heavy log, while duck easily balances a light-as-a-feather feather. Thistle is one fast bird, but Goose is slooo-w. And when DuA quacktastic springtime read! The stars of the bestselling Duck & Goose and Duck, Duck, Goose return in this board book for preschoolers, this time, to introduce basic opposites.In this ALA-ALSC Notable Children's Book, Goose carries an oh-so-heavy log, while duck easily balances a light-as-a-feather feather. Thistle is one fast bird, but Goose is slooo-w. And when Duck is sound asleep, Goose is wide awake. With a simple text and colorful illustrations–plus the inimitable characters, of course–here's a wonderful, and humorous, introduction to an important concept....
| | | |
| --- | --- | --- |
| Title | : | What's Up, Duck?: A Book of Opposites |
| Author | : | |
| Rating | : | |
| ISBN | : | 9780375847387 |
| Format Type | : | Board Book |
| Number of Pages | : | 22 Pages |
| Status | : | Available For Download |
| Last checked | : | 21 Minutes ago! |
---
What's Up, Duck?: A Book of Opposites Reviews
This book is pretty simple, it is a book about opposites, examples: near, far, loud, quiet. The pictures are a great visual to help go along with the words on the pages. It would be good for students who have a harder time reading, or those just beginning to read. They can go off of the pictures and get to what the words are conveying to the audience.

This is a book with pictures of opposites. I'd have to see a physical book to see if the illustration (which show the contraries) are large enough for a storytime.

I LOVE the original Duck and Goose book. The only reason I haven't yet bought it is because it is still a little long and a bit advanced for a two-(and-a-half)-year-old. So when I saw this book on the South Carolina Libraries 100 Picture Books for Preschool Children list, I thought it would make a great little board book to put in my son's Easter basket.Before I bought the book, I did read some buyer's reviews about it and not all were positive. This is a book about opposites, so it is a concept book. With this, as with all concept books, your can't just read it if you want your toddler to understand it. You have to explain and demonstrate. It isn't difficult. For example, for the near and far concept, I held the book really close to my little boy's face and then moved it way back. He gets it and thinks it's funny. He also really likes the loud and quiet (especially the loud). Anyway, sometimes you can't just read a book and expect the child to grasp the concept and understand -- how easy would potty-training be then?! Sometimes the reader has to do a little extra work. If you do, this is a great book for toddlers. And I love it almost as much as the original Duck and Goose book.

"What's Up Duck?" is by far the favorite in my two-year-old son's already vast book collection. This one has been solidly in the bedtime story rotation for a couple of months now. It's the perfect book for us to read together because my little guy can "read" it to me - he names the different opposites on each page and then proceeds to act them out for me; and, judging by the giggles it always elicits, he has a great time. We've moved on to some of the other books in the series as well (I think there are 4 in total), and they're all beautifully illustrated and very toddler-friendly. This one's still the old reliable of the bunch, though. I have to admit it's my favorite, too - mainly because my racecar pajamas-clad little guy comes running up to me with it every night begging, "Mommy, weed da duck book, quack quack?" Best part of my evenings! :)

Reviewed by Me for Kids @ TeensReadToo.comAs a huge fan of Tad Hills and his Duck and Goose characters, WHAT'S UP, DUCK? was an absolute delight! At only twenty-two sturdy board pages, this is a perfect first reader, but it's also a great book to read with your toddler. Along with the typical opposites of up, down and slow, fast, there are also my favorites -- clean, dirty and heavy, light. The illustrations are what make this book a winner, and the absolute perfection of Duck and Goose are not to be missed.

This board book about opposites is illustrated in the classic Tad Hills style, which means I find it absolutely adorable. The small animals are identifiable and relatable for small children.There is minimal text. The left spread will say and illustrate one word while the right will say and illustrate its opposite. The minimalist nature of those words combined with the expressiveness and surprising depth of the illustrations allows the reader (and the non-reading viewer) to make up their own story surrounding the images.

Tad Hills' illustrations absolutely raise this book beyond the typical opposites book. There's no story here, although there is plenty of description to work with in the pictures themselves. Duck & Goose demonstrate opposites in pairs on opposing pages.While the pictures are great for younger toddlers, this is a concept better suited for older toddlers and preschoolers, who might have fun demonstrating some of the opposites themselves!

A nice book of opposites with cute bird characters. Natalie asked to read it a few times by saying "duck book." She knows a few of the opposites pairs already from her Bert and Ernie opposites book, but some of the others were new, which I really liked. The set up was one word per page with the opposite on the facing page. I liked this simple presentations (as opposed to books with multiple opposite pairs on one page or a page spread).

What's Up, Duck? illustrates the concept of near and far, slow and fast, and all the standard opposites with evocative illustrations of cartoon ducks, goose, and a bluebird. We owned and enjoyed this book before we found Duck and Goose or Duck, Duck, Goose?. Now that we've read those and gotten to know the characters, this book of opposites is even more fun.

Even though this is a simple concept book, there are quite a few unusual concepts presented, effectively, using a 2-dimensional, silent medium: Loud and Quiet; slow and fast; heavy and light. My favorite pairs due to their perfection in illustrations are front/back, near/far, heavy/light and awake/asleep.

What's Up Duck? is a book all about opposites. There is one word per page for example, clean and then the next page says dirty. It is a great book to teach students what opposite means and showing examples of that. This book would be really beneficial for younger students when they are learning about opposites or just learning how to read.

For a book of opposites this is fabulous. It is simple there is not too much on the page, nothing to confuse a young child who is looking for the opposite. Tad Hill has a great skill for being able to capture expression in her characters. Birth+

its so long!!! (lol) literally, there's a word on each page!and there are about 6 pages. lol. well, i guess that is what you should expect out of a pre-school book!! but i absolutly love duck and goose!!! <3333

This is a simple little opposites concept book. My toddler loves ducks so I wasn't at all surprised when he picked this one out at the library. He has asked for it every night since bringing it home by pulling it out of the bin and shrieking "DUCK!" The illustrations are adorable.

My son just turned 2 & he loves this book. There is just one word per page, and it teaches opposites such as front/back, clean/dirty, etc. There are nine pairs of opposites in all. My son's favorite is the clean/dirty page!

I love Tad Hills books and this is no exception. This little board book is a great addition to family or pre-school shelves. It will definitely inspire parents and caretakers to have their little ones act out all the pictures in the book. Lots of fun!

This is a simple book that is great for teaching opposites. It has simple pictures that illustrate the opposites, and very young children will appreciate it very much.

Meant to read to infants... or developmentally delayed students.

Wonderful pictures, simple stories, this book helped my oldest learn opposites quickly.

Adorable pictures, cute story. I really fell in love with this book.

I love, love, love the Duck books. The illustrations are so cute and the books are really engaging for little kids. Loved it!

Whimsical, bright illustrations illustrate the opposites in this book, My one year old loves it.

Baby board book. Good for toddlers too, opposites. Up, down, near, far, loud, quiet, etc.

SL Skills - Print motivation, print awareness, & phonological awareness.

This is a short board book that shows duck exploring a bunch of opposite words. To the point, and very sweet.

Great board book to teach opposites. I love Duck & Goose books and this one is another great one!

My little son loves this book. He brings it home from the library every time.

A fun book for toddlers learning opposites. I was amazed when I read this book for only the second time and Catherine would yell out the opposite.