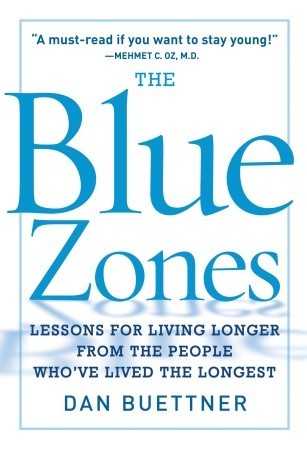 A New York Times Bestseller!With the right lifestyle, experts say, chances are that you may live up to a decade longer. What's the prescription for success? National Geographic Explorer Dan Buettner has traveled the globe to uncover the best strategies for longevity found in the Blue Zones: places in the world where higher percentages of people enjoy remarkably long, fullA New York Times Bestseller!With the right lifestyle, experts say, chances are that you may live up to a decade longer. What's the prescription for success? National Geographic Explorer Dan Buettner has traveled the globe to uncover the best strategies for longevity found in the Blue Zones: places in the world where higher percentages of people enjoy remarkably long, full lives. And in this dynamic book he discloses the recipe, blending this unique lifestyle formula with the latest scientific findings to inspire easy, lasting change that may add years to your life.Buettner's colossal research effort, funded in part by the National Institute on Aging, has taken him from Costa Rica to Italy to Japan and beyond. In the societies he visits, it's no coincidence that the way people interact with each other, shed stress, nourish their bodies, and view their world yields more good years of life. You'll meet a 94-year-old farmer and self-confessed "ladies man" in Costa Rica, an 102-year-old grandmother in Okinawa, a 102-year-old Sardinian who hikes at least six miles a day, and others. By observing their lifestyles, Buettner's teams have identified critical everyday choices that correspond with the cutting edge of longevity research—and distilled them into a few simple but powerful habits that anyone can embrace....
| | | |
| --- | --- | --- |
| Title | : | The Blue Zones: Lessons for Living Longer From the People Who've Lived the Longest |
| Author | : | |
| Rating | : | |
| ISBN | : | 9781426202742 |
| Format Type | : | Hardcover |
| Number of Pages | : | 304 Pages |
| Status | : | Available For Download |
| Last checked | : | 21 Minutes ago! |
---
The Blue Zones: Lessons for Living Longer From the People Who've Lived the Longest Reviews
i am ashamed to say that i am writing this review of a book that is all about healthier living and living longer with a cigarette in hand. well, it is an american spirit light. those are healthier, right? i firmly believe in Harm Reduction as a model for living.this is not the sort of book i usually read, although it is actually published by National Geographic (which somehow automatically gives it credence in my mind. why is that?). and it probably would have remained on my desk for who-knows-how-long, except that one of my staff lent it to me. i forsee a bit of stress coming into our relationship in the near future, so i thought it best that i read this quickly. not the best of motives for sure. but there you have it, the un-pretty truth.there is also a very unappealing photo of the author on the cover, one where he looks smugly complacent, with one of those frozen zesty smiles that remind me of sales personnel.fortunately, this book is less about being a Guide for Improvement (although there's plenty of that to be had) and more about describing the lives of various centarians around the world, how they've managed to live so long, and how their community came to have so many similarly rigorous old-timers. so if you are looking for Heartwarming, for a gentle study on the importance of community, a sense of humor, and respecting our elders, then this book will be quite pleasing at times. it certainly was for me. at times."Blue Zones" are those places in the world where there is an extraordinary number of centarians living in one region. here is what i learned:- from Sardinia, Italy: drink goat milk and red wine, walk frequently, have a purpose in life, connect deeply with your faith, surround yourself with friends and family.- from Okinawa, Japan: eat lots of veggies and soy-based foods (particularly fermented soy), walk frequently, have a purpose in life, connect deeply with your faith, surround yourself with friends and family.- from Loma Linda (California), USA: drink a ton of water and eat lots of nuts, walk frequently, have a purpose in life, connect deeply with your faith, surround yourself with friends and family.- from Nicoya, Costa Rica: have a long and healthy sex life even if it means you have to step outside of your marriage to accomplish that goal (that's a new one to me), walk frequently, have a purpose in life, connect deeply with your faith, surround yourself with friends and family.clearly there is a major theme: have a community of support! there is a part of me that felt very sad when comparing most american families with what is described in this book. the idea of different generations coming together on a regular basis, of NOT shuttling off seniors to their own separate lives, of a community that is large & tightly-knit & sticks together unto death...well, i just don't see a lot of that. how depressing.i also took the online surveys Vitality Compass and the True Happiness Test available at www.bluezones.com.on Vitality, sadly my score showed that i have an approximate lifespan of 75 years. although this was happy news to me, apparently this is not the greatest score according to Blue Zones. oopsy!on True Happiness, amazingly i scored an "A-". i suppose i am a Happy Guy. upon receiving my result, i was given some firm advice: find a faith and have more friends who are "happy". that's some nerve ya got there, Blue Zones!

The blue zones are regions in the world where an inordinate number of people live healthy lives to very old age, often beyond 100. In this book, Dan Buettner personally goes on research expeditions to various locations around the world. He sometimes goes alone, while at other times he brings along with him a team of researchers. Their goal is to determine first whether the people claiming to be very old are, in fact, as old as they claim, and second, to interview the super-seniors to determine the common factors that have contributed to their long, healthy lives.This fascinating book is an in-depth study of the super-seniors in four locations; Sardinia, Loma Linda in southern California, Nicoya in Costa Rica, and Okinawa. Buettner uncovers a variety of factors that have contributed to their long lives. The lifestyles of the super-seniors include; near-vegetarian diets, daily exercise, social connections through extended families and neighbors, laughter and a sense of humor, and a sense of purpose in living. Reading between the lines, one of the researchers in Nicoya speculates that "sleeping around" might also be a contributing factor!One of the most striking stories is about a 93-year old man in Loma Linda. In order to save money to construct a fence, he purchased the materials and started building it himself. It involved heavy labor, as the area was on a steep hill. The next week found him in the operating room in open-heart surgery. But he was not on the operating table; he was one of the surgeons!This is not exactly a self-help book, but the last chapter does review the lessons learned in the blue zones. The lessons show how all of the lifestyle factors help to contribute to a long, healthy life. There are no guarantees of course--they are simply probabilistic factors that have a tendency to help longevity.I didn't read this book; I listened to the audiobook version, narrated by Michael McConnohie. The narration is very good, and the various accents are done quite well.I definitely recommend this book to all people who would like to increase their chances of living a long, healthy life.

Seriously one of the best (life-altering) books I have ever read. Much like "Omnivore's Dilemma" in the way that I think this book will have a serious effect on how I view things from this point on, and how I will live my life. It is nothing absolutely revolutionary, no, but the fact that it is all gathered in one place, and so accessible makes this book stand out for me. I have read many books like this, but this one seems one of the most palatable and the easiest to share... perhaps because of the focus on life-long health rather than quick fixes.Buettner, a journalist who also used to be an endurance cyclist (he has biked from Alaska to Argentina!), has now shifted his focus to finding and studying these special regions of the world (he calls them "Blue Zones") where a large percentage of people live well in to old age. He specifically studies centenarians, people who have reached 100. This book focuses on four locations that have been identified as Blue Zones: Sardinia, Okinawa, Loma Linda, California, and Nicoya, Costa Rica. Along with a traveling team of doctors, demographers, and psychologists, he travels to these places and conducts interviews with these centenarians. He learns about their past and their present, what they do, what gets them out of bed each morning, what they eat, who they socialize with, what experiences have shaped them, and what clues and insights they have as to why they have reached these ages. As he travels to each place, common threads surface.The last chapter of the book really brings it home: what changes YOU can make to apply these principles of longevity. It is so much more than living longer though - it is about living happier and healthier and surrounding yourself with love and friendship. After reading this library copy, I bought 2 copies: one for myself, and one for my parents. It's one of those books that you really want to share with others.

(This is the second edition: it adds a new zone to the book, making it 5 zones to read.)I first read about this living-longer business in the November 2005 National Geographic magazine article, which I still own. This expands on the subject, and helps one notice all the good points from each zone. It's about how to live a longer, quality-filled life - it's not just about how good your genes are, or necessarily where you live: these tips really could make your life longer and happier. The majority of long-life comes from lifestyle and choices made during life.The places are in Sardinia, Okinawa, California, Costa Rica and a small island in Greece. Each place has its own chapter, with stories, interviews and at the end points of what each zone can give us in terms of tips for long life. These zones has an unusually high number of 90- or 100-year-olds. They are also often slightly isolated and lives more traditional (which plays part in being healthy).The text flows easily, easy to understand, and one does developed favorites (my favorite zone is the Okinawan one). There's plenty of information, but not too thickly and one does not really have to fish them out of the text - though a hint or two may pop up separately in the text.At the end the final chapter gathers 9 common lessons from the zones and gives us guidance to put them in action. It's stated that one doesn't have to tackle all at once, and the order of starting each is up to us. Finally there's a set of questions for reading groups, for discussion.I found this a light-hearted, fun read. Some lessons were kind of things that I already knew in some manner, but this book motivates to start putting ideas in good use. Well worth the read, and no doubt I will use the tips, and read some parts for fun, again. :)

Interesting book looking at populations from around the world with the most people living to be 100. Basics seem to be:5. Diet - lower in animal products (though they are included) and higher in fruits and veggies and whole grains4. Work that incorporates being physically active versus no exercise or over exercising which wears out the joints.3. Feeling that you are still valubly contributing to society2. Religon/spirituality - not any one in particular but rather a feeling that a higher power is looking out for you and protecting you1. Family tiesPerhaps a general outlook of not holding onto stress should be added.And interestingly enough for men, the more daughters they have, the longer they tend to live.While most of these items are not revolutionary ideas, this book is written by a National Geographic writer so has that nice flow of going back and forth between generalities to really giving individual, human faces to the discussion and there are specifics for each group examined: Seventh Day Adventist in the US, a group in Japan, a group in Italy, and a group in Costa Rica.

Living a healthy life is not that difficult if you know how. This is probably what the author was trying to convey in this book, but while the message came through loud and clear, I have to take issue with much of the information provided. I'll start with the recommendation to drink red wine every day. I don't think that can be particularly healthy, especially if you have certain health complications like diabetes or heart problems. It can also be bad if you are depressed or prone to addiction. This advice can actually be counterproductive since the book does not really go deep into the various different issues related to drinking wine or saké. Anyway, there is still not complete information on this subject, so its a hit and miss.The author also recommends different ways of keeping fit, but ultimately forgets that not everyone lives in little far-off remote villages where things like growing gardens or hiking over mountains on a daily basis is even possible. I also found some of the suggestions rather superficial and only applicable to middle class or rich people. Another issue I have is that the author recommends everyone to join a religious community. That simply does not work. For some people (like me, for example), being part of a religious community can actually increase stress due to various factors, but mainly due to the misogyny practised by most religions. Besides, faith does not work that way. You either have faith or you don't. It's a journey you make towards or away this lifestyle. It is never an active choice, though it can be a passive choice by simply remaining in the religion you were born into. But nobody ever just got up one morning and told themselves 'From today, I believe in God', and then started believing it out of the blue. The same goes for family. Everyone wants to belong to a wonderful and supportive family and most people want to put back in the same support and love, but it's not possible for everyone. In some families, just being together can bring enormous stress. I also found the advice that you take care of your parents because doing otherwise would bring dishonour, terrible. Shaming or forcing people into doing things is not conducive for a stress-free life. The only reason people do things for other people must be out of love and a spirit of giving. How can this be simply made into an issue of honour? In another instance, the author discusses a woman who claims that it's good for people not to have any privacy at all. If your kids misbehave, your neighbor has no problem disciplining them. There is less crime, not because of good policing, but because of the risk of shaming the family. Very much the reason why honour killings happen! This logic is completely screwed up. This is not to say that the book does not give any good advice at all. It is already well-known that eating more vegetables, fruits and nuts, reducing meat and dairy consumption, keeping in touch with family and friends, having a strong social network, avoiding junk food, regularly exercising and meditating (all of which the author advocates) is beneficial to long-term health. I just did not find anything new in this book that I did not already know.One thing I really enjoyed in this book is the interviews with the centenarians and the descriptions of their lives and lifestyles. It was really interesting as it depicted a fast-disappearing way of life in different parts of the world. These old people are really resilient and have lived through famines and wars. Their stories are important and interesting and a good depiction of traditional culture in the respective countries.The Blue Zones is probably meant only for Americans. The author kept comparing the diet of different regions to eating hamburgers and drinking soft drinks. Surely, Americans eat something else? I thought it was just a stereotype that Americans just gorged on junk food and drank only soda-based drinks. At one point, the author recommended that people start drinking water. Then he ordered a bottle of water with his meal and made it sound like a big deal. What, Americans don't drink water?! I was astounded at this implication. So, either the author is exaggerating American food culture or this book is really a must-read for all Americans. If you are an American, take your pick. If you are from elsewhere, there are free websites out there, which say the same thing better.

What a entertaining read. I just love reading about different cultures, and this book reminded me of a cultural anthropology course that I once took and loved, but this course is made with a twist of lemon. By "twist of lemon" I mean that it is about food, but it is also about how food affects your longevity. The part I really loved though, was on how the people lived, and that is where the cultural anthropology comes in to play. The author visits six different cultures that have the same things in common: longevity, the food they eat, and the food they avoid. I liked the culture on the Greek Island of Ikaria best, as the food and their life style seemed much more appealing to me. So I will just quote a few paragraphs of what he has to say about them:"For the many religious and cultural holidays, people pool their money and buy food and wine. If there is money left over, they give it to the poor. It's not a "me" place. It's an "us" place." I love that idea."The Mediterranean diet, a menu rich in olive oil and vegetables, low in diary and meat, with some alcohol daily. On Ikaria, it also includes an abundance of potatoes, goat milk, beans, and some fruit."And here is where my "twist of lemon" comes in: "Dr. Leriadis mentioned wild marjoram, sage (fiaskomilia), a type of mint tea (fliskouni), olive tree leaf infusions, rosemary, and a tea made from boiling dandelion leaves and drinking the water with a little lemon. 'People here think they're drinking a comforting beverage, but they all double as medicine.'" Maybe the author, Dan Buettner's next book will tell how to make these teas."Old people here will start their day with a spoonful of honey. They take it like medicine." How do I stack up to this Greek diet? Hmmm. I only drink goat milk, I use only olive oil, but I do eat real butter, whole sprouted wheat bread, fruits and veggies, minus the lemon. I don't eat sugar, so honey is ruled out. I do eat meat but not much. And once in a while I will have a baked potato with lots of butter. Oh, and forget the alcohol as very little will do me in. As for the beans, well, they taste good in homemade burritos with beef. And while their diet is low of eggs, I probably eat 4 to 6 of them a day. Will I change my diet? Doubt it.

Interesting book about the secrets of longevity based on the anecdotal observation of the world's longest living people. The author Dan Buettner traveled the world with a team of scientists and researchers to identify 4 places (called Blue Zones) that had the highest number of people living past the age of 100. His goal was to learn from them, and in the process he distilled 9 lessons that were consistently found within the lifestyles of these oldest people on earth. One interesting fact is how studies on twins found that genetic factors explain about 25% of variation in lifespan. This means that most of us have a lot more control in how long we live than we think. If we adopt the right lifestyle, we could add at least 10-20 high quality active years to our life. Additionally the goal isn't to just live longer on life-support, but to be able to take care of ourselves and add value to the world even in our last couple of decades of life. The book goes into some dietary recommendations, exercise, social life and mindsets of the longest living people. It's mainly based on anecdotes but some of the findings such as higher intake of vegetables, fruits and legumes we already know play a key role in overall health. Also intermittent caloric restriction seems to be very common among the oldest people in the world. As they say "Stop eating when you're no longer hungry, not when you're full.". I found this very interesting because there's some research coming out on the topic that confirms this. Some of the key lessons from the book are: - Move, incorporate exercise into your lifestyle. - Prefer foods with lower caloric density and "Stop eating when you're 80% Full"- Your diet is very right in vegetables and legumes. And you eat a sufficient amount of protein.- Have planned times to slow down, unwind and de-stress. "Life is short, don't run so fast you miss it"- Belong to a community. Research has shown that those who are members of strong communities tend to live longer.- Surround yourself with loves ones. The longest living people live in multi-generational homes where younger generations care for the older ones, with "honor the elders" cultural norms. That's a rarity now in Western societies, and fewer healthy years for the elders is the price.- Be around the right people. The oldest people in the world are well connected and have social circles that promote the healthy lifestyle.Definitely a very interesting read, check it out!

One problem I have with the book is that, sorry for the offense, the author comes off as a science fan-boy, who really thinks that doing the legwork of data-analysis is just a formality, and really we could figure everything out just chatting with long-lived people.I'd like to see at least a section on the data analysis to see what, if any, of the recommendations the book makes are supported by rigorous statistics.

One of the most striking things in this book was how incredibly simple it is to have the type of lifestyle that favors longevity. The centenarians featured in the book are from simple, almost primitive, cultures with strong family ties and daily sense of purpose -- that is, they feel a sense of importance and purpose from the moment they wake up in the morning (usually at sunrise) till they go to bed at night, well in to their later years. They don't have elaborate rituals or search for obscure ingredients; they eat local produce and often have their own gardens. They get a great deal of exercise by staying active throughout their day - usually by taking the long way (literally and figuratively), and by working and walking outdoors. Rather than focusing on the genetic component to longevity, the book highlights the lifestyle choices that combined, can be accessible to anybody wishing to improve their chance to live a fuller and longer life.I'm much more hopeful and optimistic about taking control of some key choices that are actually quite easy to change and adopt.

Friend at work loaned this to me. We're both committed to improving our health by improving our diets, and so I was optimistic about what the authors found studying the "blue zones" (communities with the longest-lived inhabitants). Turns out, not much. It's the same old advice (good advice, I'm convinced) repackaged and re-branded: sensible (plant-based diet), exercise, good work, time for play, sleep, friendship, community, spiritual values and sex -- and everything in moderation. But the premise of the study is flawed. Studying communities or inhabitants at 3 or 4 standard deviations from the mean and expecting to find reasons and recipes that will pull the rest of us out there is poor inferential reasoning. Interviewing the village centenarians asking "what's your secret?" is doomed in its premise. If you've never thought about this stuff before, The Blue Zones is friendly, chatty way of introducing you to the basics on human flourishing.

An excellent and easy read about four areas of the world where there is a significant percentage of the population that live to be centenarians+. You may be aware of Okinawa. I have read the Okinawa Diet book a time or two. The other four places were a mountainous area of Sardinia, a remote area in Costa Rica, and a Seventh Day Adventist population in Loma Linda, California, of all places. I was so grateful that we had the Costa Ricans in the mix - at least that added corn tortillas, rice, and beans into this magical diet. But overall, regular exercise that fits naturally into our days; faith; strong family connections that value the aged and keep them around the rest of the family; strong friendships of support; a reason to get up each day (I like the wording in Spanish - plan de vida); eating to 80% (they said they eat til no longer hungry as opposed to til full... interesting, don't you think?); prominence of homegrown vegetables; grains; easy on the meat; easy pace in life. When they died, it might be from cancer or kidney failure or whatever, but it was much later and with more fullness of life until that day, and then simply because their bodies gave out. For those of an You Gotta Go Sometime mentality, I quote: "The calculus of aging offers us two options: We can live a shorter life with more years of disability, or we can live the longest possible life with the fewest bad years."The choice is up to us.

What's a "Blue Zone"? It's Dan Buettner's name for areas in the world where people live a long time: Ikaria, Greece; Okinawa, Japan; Sardinia, Italy; Loma Linda, CA; and Nicoya Peninsula, Costa Rica. Dan and his team of experts determined that diet and certain activities make these people live longer. There are many similarities and some differences.Similarities: They eat a lot of homegrown fruits and vegetables. "Organic" isn't some overpriced produce in the grocery stores, it's just the way food is grown and has been grown forever. This was once true in the United States of Big Ag (Chemicals R Us), too. Once. Anyway, they also tend to eat a lot of beans (legumes) and nuts/seeds. What they don't eat much of is meat. Maybe once a week or for celebrations. Eggs are used sparingly, too, as is dairy (the exception being goat and sheep milk/cheese, both more easily digested). Fish? In some cases, yes. In others, no. None of these groups have much use for sugar and salt. They eat whole foods. Bread? OK if whole grain, ixnay on white, sourdough OK, too.Differences: Many consume lots of coffee, but the Seventh Day Adventists of Loma Linda, CA, shun it. Many consume one or two glasses of red wine with dinner, but again, the Adventists don't drink alcohol. As stated, some do more fish than others. Some (Costa Ricans) more corn and squash than others. Habits: These people see food as a gift, a blessing. They sit down together -- no electronics ever -- they give thanks, they eat slowly, they enjoy each other's presence and company. They talk, by God! None of them go to gyms or go on diets, but all of them get plenty of exercise from everyday activities, which burn more calories in the long run: herding, gardening, fishing, walking places instead of driving places. Fasts also play a role, whether religiously-based or not. It might be weekly for a day or during special times of the calendar. Not eating some times is a healthy thing.Many of these cultures eat bigger meals earlier, smaller later. Some eat two meals a day instead of three. In the Adventists' case, a lot of water is consumed (7 glasses a day). All groups get 7 or 8 hours of sleep a night. (Go ahead. Match it. I dare ya.)So that's Part One of the book. Little magazine-article-like vignettes of the Zones. Part Two talks about trying to "make" blue zones, as is done in a small area of Finland, a town in Minnesota, three beach towns in California, and even a town in the Pig State, Iowa. Part Three is about food rituals, menus, and everyday living. It's a blueprint for blue zones, a grass roots type playbook. Finally, at the end, we get 77 recipes, each inspired by the five original blue zone areas.Yes, pretty legit stuff, though it's not exactly a gripping read and the science is off and on. For instance, Buettner still seems to believe the eggs/cholesterol myth, even though most modern studies have dispelled it. Eggs are not scary. He'll dis cow milk by saying it's "a relative newcomer, introduced about 8,000 to 10,000 years ago." Two pages later he celebrates beans, "the consummate superfood," by saying "Humans have eaten beans for at least 8,000 years" (the point being, A LONG TIME, even though the same point meant ONLY RECENTLY in the case of milk). All together now: Huh?There are lots of little things like that. You'll see a YES for sweet potatoes but a NO for yams. Then, later in the book, in his list of Blue Zone foods, what does he list? You guessed it: Yams. Aye, Dios...Also, there's more to this than diet and culture. Many of these places are enclaves outside of the super fast lifestyle we live. Little in the way of electronics, technology, cellphones, microwave whatevers zapping bodies 24/7. In short, life before science began simultaneously saving and killing us. Life that's simple enough to make people say, "Stress? What's that?" But Dan just wants to talk about food and walking, so let's all agree that good food choices, good living habits, good fellowship (rugged individualism, an American staple = bad), and good walking places close enough to walk to will indeed advance our fragile little lives...Great library loan book. Read, adopt with a friend. And family. Or church group near you.

Loved this book.... Fascinating to learn how big a role lifestyle plays over genes in longevity... So many lessons we can learn from our elders... and so lucky to have a centenarian in my family.... The best way to learn is from the example of others.... Really looking forward to reading the next book on my list, Thrive!

Growing up, I have always been wishy-washy about my dreams. At different points in my childhood/young adulthood/adulthood, I have wanted to become a scientist, an archeologist, a brain surgeon, a supermodel (haha), an ambassador, a museum curator...and so goes on the list. But I have recently realized that until now, I would give everything up to be a writer for the National Geographic Society/Magazine/Channel (well, not really everything, but you know what I mean).Reading D. Buettner's Blue Zones reminded me why that dream is legit to the core. I think that the book, written by a National Geographic journalist, achieved everything it wanted to achieve: feature inspiring centenarians, tell the story of different cultures that produced these centenarians, and generally spread the message that taking care of your health is of utmost importance (without being preachy and annoying).I like the way the author divided the book into four parts for four different "blue zones" (Sardinia, Okinawa, Loma Linda in California, and Nicoya Peninsula in Costa Rica). It was also helpful that 75 percent of the book focused on the culture of these blue zones and on the stories of the centenarians. Somehow, when Buettner gets to the last part wherein he suggests simple ways on how to imitate these 100-year-olds' lifestyles, you have a specific idea of what you really want to be--and that is, to end up like them (with long lives and less years--if any--of disability and suffering).As you breeze through the stories (which are like text counterparts of features on the National Geographic Channel by the way), there some non-obtrusive tips that you can take note of and practice in your own life (for example, in the Sardinia part of the book, there is a small box embedded in the text that succinctly explains the benefits of drinking goat's milk). I know that I will read this book again and again (if only to inspire me again and again). I will recommend it to all my friends and loved ones, so they will have a concrete idea on why there is wisdom behind that (trite) health is wealth adage.

I wrote about this book and my parents' 50th wedding anniversary for Women's Adventure Magazine.http://www.womensadventuremagazine.co...My article starts: Living to one hundred years old in great health sounds like a scam. Why do some struggle through their years in poor health with little enjoyment, while others enjoy the adventure of life? Even more befuddling, certain people manage only a few days of marriage, while my parents, Frank and Judi Niver, are celebrating fifty years of wedded bliss. They married in 1963 when they were both twenty-one years old. Taking ideas from Dan Buettner's book, "The Blue Zones: Lessons for Living Longer From the People Who've Lived the Longest," here are tips for creating a longer, healthier, happier life in a remarkable relationship.National Geographic Explorer Dan Buettner visited "the world's healthiest, longest-lived people" and discovered nine secrets for success from the centenarians. Each person or relationship must build their own recipe from the ingredients, which combine "community, lifestyle, and spirituality."Buettner states you can impact the quality of your life as only "25 percent of how long we live is dictated by genes." The other 75 percent is "determined by our lifestyles and the everyday choices we make." As one centenarian told him, "Eat your vegetables, have a positive outlook, be kind to people, and smile." Can it be that simple to enthusiastically skip through your days?Read the full article at Women's Adventure Magazine.http://www.womensadventuremagazine.co...Enjoy more of my book reviews on travel, education, inspiration. Lisa http://www.wesaidgotravel.com/book-re...

I loved this book. Unlike most diet and lifestyle change book this had a strong focus on science in both practice and theory. Not much of the information is revolutionary, but I enjoyed the information and the advice. As someone who thinks we could cure death completely in my lifetime I am really interested in prolonging my life as long as possible to up my chances of being around when technology advances. According to the Blue Zone research it really comes down to four things: eat well (plant based, whole foods, etc), move more (not necessarily going to the gym, but staying moderately active), stress less (use meditation, yoga, spiritual practices, or whatever to reduce stress), and love more (have family and friends around). My only complaint is really the push for religious practice, but that is what the data presented so I shouldn't be too annoyed. Maybe future research will show that social networks of shared values are just as applicable even if there is no religion involved.

Interesting book documenting research into some of the longest living people on the planet and the probable causes of their lengthly lifespans. The author takes the reader on a journey around the world, meeting different people, in different cultures with(in most cases)similar lifestyles. After reading this book I walked away with gratitude for the blue zone lessons I currently follow and a reminder of a few things I could definitely get better at. Here are a few of the 9 Blue Zone Lessons found in this book:1. A sense of purpose or reason to wakeup in the morning2. Put your loved ones first3. Downshift or take time to relax and relieve stress4. Eat a plant-based diet avoiding meat and processed foodsOverall decent book worth a read.Tony Rogers JrAuthor of Visionary:Making a difference in a world that needs YOU

Interesting book about scientists looking at populations from around the world with a high percentage of the population living to be over 100 and evaluating the different lifestyle factors, diet and gene that made that happen. I particularly enjoyed the chapter on the Loma Linda, California chapter since that is from my part of the world and I had heard prior to this book about them being a Blue Zone. Really good book overall, made me think more about my life and the way I spend my time.

I love this book. The approach is so simple, the stories and personalities are fun and there are easy things that I can take from this book and put into practice. I had already read a sequel of this book, not knowing about the original, so a lot of this was rehash...and I STILL enjoyed it. In a world of fad diets and exercise programs, this book of common sense is just such a refreshing breath of air.

Wonderful easy read - couldn't put it down with the casual narrative tone used. Eye-opening - especially for those of us in the States whose habits so differ from other cultures. For example, the focus on social community rather than independent living -- feeling needed and feeling like one has a purpose, even at the old age stage of life. Great read.

This book provides information about people living long and healthy lives in certain pockets of the world. I though the general advice made sense, regarding eating habits (mostly plant based, not too much), movement (do it regularly), social support, family, and having a sense of purpose. It's frustrating and sad to know that these things are becoming so hard to do in our current environment.I really enjoyed the interviews with the centenarians. I'd appreciate more of the research and statistics behind recommendations the author makes.

Interesting and informative.

Now don't get me wrong. I'm not interested in living forever, but I am interested in having the best quality of life that I can for the years that I do live. I found this book very interesting and informative. National Geographic sent Dan Buettner to some locations that were known for having a high number of people living into their 100s to study their culture and health practices. The five locations studied were; Sardinia - an island located west of Italy, Okinawa - an island located south of Japan, Loma Linda in southern California, Nicoya - a peninsula on Costa Rica's Pacific Coast, and Ikaria - an island located southeast of Greece.Here are the top 4 things that I noticed these places have in common:1. They are isolated locations. They are all on islands or a peninsula. Except for Loma Linda which is isolated because it is a Seventh Day Adventist community.2. They didn't eat processed foods. Their diets were high in vegetables and fruits. 3. They remained very active throughout life. They often had to walk long distances (sometimes over rough terrain). Most of them also cultivated gardens.4. They had a strong support system of family and friends. They invested lots of time in their friendships and family, often seeing each other every day.There were other "lessons" but I don't feel it would be fair to the author to give them all away in this review. The ones I mentioned are the ones that were common to every location. The main thing about this book that drew my interest was the glimpse into the lives of people who have a different culture than my own. I will probably be seeking out more nonfiction books on different cultures in the future.The first part of this book is a bit boring so don't let that stop you. You can just skip to the chapter that starts off the culture study if you want and you wouldn't miss much.I borrowed this on eBook from the library, and I may wind up buying it eventually because I think it would be nice to own a physical copy.

This book was a huge disappointment to me. I am very interested in nutrition and have had my eye on this title for awhile. However, I was surprised to learn that the author is not a nutritionist, a medical professional or even an epidemiologist. He has no credentials whatsoever and this book is based on very thin science. The book largely consists of narrations from his travels around the world to meet centenarians. While these are interesting, they are just that, interesting but not conducted in any kind of formal research methodology. He will meet with people in the blue zone, drink wine with them and observe their life, and then wax philosophy about traditional values and other social factors that may contribute to longevity. He spends a lot of time describing how people look and their personalities, so much so that it turned me off. Very little if any scientific literature is cited to support his claims, and clearly there was no research done other than to interview long lived people and make conjectures about what caused them to live so long. Also, he frankly came off as sexist in some of his descriptions of women in the book (especially younger women who traveled with him), focusing way too much on their physical appearances. This book is sold as an authoritative source on health and how to live longer. Well, folks, correlation is not causation and I was deeply underwhelmed by the scientific evidence presented in this book. There is a reason registered dietitians have to pass years of hard chemistry and biological science classes, as well as learn formal research methodologies. Basing nutrition advice off observational evidence or assumption can have dreadful consequences. Just look at what the whole "low fat" trend caused, a whole bunch of people replacing fats with sugars and simple carbs that have only exacerbated the obesity epidemic. If you care about having real nutrition and wellness information, skip this book!

I picked this book up on a whim because I was intrigued with the concept of "Blue Zones" and the people and lifestyles explored in this book. The cover is deceptive. It looks like one of those many, many "self-help" "guru" books that have flooded the market for decades now. The inclusion of a quote from Dr. Oz on the cover almost kept me from buying the book at all. Really, this book is more of one man's personal exploration into the cultural and sociological factors that create pockets in the world where people tend to live longer than the rest of the world. It isn't a diet book. It isn't a How-To book. It's not some cure-all for society or fat people. It is a series of stories, interviews, personal exploration and research. There is plenty of scientific data included that comprises longevity research, but overall, the book is more of an exploration into attitude, culture and society. I gave this book five stars because the honest and idealistic way in which it is written, how it comes across as more of an anthropological study, and the genuine love the author would like to impart to his readers struck me deeply. The author doesn't claim to hold the secret to live, the universe and everything. He doesn't claim to cure cancer, provide the secret to immortality or make you "beautiful." He simply explores the many aspects of life, society, culture, attitude, food and exercise that can compliment a long, happy and healthy life. If I took anything from this book that I will try to let influence my own daily life, it is this: relax more, love my family and get some sunshine. These seem like common sense things, but they are things that I, as an urban mother in the 21st century often find myself forgetting. Eat less fast food, eat more greens and laugh often and heartily.Read this book. You'll be glad you did.

What a fascinating read! Buettner does a fabulous job of reporting on Blue Zones and providing easily understandable conclusions regarding the lives of the centenarians the group had studied and their habits after years of research. I learned a lot from this book on not just potentially being able to live longer but to live better. The life styles and practices in this book should definitely be reenforced in more cultures today and if everyone were to read this book I think health care costs would go down significantly as well as an improvement of overall health. What intrigued me to read this book was a segment on the "Today" show one summer morning about how happy these people felt their lives to be, even if they were still walking miles and doing manual labor at 90 or 102; they were strong and healthy. What was strikcing is how active they all were. So this feature on tv really intrigued me to read further into their lives and I started this journey as I was waiting at the airport for my flight at the start of my vacation to upstate New York and Cape Cod. After staying in Cape Cod for a few days, and reading the first half of the book - I felt as if I could really take away a lot from this book and get back to nature and a more slow paced life. I really enjoyed not stressing out about work or anything else but really just waking up with the sun and eating when my body told me too, rather than sticking to a strict schedule. I highly recommend this book to anyone who wants to have an easier life and a happy lifestyle devoid of excessive junk in their lives. Blue Zones = Peaceful, happy, healthy lives, and we can certainly learn from our elders.

A book everyone should read. The stories of the people in the 5 different geographic regions are incredible. They have not just lived to be 100 (and many more in their 90s), but have maintained their mental and physical faculties, and a lot of independance. It's a fast read, the focus of the book isn't just on telling their stories, but on learning how to achieve this level of lifelong health.

I know, I know. I'm late to the party with this book. I've been meaning to read it for a long time, but only just now got around to reading it. I'm glad I did, too. I'm not saying the writing was brilliant, but I really appreciated the content of this book, and the travels and studies it reflects. Hearing about life in Okinawa, Costa Rica, Sardinia, and Loma Linda, CA, and how the lifestyles there contribute not just to overall increased longevity but also to increased quality of life was really interesting and potentially life changing for me. I already try to embrace many of these lifestyle choices, but there were helpful reminders/ motivation for me, as well as a few new ones to consider. Sometimes the writing sounded as though the author were writing for another medium, like TV. all his descriptions felt very clunky, like the interrupted the narration. But the message came through loud and clear anyway, and I really enjoyed this book. I'm actually considering buying a copy for my own library, for personal reference, which is extremely unusual for me. If you're interested in improving your own quality of life, and you haven't read this book already, do yourself a favor and check it out.

I seriously just read this entire book in one sitting. It's certainly not a book I would pick up based on the title alone - I only read it on my Sociology instructor/Sustainable Food Production program director's recommendation. WOW. What a trip I've just taken! In one night this book has enabled me to travel from Sardinia, Italy, to the town of my birth (Loma Linda, California), to Okinawa, Japan, to Nicoya, Costa Rica, to uncover (along with the author/journalist Dan Buettner) how other people/cultures/societies live such extraordinarily long lives (mostly centered around centenarians).This book touches on some core/fundamental values, like family, food, and work ethic.I'd recommend this book to anyone interested in world culture, demography, sociology, subsistence farming/agriculture, family values, and to anyone who DOESN'T HATE OLD PEOPLE. An EXCELLENT book.