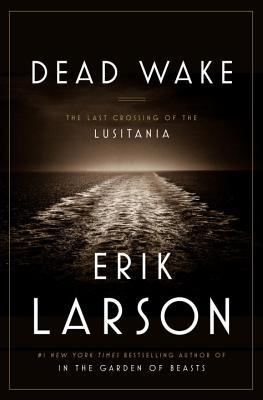 From the #1 New York Times bestselling author and master of narrative nonfiction comes the enthralling story of the sinking of the LusitaniaOn May 1, 1915, a luxury ocean liner as richly appointed as an English country house sailed out of New York, bound for Liverpool, carrying a record number of children and infants. The passengers were anxious. Germany had declared the sFrom the #1 New York Times bestselling author and master of narrative nonfiction comes the enthralling story of the sinking of the LusitaniaOn May 1, 1915, a luxury ocean liner as richly appointed as an English country house sailed out of New York, bound for Liverpool, carrying a record number of children and infants. The passengers were anxious. Germany had declared the seas around Britain to be a war zone, and for months, its U-boats had brought terror to the North Atlantic. But the Lusitania was one of the era's great transatlantic "Greyhounds" and her captain, William Thomas Turner, placed tremendous faith in the gentlemanly strictures of warfare that for a century had kept civilian ships safe from attack. He knew, moreover, that his ship - the fastest then in service - could outrun any threat. Germany, however, was determined to change the rules of the game, and Walther Schwieger, the captain of Unterseeboot-20, was happy to oblige. Meanwhile, an ultra-secret British intelligence unit tracked Schwieger's U-boat, but told no one. As U-20 and the Lusitania made their way toward Liverpool, an array of forces both grand and achingly small - hubris, a chance fog, a closely guarded secret, and more--all converged to produce one of the great disasters of history. It is a story that many of us think we know but don't, and Erik Larson tells it thrillingly, switching between hunter and hunted while painting a larger portrait of America at the height of the Progressive Era. Full of glamour, mystery, and real-life suspense, Dead Wake brings to life a cast of evocative characters, from famed Boston bookseller Charles Lauriat to pioneering female architect Theodate Pope Riddle to President Wilson, a man lost to grief, dreading the widening war but also captivated by the prospect of new love. Gripping and important, Dead Wake captures the sheer drama and emotional power of a disaster that helped place America on the road to war....
| | | |
| --- | --- | --- |
| Title | : | Dead Wake: The Last Crossing of the Lusitania |
| Author | : | |
| Rating | : | |
| ISBN | : | 9780307408860 |
| Format Type | : | Hardcover |
| Number of Pages | : | 430 Pages |
| Status | : | Available For Download |
| Last checked | : | 21 Minutes ago! |
---
Dead Wake: The Last Crossing of the Lusitania Reviews
When a new Erik Larson arrives, I drop everything and read it. In my book, he's one of the few authors who can make history positively come alive. And his opening note held forth a big promise: "I give you now the saga of the Lusitania and the myriad forces, large and achingly small, that converged one lovely day in May 1915 to produce a tragedy of monumental scale, whose true character and import have long been obscured in the mists of history."My first thought was: "WHAT true character and import? Everyone knows about the Lusitania – sunk by a U-2 torpedo and finally propelling America head-first into WW I." Well, after finishing, I stand corrected. The story of the Lusitania still offers up many secrets.Unlike Mr. Larson's former books, this one is slow opening. The focus is not an individual (as it is in Isaac's Storm, the Devil in the White City, Thunderstruck and In The Garden of Beasts, with history as a backdrop), but squarely on the story of the Lusitania. So the first 80 pages or so set the stage: the winds of war in Europe, the background of the Lusitania and its captain, William Thomas Turner.But when the Lusitania begins its voyage? Wow! Nearly 2,000 passengers were aboard and also, 170 tons of Remington rifle ammunition, making it a clear and attractive target to the Germans. The passengers were not unaware that U-2 boats were bringing terror to the North Atlantic seas. We meet several of them throughout these pages: the ones who will live, the ones who will die. And we also catch many glimpses of the U.S. president, Woodrow Wilson, a widower who is distracted by a new (and ultimately, enduring) love affair that diverts his attention from the world stage.The book is filled with questions worth asking: why did the Admiralty not provide an escort to the Lusitania, given that the ship carried a vital cargo of ammunition and artillery shells? Why did British intelligence obsessively protect the HMS Orion and provide no protection to the Lusitania? Why did they not divert he Lusitania to the newer and safer North Channel route? And most of all, "why was the ship left on its own, with a proven killer of men and ships dead ahead in its path?" Did the British deliberately set up the Lusitania to force America's hand to enter the war?Hanging over the story of the Lusitania is its rendezvous with destiny. Had U-2 captain Schwieger not overestimated the ship's speed, if the Lusitania had departed precisely on time, if Capt. Turner had not made a final turn to starboard, had the torpedo failed (60 percent of torpedoes DID fail), there would not be a Lusitania story. And one last question remains: did the Lusitania, in fact, cause the U.S. to enter the war or was there more to the story? Read Dead Wake and find out!

"He saw the body of the torpedo moving well ahead of the wake, through water he described as being 'a beautiful green.' The torpedo 'was covered with a silvery phosphorescence, you might term it, which was caused by the air escaping from the motors.'He said, 'It was a beautiful sight.'"The last known photo of the Lusitania.The term unsinkable had been obliterated from references regarding great ocean liners after the Titanic sunk in 1912. The impossible had already happened. In 1915 the Lusitania had made 202 voyages across the Atlantic. She was a floating beauty, spacious, luxurious, and fast. She was capable of 25 knots and could quickly leave behind any German U-boats who may have had thoughts of trying to sink her. Captain William Thomas Turner was not too worried about the Germans, despite the increase in the number of ships being sunk. He couldn't fathom that they would be so bold or so cruel as to sink a ship filled with women and children. There had to be some niggling doubt though when the Germans sent a telegram warning people to reconsider taking trips across the Atlantic. Captain William Thomas Turner in that fateful year 1915.I was somewhat baffled at the number of people still choosing to travel through an aggressive war zone. We've all heard the adage all is fair in love and war, but in the past there had always been a few rules in war regarding innocent people. Walther Schwieger, the captain of the Unterseeboot-20, didn't adhere to any rules except the rule of engagement. His country was at war with the British, and a ship owned by the British, whether it was transporting supplies for the war effort or transporting noncombatants, was of equal interest to him. He, after all, was competing with his fellow U-Boat captains to see who could sink the most tonnage. Well, the Lusitania, at 31,550 tons, would put him over the top. Walther SchwiegerSome people had booked passage, but had decided at the last moment not to go. "Alta Piper, the daughter of the famous medium, never made it aboard; neither did she refund her ticket. Unable to ignore the night's voices, but also apparently unable to step forth and just cancel, she chose the path taken by indecisive people throughout history and spent the morning of departure packing and repacking her bags, over and over, letting the clock run out, until at last she heard the distant horn marking the ship's departure."I have a feeling she had an insistent tingle in the back of her neck. Erik Larson does a wonderful job introducing us to the passengers. My favorite was Charles Lauriat, an antiquarian bookseller, who talked a client into letting him borrow Charles Dicken's very own copy of A Christmas Carol with notes from the great writer about a lawsuit he was fighting in the margins. He wanted to take it to London to allow another researcher to copy down Dicken's notes. This might be the ultimate example, exhibit A, in NOT letting a friend borrow a book. There was also Theodate Pope, the famous pioneering architect, who managed to break into a profession completely dominated by men. Because they survived, Larson is able to share with us some very personal observations of what happened before, during, and after the torpedo struck the ship. Part of the problem is there was 1,959 passengers and crew on board, and the ship sank in 18 minutes. How much time is lost while you decide if the ship is actually going to sink? It was dumb luck that Schwieger happened to place the torpedo in the exact spot to insure that the ship would go down. Pandemonium ensued. 1,195 perished. Lots of questions were asked after the event. The picking up of extra, as it turned out very unlucky, passengers from another ship delayed their departure and increased the risk of U-Boats having time to get into position. The black smoke poured from only three of the four funnels, which cut the speed of the ship from 25 knots to 21 knots, but saved 1600 tons of coal, a money saving decision made by Cunard due to fewer people risking the trip than normal. This reduction in engines also added a day of travel. Turner did not use a zigzag motion once he reached U-Boat infested waters. The biggest question which didn't receive enough attention or consideration was where was the Royal Navy? They should have been escorting the liner once it was this close to the Irish coast. Change one thing and the Lusitania would not have sunk on this trip.Turner came under heavy criticism, even from Winston Churchill himself, but was eventually cleared of all wrongdoings. Schwieger, if he felt any remorse for killing so many innocent people, never shared it. He did sink the most tonnage so bully for him. I hope he got a f**king plaque.I, for many years, like many Americans, thought that the sinking of the Lusitania was the impetus for getting America in the war. America did not enter the war for another two years. The reason given, other than the moral reasons for coming to the defense of our cousins in Britain, was the famous Zimmermann telegram. Larson also threads through the plot the trials and tribulations of Woodrow Wilson as he tries to convince Edith Bolling Galt to marry him. You would think the poor woman wore bacon underwear the way he convorted after her. So many things had to go wrong for the Lusitania to come under the cold, calculating eyes of Schwieger and the gunsights of U-Boat 20. All of them lined up, even the final blow when Turner shifted directions at the perfect moment to give Schwieger the angle he needed. It is a compelling story told by a veteran writer who knows how to pace and weave a story that, even when you know the outcome, you can't help but throw your bag together, hop up the gangplank, and marvel at the devil in the details. The wreck of the Lusitania at the bottom of the ocean.If you wish to see more of my most recent book and movie reviews, visit http://www.jeffreykeeten.comI also have a Facebook blogger page at:https://www.facebook.com/JeffreyKeeten

Dead Wake is named a 2015 notable non fiction book by the Washington PostThe track lingered on the surface like a long pale scar. In maritime vernacular, the trail of fading disturbance, whether from ship or torpedo, was called a "dead wake."On May 7, 1914, only a few years after that most famous of ocean-liners had had an unfortunate encounter with an iceberg on its maiden voyage, RMS Lusitania, popularly referred to as "Lucy," having already crossed the Atlantic dozens of times, this time carrying 1,962 souls, was sunk by a German U-boat off the Irish coast. Almost 1200 people perished. Erik Larson casts his perceptive eyes on the event, looking for explanations. Why was the ship sunk? Had it been possible for the ship to have avoided its fate? What were the global circumstances at the time and how did those effect the disaster? Who and what was on the ship? Why? What was the big deal about the Lusitania? Other ships had been sunk by U-boats during this conflict. How did the sinking of the Lusitania affect American entry into The Great War? The New York Times headline - From PBS We all have preconceptions, notions that hardly seem worth examining. I expect for most of us, the details of the sinking of the Lusitania are clouded by the fog of time. We might believe that, as with the sinking of the USS Maine in Cuba, the national response was immediate and violent. Turns out the reality was far different. Artist rendering of the sinking - from Cinewiki.wikispaces.comLarson looks at events in several threads. Mostly he follows the events on the Lusitania and on the German sub (U-20 - U-boat is an abbreviation of Unterseeboot, or undersea boat) that would bring it down. In parallel, he looks at the politics involved in, not so much the causes of World War I, but in the stages between the commencement of hostilities and the eventual drawing of the USA into the war. He looks at the milieu in which American president Woodrow Wilson existed, politically and personally. He looks at the people involved in making tactical decisions, and at a special, secret intelligence gathering location in the UK. He stops, also, for a look at the sad accumulation of the victims in Ireland.Larson offers a view of the Lusitania that might not be obvious to those of us looking back a hundred years. We might, for example, think of it as a relatively slow moving ocean liner, but it was the fastest civilian ship of its time. Its exceptional speed was a major selling point. There is plenty more detail about the ship, the different sorts of lifeboats, with their potential benefits and downsides, the unusual hull it used. Lucy carried a relatively inexperienced crew, due to so many able-bodied seamen having been drawn into the military. New, unusual life vests were used on the ship, and training in their use was lacking, as was training in using the lifeboats. The sinking was used for recruiting – in Britain and the USAOn the other side, it is remarkable how fragile U-boats were, and the limitations they faced in pursuing their mission. Larson offers us a look aboard the sub that did the deed, captain's log and all. How fast were these boats? What was their range? What was their mission, their command structure? What was the physical environment like for submariners? What could they not do? Where could they not go? How did they keep in touch with their land-based command? What were their orders? What was the mindset of the captain, of his crew? Lots to look at here, eye-opening stuff. Don't sign me up for life on a sub. The wrecked U-20 after a failed attempt to scuttle - from Lusitania.netAnd of course there was the interaction between militaries. How did the allies cope with the very effective plague the U-boats presented? Could they track them? If so, how did they track them? What were the capabilities of the super-secret Room 40? What was the decision process the German command used in deciding how to use this powerful weapon? Room 40 - from Lusitania.netOne thing Larson does is follow the narrative of several of the passengers aboard the big boat. This brings the disaster away from technical details to actual human experience. You will get to know some of the passengers, and learn their fates.There is a wealth of information in Dead Wake. For example, the biggest surprise for most readers, and perhaps the most controversial element in the book is the suggestion that Britain did not exactly do all it might have to protect Lucy from enemy attack, as there were some at the highest levels of government who believed that such an event might hasten the enlistment of the USA into the war. There were other factors for sure that contributed to why Lucy was where she was when she was, but most of those lack the bitter flavor of dark calculation. And maintaining the sour taste is a description of how shameless members of the admiralty sought to evade personal responsibility for the sinking by pointing fingers at a designated patsy. Despite the denials all around that the Lusitania was purely a civilian ship, the fact was that it was carrying a considerable supply of military materiel for use against Germany. Lucy would most definitely have had some 'splaining to do' had it been known that supposedly neutral America was using her as a military transport to support the Allies. Erik Larson - from New Hampshire Public RadioThere is plenty of drama to go around here. Even though we know what will happen, Larson succeeds in instilling tension into the coming together of Lucy with her killer. The descriptions of life aboard the sub are compelling; information about the physical realities of the Lusitania is fascinating, and looking at the probable decision-making involved is enraging. This is not to say that there are no rents in the hull taking on a bit of the briny. While it seemed clear that tracking individual passengers was intended to take the story from an emotionally removed overview down a bit closer to sea level, I found that most of these passages were not all that engaging. It also seemed not entirely clear that Woodrow Wilson's domestic situation was necessarily all that important in his reluctance to bring the USA into the war.On the other hand there are bits that are depressingly resonant with more contemporary outrages, as left hands not keeping right hands informed of their actions contributed to the ultimate catastrophe. Information that could have identified a sub in a shipping lane was available, but was not put together in time. Very reminiscent of 9/11. Our species certainly seems well practiced in learning nothing from history. One contributing factor was a corporate cost-cutting measure that kept Lucy from making her best time across the Atlantic. Had she been allowed to use all four of her boilers instead of only three, she would never have encountered U-20. The Deepwater Horizon disaster, and many more such incidents remind us that pursuit of the almighty dollar/pound/euro/(insert your currency here) will always be assigned a higher value than human life or the safety of the environment for many of the people making such decisions. President Wilson and First Lord of the Admiralty Winston ChurchillGermany actually posted newspaper notices in American newspapers, before the Lusitania set sail from New York City, that all ships entering what was considered a war zone were at risk of being sunk. It would not be the last time clear messages of intent from Germany would be ignored to our everlasting regret. Dead Wake is a wonderful piece of writing, not only diving down into details of what is probably a murky subject for most of us, offering a greater understanding of the physical event, but providing a context within which we can achieve a greater understanding of the causes and implications of the sinking of the RMS Lusitania. As a bit of historical reporting is it definitely a case of "Damn the torpedoes, full speed ahead."Review posted – 7/3/15Publication dates-----3/10/15 - hardcover-----3/22/16 - paperback=============================EXTRA STUFFLinks to the author's personal, Twitter and FB pagesLusitania Online is a wonderful source for all things LucyVideo from the National Archives of passengers arriving and Lucy embarking on its final voyage- the first 1:50 is mostly people getting out of cars, so feel free to skip ahead a bitA 1918animation of the sinking Arthur Conan Doyle's storyDanger! was written about 18 months before the outbreak of WWI. It anticipated in considerable detail the submarine warfare to come. You can read it on Gutenberg. In the preface to the 1918 collection in which it appears, Doyle noted that he attempted to present his notions to the government, noting that he:…did indeed adopt every possible method, that he personally approached leading naval men and powerful editors, that he sent three separate minutes upon the danger to various public bodies, notably to the Committee for National Defence, and that he touched upon the matter in an article in The Fortnightly Review. In some unfortunate way subjects of national welfare are in this country continually subordinated to party politics, so that a self-evident proposition, such as the danger of a nation being fed from without, is waved aside and ignored, because it will not fit in with some general political shibboleth. If this reminds you at all of Bill Clinton and Richard Clarke trying to warn the incoming Bush administration of the danger presented by Osama bin Laden, it should.

Larson writes wonderful narrative non fiction, and in this book he has surpassed his own self. The amount of research that went into this book is staggering. It doesn't just cover the bombing of the Lusitania, it covers everything going once at the time and more.What it is like inside a submarine, the roles of the crew members, how it feels and even how it smells. president Wilson's grief at the death of his wife and his courting of his second wife. The career of the Captain of the Lusitania and the quirks in his personality. What the ship looked like, inside and out, the decorations, the food, the labor involved. The passengers, the famous and those not. The politics of the day, what secrets were known when and how. It is extraordinarily detailed but I was never bored, found it all fascinating. So much history set down for me to enjoy.There is only one Larson book I was not crazy about, that one remains half finished, but this is an author whose books I buy to reread and savor. By the end of the book, I had a clear and concise picture of so many things I had never knew before. Also had gotten to know some of the people on the ship and was devastated that some of them were the ones who died. A horrible tragedy bought to life, to be remembered and learned from, if only. Amazing.

This reminded me a lot of the movie Titantic not just because it's about a disaster at sea, but also it would have been a lot shorter and better without the romantic subplot. Only in this case it was U.S. President Woodrow Wilson and Edith Bolling Galt instead of Leonardo DiCaprio and Kate Winslet. Although I gotta admit that the scene when ole Woody sketched Edith in the nude was pretty hot…..Wait. I might have mixed something up there.This is part of the continuing trend of Erik Larson's books for me. He has this weird knack of being able to write something that is about 50% interesting, but the other 50% always seems like it's him stretching to tie some other kind of element to give it a hook it doesn't really need. He can't just tell us the story behind the 1893 World's Fair, he has to make half the book about a serial killer. (Some people would tell you that it's vice versa as to what's good about that one). Or instead of doing a non-fiction pop history novel about the invention of the wireless by Marconi, he had to tie it into the capture of a famous murderer of the day. Giving a day-to-day account of living in Nazi Germany wasn't good enough so he had to put half the focus on a promiscuous American woman and her boring father in Berlin.So this time out we've got the sinking of the Lusitania, a fascinating historical event about which many intriguing questions remain to this day, and yet a good chunk of this book is spent detailing how President Wilson found love again after the death of his first wife. If this was a book about Wilson, or if it was some kind of deep dive into his response to the attack where knowing his mindset at the time is critical to the story, then I might understand why so much time is spent on detailing how the two of them met and how their courtship progressed. However since none of those things really matter I had that that same feeling while reading that I had when watching the aforementioned Titantic: Quit falling in love and hit the damn iceberg already. (Only it's a German U-boat instead of a chunk of ice this time.)As usual with the parts I actually care about Larson does a pretty decent job of creating narrative history to give us a vivid account of what life was like for the passengers and crew of the ship as well as the Germans on the submarine. He also gives us a good idea of the touchy political situation that existed between the various nations involved because of World War I. He does seem to prefer doling out trivia and anecdotes rather than dealing in any meaningful way with the bigger questions of the event. The conspiracy theories about why England didn't do more to protect the ship and speculation about the what caused a secondary explosion after the torpedo hit are barely touched on, but at the same time I know what kind of wallpaper was in the reading salon on board. Or I learned that Woody and Edith ate chicken salad on their wedding night, but nothing is said about the critical role she later played in his administration after he suffered a stroke later.It's not bad, but it's also a fairly shallow look that seems more interested in telling you what happened rather than really digging into the questions of how or why it did. It's like the Hollywood screenplay version of history. With romance!

When I came across a radio interview with Erik Larson, talking about his new Lusitania book, Dead Wake, I knew I had to have it. I was excited. Like, I'm going to buy this on my phone as soon as I park my car excited. As many of you know, I'm deep into a World War I reading project. I've collected so many new titles that my kids are never going to college. The Lusitania sinking was a moral turning point in the war. It turned American opinion inexorably against Germany. It also sowed no small amount of disarray in German submarine policy. It is not quite the Pearl Harbor it is made out to be, but it is immensely important. Thus, the Lusitania is a required topic in WWI studies. (Also, it should be noted, I am a Titanic buff, and the Lusitania sinking is a close cousin in the disaster family). So there was no doubt I'd read this book. That didn't mean I expected to love it. A couple things gave me pause. First, I am not an unabashed Larson admirer. I liked Isaac's Storm, his book on the Galveston hurricane, but I liked it in the sense that I like the sandwich I eat for lunch every day. That is to say nourishing, but nothing to sing from the rooftops. I was also a bit worried by his guileless admission to knowing next to nothing about the Lusitania when he started researching the book. It's foolish to expect a person to be an expert before he starts his research, but his lack of basic knowledge (such as the fact that the ship sank in 1915 and American did not enter the war until 1917) gave me pause. I didn't want to read some hasty work of dilettantism meant to capitalize on centenary interest of the lost liner. My worries were for naught. This is, in fact, an excellent book. It is not the definitive account of the Lusitania (I think Diana Preston's book is more thorough), but it is far and away the best. Every book about a sinking ship is eventually compared to Walter Lord's A Night to Remember. It is a natural law. Nothing can exceed Lord, of course, but Larson does a damn fine imitation. The Titanic sank at a stately 2 hours and 40 minutes after striking an iceberg on April 14, 1912. That lengthy time-period is part of the reason for the many dramatic retellings. Everyone on board that doomed vessel had time to take a breath, look hard into their own soul, and decide what kind of person they were. Managing Director J. Bruce Ismay stepped into a lifeboat. Isidor and Ida Strauss did not. Whatever else their decisions meant (life or death, chiefly), they are godsends to the dramatist interested in the human ability to flourish or crumble under duress. The Lusitania, on the other hand, was hit by a single torpedo fired by the German submarine U-20 on May 7, 1915. The impact caused incredible damage, heightened by mysterious sympathetic explosions (coal-dust or burst steam pipes, most likely; almost certainly not munitions) that destroyed the Lusitania's steering and power. The ship was locked into a turn with the propellers still churning forward. She sank in eighteen minutes while developing such a severe starboard list that her starboard boats swung far away from the decks, while the portside boats couldn't be lowered because they were flush against the hull. The evacuation was a disaster, compounded by the loss of many trained crewmembers to the navy. There was no order, no law, no "women and children first." The ship sank within sight of land, but in terms of help, they were so far from civilization they might as well have been on the Moon. 1,198 people died: 1,195 passengers and crew, plus 3 German stowaways. (There was a large percentage of kids on board, including infants. In terms of standing a chance at survival on that tilting, plunging deck... It might be best not to think about it). The chaotic nature of the sinking makes for a difficult narrative. Larson solves this problem by paring down his scope to focus on just a handful of people, chief among them the Boston bookseller Charles Lauriat, the female architect Theodate Pope, and crewmember Leslie Morton. He also chooses to mostly ignore the better-known personages. For instance, Alfred Vanderbilt, the ship's most famous (and wealthy) passenger, rates only 6 mentions in the index. Larson also spends a great deal of time with Captain Turner, the Lusitania's master – like Captain Smith, an old sea dog who never learned a new trick – and the U-20's commander, Walter Schwieger. Oddly, Larson also devotes an inordinate amount of space to President Woodrow Wilson and his burgeoning love affair with Edith Bolling Galt. He quotes extensively from Wilson's moony letters. In a different book, say, a biography of Wilson, this would make perfect sense. Here, it's just a needless distraction. The space could have been better served by finding another passenger to follow. (Or with some freaking pictures! How does a major release like this not rate an inset?)Dead Wake is structured like a suspense thriller. Larson utilizes short, punchy chapters that cut between Wilson's maudlin romance in Washington, D.C.; the intelligence operatives in Great Britain's secret Room 40; the curmudgeonly Captain Turner and his wealthy passengers on the Lusitania (this is the second Lusitania title I've read in short order that ignores the very existence of steerage passengers); and Captain Schweiger and his crew of the small but formidable U-20. The scenes set aboard the U-20 are among the book's best. Larson admits to enjoying this part the most during the writing and research process, and it shows. He fills these sections with pungent, tactile details about the cramped conditions, the myriad dangers, and the many horrible smells a WWI submariner faced. First there was the basal reek of three dozen men who never bathed, who wore leather clothes that did not breathe, and shared one small lavatory. The toilet from time to time imparted to the boat the scent of a cholera hospital and could be flushed only when the U-boat was on the surface or at shallow depths, lest the undersea pressure blow material back into the vessel. This tended to happen to novice officers and crew, and was called a "U-boat baptism." The odor of diesel fuel infiltrated all corners of the boat, ensuring that every cup of cocoa and piece of bread tasted of oil. Then came the fragrances that emanated from the kitchen long after meals were cooked, most notably that close cousin to male body odor, day-old fried onions.The attack on the Lusitania and her sinking is told in vivid, lucid prose. That first turmoil, that first bubble of foam, was the expulsion of compressed air from the submarine's launching tube as the torpedo exited. The torpedo itself was 20 feet long and 20 inches in diameter; its nose, shaped like the top of a corn silo, contained 350 pounds of TNT and an explosive called Hexanite…It moved at about 35 knots, or 40 miles an hour, powered by compressed air stored in a tank toward its nose, just behind the compartment that contained the explosives. The air rushed against the pistons in its engine, geared to spin two propellers, one clockwise, the other counterclockwise, to keep the torpedo from rolling and veering…As the torpedo advanced, the water rushing past its nose turned a small propeller, which unscrewed a safety device that prevented detonation during storage. This propeller slipped from the nose and fell to the sea bottom, thereby exposing a triggering mechanism that upon impact with a ship's hull would fire a small charge into the larger body of explosives…The track lingered on the surface like a long pale scar. In maritime vernacular, this trail of fading disturbance, whether from ship or torpedo, was called a "dead wake."I mentioned above that Larson focuses his narrative on a small number of passengers. Before the sinking he spends a great deal of time on their biographies; a lot of this detail feels mundane and misplaced. You might wonder why you have to learn so much about Charles Lauriat's bookselling business. Well, the payoff comes when Larson shifts into the Lusitania's final agony. You are very much invested in the stories of the passengers and crew struggling to survive because so much time has been devoted to them. (It's strange, but I when I read, I generally feel a stronger emotional connection to fictional characters than to actual historical people, because fictional characters are given more detail, more life. Nonfiction personages often come across like the stone monuments that now memorialize them. Larson does a good job of making real people seem, well, real). I've now got several Lusitania books under my belt. I didn't learn anything new in Dead Wake. Indeed, there is more information to be found in other sources. However, this is by far the most compelling, the most riveting presentation of this story, and also one of the better works of history I've read in awhile. Whether you're a World War I buff celebrating the centenary, or a casually interested reader laying beneath the sun while on the deck of a hopefully-non-sinking cruise ship, this is a great choice.

"The Devil is in the detail"and Erik Larson's Dead wake : The last crossing of the Lusitania is certainly packed full of detail but details that for me made this book such a worthwhile read. Living in Ireland I thought I was informed through history classes in school of the events surrounding the sinking of the Lusitania off the cost of Kinsale Head in Co. Cork however I was surprised by the information I gained by reading Dead Wake. Published to coincide with the 100th Anniversary in May of this great Maritime tragedy I think this book will inform a whole new generation about a tragedy about an important event in History.The book is extremely well researched and supported by extensive references and notes. I read this book on my kindle and was delighted to see that by clicking on a number I was taking to a link providing me with the source of a fact, statement or piece of information. I enjoyed reading about the luxury of the ship as opposed to the dreadful conditions of the Submarine and felt I really got a feel for how difficult life on board a sub could be in times of war. There is an air of suspense throughout the book even though we know the outcome the author manages to hold our attention and keep us engrossed. We also learn a little about the passengers on board the Lusitania but I never got emotionally attached to the characters and this worked well as the book was about facts and events and providing the reader with enough information to form an opinion as to how a ship like the Lusitania ended its voyage in such tragic circumstances. This is a book for readers who have an interest in books about war and events in history. It's well written and researched and I came away feeling I had learned something new. I will certainly check out some more reads by this author as this was an engrossing and informative read.

Excellent Retelling of the Sinking of the LusitaniaI don't read a lot of nonfiction.But Erik Larson's books read like novels.He's an excellent writer. He choses historical events that contain a compelling story. He fills the books with details that bring the time, place, and people to life. He does an enormous amount of research.I loved Larson's The Devil in the White City: Murder, Magic, and Madness at the Fair that Changed America, a story about the Chicago world's fair and the convergence of two men, one the fair's architect, the other a serial killer.So when I saw he'd come out with a new book, I got hold of the audio as soon as I could get it.The story was not quite as compelling as The Devil in the White City: Murder, Magic, and Madness at the Fair that Changed America. Perhaps in part this was because there were stories about many people instead of the focus on the two main characters as in The Devil in the White City: Murder, Magic, and Madness at the Fair that Changed America. Still, Larson did his usual excellent job.And of course, since I live in New York City, I am fascinated by NY City history. Larson covers the last voyage of the Lusitania from the beginning.He starts with the preparation of the ship for launch from Pier 54 at Little West 12th Street and the Hudson River (it's now used for concerts). The West Side Highway now adjacent to Pier 54 didn't yet exist in 1915, the year the Lusitania went down.It's fascinating and the reader feels like he or she is right there with the passengers as they board with their huge and unwieldy trunks and their elaborate travelling outfits.The German government placed a warning advertisement in fifty U.S. newspapers in April, warning that Germany was at war with Britain and that the safety of those travelling on trans-Atlantic crossings could not be guaranteed.However, no one took the German warnings entirely seriously. First of all, the previous rules of engagement had dictated that ships carrying civilians could not be attacked. Also, Cunard, the owner of the Lusitania, stood to lose a lot of money if it cancelled its trans-Atlantic voyages. Tragically, there were more children and babies on this voyage than usual.Also, in an ironic twist of fate, another ship, the SS Cameronia, which was supposed to embark at around the same time as the Lusitania, was commandeered by the British Navy for its war effort, so its 41 passengers were transferred to the Lusitania at the last minute.The ship launched (a bit late for various reasons) on May 1, 1915.Larson details the trans-Atlantic voyage, which was largely pleasant and uneventful until the fateful day of May 7, 1915, The ship was headed for Liverpool, England.Its captain, William Thomas Turner, was a capable and experienced sea captain. Larson also reconstructs the viewpoint of the Captain of the German U-boat, U-20, that sunk the Lusitania on May 7. This man, Kapitänleutnant Walther Schwieger, was a talented and dedicated captain, intent on sinking neutral or enemy ships, as this was his job. He was also, apparently, a good man. He was heartsick when he realized that women and children died in droves when the Lusitania sank. U-20 hit the Lusitania with a single torpedo on May 7 a little after 2 pm a few miles off the Irish coast. The ship sunk in about twenty minutes. There was also a second explosion onboard, presumably caused by steam pipes on the ship.More than a thousand lives were lost.Several famous people died in the wreck, including Alfred Vanderbilt, who reportedly gave his life jacket to a mother with a child, even though he couldn't swim; writer Elbert Hubbard, known for A Message to Garcia; and theatrical producer Charles Frohman.Larson follows the stories of several lesser known passengers, some who survived, others who didn't. For example, he follows Richard "Preston" Pritchard, a handsome and popular medical student who apparently died in the sinking. Connecticut resident Theodate Pope survived. She was one of the first female architects in America. She was also involved in spiritualism and possibly in theosophy. Her companion on the voyage, Edwin Friend, was lost at sea.The Lusitania was sunk at a time of greater faith. I was amazed how many facing death were sustained by their spiritual faith and were able to be calm while dealing with disaster. Many survivors reported mystical experiences while waiting to be rescued.However, in other ways, things haven't changed much since 1915.I found it interesting that the authorities (in particular Winston Churchill) tried to pin the blame for the sinking on Captain Turner. However, there was an inquest in which Turner was exonerated.I don't think that brave man, who did survive, was in any way responsible. He stayed with the ship until its last moments.Here are some telling facts:The Lusitania's speed was limited to less than the 25 knots per hour of which she was capable because Cunard Lines required Captain Turner to cut costs by using only three of Lusitania's four smoke stacks. If the ship was running at top speed, perhaps she could have outrun the U-boat. Although the British knew that U-20 was quite close to the Lusitania, they never warned the ship because they were concerned about revealing their secret operations for decoding the German's encoded messages.By the time the Lusitania received a message about U-20 it was too late.Although the Lusitania had been promised British warships to escort it, those warships never showed up. The Brits had already lost some warships to an earlier torpedoing, and apparently they didn't want to risk losing any more battle ships.The designers of the collapsible boats did not test them to make sure they were easily deployed in an emergency. Apparently the boats were not well designed. Captain Turner did conduct at least one drill with the crew for deploying the boats, but Cunard did not focus on passenger safety in the event of an emergency.No one believed that the Germans would actually sink a passenger boat, as this went counter to previous rules of engagement.One wonders whether the British government deliberately allowed the Lusitania to be destroyed to force America to enter World War I. As it happened, U.S. President Woodrow Wilson did in fact bring the U.S. into the war shortly after the destruction of the Lusitania.In any case, Scott Brick is the ideal audio reader for this type of material. His expressive voice brings Larson's writing to life.Update.. I heard Larson speak liveUpdate: I saw Erik Larson speak on February 2, 2016.. He was as engaging and interesting a speaker as he is a writer... But he was funnier and more charming in person.

Wow....This is an all-embracing historical heartbreak story....a tragedy that could have been avoided. The seas were a war zone ..Right from the start, we learn that their were delays leaving New York...( America was not yet at war yet in May, 1915, against Germany). Red flag warnings were everywhere. They were suppose to run the ship on 4 engines, but got by with 3. The German government warned Americans that traveling on trans-Atlantic wasn't safe. Other safety conditions like respect for fog were ignored. Nobody was taking warning signs serious....let alone be preventive- in - the areas of 'all' safety, to the level we would expect. It's painful to see ( now, in hindsight), all the many corrections that would have saved thousands of lives. (more babies onboard than usual, too)!....This non-fiction book reads like fiction!!!! I WISH IT WAS! Unfortunately ...these are true events. All the events leading up to the ships final crossing was energizing. I found it absolutely fascinating reading the details about the ship - the submarine - William Thomas Turner, ( his professional growth to well respected and qualified Captain of the Lusitania), and his personal life at home. It was especially fascinating hearing from the people who survived..... and sad to learn which characters didn't. Eric Larrson's detail descriptions were extraordinary!!! - the ship- the crew- the submarine- the passengers- ...the suspense in which the story unfolded...Mostly I'm left with sadness at how many opportunities were missed... making this tale all the more tragic!!!! *This story is powerful as "The Devil in the White City"....( both stories will be hard to ever forget) I also enjoyed "In the Garden of Beasts"....(3 for 3)... I guess I'm a fan of this author...and I didn't even know it! How'd that happen? lolTalented authors ... gotta love em!!!

Stuffed with details. Are there too many?I continue.******************************************I feel guilty giving this book only three stars, but that reflects my honest reaction. It is interesting. It is accurate. It is extensively researched. It is about an event, the torpedo sinking of the British steamship passenger liner, the Lusitania, in 1915 by a German submarine. The death toll came to 1,198 persons, including passengers, crew and 3 German stowaways. There were 1,962 on board. Only 764 survived. It is less about the people involved in the catastrophe, even if many details are given. The only person I came close to understanding was the captain of the Lusitania, Captain William Thomas Turner, but not the U Boat captain. He did not survive the war, as Turner did, so what we learn about him is predominantly through his logbooks, wireless messages and a few words from acquaintances, one being his fiancée. I can in no way say that Larson's research is lacking. If anything I would have preferred that he edited out some of all the details presented. I don't need to know a passenger's ticket number or that Mr. X wore a pink vest or the dimensions of a book brought on board. I believe Larson was trying to recreate the atmosphere on the boat, and he certainly did, but the details were excessive.There are parts about President Wilson's sorrow at his wife's death and his subsequent love affair. I found this thread scarcely relevant and annoyingly told. This book is written in such a manner as to increase suspense and excitement. The story follows several threads. As suspense mounts in a thread you switch to another. Over and over again, with increasing rapidity and shorter and shorter episodes. Like all the ads to you get at you near the end of a film on TV.The second half of the book which describes the sinking is more engrossing. In this section there is also a discussion of blame. This too was fascinating. Who was most at fault? The captain because he didn't zigzag and didn't follow a course further from shore? Or did they simply need an easy scapegoat to divert suspicion? Or the British Admiralty? Why wasn't the Lusitania given an escort? The Admiralty had thorough knowledge through secret decoding information. Or the Cunard Line? Should they be blamed? It was them that ordered Turner to only use three of the four boilers, thus lowering the liner's speed, making it more susceptible to submarine attack. Many passengers chose the Lusitania because of the boat's speed. They were not informed that the speed had been lowered. Or was there a conspiracy plot to draw America into the war? Yes, the second half is much better than the first half. Maybe the book deserves four stars for the latter half. I liked the book but I didn't REALLY love it, so I stick with my three stars.The audiobook is narrated by Scott Brick. Everybody loves this guy, but I don't. The tempo is slow, exaggeratedly slow. Why does Brick do this? To increase suspense, to keep the listener hanging. This is not to my taste, but you may love it.

Onvan : Dead Wake: The Last Crossing of the Lusitania - Nevisande : Erik Larson - ISBN : 307408868 - ISBN13 : 9780307408860 - Dar 430 Safhe - Saal e Chap : 2015

This is a fascinating book about the sinking of the Lusitania, the British ocean liner that was torpedoed by a German submarine in May 1915. Nearly 1,200 people died, including 128 Americans. I didn't know much about the Lusitania before I read this book, but I should have because it was one of the critical events that pushed America to enter World War I.What Erik Larson does well is to put the Lusitania event in the context of history: the reader gets a good sense of what was happening in the war, and we understand why the attack on a civilian passenger ship was so shocking. There is also an interesting discussion on the role of the submarine, which was a relatively new kind of boat. Additionally, Larson gets into the historical What Ifs. What if the Lusitania hadn't been delayed when it launched? What if the British had sent a destroyer to escort the ship through waters that were known to contain German U-boats? What if it had been foggier that day? What if the torpedo had failed, which was a common problem? And most importantly, what if British officials deliberately let the Lusitania be vulnerable to attack, in the hopes it would push America into the war? The first half of this book sets up the events that conspired to put the Lusitania in harm's way, and the second half is a tick-tock of the day of the attack. We see things from the perspective of both the U-boat crew and from the British captain, and Larson also writes about what the Lusitania passengers were doing at the time. While reading, I was struck by the amount of research Larson compiled here in an almost effortless fashion. His narrative is strong and compelling.My only quibble with this book is Larson spends too much time on U.S. President Woodrow Wilson's love life; his wife had died in 1914, and he eventually falls in love and marries another woman. Some of the Wilson scenes went on too long and made me anxious to get back to the Lusitania story.But overall, I enjoyed learning more about the Lusitania, and this book fit nicely into my ongoing reading about World War I. Highly recommended for history readers.

Book 1 for 2016.Erik Larson strikes again only this time with the speed and grace of a scythe. Tackling a not that well-known maritime incident, he takes us right into the cauldron of this major event of both United States and World History albeit looking at it from a myriad of different viewpoints in a sort of Rashomon-type retelling of the sinking of the Lusitania, the impetus for America's belated entry into the Great War.Taking place just three years after that other "night to remember" when yet another great liner sunk quickly below the waves, our story begins in the last days of April, 1915 at the outset of what would turn out to be the 201st (and final) transatlantic crossing of the Cunard liner Lusitania. Setting the scene of actual world events as the ship leaves New York harbor, Larson delves deep into the complex back stories of not only the ship's captain but the German submarine commander who would ultimately end up being the person responsible for firing the torpedo that inflicted the fatal blow to the ship itself. Various passengers aboard the Lusitania are described (some at great lengths) and even the relationships of world leaders such as a very young Winston Churchill and United States President Woodrow Wilson are studied in depth as to their roles within the greater story itself.At times somewhat disjointed, the story itself is told at a brisk enough pace to keep the reader interested and the pages turning at a fast clip. Most chapters are three to four pages in length. Unlike the Titanic disaster, with the Lusitania my interest was never quite piqued enough to actually care/have feelings for the passengers and crew of the ship. Thus my reason for not a full five star rating. I went away certainly feeling bad for what they had to go through, but my heartstrings were not as pulled as much as when certain EdwardIan era individuals suddenly find themselves adjusting to the fact that life itself may be over and they may very well find themselves trying to stay both alive and afloat in the frigid waters of the North Atlantic. Here the time from impact to sinking was a mere eighteen minutes. The Titanic's death rattles went on for a little over two hours. However, I found the exposition on the lead up and background to World War One and the detailed description of the German submarine leadership and it's role/part in the war absolutely fascinating. In conclusion, I strongly believe that this will be the book that will be the definitive one on this tragedy for years to come. Very well done Mr. Larson.ORIGINALLY PUBLISHED IN 2015.

The Hook - Many years ago I read A Night to Remember by Walter Lord about the tragic sinking of the unsinkable Titanic. After this I'm certain I read a book about the Lusitania though for the life of me I can't remember if it was fiction or not. When I heard that one of my favorite authors, Eric Larson was going to cover this subject in Dead Wake: The Last Crossing of the Lusitania I was in. My sincere thanks to the publisher, Crown, for trusting me with an e-galley of the pre-published work. The Line – One passenger, Dorothy Conner, bored with the monotony of ship life made this remark during a meal in the first-class dining room. "I can't help hoping that we get some sort of thrill going up the Channel."This seems an awful example of "be careful what you wish for".The Sinker – There is so much detail in Dead Wake that it was hard to decide what to cover in this review. I found myself underlining passage after passage of fascinating facts and passenger memories. I won't quote many here as I'm hoping you'll decide to read the book. I knew some things about the ill-fated Lusitania but learned a great deal more in my reading of Dead Wake. His style is smooth, thoughts and ideas easily flowing from page to page, never boring me. The Lusitania, like the Titanic, was unsinkable and yet it did. Larson gives us just enough explanation of the ship and events that led to this incident that by book's end I could hold my own in a conversation on the subject. I never felt I was being taught a history lesson. He sets the scene well in the opening pages with descriptions of the ship allowing the reader to see it in all its magnificence and gives one the feeling of being a part of the voyage. He often quotes references to its distinctive four tunnels that would allow no mistaking it with other ships."From the first the ship became an object of national pride and affection. In keeping with Cunard's custom of naming its ships for ancient lands, the company selected Lusitania, after a Roman province on the Iberian peninsulas that occupied roughly the same ground as modern-day Portugal. "The inhabitants were war-like, and the Romans conquered them with great difficulty," states a memorandum in Cunard's files on the naming of the ship. "They lived generally upon plunder and were rude and unpolished in their manners." In popular usage, the name was foreshortened to "Lucy".There was nothing rude or unpolished about the ship itself. As the Lusitania departed Liverpool on its first transatlantic run in 1907, some one hundred-thousand spectators gathered at various points along the Mersey (pronounced Merzey) River to watch, many singing "Rule Britannia!" and waving handkerchiefs. Passenger C.R. Minnitt, in a letter he wrote aboard ship, told his wife how he climbed to the highest deck and stood near one of the ship's four towering funnels to best capture the moment. "You do not get any idea of her size till you get right on top and then it is like being on Lincoln Cathedral," Minnitt wrote. "I went over parts of the 1st class and it is really impossible to describe, it is so beautiful.""You could see the shape of the four funnels," said the captain Thomas M. Taylor; "she was the only ship with four funnels."From those first pages of this 1917 sailing of a grand ship to the very last of the actual torpedo that tragically hit its mark leaving 1,195 dead and 764 surviving, this is narrative non-fiction at its best. A minor criticism is that I wish Larson had included a list of websites separate from their inclusion in his notes.

Informative: My first Erik Larson novel turned out to be quite the educational experience beginning with the significance of the title DEAD WAKE.....the disturbance (or track) a torpedo leaves behind on the water in route to its destination....and, I also now know that of the Lusitania's 1,959 passengers and crew on board May 7, 1915, (nearly 100 years ago) only 764 survived...600 were never found and 123 American's were among the dead. (three German stowaways also perished)Interesting: Larson's work of non-fiction captures the day-to-day activities of various passengers as well as the Lusitania's competent and brave Captain William Thomas Turner and the aggressive, villaneous German predator of the U-20 submarine, Captain Walther Schwieger who repeatedly targeted innocent passenger liners and merchant ships to destruction.Maddening: As you will see, there were many variables that could have changed history and averted this horrific disaster.....(view spoiler)[ departure delays....fog....orders for reduction in speed....lack of a naval escort thru known dangerous waters....the recalled rescue ship so close at hand, and....worst of all, the Room 40 cover-ups that could have saved so many lives. I found it maddening that Captain Turner ended up being the scapegoat when obviously the British Admiralty held a greater degree of fault. (hide spoiler)] I was also left with a rather disappointing opinion of President Wilson (view spoiler)[ for waiting two long years to take evasive action against Germany even after numerous ships were attacked with American lives lost. (hide spoiler)]While an extremely enlightening and educational read in many respects, I did not feel much of a connection to the characters or the distress and panic of the moment....there was almost a calmness in the telling. Anyway, still a GREAT historical read that I would highly recommend! 4.5 Stars

Everybody loved this but me! I'm flashing back to The Martian. I found this extremely boring and painful. A tragic story and very well-researched, but this one did what no other book before it has done...it actually put me to sleep. I fell asleep while reading. Enough said. Zzzzzz. 2 stars.

"As I began reading into the subject, and digging into archives in America and Britain, I found myself intrigued . . . In short, I was hooked." Most everything I knew about the Lusitania/WWI (gleaned from public school and collegian textbooks) has turned out to be watered down half-truths, at best. After reading "Dead Wake" I could almost hear Paul Harvey saying, with a nod of approval: "Now you know the rest of the story." "Dead Wake," is phenomenally superb! It's captivating, insightful, atmospheric riveting, objectively intelligent, easily digestible, and extremely well-written. And I love Larson's inclusion of unique Who's Who nuggets and investigative style: "The ships were full of cadets. Hook, one of them, was fifteen years old and assigned to the Hogue. The ships were old and slow, and so clearly at risk that within Britain's Grand Fleet they bore the name "the live-bait squadron." Hook – who in later life would indeed be promoted to Captain Hook – was in his bunk, asleep, when at 6:20 A. M. he was awakened by "a violent shaking" of his hammock."Whose interests were best served by sinking the Lusitania? Which top official put as much (or more) effort into writing love letters as speeches? Did you know irreplaceable art and literary works were aboard the ship? How many torpedoes did it take to sink the massive luxury liner? Could the Lusitania have been fired upon by mistake based on size and silhouette? Have you ever heard of secreted room 40? Do you think a newspaper warning could have saved lives? Who knew, Christ was on the passenger's manifest? Whether you're an intense scholarly type or simply a "curious-minds-want-to-know" reader, this book delivers: Mystery-thriller – Investigative non-fiction – War games – Politics – Human interest stories – Drama – Espionage - Who's Who of the early 1900's and the headlines they made. A prominent passenger, Elbert Hubbard was "one of the most famous men in America – the soap salesman turned author." He coined aphorisms still popular today. "A friend is someone who knows all about you and still loves you." After reading this book, that's quite a thought-provoking adage, in more ways than one. From stem to stern I was captivated by "Dead Wake" – a stellar five-star top pick for 2015. It took me longer than usual to read it, but only because of my personal time constraints this past week. Otherwise, I would have devoured it in three-days – it's that captivating! I would like to thank Erik Larson, Crown Publishing, and Goodreads; I received this ARC directly from the publisher, free, through Goodreads First-Reads giveaways, with the expectation of writing a fair and honest review. And I would like to make note: the copy I read from was an uncorrected proof, and despite maps, charts, photographs being absent from this proof - it was extremely well formatted, documented, and flawless - not a single typo. I tip my hat to Larson and his Crown team - you've set set the bar of excellence high!

Wrenching and riveting. I'm a big fan of Erik Larson, and he is seriously on top of his game with "Dead Wake." His analysis of all the elements that had to conspire for the ship to sink is at once poignant and smart.

Driving back from a vacation to Tampa Bay followed by having to mow my lawn after 10 days away allowed me to finish this 13 hour audiobook in about 24 hours.Also, it is a Scott Brick audio which is a huge bonus!Larson does it again with an intriguing look into a major event in history. It is well researched and he does a great job integrating other anecdotes of the time to create a picture of America before they joined WWI and the antagonism between England and Germany early on during the war. While I think this book would be best appreciated by someone with an interest in history, there is enough going on here that I think some may be surprised at how much they enjoy it.I will say that even though I did only listen to it, I think some may take in the historical details better listening than reading (kinda like watching and being fascinated by a show on the History channel about something you never thought would interest you)

From looking around at the ratings on Goodreads, I'd gotten the impression that Erik Larson's histories are excellent and read like novels. So I was bit disappointed at just how average and tedious I found a lot of his narrative about the final voyage of the Lusitania. As with James Cameron's Titanic, it didn't really get interesting until the boat started to sink.I guess there's a fine line between context and filler, and Larson tended to err on the latter. All in the interest of "setting the scene," of course. But tangents about the contemporary annual sales ritual over men exchanging winter hats for straw boaters is an example of how the actual point of the story got delayed unnecessarily. Oh, that's right. Suspense. No, it didn't really work for me, since a lot of the narrative delaying tactics read like it had been cribbed from a "events that happened in 1915" page on Wikipedia.More irritating than that, however, was the parallel narratives that ran alongside Lusitania's voyage. As the boat makes its way across the ocean and we get long and repeated glimpsed into the daily life of a passenger aboard ship, we switch back and forth between the UB-20 & its commander, Walther Schweiger (absolutely vital); Room 40, the secret British intel unit monitoring the German invasion of the seas (also pretty necessary, though some of the time the diversions didn't really illuminate much of note); and recently-widowed Woodrow Wilson harboring a needy, excruciatingly clingy case of chronic blue balls for the also-widowed Edith Galt. (WHUT.)Perhaps it was to contrast how Wilson was using the country's neutrality to spend more time on personal issues. Or his attention is emblematic of the entire nation's disassociation from the war abroad. I don't know. All I know is that whenever the story went back to Wilson and his pining courtship of Galt (interspersed with meditative car rides and daily rounds of golf), I rolled my eyes, immediately checked the "__ minutes left in chapter" gauge, and read as fast as I could.The device seemed to mimic the cross-cutting edit technique used by D.W. Griffith, especially in Intolerance, zipping back and forth between different players to ramp up the tension as the climax builds and unfolds, but I didn't find it as cinematically compelling on the page.There's a soapy, trashy novel by David Butler called, unsurprisingly enough, Lusitania. I read it well over 15 years ago, so I can't vouch that it was as awesome as my memory tells me it was. However, I've forgotten scores of books and authors I've read in that time, but that one has lingered. No doubt I'll re-read it to get my cruise liner disaster trash groove on.One memorable moment in Larson's recounting was that one female passenger (and two others) got sucked down into a funnel as the boat submerged and was ejected as pressure changed, covered in soot and nearly naked. Funnily enough, that is one detail from Butler's novel that has always stuck with me. I wondered if it was really true because it seemed so outlandish. Apparently so.I originally rounded up my 3.5 rating, but after letting it percolate for awhile, I'm rounding it down. It really wasn't anything overwhelmingly special.

I couldn't put down Dead Wake, Larson's gripping narrative of the 1915 sinking of the Lusitania. The story shifts from aboard the great ship to the U-boat that would destroy it, to London's admiralty offices and Wilson's White House – providing details political and personal while the tension builds. It's a fascinating account of this tragic event. I read an advance copy; pub date is in March 2015.

The spoilers below really are spoilers, so don't read them if you haven't read the book but think that you might someday read it and you dislike spoilers. I was interested in the topic (for decades I've been interested in the Titanic) and knew I'd previously enjoyed books by this author so I was excited to read the book as an informal buddy read in my favorite Goodreads group. I wasn't disappointed. I could have assigned this book 5 stars, or maybe even 3, so I went with 4 stars. I love this author's writing style; his nonfiction books are great for readers who think they don't enjoy nonfiction. I also appreciate how his nonfiction is 100% factual. For instance, what is in quotes was really said or written, and he does extensive research. I recommend if reading this book going in as ignorant as possible and resisting urges to do research until after finishing the book – even looking up maps, deck plans, and definitely people provided spoilers I'd rather have done without. I still really enjoyed the book. Re the non-fiction, I'd read a lot outside that book that didn't make it into the book. I suspect that information didn't pass muster with the author. He writes at the end how there is a lot of misinformation out there about the Lusitania. But the map provided is not at all sufficient. I would have appreciated more maps and images, including photographs. I got those in the other two books I've read so far by this author. If all this had been included I wouldn't have felt such a strong urge to do further research outside the book and wouldn't have found out more than I wanted to know. At 39% through the book I stopped looking up information and just read the rest of the book. The book read quickly and easily and completely held my interest. I appreciated that so much general history of the era was covered. I got a much better sense of historical figures as people (President Wilson, Winston Churchill, etc.) and enjoyed the cameos (Hitler and Captain Von Trapp, etc.); it did give me insight into the time and the Lusitania's place within that time and place(s). However, by the end of the book I wasn't completely satisfied by how it all worked. For some people/events it felt as though there was not enough and for others too much. I did care a great deal about most of the people the reader gets to know. There was great suspense. I felt as though I got a good feel for how it must have felt to be involved. I liked all the details; it helped me understand everyone and everything. I was surprised at (view spoiler)[ how calm people seemed, how accepting, and also surprised that for several people this sinking was not their first shipwreck. I can't imagine getting back on a ship if I'd gone through the trauma of surviving something like this, though some did even after this sinking. I knew that when the Titanic sunk there were new rules put in place about having enough lifeboats and life vests for all people on board. Well that sure didn't work well. I'm assuming they learned even more from the Lusitania and future sinkings too.(hide spoiler)]I felt infuriated by this event, as there were so many ways it could have been prevented, and I think that there was plenty of blame to go around. (view spoiler)[ Obviously, this particular U20 submarine commander and the German's enthusiasm/willingness to kill women and children take the most blame. Churchill and English didn't come across so well either, to me. The communication mishaps from Room 40 were also inexplicable to me. I don't blame Captain Turner. It's a miracle he survived given that he did stay with his ship.(hide spoiler)]It's a very sad story, but there is humor, and I didn't find most of it depressing. One person who was depressed anyway, in a way I found those parts harder to read than reading about the actual tragedy. The kids were hard to read about, and because I got invested in the characters early on, I correctly guessed that it would be difficult to read about what happened after the ship was attacked. The book proper goes through only page 359. That's all I've read so far and all I'd planned to read, until darn it re the author, the last line of page 359 has me about to read the notes, or at least skim and read them. They go from pages 361-410. (Pages 411-418 is the index.)For any reader interested in the Lusitania, this is the book I'd recommend, at least as the first book.

2.0 STARSThis book is a dry history lesson ... BORING! I trusted but did not verify the extraordinarily high GR ratings for this book, assuming such high ratings were indicative of a captivating, perhaps historically fictional look at this tragic oceanic event. Nope … straight history. Why such high ratings? What am I missing?I must be on a different wavelength (a different planet perhaps???) … folks rave about The Martian by Andy Weir and I thought it was a snooze-fest. Readers pile the praise on Dead Wake but I struggle to finish it. What's up?These numbers are impressive![image error]The year is 1915. World War I has lasted much longer than expected and the German government has warned of its submarine activity and threat to merchant and neutral vessels around Great Britain.Great Britain has broken the SKM codes used in all German wireless communications to submarine commanders but keeps the knowledge of German activity secret for fear of tipping off the Germans. Government officials know German sub U20, commanded by Walther Schwieger, has entered British waters the same day the Lusitania prepares to set sail from New York to Liverpool.The British government is anxious and to a certain degree desperate to pull the neutral United States into WW1. The British intelligence service and government leaders withhold knowledge of the heightened German submarine activity in British waters in the secret hopes that an American vessel will be attacked by Germany, forcing the United States to declare war.Although Lusitania Captain William Thomas Turner receives no direct warnings of eminent danger from the British government until the ship enters the Irish Sea, the Lusitania is considered a transatlantic greyhound, a new class of marine vessel easily able to out run any submarine. The commonly held belief is, despite the danger of submarine attack, the Lusitania would be safe.Special circumstances, errors in judgement, cost cutting by Lusitania operator Cunard Lines and communication disorder result in the sinking of the Lusitania eleven miles off the coast of Ireland, resulting in the deaths of 1,198 passengers and crew and the USA joined WW1 two years later.There you have it ... a 430 page book summarized in five tight paragraphs!The author made a valiant attempt to bring more color to story with personal accounts of some of the passengers on the ship but the exploration was not very satisfying and no new ground was investigated.In the end my expectations were so much higher than the reality of this read. In my view, if you want to learn more about the ill-fated last crossing of the Lusitania, read the Wikipedia entry https://en.wikipedia.org/wiki/RMS_Lus... and save yourself a lot of time and effort.

I've kind of missed the boat so far (har harrrr, oh come on, I couldn't resist) but this is the first book I've read by Erik Larson. And I only ended up reading it because it is the final pick of the season for my in-person book club. I put it off for a while but ended up breezing through, using the approach I take with most histories - read the bits carefully that I'm interested in and skim those I am not. Those I am not:-transcripts of military commands -Woodrow Wilson's depression and dating life (if this were the focus of a novel, I'd probably be really into it, but since his actions and emotions have absolutely zero to do with what happens on or to the Lusitania, I don't know what the author was thinking.... if this was a World War I book, it might make more sense... but like Bryan A. says in his review, this is a book about a ship and its demise, a la Titanic)Those I am:-quotes and summaries of individual narratives the author found during his research. I wanted more of this. He had access to amazing materials and sometimes used only a part of a sentence. I will never see the Sound of Music the same, having read Captain von Trapp's views of killing people in war (and of course, he was on the other side! So long, hero.)-Stories of the people on the ship and all those fun happenstances... Alfred Vanderbilt not going on the Titanic despite having a ticket, and then dying on the Lusitania (by the way, the Vanderbilt Estate in Asheville, NC had an interesting exhibit about the Vanderbilts and the Titanic yet I do not remember them mentioning this key detail!) - this is one example of many, and as far as this book is almost like a gossip mag, these bits were the juiciest.Outside of the research, the writing has some great moments, where I can picture Larson typing a sentence and feeling proud of it. For me, this can be sustaining as a reader who more often reads fiction. The only one I marked is "When he came back to the surface, he found himself in an archipelago of destruction and death."This is likely going to be a good discussion in my book club, so I may have more to say at that point.

I have sometimes found reading non-fiction to be a chore, even when I'm very interested in the subject. Reading Erik Larson is a pleasure. He has the ability to tell his story in a very smooth style - almost fiction-like - and he gave me a good understanding of the time period. There is plenty of detail, but I never felt it was in the least tedious.First we see the passengers preparing to board Lusitania in New York, where the departure was an event for both passengers and shore bound - even those on shore who knew no one leaving. Steamship travel used to be the way of travel in and out of Ketchikan, so I knew from some of the old-timers that going to meet the steamer was part of life here - the same sort of event as the 1914 departure of this great ship.During the voyage itself, we get to know some of the passengers. We also get to know the captain of the U-20 submarine and intelligence operatives in a secret room at the British Admiralty. Additionally, we spend time with President Woodrow Wilson, both in his steadfast desire for the US to remain neutral, and in his wooing of Edith Galt.This is extensively researched, but we aren't troubled with footnotes. Still, there are over 40 pages of notes following the text, easily followed with page numbers for reference. Also included are 8 pages of bibliography, including personal papers from archives in the US and United Kingdom, as well as numerous periodicals and books. This is simply excellent!

Once in a while I hear from readers who claim they do not like to read nonfiction. Often they claim that it is boring to read a story when you already know what will happen. Where is the suspense?With his latest work, Dead Wake: The Last Crossing of the Lusitania, Erik Larson has proven that he is one of those few talented authors who can tell such a story, a story of tragedy and loss, and do it in such a way that for a few seconds the reader almost believes that it might end differently. His narrative skill is such that the reader finds himself watching the magnificent liner approach through a periscope knowing that it must change direction and sail away at the last instant. Then we are up on the boat deck of the Lusitania, enjoying the warm blue sky and watching the coast of Ireland slide by in the distance. We stand with the passengers and watch a torpedo as it streaks through the crystal waters and disappears below the edge of the deck thinking, like the passengers, for a brief second that nothing bad could happen in such an idyllic setting. Then the second passes and reader and passenger are wrenched from that scene of pastoral beauty into a Boschian chaos of twisted metal and broken bodies.It is this great storyteller's ability to take dry words from telegrams, court depositions and government reports and turn them into lenses that we can use to see, and even relive, the past that makes Larson one of the very few authors whose books I would preorder sight unseen. One scene towards the end was described in such poignant detail that it engaged all of my senses. As President Woodrow Wilson drove to the Capitol to ask Congress for a declaration or war, A spring rain fell, soft and fragrant; the streets gleamed from the ornate lamps along Pennsylvania Avenue. The dome of the Capitol was lit for the first time in the building's history [and] stood in solemn splendor against the dark wet sky. Despite the rain, hundreds of men and women lines the avenue. They removed their hats and watched with somber expressions as the president passed slowly in his car, surrounded by soldiers on horseback, as clear a sign as any of what was to come.Larson's other books, The Devil in the White City: Murder, Magic, and Madness at the Fair that Changed America and Isaac's Storm: A Man, a Time, and the Deadliest Hurricane in History; reside in a place of honor on my bookshelf. Now they will be joined by 'Dead Wake'. Now all that remains is to wonder what historic gem will spark his curiosity next.*Quotations are cited from an advanced reading copy and may not be the same as appears in the final published edition. The review book was based on an advanced reading copy obtained at no cost from the publisher in exchange for an unbiased review. While this does take any 'not worth what I paid for it' statements out of my review, it otherwise has no impact on the content of my review.

Erik Larson makes history come alive once again. I'd known nothing about this subject, except having the misconception that the sinking of the Lusitania had immediately forced the US into WWI.One would think that when reviewing a history book, there would be no risk of spoilers, and yet--there are some surprising and shocking facts here that I will not give away. Larson's research is intense and encompassing, and he packages and delivers this fascinating account in a very readable form.Larson breathes life into the passengers of this ill-fated voyage through survivor memories and correspondence, the ways people packed, what they brought, and why they were traveling. It's an interesting look at life as it was one hundred years ago. We also get a peek into President Woodrow Wilson's life and the private, emotional challenges he had to navigate at this time. At the end of the narrative, there are about one hundred pages of notes that are fascinating, as well. The best compliment I can pay Erik Larson is that I feel compelled to look up more about the Lusitania. He provided just the right amount of information to get many people interested in further reading.Bravo!

The RMS Lusitania was torpedoed by a German U-boat on May 7, 1915 just off the coast of Ireland. The ship sank in less than 20 minutes, killing nearly 1,200 people. Many decried the attack on a passenger ship. But German military leaders said the attack was justified because the ship was carrying munitions for use by the British military. It would be decades before it was proven that Germany was correct....the passenger ship was indeed carrying munitions for use in World War I. Dead Wake not only tells the story of the sinking and great loss of life, but also about the politics, military decisions and mistakes that led to the ship sailing without escort in a war zone. It also talks about the Lusitania, its history, crew and passengers, and facts about the German Navy, U-Boats and early submarine warfare. Because it opened responding ships up to attack by U-boat, orders had gone out that no vessel was to approach and render aid to any ship that had been damaged by a torpedo. Warnings about imminent submarine attacks against all vessels in the war zone had been issued by Germany prior to the attack. Why then did so many passengers, including many children, board the ship, sailing directly into danger? And why were munitions loaded onto a passenger liner, putting thousands of people at risk? This book gives so many interesting facts about the world situation at the time, shipping and war zone issues and the actual event. Erik Larson presents the whole story in an interesting and informative way. This is non-fiction and not a narrative account, but it kept my attention the entire time. Very interesting and well written!!I think so many people were willing to board the ship, despite repeated warnings from Germany, because it was assumed a passenger vessel would not be targeted. And, it's also human nature to believe that disasters are things that happen to other people. Until the sinking of the Lusitania, the dangers of the war zone were almost a joke with passengers laughing about the possibility and buying life jackets in New York department stores before setting sail. The fact that the shipping line was willing to carry munitions on a passenger vessel further shows that the danger wasn't being taken seriously. With U-Boats actively attacking merchant ships and military vessels with success, it is astounding to me that the Lusitania was allowed to sail that course into the war zone with no escort, no orders to divert to a safer route or to sail in a zig zag pattern. The whole conglomeration of decisions made by passengers, crew, the shipping line and military brought about this disaster. Germany came right out and said WE ARE GOING TO SINK THIS SHIP...DONT GET ON IT -- and thousands still bought tickets and sailed from New York. Foolish. But even more foolish is the fact that it sailed with munitions in the hold without any escort to protect it. Bad, bad, bad decisions! The sinking of the Lusitania and the deaths of 128 Americans who were on board did not bring the United States into the war immediately. The US didn't join in the World War until 1916. But, the cry of "Remember the Lusitania'' was used as war propaganda and a rallying cry for US troops. I wonder how it might have changed things if the public had known that the hold of the ship contained war munitions that a neutral passenger vessel was not allowed to carry during wartime? The munitions aboard the ship made it a valid target for U-Boats. Larson offers some insight into why this was done, and some pretty nefarious reasons why the ship was not supplied with a military escort or ordered to sail in a zig zag pattern to help it evade an attack. It could be that the 1,200 people that drowned in the sea that day were collateral damage and a part of a hidden agenda to pull the United States into the conflict in Europe. I listened to the audiobook version of the book (Penguin Random House Audio Publishing). The audiobook runs just over 13 hours and is narrated by Scott Brick. He reads at a nice even pace and is easily understandable. I have hearing loss but had no problem hearing and understanding him. I learned a lot of interesting facts that were new to me, such as the fact that Captain Von Trapp (of Sound of Music fame) had been a U-boat captain in WWI. At one point, he ordered the torpedoing of a vessel, causing the deaths of more than 600 people. That incident is the reason why he chose to escape rather than be called up to serve again in WWII. Great book! Anyone interested in maritime or WWI era history will definitely enjoy this book!

I loved this book, so historically significant, so well narrated and very well edited . The sinking of the Lusitania was a pivotal moment in the USA decision to enter the war , while it didn't happen immediately the accident was a moment that clearly predisposed a lot of Americans against Germany. While the author does a good job chronicling the moments leading out to the sinking of the ship, he leaves room for us to wonder what really happened? Why didn't England sent destroyers to escort the Lusitania, why the captain wasn't told there was a submarine right ahead of him? ... was this an English plot to get America into the war on the British side? We won't know , but reading this book will give you the facts , the interpretations are up to you. Highly recommend it to any history lover .

I had begun to feel that I was one of rare people who hadn't read this tale of the sinking of Lusitania. I am glad to rectify that. I found it very engaging and competent in spinning out the background of the captain's story, that of the commander of the German submarine responsible for the sinking, and a sampling of lives which were ended by this tragedy. Such great pacing and careful insertion of the many mysteries that linger to this day. I wasn't aware that the ship carried significant munitions, which tended to make it a legitimate military target in some sense. Why the Brits didn't supply such a significant vessel a naval escort is one of those unresolved questions. The concept that Churchill harbored secret hopes that a submarine attack might involve enough loss of American lives to bring them into the war was handled properly by Larsen as not a sufficient foundation to postulate complicity in facilitating the events that happened. That the sinking played a significant role in bringing America into the war makes the event incredibly potent for considering fate and history. What I wasn't aware of until reading this was how distracted President Wilson was by the death of his wife and a burgeoning new love relationship. I didn't quite get how this situation affected the alacrity with which Wilson reverted on his adamant isolationism with respect to entering a European war.A particular policy of the Brits that forbade naval vessels from rendering direct aid to targets of submarine attacks was especially sad to learn about. Despite knowing the good reasons for the policy (the vulnerability of such support ships to attacks in the past), hearing how help could have been delivered which would made a difference in saving lives was especially tragic. Larsen also did a fine job in his empathetic following up on the subsequent lives of the skippers of both the Lusitania and the submarine. Quite a satisfying read overall in the sense of making history come alive.