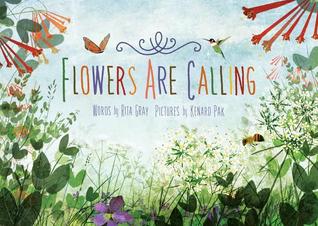 Flowers are calling to all the animals of the forest, "Drink me!"—but it's the pollinators who feast on their nectar. In rhyming poetic form and with luminous artwork, this book shows us the marvel of natural cooperation between plants, animals, and insects as they each play their part in the forest's cycle of life....
| | | |
| --- | --- | --- |
| Title | : | Flowers Are Calling |
| Author | : | |
| Rating | : | |
| ISBN | : | 9780544340121 |
| Format Type | : | Hardcover |
| Number of Pages | : | 32 Pages |
| Status | : | Available For Download |
| Last checked | : | 21 Minutes ago! |
---
Flowers Are Calling Reviews
Stunning illustrations and great information about flowering plants.

An introduction for kids to flowers, animals, and the ways flowers attract pollinators. Each spread introduces an animal the flowers are not calling to, and then an insect, bird or other critter the flowers are attracting. After every three spreads, there's a spread introducing the last three flowers that have appeared. The end of the book has further information on pollinators and how flowers attract them.A very attractively illustrated book that could easily be used in science classes when talking about plants or symbiotic relationships. I would use it in conjunction with Seeing Flowers: Discover the Hidden Life of Flowers by Chace & Llewellyn so kids could see real close-up pictures of the things talked about in this book, like lines that direct pollinators to the pollen. The rhymes in this book follow an interesting pattern, to the extent it actually took me several pages to figure out there was even rhyming going on. I'm not sure whether to be impressed with the subtlety of the rhyming or unimpressed because it was so hard to notice. That's really a moot point, the strengths of the book are in the content conveyed. The repetitive phrases of the book will be good for beginning readers to be able to "read" along.

Another keeper for those nature enthusiasts. A lovely balance between the animal kingdom and the plants and flowers that share their space and work harmoniously on our planet. I just discovered author/illustrator Kenard Pak, a new favorite of mine.

A gorgeous and very educational book on the importance of pollinators and the various features flowers use to attract them. Information not commonly found in other children's nature books.Excellent read.

Narrative NF with lush, gorgeous illustrations. Lots of information about flowers and the types of animals they attract. Some text felt clunky or NF captions didn't always match flower type that was being discussed.

Truly beautiful illustrations. Sometimes the words are a bit simplistic, leading to more advanced botanical facts, but the overall book is lovely.

Confusing. Not appropriate for story time. First one is reading along in a rhymed verse about an animal and then no the flowers are really calling the insect. Then and this is where the confusion begins is a two page spread identifying the flowers from the previous illustrations. In small print is some fact about the previous identified pollinators printed underneath the flower name.This is a message book and most of the time they do not work. This one is a disservice to the very important role pollinators play in our survival. I also think the author did not know her subject or research it.

The illustrations are soft and gorgeous; the format is interesting--4-6 page spreads talk about different animals/bugs/people/etc. visiting the flowers and then the following pages talk about the flowers, in particular, that the animals/bugs/people/etc. visit. The visiting pages are told in rhyming poetry; the flower pages are told in simple facts. Might be good for a storytime?

I happened to stumble upon this gem while searching for a different title, and was immediately drawn by the lush, detailed watercolor illustrations. Fanciful rhymes about flowers and their pollinators are peppered throughout with profiles on various wildflowers and their features. This give multiple options for reading.

Great!Just reading this to my 2 year old for bedtime for the first time. This book has beautiful illustrations and great facts that will give it staying power in our library for years to come.

Love the illustrations and the concept of mixing facts with a simple worded story!

Educational and cute and the art is lovely.

This sweet rhyming poem identifies pollinators of particular biomes and what plants they are attracted to. The poem includes beautiful multi-medium illustrations of the pollinators and the plants that are most effected by their pollination. The bright and lively colors remind the reader of how beautiful our world is and remind us that pollinators help keep the world that way. Not only are the illustrations beautiful, but the book fosters the development of observation and classification of pollinators. There are several descriptions that allow students to observe how pollinators do their job (hummingbirds sip nectar, beetles chew the flower and loosen the pollen, etc.). There are also illustrations of particular flowers that pollinators within the region are drawn to. Finally, at the back of the book there is a "Would you believe!" page that points out some interesting facts about pollinators and flowers such as the purpose behind flower patterns, shapes, time of opening and colors. One fact points out that pollinators are dying because of new pesticides and herbicides. The author prompts readers to engage in planting native plants only and plants that will benefit the nearby pollinators. This can be linked to the discipline of gardening.If this were taught in a class, a teacher could pause on pages and ask questions like, "What do you think happens next? Does the pollinator need to do anything else or is the whole process done?" in order to facilitate inference making and discuss parts of the pollination process that the book doesn't explicitly state. This could engage the class in a discussion about the process of pollination. A teacher could stop and ask the class about what biome these plants and pollinators may be from. The biomes include: temperate forest, pond, meadow, desert, and plains. She may point out differences between the pollinators in different biomes such as those near the desert and those near a meadow. Finally, on the last pages the book talks about flower patterns, shape, color, smell, and time of opening and how each of these features better attracts pollinators. A teacher could have students observe flowers around then and write down what may attract pollinators in their particular finds.A teacher or parent could also introduce environmentally conscious gardening in order to protect our native pollinators. Here are several resources that could be used to explain how pollination works and ideas for facilitating pollinator activism in young students:http://www.edenproject.com/learn/for-... - at this site there is an awesome diagram that demonstrates the pollinator and flower relationship. This is great visual for very young students.http://pollinator.org/PDFs/5%20Things... This pdf download is helpful for younger students that outlines a few ways that children can help pollinators thrive and protect them. It is colorful and printed in big letters so it is easy to read. http://blog.nwf.org/2015/06/10-ways-t... This website is more useful for parents or teachers to educate themselves and then plug students or children into activism groups as a class or a family. There are also fun projects that would be memorable for young learners and help them become more passionate about pollination. Great introduction to pollination, but don't let the train stop here!

This review was originally written for The Baby Bookworm. Visit us for new picture books reviews daily!Hello friends! Today, we read Flowers Are Calling, written by Rita Gray and illustrated by Kenard Pak, a beautiful and informative book about flowers and pollinators! Told in a combination of playful rhymes and nonfiction blurbs, each page introduces different species of flowers and the individual pollinators (like bees, hummingbirds, and even bats) they attract. This book was packed full of really interesting information about flowers that even I didn't know, and I really loved how it explained pollinators and how important they are to the ecosystem. Furthermore, the illustrations were absolutely gorgeous, and JJ really liked them. However, while she loved the rhyming pages, the informational pages did not hold her attention as easily, and she started to get bored near the end of the book. So, this one may not be the best for the younger reader (unless you only read the rhyming pages, which you absolutely could!), an older reader, especially one who loves plants and flowers, would adore this. So overall, Baby Bookworm approved!Be sure to check out The Baby Bookworm for more reviews!

Flowers Are Calling explores a plethora of flowers and the insects and animals that enjoy them. Rhyming text and word play make this a fun read aloud. Children will enjoy lines such as," Flowers are calling a rabbit to stop. No, not a rabbit! It's not their habit to call a rabbit. He might grab it!" Other portions of the text identify the flower and the type of insect or mammal that will use the flower for food. Young readers may not be familiar with the types of flowers featured in this book, but the interesting facts about each flower will pull them in. The illustrations will also lure young readers to explore more of Flowers are Calling. The muted watercolors with digital enhancements are just lovely. The illustrations add a depth of thoughtfulness to the book. The tone is lyrical, yet, hushed, as though the author and illustrator did not want to scare away the small creatures flying and frolicking throughout the book.Flowers are Calling will make a wonderful lap sit read. The illustrations beg to be explored at length and the fascinating facts need to be shared. This book is a pleasure to read and young children, ages 4-8, will enjoy sharing it with a friend, caregiver, or family member. Get cozy and read this book with a youngster.

SummaryFlowers are calling to all the animals of the forest, "Drink me!"--but it's the pollinators who feast on their nectar. In rhyming poetic form and with luminous artwork, this book shows us the marvel of natural cooperation between plants, animals, and insects as they each play their part in the forest's cycle of life.NotesRita Gray is the author of several acclaimed picture books for children. Raised in Southern California, she studied Psychology and Social Work in New York City, where she lives today with her family. During this time, along with knowledgeable teachers, artists and therapists, Rita worked with children and their families. She came to understand that a good book holds an experience for a child, one that can be visited again and again". Visit her website at www.ritagrayreads.com. Ken Pak grew up in Baltimore and Howard County, Maryland. After studying at Syracuse University and California Institute of the Arts, he worked at Dreamworks Animation and Walt Disney Feature Animation. He currently works as an illustrator and lives in San Francisco. Visit his website at www.pandagun.com ."

Review originally posted on Children's AtheneumThis is an absolutely beautiful book to look at. Kenard Pak has illustrated three books now that I have absolutely loved, The Dinner That Cooked Itself, Have You Heard the Nesting Bird, and now this. Each spread is full beautiful imagery, a feast for the eyes, full of so much detail that the eye wants to rest on each page, soaking it in. The text is a mix of poetry and information, making the book an interesting dichotomy of nature picture book and non-fiction. It threw me off a bit in the beginning, but once I got the hang of it I didn't mind so much.

I am a total fan of this book content and the detailed illustrations. I love the nature theme and the environmental topic of pollinators and their food sources. I really like the connection to animals who do want flowers for nectar and those do not. I could not quite figure out the rhythm of the rhyme and that made me pause. But the information and engaging illustrations kept me reading. Excellent source of garden and pollinator information.

I didn't fully appreciate this book until I read the back matter which provided more factual information about pollinators and how flowers attract them. I wish the poetic text had introduced that focus in the beginning. The rhythm of the poetry didn't grab me, but the illustrations are gorgeous, and the facts about flowers and pollinators in the back, especially in the Would You Believe? section, are amazing!

This was a beautiful, but incredibly uneven book. Some pages were stunningly well done (the page with the Jay and the bees), and some pages were embarrassingly poorly drawn (the bear cub). If this was a more consistent book, I would seriously consider it a possibility for a Caldecott Honor, but there are some pages that needed much more work. I love the cover, and think it is one of the best covers of the year.

I fell in love with this book right away as it the subject is flowers and their wonderfulness. so many other living organisms depend on flowers and vice versa that the relying on each other concept is loud and clear in nature.The illustrations are soft and fulfill the senses much like moss. Written by Rita Gray, illustrated by Kenard Pak, published by Houghton Mifflin Harcourt.

Told in verse, "Flowers are Calling" explains how flowers pollinate with bees, birds, and even bats. The illustrations are gorgeous. I really like that at the end of each section the flowers are named and details are given about the species. At the end of the book there is even more information about the delicate dance that brings more flowers to bloom.

Really pretty illustrations, though they do remind me of Jon Klassen's style. I like his style, but I prefer unique illustrations. The book is slightly repetitive in the "good for storytime" way. Fun for learning about different flowers and pollination or just sharing with kids to show different flowers and animals that need them.

Slightly unusal, this picture book alternates between rhyme, which explores and contrasts the chief pollinators of flowering plants and the other animals that exist in the plant's habitat, and prose which describes horticulture of the plants and the flowers. The flowers and animals stand out against very muted backgrounds. A very lovely and informative book.

This is an ok book, but I didn't get overly excited about it. It is poetry that teaches us about which birds and insects are attracted to the mentioned flowers. It is creative and provides short facts about flowers. I am not quite sure why I didn't like it better. The illustrations are good, but maybe they could have been better with actual photography.

"Flowers are Calling" is an interesting way to learn about wild flowers and the ways that animals and insects pollinate them. The text size is small and the colors rather dark. The book shows a helpful website about pollinators: This book could be used with children grades 2-4.

Which animals are drawn to flowers? Which are not? Each page spread shows an animal that is not called by the flowers and one that is. Hummingbirds, bumblebees, frogs, moose, and rabbits. Follow each animal as it passes by flowers or stops to make use of the flowers. Several spreads give detailed information about the specific flowers and tells how and why they attract certain animals.

We borrowed this book for Classical Conversations Cycle 1. The illustrations are beautiful, the rhymes are fun, and there are interesting facts to learn along the way. What could be better? Oh, and the kids love it! Ages 6, 4 ½ and 3 all enjoyed this book. The book coincided nicely with the flower dissection in Week 10! :-)

Flowers are Calling...also a Caldecott?(If only the art didn't already look like Jon Klassen's illustrations.) Gorgeous story with rhyming text and information about who pollinates which flowers and why. Great STEM information for preschoolers to Grade 2. Beautiful illustrations AND fonts!!