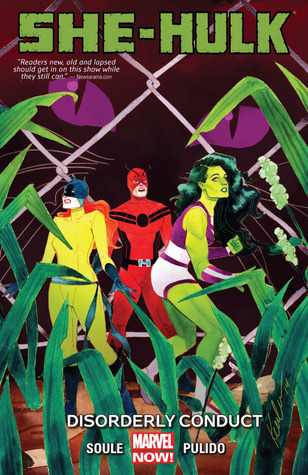 She-Hulk, Hellcat and Giant-Man team up to save one of Jen's officemates — but what secret agenda does Hank Pym have? Meanwhile, She-Hulk takes on Captain America as her newest client! Someone from Cap's past has returned to haunt them all, and She-Hulk might be his only hope — because the opposing attorney is Matt Murdock! She-Hulk and Daredevil battle it out in court andShe-Hulk, Hellcat and Giant-Man team up to save one of Jen's officemates — but what secret agenda does Hank Pym have? Meanwhile, She-Hulk takes on Captain America as her newest client! Someone from Cap's past has returned to haunt them all, and She-Hulk might be his only hope — because the opposing attorney is Matt Murdock! She-Hulk and Daredevil battle it out in court and on the streets in this trial of the century — but is Captain America actually guilty after all? And at long last, it's all come down to this: the Blue File revealed! As Hellcat investigates the mysterious, mind-altering file, She-Hulk takes on Titania — and Angie Huang just might meet her fate! Secrets are revealed and the Blue File is opened wide as Charles Soule and Javier Pulido's acclaimed run comes to a close! Collecting: She-Hulk 7-12...
| | | |
| --- | --- | --- |
| Title | : | She-Hulk, Volume 2: Disorderly Conduct |
| Author | : | |
| Rating | : | |
| ISBN | : | 9780785190202 |
| Format Type | : | Paperback |
| Number of Pages | : | 136 Pages |
| Status | : | Available For Download |
| Last checked | : | 21 Minutes ago! |
---
She-Hulk, Volume 2: Disorderly Conduct Reviews
3.5 starsThis was pretty cute! I wasn't in love with volume one, but without the super-rancid art from Ron Wimberly, this worked for me.Ant-man (Hank Pym) is a guest star in the first story about a scientist, who used some iffy shrinking tech to keep his partner from selling it.Then Daredevil & Captain America show up to face off in a courtroom battle!Wheee! No, I'm kidding. It was a pretty good story.The volume concludes with the answer to what's in the Blue File.What's the Blue File, you ask?Well, I couldn't remember what it was, either. But apparently, it's important. Doesn't matter. All will be explained at the end.So, I guess this is it for She-Hulk for a while? Not sure how to feel about that. I know I wasn't the biggest fan of this thing, but I do love Jennifer's character. Hopefully, she'll show back up in another title.

Uh, sit back and read the review and watch that potty mouth of yours.The adventures of She-Hulk, Esq. J.D. have sadly come to a close. Past solo runs of this character have basically been played for laughs, but Charles Soule, a lawyer himself, wanted to put She-Hulk's legal career front and center and have the super hero stuff organically grow from it. The series had a rabid following, but not enough of one to save it from being canceled.There's a boatload of court room drama centered on a law suit brought against AARP Captain America (he no longer has the super soldier serum in his body and is now his actual age, 90 something. He can trade prune recipes with Aunt May). Hellcat and a para-legal with a monkey round out her legal team.Still, the word Hulk is in the title, so let's do some Hulkifying.And let's mix it up with old nemesis Titania, a character who kind of resembles my Junior Prom date:Bottom line: Javier Pulido does the artwork for the rest of the run, so there's no chance of mistaking She-Hulk for the Hulk in drag. Soule's writing can be inconsistent (don't get me started on The Death of Wolverine) but he had all thrusters thrusting on this series. Nice cameo from one of Jamie Madrox's dupes, who's an entertainment lawyer in Los Angeles. Jamie Madrox is a character that should get the Marvel Now! Treatment.

Aw, man – double disappointment! Not only is this the end of Charles Soule and Javier Pulido's She-Hulk but the second volume also falls short of the first!An elderly Steve Rogers (not sure what's going on there but as long as Rick Remender's still writing Cap, I won't be reading his comics to find out!) approaches Jen to represent him in a wrongful death case dating back to 1940, before he became Captain America. The court case is set in California, and what other Marvel superhero lawyer is currently out west? It's Jen vs Matt Murdock/Daredevil!Elsewhere, Jen and Patsy Walker/Hellcat team up with Hank Pym/Ant-Man for a miniature adventure in someone's garden; Jen's nemesis Titania shows up for a throw-down; and the secret behind the blue notebook is revealed…What I liked about the first book was that it mixed Jen's lawyerly and superhero sides together in a perfectly balanced way so you got a bit of both in each issue. This second book distinctly splits the two in half with three issues for a court drama and three issues for superhero shenanigans. And it turns out that too much of the lawyerly half without the superhero side makes those sequences especially cumbersome to get through. It doesn't help that the wrongful death case against Cap isn't in the least bit interesting and draaaaaaaaags for half the book, but seeing Jen and Matt talk and talk and talk through legal technicalities… wow, it's super boring!I know it's going to make me sound like a shallow comics reader, but I much preferred the superhero action bits to the extensive law-speak chapters - they're just more fun and more imaginative which is why I read Marvel in the first place. Jen and Patsy fight bugs and cats as they're shrunk to a tiny size – BAM! Titania and Jen trade punches across the east coast - BIFF! Another villain reveals their identity in the final chapter - POW! It helps that Javier Pulido's art makes the action look so good aided by Muntsa Vicente's real purty colours.Then we get to the ending which is unfortunately very anti-climactic. I know my way around most of the Marvel Universe but going into a character like She-Hulk's past and dredging up someone from way back when? You've completely lost me. Worse is that that whole plotline was so muted up til then that it felt like there was no build up to it at all, even though it's been explored here and there between stories. I didn't feel like it was a great payoff, ending the series on a whimper rather than a bang, which isn't how the title has been for the most part.I did like that Soule's contribution to Jen's world - the superhero offices run by a former mutant - is lasting outside of this series with a cameo from Howard the Duck at the end confirming this is where he's going to based. And there's a hint that, though the series is over, we might see Jen pop up in Soule's Inhuman series as their lawyer. I'm also delighted that Jen's going to be written by G Willow Wilson (current writer on Ms Marvel) in a new ongoing, all-female superhero team, A-Force (love everything about it except that terrible name!), and Soule's going to be the new Daredevil writer, bringing his knowledge and experience of the courts to another Marvel superhero lawyer.While Soule's script is patchy but good in places, Javier Pulido's art, Muntsa Vicente's colours, and Kevin Wada's covers couldn't be more superb. And though it's a shame to see Jen go, I'm sure we'll get another solo Shulkie series soon. It's just a shame she didn't go out in as great a book as her first with Soule/Pulido.

More of a 3.5Still good, and yes, Blue gets wrapped up, thank goodness. *whew* I was worried there for a moment.The Cap story was okay, kinda corny with the Rah Rah message it lead up to through the courtroom drama, but it could have been much worse. At least the whole thing felt pretty damn decent. Not blow-you-away, but feel-good.Plus, it's always nice to go out after a stressful day at the office to beat the living crap out of people, right?

It's a shame that this book is done. I like Jen, especially in this book. The stories weren't the greatest, I admit, but this was overall a fun read. I hadn't been too sure about the inclusion of Hellcat at first, but she really grew on me. I also ended up really liking the Captain America storyline. It's nice to see Steve still around, now that he's old, and I liked how court-heavy it was.

This was a fun book while it lasted. Soule focuses more on She-Hulk the attorney rather than She-Hulk the superhero, which sounds like a really exciting premise for a superhero comic, but it's done in a similar ilk to Fraction and Ajas Hawkeye - a 'kind of what Jen does when she's not an Avenger even though she's not really an Avenger anymore cause she is running her own law-firm'.Pulido is a good choice of artist, with that slight indie meets Ditko/Kirby style that helps this book look different than typical marvel books. This volume also has a 3 part story in which Jen has to face off Daredevil while defending Steve Rogers in court. Probably the high point of the whole run for me.

So sad to see Soule end his run, but no doubt it was the best brightly-coloured superpowered legal drama I've ever read.This one's chock full of quality guest stars, including the ever-popular Dr. Pym, Counsellor Murdock, Capt. Rogers and more (but not much more- it's only 6 issues after all).

This, sadly, appears to be the end of Charles Soule's run on the title. That's a shame, because I really like his take on it. He balances the superheroics and courtroom drama better than anyone I've seen. It's worth reading the book just for Patsy and Jen's banter alone. In this volume, the secrets of the Blue File are revealed. But not right away. First, there's the small matter of representing Captain America in a wrongful death suit. And you'll never guess who the opposing counsel is. Or maybe you will. It's not like there are a lot of characters running around the Marvel Universe who are also lawyers after all. Charles Soule's two volumes of She-Hulk are all kinds of fun. This was a highly enjoyable read.

As I turn the last page of this book, yet another She-Hulk series comes to an end. Poor Jen; shuffled off to comicbook limbo for what seems like the umpteenth time (and, yes, I'm old enough to have been around for the first time).Jen is a great character and this was a really nice run. Here's hoping she finds another home. Personally, I'd love to see her back on the Avengers roster again...

1/5 StarsContains issues #7-12.This comic picks up where volume 1 left off. She Hulk, Jennifer Walters, is back at it and trying to bring justice into the light. Ant Man makes an appearance in this issue (but, like Captain America in the first, I didn't really like the story-line).That's about all I've got for this synopsis, since this volume was even duller than the first.Wow, it is amazing how much I DON'T have to say about this collection. It was filled with the same complaints I had from the first volume, minus the crazy, unfitting artwork. There was too much text and not enough action. I also felt that in this one Soule really dumbs down the storyline for his readers. I don't know if he does this because of all the law jargon, but it makes the story read at a very middle-grade level.Not that comics are typically straining to read or anything, but this audience felt to young for the one it was aimed at.Overall, I was bored and eager to finish this book. It was so dull, even now I can't remember what happened in this story.I'm sad these two books didn't mesh with me because I was so excited to read them. I love it when authors try to revive lesser-known heroes and villains, but, in this case, it definitely did not work.I definitely do not recommend this books. I totally understand why it was cancelled. Even if it hadn't been, I wouldn't have picked up any more of the series.Review originally published on my Wordpress blog Dreaming Through Literature.Review of She Hulk, Vol. 1: Law and Disorder

Charles Soule is another one of those writers who seems to understand that comics should have an element of fun and innovation about them. In this, the second She-Hulk volume he wrote, he brings us a trial that puts Steve Rogers on the stand for wrongful death, with Matt Murdock and She-Hulk as opposing lawyers. Then there's a story guest starring Henry Pym involving a new shrink ray. Along for the ride is Pasty (Hellcat) Walker and She-Hulk's paralegal, Angie and her monkey Wei Wei.All of these are a delight to read. Solid and entertaining, Soule gives us characters that sensible, funny, and smart. The trial involving Steve Rogers could have easily been another story about how great Steve Rogers is, how much Captain America means to the world, etc., and while it does touch on those themes, it's not so much a rah-rah story as one that attempts, and succeeds, at delivering a message that not all is as it seems. All the art in this volume is by Javier Pullido, whose art resembles Mike Allred's without as much detail. He excels at facial expressions and just basic layouts, many of which are creative without being too outre. Kevin Wada's covers are amazing, and the colors by Muntsa Vicente are bright without being garish.It's too bad this series ends here. Fun while it lasted!

I liked the first volume better. I had read a few issues of this as issues and it's a lot of lawyer business. Maybe the story is better understood reading all 12 issues in one go, but I felt a bit confused by the blue file thing.The art is still great! The use of color is really fabulous and works well with the blocky drawing style. I especially loved the scene where Daredevil gets her to come out at night and all you see is his silhouette in a hot pink sky. I really love the cover art. Kevin Wada will be at HeroesCon so you bet there will be a She-Hulk cover print on our wall in the next few months.However, I noticed more stereotypical female superhero comic poses that just made sigh loudly. They knew the comic was ending, were they trying to make up for having strong independent female characters or something? Maybe I'm being super picky but there are some weird, inhumanly possible butt poses in these issues that do not match up with the awesomeness of the characters.The great characters are still here! I so appreciate the inclusion of a variety of shapes and sizes (and color!). I wouldn't have a problem with handing this to a young girl.

She-Hulk was one of those indie-styled superhero titles that I love to love, and in practice (lawyer pun) it was a pretty okay book. In its second and final volume, four issues are taken up with a somewhat sprawling Captain America/Daredevil court case crossover (which isn't as interesting as it sounds...did Cap do it?? PROBABLY NOT DUH), and the last two issues wrap up some kind of plotline I already forgot about despite the series being only 12 issues in total. These last two issues are at least quite weird in a way that is worth further exploration, but I wouldn't say anything about them made much sense. Normally I'd be all abut cheering for the underdog here, but to be honest, I can sort of see why She-Hulk died such a quick death at the newsstands. There were some excellent one-and-dones in the first volume, but for the most part She-Hulk is her own straight man, which doesn't leave her a lot of room to grow (Hulk pun). I'd definitely like to see the series return -- but maybe with more energy, and with a writer able to wring more out of the character.

Courtroom drama, with only a dash of fists, humour or fun? I mean, "wrote what you know" but let's not turn this book into a turgid Law & Order. Maybe that's why this book ended - not because of some arbitrary editorial marketing decision - always with the Issue #1's - but because Soule was taking the lazy (and not-so-entertaining) way out. As perfect as it is for a lawyer to write a book about a superhero lawyer, ginning up a convoluted storyline about legal mishaps of Captain America is quite a stretch dude - and a complete ware if a premise if there's nothing entertaining you do once we uncover the twist. Cut the mumbo-jumbo in half, then send the spandex set off on an adventure for god's sake, not this boring-ass wrap-up. It's like Soule doesn't know how to write superhero comics eh?

Oh man, I'm bummed that there are no more in this series to read! I was pretty lukewarm on the first volume, but this one really grabbed me, particularly the Captain America storyline. I think the Blue File storyline was tired and boring - I didn't care about it last volume and I didn't care much about it this time - but the other storylines were great! The characters really grew on me, and I'm sad that I can't find out more about Angie Huang and Hei-Hei. I guess I'll have to console myself with reading Hellcat!

Though I did enjoy this run and Soule's writing of the character, this volume was lacking - especially for the series conclusion. There was so much buildup with the "blue file" and Cap's case and then it wrapped up too quickly and was just, well, kind of boring. The end did pique my curiosity, with a new resident moving into the office space next to She-Hulk's...and they will continue to annoy each other in his series, so all is not really lost.I will miss this writer/artist pairing though; they sure made a good team.

Me ha encantado este segundo tomo. El trío que hacen Hulka, Matt Murdock y el Capitán América es genial, además de Gata Infernal y el resto de secundarios. Me encanta que se vea el lado más humano de Hulka, como mujer y como abogada que lucha por lo que cree y que recurre a sus poderes solo cuando no le queda más opción. Y el dibujo de Pulido, genialoso. Menos mal que en este tomo no tenemos cambio de dibujante.

The cancelation of this series is a CRIME. We have Hank Pym attacked by a bird, Hellcat being a sneak their, and delicious procedural courtroom drama. The end of it seems pretty hasty, but I understand that was out of the writers' hands.

At first the art didn't appeal to me, but I started to like it a bit after I got into it. Overall, the stories are OK, but I'm not really a big fan of courtroom drama in my superhero books.

A pretty lackluster finish to a series that felt like it was going to be something very unique and cool. The abrupt ending is definitely to blame for some of the problems here, but honestly it's not all the fault of a tight timeline. Yes, the grand finale of "The Blue File," a storyline that's been progressing gradually behind the scenes as throughout Soule's run, is incredibly rushed and unsatisfying. That doesn't feel like Soule's fault. But, the other stories collected here are boring, and as far as I can tell, they're told as intended.For instance, the second storyline collected here (in which She-Hulk defends Captain America, toe-to-toe in court with Matt Murdock AKA Daredevil), is three full issues long, and could easily have been told in two. It's a tedious, overly-technical courtroom drama that we absolutely know the outcome of before it even starts (come on, do we really think Captain America is going to lose a court battle?), and does nothing to play around with morality or the mire of the justice system or anything. It's not even as good as an episode of Law & Order. At least in L&O you wonder how things might turn out.Then, we get into the wrap-up of The Blue File storyline, and it's so disappointing. After all this time building up a mystery, having trails come up cold, revealing that people have been brainwashed in some sort of extreme coverup of god knows what, the whole explanation for the story is just monologged out by some D-list villain in the final issue. He basically sits everyone down, says "I have no reason to tell you this, but here's exactly what happened," and then She-Hulk punches him. The end. For real.And like I said, this isn't Soule's fault, what with the sudden cancellation and all that, but it certainly doesn't make me want to rush back out and read this again.Overall, this series had a lot of potential, but kind of fell apart pretty fast. I'd recommend reading the first volume just to see what you missed, but there's no reason to follow it to its conclusion.

Unfortunately, this second trade was not as strong as the first. While the art problems have been largely resolved, the stories contained in this one was variable at best. The best of the bunch was the story arc with Jennifer defending Captain America, which I thought was excellent. It captured the characters of both Jennifer and Steve fantastically, building an impossible situation and giving it a satisfying conclusion.However, none of the other stories could hold a candle to this. The Ant-Man story was enjoyable, but lacked the legal focus of the better stories. The final story was just too rushed. It's as though Soule knew the end was near and had to wrap up the blue file plot as fast as possible. It was very weak and thoroughly disappointing.All in all, this series has been quite varied but the first volume was certainly stronger than this.

The art is blah for me, the story is OK. I just am not that invested. Someone convince me otherwise or I am done.

So this book is a lot of things that I don't actually like very much, namely an episodic story about lawyer. On top of that, the female lawyer keeps having her clothes ripped off and one of the main male characters is a died in the wool lawful good boy scout. But somehow it works, really well in my humble opinion.Deceptively simple in design, Soule continues to deliver funny engaging little sub plots while keeping the over arching plot moving at a pretty good clip. Like almost everyone else who read this comic, I certainly wished it could go on much longer, but since it was always supposed to be this short it really works. The story never feels cramped and everything is able to run its natural course.But as with any great episodic story, it's really the characters that keep pulling us back and this is certainly no exception. The relationship between Hellcat and She-hulk has entered into the same realm as that between Black Canary and Batgirl. Not only because they are both strong female characters, but also because they do not always get along. Important when you consider how many inept creators equate strength with mary sue like powers. Of course that doesn't ever stop either of them from ultimately coming out on top in one way or another. In a world surrounded by men, you never doubt for a minute who the main characters are. The art style for this volume was a lot more consistent then in the last. The simple flat color style really reflecting the tone of the comic perfectly and the covers for these issues were not only beautiful but also powerful. None of the female characters felt sexualized, and Angie really came into her own in these issues. It's just so sad that things had to end, I will definitely be checking out all the people involved and seeing what other things they have to offer.

This was a disappointing ending to a what seemed like a great She-Hulk book. The first part of this book I enjoyed quite a bit, it really wasn't until the last two issues you saw everything get rushed and forced in the story. You could tell the writer knew this book was about to be canceled. It's was kind of sad because like I said the first part was really good.The art to this book I still kind of liked. But I thin the art is the main problem this book didn't do as well as it did. It was too indie for Marvel. I can't think of another artist who make the book any better though to be honest. I will say a few times (more then the fist volume) the panels were confusing to read. I start reading it like a regular page, but then I had to reread it because it was done like a landscape artist.Overall I still really like She-Hulk, maybe because she is a character that a movie hasn't taken over or for the fact she is more then just muscles and beauty, she's complex. This run was good, but I liked the previous run of She-Hulk better. Seemed to have more charm, but Slott had a long time with the character. It's really sad Soule only got 12 issues, because I liked how this wasn't really a superhero book. It was more of a court room comedy/drama.I still want to find the classic She-Hulk comics too. Besides Storm, I think she is my second favorite female Marvel character.

*single tear*She-Hulk is one of my all time favorite characters, and this run has been some of the best work on the character I've ever read. Soule and Pulido make an incredible team, and over the course of this book, I've really come to appreciate Pulido's style, and story-telling decisions. She-Hulk has it all, small episodic stories, clever and sustainable crossovers, and a respect for legacy, bringing characters like Titania into the mix. The vibe generated here is uniquely Shulk, favoring arguments over explosions, wit over punchies, and law over disorder. I'm astounded at how great this run was, and only wish it got to go on a little longer. In such a small window, Soule wrote one of the best She-Hulk stories ever, introduced us to a couple of incredible characters (Angie and Hei Hei), gave Hellcat a much needed spotlight, and challenged us with real, dark, legal scenarios, which could only exist in a super-heroic world.I love She-Hulk, I love this book, I love you. Five Paul Blarts out of five.

the end to the cap storyline kinda rubbed me the wrong waylike i know he's a good guy! marvel is mostly built on the premise of cap being a good guy.* but i feel like there are a lot of prominent situations of 'good guys' having been found to do some pretty awful things so the fact that so much of jen's legal defense for him consisted of her being like 'remember folks this is captain america, a military hero! military heroes obviously never do anything wrong ever and you know he couldn't have done it' gave me a distinct case of the oogiesanyways it was a decently entertaining volume otherwise though the end felt pretty rushed. 3 stars*except under nick spencer who can go suck an egg

A solid and final volume to the She-Hulk series, Jenn and Co argue an exciting case detailing the past of Steve Rogers with Daredevil representing the plaintiff. I am going to miss the humor of this series quite a bit, but I can see where it didn't really seem to find its bare, green footing. Pulido's art, although charming, doesn't do the best job of carrying action scenes, almost all of which appear as static images or cutaways, and faces don't have much variety to convey emotion, either. The main Cap piece is easily the best Shulkie story in the series, even if the end of the series itself is a sad, jumbled mess. We'll miss you, Jen. Marvel, you just smashed our hearts.

This volume was disappointing compared to the first volume. Much too wordy for it's own good near the end. The humor never really got as funny as it was earlier, the character interactions didn't seem to land and with only 12 issues, it's hard to see the point. Happy to see Daredevil show up but nothing too amazing here.

I sometimes marvel (no pun intended) at the lengths superhero comics go to in order to have the heroes fight each other. It can be tiresome. Well, here you get She-Hulk and Daredevil fighting each other...in court. At stake is Captain America's reputation. Verdict: not tiresome! There's some other stuff, too, that doesn't work as well.

Things I learned from this book: 1. She Hulk is a MUCH better role model for a female lawyer than most I've seen on tv. 2. Captain America would be a TERRIBLE client. 3. Equitable tolling shows up in the oddest places.