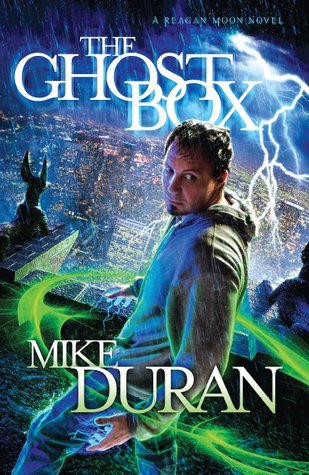 Reagan Moon -- paranormal reporter, terminal underachiever, and staunch cynic of the human race. The only ghosts he really believes in are the ones in his own head. But his world is about to get an upgrade. When Moon is hired by a reclusive tycoon to investigate the events surrounding his girlfriend's tragic death, he learns of an impending apocalypse about to flatten LosReagan Moon -- paranormal reporter, terminal underachiever, and staunch cynic of the human race. The only ghosts he really believes in are the ones in his own head. But his world is about to get an upgrade. When Moon is hired by a reclusive tycoon to investigate the events surrounding his girlfriend's tragic death, he learns of an impending apocalypse about to flatten Los Angeles. Seems that the Summu Nura, ancient gods from a parallel dimension, are looking for a new stomping ground. And Hollyweird is ground zero. What's worse, Reagan Moon is the only one who can stop them. With the help of an occult archivist and a carefree guardian angel, Moon is forced to confront an invisible world of toxic parasites and dimensional outriders. But no amount of magic can save him from the monster that awaits… inside him....
| | | |
| --- | --- | --- |
| Title | : | The Ghost Box |
| Author | : | |
| Rating | : | |
| ISBN | : | 9780990907718 |
| Format Type | : | Paperback |
| Number of Pages | : | 336 Pages |
| Status | : | Available For Download |
| Last checked | : | 21 Minutes ago! |
---
The Ghost Box Reviews
The Ghost Box (Reagan Moon #1) by Mike Duran is the first book in this great new series. If you like paranormal items, creatures, intrigue, action, magic, and lots of fun, this series is for you. I picked it up because it looked like it might be fun and it sure was! It was so much fun! Just what the fantasy junkie in me needed. I had a blast! A fun ride from start to finish...of course I had to look for book two!

I've been a fan of Mike Duran's since his first book. This is definitely my favorite so far. Urban fantasy, mystery, strange supernatural artifacts, lots of action, and quirky characters. That last especially. I really liked Reagan, totally connected to him, and found the voice of the novel compelling. My favorite character, though, is Bernard :). Sorry, no spoilers--you'll have to read to meet him!My WebsiteFind me on FacebookMy YA fantasy series:book 1 book 2

The Ghost Box is the story of a paranormal reporter, Reagon Moon, who is caught up in a supernatural mystery that involves his dead girlfriend, an old relic, and a boatload of trouble.The book reminded me a little of the old-timey detective novels because of the cynical, sarcastic voice of Reagan Moon and the collection of zany characters he runs into. Though not straight-up horror, there are some genuinely creepy moments and plenty of action to keep you turning pages, but also some humor. Mike Duran does a great job weaving myths and urban legends into a modern-day setting.Randy Streu does a fabulous job narrating, with a diverse number of voices so that I never got confused as to which character was speaking. All in all, a fabulous novel, and one I'd highly recommend reading or listening to! (Or both!)~*~I received this audiobook in exchange for an honest review.

It's hard to put a finger on what genre to call this - Urban Fantasy? Speculative Thriller? I think it hews closer to Paranormal Noir, the sort of thing you'd get if Frank Peretti channeled Dashiell Hammett and H. P. Lovecraft.A love for genre fiction runs strong through this novel, as well as a fascination for the weird and the offbeat. And yet Mike Duran makes it all work and keeps the pages turning while his protagonist falls deeper down the rabbit hole. You've got a struggling investigative journalist, arcane relics, a labyrinthine plot, a clever variation on the femme fatale, and an evil so great that it takes your breath away. This novel is audacious, brash, free-wheeling, and utterly fearless.I had a blast getting to know Reagan Moon and can't wait for him to save the world again. And the sooner the better.

The Ghost Box is my first Mike Duran book and though it's not my normally preferred genre, I found the book gripping, engaging and thought provoking. It might be called noir paranormal suspense or perhaps supernatural thriller. Reagan Moon is a severely disillusioned paranormal reporter with a penchant for numerology and a huge dose of cynicism for anything paranormal or supernatural. Moreover, he is finding it hard to move on after the tragic accidental death of his girl friend Ellie less than a year before (and earlier deaths of his mother and father). All that changes on the 18th as he is sent by the mysterious Klammer to investigate Ellie's death as a cleverly concealed murder.What starts out with what could be a hard boiled detective story rapidly heats up as Reagan finds it harder and harder to deny the paranormal, especially once he gets glimpses into different dimensions. The novel is fast paced, with some striking descriptive passages and wonderfully quirky characters - Bernard, Matisse (the Mad Spaniard), enigmatic Kanya, the chilling Sidra - even Chelsea the cat - and a whole host of paranormal phantasmal manifestations. I wasn't as struck with Volden and towards the end, I felt that Reagan kept giving up way too often ('there is nothing I can do') but he does redeem himself in a climatic, sizzling finish. And overall, I liked Reagan as a character and look forward to more in Reagan Moon mysteries.

An excellent third outing for Mike Duran, easily my favorite of his yet. Duran pretty much mixes it all up in here - Otherwordly creatures from Beyond seeking a foothold in our world, ancient gods and demons preying upon mankind, healthy nods to Lovecraft, esoterica and mythical themes abound - with the eternal battle between Good and Evil raging in earnest. I also loved the portraits of "weird LA." I almost hope Moon's next adventure is not QUITE so big on an epic scale, and that he gets to mix it up a little more with that weird LA on a more human, temporal level.Very similar in tone to Koontz's Odd Thomas, though Reagan Moon reads a little bit more like an early Harry Dresden, or even a "slacker" version of Kolchak the Night Stalker, and the "divine order" recruiting Moon is a little more defined than you'd find in an Odd Thomas adventure (though not overbearing at all). Also, the cosmic conflict of unseen forces - angels and demons - reminds me of NAMELESS, by Mercedes Yardley.This is also Duran's first release outside the CBA (Christian Fiction Association), allowing him more freedom in many ways, and he puts it all to excellent use creating enjoyable, believable, flawed characters. I kinda wish I'd written this myself. Regardless, I'll be checking in for Regean Moon's next adventure.

A skeptical reporter from a paranormal magazine gets hired to investigate the death of his girlfriend by an eccentric and reclusive billionaire. The book's occult themes start out as creepy. A serial killer is stalking mediums throughout Los Angeles and something wicked this was is coming. About half-way through the book, creepy turns to fantastical as mystery becomes mission.The author's prose is excellent and the story well-conceived, but I didn't connect with the main character. Reagan Moon is a reluctant hero and while I liked other characters in the book, especially Matisse, Reagan never grew on me. Other than mourning his girlfriend, he didn't seem to care much about anything so I didn't find myself caring about him. I forced myself to keep reading because I was curious as to how the book would end. I think this is a reader preference because others have loved this book and rated it highly, but I didn't find it compelling.There were many things cool about the book- like the Rival's Curtain and the Asylum. And at the end, I found myself still wanting to know more about Klammer.I think readers who enjoy supernatural thrillers along the Ghostbusters II variety will enjoy this book.

I've wanted to read this book since the author breathed word of its existence. It didn't disappoint--gods, monsters, demons, grubs, the LAPD, and numerology. Boy oh boy, this was a fun book.Once there's a few more books in the series, I think it'll be a fine way to scratch the Dresden itch between books. I've been hunting for an urban fantasy hero with morals, like Dresden has. While not yet as heart-wrenching, Reagan Moon makes an admirable start. I found him much more likeable than the hero of the Iron Druid series, but that's my personal taste.I do think the book needs more oomph in the emotional reaction department--but then, it's only the first book. I'm sure later books will achieve all kind of gut-wrenching-ness.I look forward to the next Reagan Moon book!

This was a wacky, fun read that reminded me of what might happen if Ghostbusters met Warehouse 13. The story's first-person narrator, Reagan Moon, has a distinctive voice that had me giggling on multiple occasions.

I admit, I was totally a chicken to read this novel. The cover had me intrigued for sure, but ancient gods from a parallel dimension as well as an occult archivist? No, no thank you. However, here I am writing a review, giving it four stars. "The Ghost Box" was very well done and really grabbed my attention. Reagan Moon was a great hero to cheer for and despite not being as cynical as he is, I found myself relating to him often. The things he experiences that would be considered other-worldly had me sucked into the "other side" as much as him I think. As weird as it is to say, I strongly liked the occult archivist. I loved his passion for his mission and found something Moon says about him to be so true of people (it was also convicting, though I won't quote what he said due to spoilers). Plus, a special scene those two had was amazing and almost made me a little teary (again, can't explain further due to spoilers).Overall, a very good story with an imperfect hero and awesome side characters, even if it all made me jumpy and on edge. I'm excited to see what happens next, especially concerning things that developed at the end.

The Ghost Box is an enjoyable mix of urban fantasy and science fiction, with a smartass noir protagonist and moments of real horror. Reagan Moon is a reporter for a tabloid newspaper that focuses on the paranormal. He is a cynic who finds his skepticism challenged by a dramatic series of events. The Ghost Box is reminiscent at times of the C. S. Lewis classic "That Hideous Strength," but with a sharper edge. The Audible narrator, Randy Streu, captures the tone of the novel perfectly. Highly recommended!

Reagan Moon is a journalist. Sort of. Actually, Reagan Moon is more or less to journalists what mimes are to actors. He's a tabloid reporter. A paranormal tabloid reporter. Which is a great job if you can get over the insane hours, the pushy editor, and the vague self-loathing that come with it. After the tragic loss of his girlfriend, Moon spends his time muddling through his day job, and going home to muddle through the rest of his life, when out of nowhere he finds the story of a lifetime. Or rather, it finds him.Moon is contracted by a wealthy eccentric to dig into the rebuilding of the Tower of Babel in the heart of Downtown Los Angeles by the rich man's former partner. Along the way Moon discovers there may be more -- much more -- to his girlfriend's death than he ever suspected, and what begins as a strange assignment through the city's paranormal underworld turns very, very personal.Moon isn't alone, however. He is aided in their turns by a strange psychic, a Mad Frenchman and his daughter, and an invisible... something... named Bernard.If I'm being vague, it's for good reason. This piece of paranormal noir -- unique for Duran in both genre and audience (this is Mike's first self-published novel, first paranormal urban fantasy noir, and first book outside the Christian market) -- is one that really ought to be read and discovered on its own terms. Digging through the evidence with Reagan and discovering the invisible reality as he does is half the fun.And it is a fun book. Part Dresden Files, part Kolchak, with a little bit of Clive Barker thrown in, The Ghost Box and its protagonist Reagan will keep you turning page after page.Duran is an author who writes rich characters and compelling storylines, and The Ghost Box is no exception. However, because there's so much to discover here, the exposition can at time feel a little long, and some of the characters will leave the reader wanting a just a little more background. That said, Duran tells you what you need to know, and does it in style. There is nothing superfluous in the exposition and he rewards you with a rich, supernatural conspiracy both unique and entertaining.Already a fan of Duran's supernatural thrillers, his turn at paranoir has made me a believer. I'm looking forward to reading more of Reagan Moon's story in the future.

Reagan Moon is a reporter who covers paranormal events for his paper, mostly skeptically. He's suffered some loss in his past, losing both his father and his girlfriend, but his head for the most part is on all right. That is, until a shadowy, rich benefactor gets him involved in the mother of all conspiracy cases. Now he's tied up with a mad Spaniard who presides over a large collection of paranormal objects, his daughters, and the owner of a local megacorp who might just be trying to open a gate to hell. Oh, and he has to babysit his neighbor's cat. God, he hates cats.It's a surprisingly fast read for the 380 or so pages my Kindle version had. Reagan doesn't have the luxury to sit still much, and something is almost always happening to him or near him. I liked the world, and sort of the unusual take it has on the paranormal. People seem to believe in it, and it affects people's lives but it seems to be something people tend to be entirely skeptical about unless they have a gift or take sort of an obsessive interest in it. You may not run into a werewolf at the corner store, but people do know of mediums, and it's not entirely out there to go contact one if you want to speak with the dead. The villain in particular I thought was well done, especially compared to some of Mike's past works; more ironic, more intelligent, but definitely evil and alien.There are a couple of downsides, though. I think the book is a little too fast-paced. I would have liked a slower, more mysterious book that spent some time describing the interesting world he thought of. There was a lot of concepts, myths, and background in the book that cried out for more exploration, like a certain good secret society or the nature of a supporting character. I think the fast pace also makes Reagan a little less memorable too. He's not a bad character by any means, but I would have liked to know more about him, especially his daily reporting life and his skepticism about the paranormal. I don't think these really harm the book, though. It's still a good, quick paranormal read and a lot better than many indie paranormal books out there. A good first start to a series that I hope will develop more over time. (Disclaimer. I'm friends with Mike, but I purchased this copy.)

I bought this book because of the cover. Pure and simple. And The Ghost Box lived up to its cover. This is an intense, intelligent urban supernatural thriller with a sharp, sarcastic edge and another underdog protagonist to add to my list of favorites.Author Mike Duran is clearly accomplished in his craft and has a solid editor. This is a well-paced, well-written story that doesn't waste a sentence, and ramps up the tension with every chapter. The sense of setting is particularly well-done. Duran uses Reagan Moon's strong, first-person voice to describe situations and characters in a way that is fluid and often humorous.The Ghost Box treads some very familiar paths dealing with a cynical main character, ancient relics, and the end of the world via spiritual evil. However, Duran goes a step further by giving Reagon Moon a strong character arc through the book. This is another character who has plenty of warts and blemishes on his personality and in his soul, but is thoroughly relatable and sympathetic in his weakness. Also, kudos on the portrayal of women. Both Arlette and Kanya are strong, intriguing characters with distinct personalities and agendas. At the same time, Reagon Moon's tenacity and quirky street smarts made him useful in his own right, and he is never overshadowed by the characters around him.Note: this is a mature read, with a scattering of profanities and mature themes. There is also quite a bit of discussion about different religions, philosophies, the occult, and conspiracies. In terms of Christianity, Duran goes for a bit of a speculative route on angels and demons that is clearly put forth as a "what if," and not as theology by any means. This isn't Christian fiction, but the threads of redemption are there, and intriguing to consider. However, I leave that up to reader discretion. I tend to steer clear of angels and demons in fiction as a rule, but this book is an exception.Final Verdict: an enjoyable read, with a likable underdog protagonist and a great story. I look forward to the next book in the series–and hope for another awesome cover!

The Ghost Box by Mike Duran is a ghost story, a murder mystery, an urban fantasy, and a love story.The protagonist — Reagan Moon, reporter for a publication specializing in the paranormal — is the guardian of a Tau left in his care by his girlfriend, Ellie, before she was lost in an explosion. Why is it important?Why does a famous recluse want Reagan's help, and why are psychics and mediums being killed?Framed for the murders and sought by those who want the Tau, Reagan seeks help from Matisse, a former Jesuit priest who is now the keeper of an archive of paranormal arcana. Matisse's mysterious daughter, Kanya, and a cheeky guardian angel, Bernard, become Reagan's sidekicks on a mission to take down the forces of evil invading this world and to solve the mystery of his girlfriend's death.Along the way, there's humor, a bit of angst and self-reflection, action, and the introduction of strange goggles that enable Reagan to see into another dimension.The Ghost Box is what might happen if a rookie Librarian ever met the crew at Warehouse 13 and they all chased down Dracula and The Mummy.Recommended reading.

My mom recommended 'The Ghost Box' to me a while back, and for lack of anything better to do, I started to read it. I was not expecting to become so involved in the story so quickly. However, the book reached out and snared me almost immediately. I usually have trouble losing myself in fiction; yet, once I had sat down in a comfortable chair with 'The Ghost Box' to entertain me, I found it a Herculean task to pry myself away for any reason.The plot is suspenseful and exciting, and there is a good balance of action and investigation. The only negative comment I can make about this book is that it contains a considerable amount of cursing—at least, more than what I'm accustomed to—although the expletives are not as frequent or unnecessary as in 'The Fault In Our Stars'.'The Ghost Box' is definitely a tale that I will return to multiple times.

Thanks to Mr. Duran, I didn't get much done around the house on my day off. Instead, I sat down with this book and couldn't put it down until I finished! The main character is a skeptic, and I began this book in the same mindset, skeptical I could love a genre I don't normally read (paranormal/suspense.) I certainly didn't expect to be sucked into the plotline, falling under the spell of a great story. It takes a talented author to describe darkness so well I could practically smell the stench of evil. Years ago I read Frank Peretti books that left me with this sense of the reality of spiritual warfare. This book is similar in that I expect it will remain with me for many days. I am happy to see it is Book 1 of a planned series. I will definitely read more of this author!

I've read Mike's short stories and liked them. Now I know I like his longer stories, too. I only finish one of every five books I read, so it got an automatic three stars for that. The main character was interesting, if occasionally slow on the uptake. I can't shake the impression that he wore sweat pants through the whole book. I finished it in a reasonable time frame, meaning I didn't put it down for three months and come back to it. I enjoyed the humor, and wondered if I'd missed an earlier book because the history seemed solid. It finished well, and answered all the major questions it raised. Next time I'm looking for a supernatural action/mystery, I'll think of Mike Duran.

I'm so glad I had this book with me as I waited fruitless hours for the furnace repairman. It's the first time I've had a good time while waiting on an appliance repairman. This noir paranormal filled with science-fiction tropes done fresh and with humor made for an exciting read. Satisfying end though there is room for a sequel, which I will also buy. So, if you like noir, paranormal, suspense, thriller, science-fiction, humor, or any combination thereof, you might enjoy this book as much as I did.

If you're into the semi-serious adventure movies from the 80s and early 90s, then you'll get a kick out of The Ghost Box. Lovecraft meets Indiana Jones meets The Mummy meets WTF?!?! Supernatural bug-a-boo abounds, and any fan of paranormal urban fantasy will eat this up. The protagonist's snarky, cynical commentary did become annoying pretty quickly but the book is set in LA, so an overdose of attitude is to be expected. As the cover suggests, there are more books to come, so bring 'em on!

I'm very slow at reading eBooks, but this one was so good that I didn't care it was an eBook.I can't even explain this amazing book. I couldn't predict what was going to happen, even in the last page. I loved everything about this story, and I'm curious about the next adventure.Now I'm going to take some time to fangirl with this book! :)

I have liked other things by Mike Duran, but this isn't one was not my favorite. The first time I read this book, I pretty much panned. He has since put this it in an audio in audible, and I must say, it was decent.I still think the presentation of this story is a bit flat, but if you like the urban fantasy genre, you will find this worth reading.

Really good book! great characters and a good story line..kept me turning the pages to see what happens next..

This was a fantastic story. I suppose the main character being a journalist had a lot to do with my reaction to this book. With his wry wit and cynicism, he'd have fit right in at the newsroom where I used to work.I had been hesitant to read this book because my perception was that Duran was a horror writer, and horror is not my thing. But this book is more like a noir detective novel than anything else. I would classify it as a supernatural thriller.I listened to the audiobook version, and Randy Streu's performance is excellent. He does a wide range of voices, and his accents for the characters who have them were subtle rather than over-the-top.Disclosure: I received a free copy of the audiobook.

WHAT WORKED:I admire the boldness in this story. Mike Duran is a Christian fiction writer, but you might not know it from this work. I don't say that as an insult, but a compliment–that his work reads like any other story.Few Christian writers would tackle the occult in such depth, but Duran goes to some dark, strange places. This may make some fret, but fret not my friend, this is Mike Duran, not Zack Snyder. He doesn't go too dark or dark for the sake of darkness; it's there to tell the story properly. There's also some pretty adult language because, well, that's how people talk.It's hard to point out specific things that worked well because the story is simply "good." The word choices, characters, dialogue, settings, descriptions, etc. were all good. Nothing stood out in great measure, but it's a simple goodness that makes the story clean and enjoyable, and it opens up a whole world for further exploration in other novels.WHAT NEEDED WORK:Just one thing stands out in a bad way and sadly, it's a doozy: the main villain's dialogue. The villain himself is compelling enough. He's dangerous and there's a clever moment near the end when you discover that "defeating" him is not as easy as it looks.But when he opens his mouth, it all falls apart. The villain's dialogue is cliched and trite to the max–I'm talking bad anime or James Bond villain. Endlessly amused by the hero's petty struggles, babbling on and on without actually saying anything, smirking as if he's above everything, all that. Again, the villain is fine, but his dialogue is just plain bad.Thankfully, he's the only offender. Everyone else's dialogue is perfectly fine. The only other "issue" I have is that while this book was good, nothing is spectacularly so, which makes it harder for the book to stick.OVERALL: 3.5/5 stars–I'm glad I read it and can easily recommend it.Despite one big flaw and no standout greatness, it's still a well-written book and an enjoyable read. Not too dark, not pandering at all. If you're a Christian looking for better fiction, or you love paranormal/occult adventures, you'll be glad you read The Ghost Box.

Full Disclosure: I was gifted a copy of "The Ghost Box" to see what I thought. I really don't know Mike Duran, and he doesn't really know me, either. That said, because it was free, I feel free to share my honest thoughts. So here goes.What to say about Mike Duran's "The Ghost Box"...First off, did I enjoy it? You bet. Would I recommend it? Absolutely.Who would I recommend it to? Well, pretty much anyone who enjoys a good metaphysical action romp, really. Think Harry Dresden meets The Librarian meets The Lone Gunmen from X-Files. I was reminded of the old radio drama Box 13, where a reporter gets involved in all sorts of adventurous shenanigans while delivering plenty of sarcastic wit. And that's our hero, Reagan Moon, reporter for the paranormal tabloid The Blue Crescent, but don't get the idea that he is a true believer in that junk, far from it. But he's about to get his worldview challenged by more than stories of Elvis raising alien werewolf children with Amelia Earhart. And it's on that journey that we join Reagan Moon to discover just what is "The Ghost Box."Filled with a few good twists and turns that you may or may not see coming, The Ghost Box has plenty of characters and quagmires to keep you turning those pages, intent on finding out just what the heck is going on and when will it all come together?There may be a few idiosyncrasies with Duran's writing style that may catch you up (I know they did me), but don't let that stop you, just keep going. Trust me, it will be worth it. I'm a pretty slow reader plagued by ADD, but I actually finished this book over the course of a few days. Duran's prose is punchy and swift and definitely keeps the action flowing without too many side streets to distract you. Plus, it ends leaving you wanting to know just what Reagan Moon is going to get mixed up in next. Dive into "The Ghost Box." You won't be sorry you did.I'm really looking forward to the next outing Duran has planned for Reagan Moon.

Disclaimer: The author provided me with a paperback copy to review. The Ghost Box is a fun read that harkens to the gritty detective noir novels, with a brooding hero against whom the forces of darkness are arrayed. I had fun with the mystery aspect, trying to figure out what danger the hero faced. The story is reminiscent of the Harry Dresden wizard detective series, with a couple of major differences: one, Reagan is a skeptic of all things supernatural where Harry is a stalwart believer; two, Reagan deals with intangible ghostly beings while Harry allies with and fights physical creatures.Mike has done an excellent job populating his world with interesting characters, from the heroic and strange Matisse to the strange guardian angel Bernard. The villain's motivations some might say are too melodramatic, but from my perspective I find those kinds of villains the most entertaining. After all, if a villain doesn't have grandiose plans to either take over or destroy the city/country/world, well, that makes him a slacker. I found him appealingly sinister.My main criticism is that I felt Reagan's skepticism came perilously close to whining at several points. He has the thing with Ellie's death, and I like the way it was resolved, but there are times I found myself muttering, "Do something heroic already." Overall, he's an intriguing character, and if there are more adventures coming I look forward to seeing how he approaches them.A job well done.

"The Ghost Box" by Mike Duran is a curious book. The story itself took a few chapters to get into, as I wasn't completely unfamiliar with the urban fantasy/occult reporter 'landscape' of ideas from which Duran was mining. Or maybe it's because I hadn't read fiction in a long time. That said, as I read, I noticed echoes of C.S. Lewis, Bram Stoker and Lovecraft and more than a few nods to sci-fi TV series like "Fringe" and "The Twilight Zone" and movies like "The Matrix" and those by Guillermo del Toro. While its own creation, this progressive familiarity helped my enjoyment of the story and the characters really grew on me, especially Reagan Moon. I must be honest here, I found Moon to be an incredibly frustrating protagonist at times, but perhaps that was by design. Kanya, on the other hand, was an easy character to warm to. As for Rival's Curtain, I loved everything about it. At the halfway point I lost a little interest in the story, but things picked up quickly and the conclusion really was en pointe. "The Ghost Box" is generally well-written. There are a few strange descriptors throughout concerning characters and directions. And I did find a number of spelling and grammatical errors, but nothing too heinous. All in all, I recommend this book to everyone who enjoys a good urban fantasy/adventure. I can't wait to read the second book "Saint Death".7.5/10

From the first page of this pre-Apocalyptic thriller to the last, the wry wit and non-stop action kept me nailed to the pages. Characters such as Matisse the Mad Spaniard, 'Blondie' the not-so-mindless bodyguard and messenger, Bernard the guardian angel, and Jimmy the police detective, add life and breadth to this cross between Ghostbusters and Guardians of the Galaxy. Ok, that comparison might be reaching a bit.Content:Violence:There's a bit, and it can get graphic. It's not gratuitous, but some people end up dying in a pool of blood. One gets stabbed to death by a magic wand.Language:PG-13, I'd say. There are some expletives occurring sporadically about. The F-bomb is never used.Adult Content:PG. Romance is hinted at but never explored.Christian content:Belief seems to be a central theme to this book. What that belief is in, other than an afterlife, and angels, is not driven far. A central object in the story is a Tau, or T-shaped cross which a relic from early Christendom. There's nothing preachy about this book.Final analysis:A riveting read from cover to cover. Action, adventure, and humor abound. The mouthy sarcasm and wit of the main character remind me of Spidey. I found it very entertaining, and a bit uplifting. I gave it five stars.* I bought this bad boy out of my allowance! And glad I was, it's a great read.

The Ghost Box was a refreshing change of pace after several months of giving up on nearly every novel I began. Reading Urban Fantasy is not typically a part of my wheelhouse – not by a long shot – but I think Duran has changed that for me. Reagan Moon is an everyman, stumbling into his unique place in a world of powerful relics and otherworldly nasties. With the ending poised to send Moon on his next adventure, I look forward to reading the upcoming sequel, Saint Death.In addition to The Ghost Box, I highly recommend Duran's blog, deCOMPOSE (www.mikeduran.com). It is a thoughtful, engaging conversation on writing and publishing from the perspective of a Christ-follower. Check out The Ghost Box as well as his other fiction and non-fiction work.