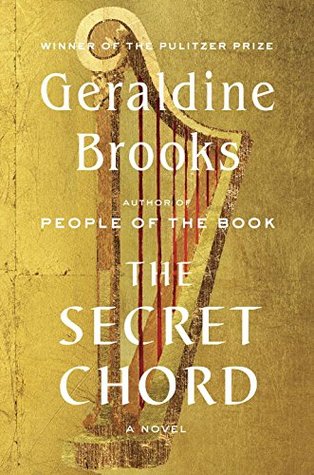 Peeling away the myth to bring the Old Testament's King David to life in Second Iron Age Israel, Brooks traces the arc of his journey from obscurity to fame, from shepherd to soldier, from hero to traitor, from beloved king to murderous despot and into his remorseful and diminished dotage.The Secret Chord provides new context for some of the best-known episodes of David'sPeeling away the myth to bring the Old Testament's King David to life in Second Iron Age Israel, Brooks traces the arc of his journey from obscurity to fame, from shepherd to soldier, from hero to traitor, from beloved king to murderous despot and into his remorseful and diminished dotage.The Secret Chord provides new context for some of the best-known episodes of David's life while also focusing on others, even more remarkable and emotionally intense, that have been neglected.  We see David through the eyes of those who love him or fear him—from the prophet Natan, voice of his conscience, to his wives Mikhal, Avigail, and Batsheva, and finally to Solomon, the late-born son who redeems his Lear-like old age. Brooks has an uncanny ability to hear and transform characters from history, and this beautifully written, unvarnished saga of faith, desire, family, ambition, betrayal, and power will enthrall her many fans....
| | | |
| --- | --- | --- |
| Title | : | The Secret Chord |
| Author | : | |
| Rating | : | |
| ISBN | : | 9780670025770 |
| Format Type | : | Hardcover |
| Number of Pages | : | 302 Pages |
| Status | : | Available For Download |
| Last checked | : | 21 Minutes ago! |
---
The Secret Chord Reviews
Two and a half stars. Having enjoyed all the novels by Geraldine Brooks I have read, and adored some of them, I was desperate to read this one and so excited to receive a copy from The Reading Room and Hachette Australia to read and review. I couldn't wait to dive into it and started immediately it arrived. Maybe part of the problem was that I had such high expectations, but in the end I was disappointed in this book. The writing is beautiful in some places as you would expect from Geraldine Brooks. The opening about almond blossoms had me expecting I would love this book. Later, a few lines about David's singing voice were striking. The writing was also crude in parts and the battle and rape scenes are very graphic. The story was one familiar to me from Biblical accounts of David, the shepherd boy who ultimately was chosen by God and went on to be king over Israel. It is told from the point of view of Natan (Nathan,) the Prophet. Here was where I found my biggest problem. I found nothing redeeming in the character of David. I felt it portrayed a very one dimensional view of David. He largely came across as callous, with little regard for the feelings of others. David's relationship with God is skimmed over except for the occasional brief passages from his psalms, whereas the relationship with Saul's son Jonathon is concentrated in a way that was to the story's detriment. In trying to relate David's life and fill in the gaps with imagination and guesswork, I felt Geraldine Brooks has, in my view, ended up with a skewed version of the man.I also found Nathan the prophet to be portrayed oddly. Because I struggled with the portrayal of the characters and didn't like any of them, I found it hard to want to get back to reading this novel, something I have never found with any pervious book by Geraldine Brooks. Usually I race through novels by Geraldine Brooks in a day or two. This took me about a week or so. At times I even considered abandoning it, but couldn't bring myself to do that. Dealing with the Hebrew names for characters like Shaul instead of Saul, Slomo instead of Solomon, Yoav instead of Joab, Yonatan, instead of Jonathon, also made it a bit harder to read. I kept trying to tie them up with the English names with which I am familiar. If you read it as a piece of fiction and don't know much of David's story, you may enjoy it as some others have. But, and it pains me to write this, I was left disappointed in this book. However it will not stop me reading the next book by this author, which I may well love as much as I did Caleb's Crossing, an all-time favourite.

I didn't remember much about the biblical story of David except that he was a young man who outwitted a giant and killed him with a stone and a sling shot and that he became King of Israel . I also remembered an illicit love affair with Bathsheba. Because I didn't know a lot more than that , I was very surprised and taken by the story that Geraldine Brooks has created where I learned about his multiple wives , and other relationships, his children , the wars, and what a complex man he was . The story begins with David who as an aging King sends Natan, his friend and prophet to talk to people and write his life story . As Natan narrates , we get multiple perspectives of the people who tell us things about David at various times in his life . He's pitiful at times when pushed away from his family at a young age , loving at times and also a brutal and vicious warrior killing mothers and children. He's a son , a husband , a lover , a father, a soldier and a prophet and a very complex man .We come to know Natan's story as well and learn how he comes of age , bearing the pain of his father's death on that day when as a child he followed David , drinking to dull his senses to viscous and brutal things he witnesses. Some reviewers have talked about the graphic and brutal nature of some of the scenes and they are not mistaken by any means . There are brutal wars and killing and rapes and some really horrific deeds that were difficult to read about , but yet I was intrigued by the story and I enjoyed the writing.One thing that was bothersome to me was Brooks' use of the Hebrew names . Perhaps she used the Hebrew version of the names to give the story a more authentic feel but it made it feel more remote to me rather than using those names that I was familiar with . It was Batsheva for Bathsheba, Avshalom instead of Absalom and Shlomo for Solomon to name a few. Overall, it was for me a solid 3 stars . Recommended to fans of Geraldine Brooks . Thanks to Viking and NetGalley.

As a boy Natan was a shepherd, caring for his family's flock. He lived a happy life with his mother and father, and younger sister in a small village. The day he was approached by the leader of a group of rebels was to be the turning point in his young life; his future was destined. David had also been a shepherd, but his upbringing was different to Natan's – cast aside by his father, David was only six years old when he was thrust into the role of shepherd. He had to learn how to look after himself, and his flock in a hurry. When he was older he escaped with the band of rebels and his meeting with the young Natan was to be a turning point in his life as well.For Natan had another voice, and the day David murdered Natan's father and uncle was the day Natan vocalised a prophecy to David – instead of murdering Natan, he carried him to his camp to be cared for. Natan the seer; the prophet was at David's side from then on – visions of the future; of horrifying occurrences yet to come meant those around him were in fear of him; but David fully believed in Natan; trusted him with his life.As David's journey evolved, he became many things – a cruel and barbaric soldier; a man who was idolised as well as hated; a husband and a father; an extraordinary player of the harp and with a beautiful singing voice; and eventually he became King David. His many wives from Mikhal and Avigail to finally Batsheva provided him with several sons and also one delightful daughter. Through all these times, both good and bad, Natan was by his side. David's last born son by Batsheva, Shlomo was to become the light of his declining years.What would the bitter fighting between the villagers and David's army resolve? And what did Natan's final prophecy mean; why could he not speak of it? Was the intense and overwhelming power that David had held over his people for so long finally fading?The Secret Chord by Aussie author Geraldine Brooks is a fascinating look into the long ago life of King David; his rise from a lowly young shepherd to eventual King and everything in between. His life was one of barbarism and cruelty; also love and family; betrayal and loss. Written in the voice of Natan, who I thoroughly enjoyed, it was at times deep and intense; the lives of people in Second Iron Age Israel were for the main, traumatic and horrific – the women did what they were told; from being married at twelve or thirteen to the man of their father's choice; to being used by the husbands they (mostly) abhorred. The Secret Chord is a novel which totally absorbed me; the author's writing is superb. (I was also intrigued with how this novel came about as she mentions at the beginning). I have no hesitation in recommending it highly, and am sure it will become another best seller for Geraldine Brooks.With thanks to NetGalley and the publisher for my copy to read and review.

This account of the life of David as told by his seer and advisor Nathan reads like a Shakespearean tragedy. He comes off as so monstrous in his path to consolidating his kingdom, yet so human in his joys in life and admirable in his ambitions. At a point when David has made Jerusalem the capital of his kingdom, Nathan is tasked to write a truthful history of his life, starting with interviews of people from David's past. What he learns moves him toward a judgement that the bad outweighs good, that the murders and cruel acts he commits are not all just a means to a noble end. Brooks breathes life into the sketchy account of David we have from the Old Testament, mainly the "Book of Samuel". In the 9th century BC, some four centuries after Moses led the Israelites out of Egypt, King Saul of Judah gets impressed by the shepherd boy who bravely kills Goliath with a slingshot and trains him to be a warrior chief. Saul is subject to mad rages, which David helps sooth with his harp playing. When David desires to marry the king's daughter, Saul sets a horrific and seemingly impossible bride price of 100 foreskins of killed Philistines, and David goes overboard and slaughters 200. When David's acclaim begins to dwarf that of Saul, the king feels threatened, and David has to run away and build a force for revolt. His method to assure support is to kill any family that refuses to provide resources for the rebel band. This is what happens to Nathan's family, and in its aftermath the boy, also a shepherd, has a fit and speaks words like a prophesy from God that David will unify the Hebrew tribes under one kingdom and the rule will be carried long into the future by descendants . The other key element of David's life from the Bible is that he spied Bathsheba bathing on a roof and was led by his lust to commit adultery. In Brook's version, this involves a rape. He compounds this sin under Mosaic law by wangling the death of her soldier husband Uriah by ordering him to the front lines. This sickens Nathan to the point of wandering in the desert for a month in despair. His vision of God's eventual punishment of him four times over through disasters among his children convinces him to return to the fold and nurture the youngest son, Solomon, who is Bathsheba's child and future king according to the vision: I had been shown all that I needed to see. I knew what I needed to do. The painful future stretched out before me. David would have the throne, the crown, the line of descendants that the Name had promised him. But for the rest of his life, he would be scalded by the consequences of his choices. My task would be twofold: to stand up to him, and to stand by him. To awaken his conscience, and to salve the pain this would cause him. To help him endure through the hard days and years that lay ahead of him.A lot of the strengths in this tale comes from the stories of David's various wives and how they worked to achieve agency and accommodation under his dominant influences. His first wife, Mikhal, a daughter of Saul had a particularly tough time. After David's exile, Saul annuls her marriage and marries her off to another man. Ten years later, David forcefully takes her back away from the loving relationship she had forged and away from her young children. Mikhal also had to struggle with acceptance that David's true love was with her brother Jonathan. Brooks takes to bold step of making the relationship a homosexual one.Brooks stretches to make a connection between David's skill at the harp and his ability to read people and politically harmonize with them. The title of the book comes from the Leonard Cohen song which begins: "Well I've heard there was a secret chord/That David played and it pleased the Lord". Despite her bitterness about David's faults, Mikhal recalls to Nathan the power of David's music: Not only the ears feel the pleasure of it. You feel the vibration on your skin. The hairs rise on your arms. The pulse, the breath, the very heartbeat. It's like a kind of sorcery, a possession of the body and spirit. Yet a wholesome one. And there is one chord, one perfect assembly of notes that no other hand can play. The sound of it—pure, rinsing sound, void, so that your spirit seems to rush in to fill the space between the notes. So sublime that the priests asked David to offer it at the sacrifice …the music rising up to heaven with the sacred smoke. Every soul that hears it is refreshed and restored. So it was with Shaul. I loved this book as the story of Nathan as much as of David. One could take the prophetic voices that possess him as the ultimate magical realism, one that founds people's faith in their religion. Or you could see them as illusions of an epileptic aura that lead its listeners into a form of self-fulfilling prophesy. Either way, the struggle of Nathan to deal with his foreknowledge makes for a powerful portrayal of a man balancing his conceptions of fate and free will. Sticking by a powerful leader while being sickened by his human corruption reminds me a lot of the narrator in Robert Penn Warren's wonderful rendering of the Louisiana demogogue Huey Long in "All the King's Men." All of Brooks' books have been worthy reads for me. They are surprisingly diverse, and while they don't wow you with power or lyricism of her prose, they excel in storytelling and emotional engagement. I may be odd for favoring the American Civil War story, "March", the best, so I render 4 stars mainly from that comparison.

The Secret Chord is the story of King David, as told through the eyes of his prophet and counselor, Natan. David desires a written record of his life and tasks Natan with interviewing those who knew David as a young man. As Natan digs into David's past, he gives account of his own experiences with the King, such that David's past and present converge to depict a man both ruthless and kind, sacred and yet flawed. Because of me, he will live in death as he did in life: a man who dwelt in the searing glance of the divine, but who sweated and stank, rutted without restraint, butchered the innocent, betrayed those most loyal to him.Of equal - if not greater - intrigue are the women in David's life: his mother, wives, and daughter. The accounts given of their lives delve deep into marital expectations, child rearing, culturally accepted rape, and the value placed on one's virtue. To read of these women being treated as property, shuffled around as mere bargaining chips while being abused and discarded, is more harrowing with every turn of the page. By morning, there is nothing he has not done to her. His final act is to push her onto the floor. A hard stream of hot liquid showers her head. Exhaustively researched and aptly structured, this book's shining feature is the author's use of language. Everything from the luminous gleam in David's amber eyes to the beads of dew on a sweating ewer of chilled water are described in such tantalizing detail that the reader feels transported: The sun eased up over an undulant horizon bright with the haze of new grasses. The sheep moved in a corona of morning light, the edges of their heavy fleeces as bright as filaments of gold. Behind them, the high ridges of the Golan marched north to distant mountains still dusted with snow. Even the graphic descriptions of the battlefield - where wounds are fatal and viscera are scattered - deliver the reader to the front lines: His sword had entered just above the man's groin. He drew it upward, in a long, slow, arcing slash. As he pulled the blade back - slick, dripping - long tubes of bowel came tumbling after. The Secret Chord is a richly imagined retelling of the shepherd boy who was crowned king and the people who rose and fell in the wake of his ascent to power. A heartfelt thank you to Goodreads, Geraldine Brooks and Penguin Random House for providing a free giveaway copy of this book in exchange for an honest review.

I started this with some trepidation having read too many reviews from disappointed readers. Geraldine Brooks is one of my favourite authors and Caleb's Crossing one of my favourite all time books so no pressure!As it turned out I loved it. At the beginning I faltered a bit as we moved backwards and forwards in time but then, in the second half, it settled down and moved strongly to what I thought was a wonderful and uplifting conclusion. I had to read the coronation of King Solomon twice because it was written so well.As a character King David did not come across as a nice man but then, as someone who fought his own way from rejected youngest son to King of Israel, I would not have expected him to have saintly qualities. Nathan and Solomon were both written really well and I enjoyed both of them. All of the female characters suffered dreadfully in one way or another. I am glad I did not live in those times!So - not quite as good as Caleb's Crossing but still very enjoyable indeed.

This is one of those books that improves the further you get into it. Halfway through I still considered dumping it. The names used for biblical characters are in Hebrew, and although they sound similar to the more familiar English names, this adds an element of confusion. Dates are rarely told. Places are often unrecognizable because they too are in Hebrew or ancient and no longer exist. The tribal names are difficult to keep track of. There are many tribes. We are told King David's life story by the prophet Nathan. Nathan is instructed by David whom he should speak to to get more information. Nathan is to record David's life history, and this is the story we are reading. Nathan gathers information from several individuals and presents what each one says separately. As a result the events are not presented chronologically. This too makes the reading confusing. Another consequence is that the events are told rather than experienced or shown. This is more prominent in the first half of the book. Due to my confusion while reading the book, I went onto internet to get the basic story. (See the links below.) This made it easier for me to follow, but should this be necessary?! As I read several characters began to stand out. I began to know who was who. I began to understand their personalities - particularly Nathan, King David's first wife Mikhal and Batsheva. Their stories are engaging. You hear the two women's thoughts as they speak to Nathan. I empathized with them. I understood what they had lived through. I feel Brooks does a better job of portraying the female over the male characters. I did get to know Nathan, because he is telling the story, and then later Solomon too. He is King David's son with Batsheva. This understanding takes shape in the latter portion of the book. There are quite a number of personages to follow. You don't get large sections on each. It cannot be a spoiler to state that King David was the one to unite the Hebrew tribes. Of course this was done by war. There is scheming and savagery and brutal episodes. I learned what King David did. I learned about his personality through his actions, NOT through his thoughts. I feel David is realistically portrayed, both his savagery and his more favorable attributes. His sexual proclivities are made very clear. What he achieved was no small feat. Through reading this book you get a fuller idea of who he was than by simply reading a quick summary on Wiki. I am glad I read it. The book put meat on the bones of the bare facts found on the Web. I listened to the audiobook narrated by Paul Boehmer. On the whole it was good. He uses different intonations for women, men and children. He reads at a slow pace with pauses to emphasize particular phrases. Sometimes I thought this was great and at other times it annoyed me. I think this was a difficult book to read, and he did an amazingly good job. The Hebrew names were for him no problem at all! ****************Through chapter 8 (i.e. 42%): I am having serious trouble with this. I knew little about King David when I began the book, only that he united the tribes of Israel, how he defeated Goliath and that his son Solomon built the temple. THAT is why I chose to read it. I don't like the first person narrative used in the book. We are told the story by Prophet Nathan. This results in our being told about events rather than experiencing them first hand. I don't like the language. It flips between biblical wording and modern day expressions. I couldn't believe it when in Chapter 7, David says "He couldn't fuck(a maidservant)!" He worried he was becoming impotent. So instead he (view spoiler)[had to have Batsheva instead, the wife of one of his loyal warriors (hide spoiler)]! One minute the language is crude and contemporary. Then come some lines that try to sound antiquated, biblical in tone! With such modern language I do not see why the author has to even bother changing the names to Hebrew. This causes confusion. There is a stupid comparison between how war is like playing music. David played the harp. Do you like cinematic writing? I don't. I guess, the author hopes this will be made into a movie. I went to internet and found these about King David:https://www.jewishvirtuallibrary.org/... (from the Jewish Virtual Library)andhttps://en.wikipedia.org/wiki/David (from Wiki)I wish I had just read them and skipped the book. Do I continue?

Fascinating Account of King David's Life, Through the Eyes of the Prophet NathanA Period of History about which I've Read LittleThis novel gave me a look at an historical period about which I've read little (outside of my weekend Hebrew school lessons as a child). So I was fascinated by this look at the life of the legendary Old Testament ruler of Israel, King David.Nathan the Prophet and NarratorThe narrator of this tale is the King's faithful servant, the Prophet Nathan (a.k.a. Nathaniel). Nathan was the author of one of the lost books of the Bible, the Book of Nathan the Prophet (also known as the History of Nathan the Prophet).It does take a while to become accustomed to Nathan's style of narration, but when one does, Nathan is a good narrator for a number of reasons. For one thing, he's a loner and an outsider. People are frightened by his prophecies, and therefore avoid him. Only King David keeps him close and listens to anything Nathan says. This is, in part, because every prophecy Nathan has made comes true. Nathan has also taken a vow of celibacy, the better to devote himself to serving King David. While this means he will never fully understand romantic or familial love, it also gives him a more objective viewpoint on what's going on around him. Nathaniel's outsider status gives him a clearer perspective. For the most part, he is not involved in the usual political intrigues and gossip, although he does admit to getting court gossip from his house slave. He also does admit, towards the end of the book, that he is interested in power (which is surprising, since for most of the book, he says he couldn't care less about power). Perhaps this about face or inconsistency makes him a bit of an unreliable narrator where he himself is concerned.However, for the most part, Nathan is an honest man, especially compared with the schemers around him. He is the one man who has the courage to tell David the truth. This is another reason David keeps Nathan around.King David, Warts and AllIn any case, although Nathan loves David (albeit in a detached way), he is not blind to David's enormous failings. So the novel gives us a fairly unvarnished view of a character, King David, who is usually put on a pedestal. David is a man with a big heart who loves his soldiers. He is an extremely talented harpist and singer/poet. Because of his childhood years as a shepherd, he knows how to listen. He also loves certain people in his life (Jonathan, his wife Avigail, his sons); although he is indifferent towards others.However, without going into details to avoid spoilers, David had some monstrous faults. He had huge appetites for both sex and food. These are not bad qualities in themselves, but sometimes his lust leads him into trouble. He spoiled his sons and refused to rebuke or discipline them, so they became spoiled arrogant king's sons. Several of them became what today we might call pyschopaths. He could be cold and callous towards others (most notably towards one of his ex-wives). He was vain and arrogant. Worst of all, he could be cruel and bloodthirsty. He participated in several bloody mass murders during war (he justified these as "necessary", which is the word he used to excuse any really heinous act of his). He was also devious and scheming, indirectly benefitting from the murders of others (one wonders to what extent his network of spies were responsible for such killings, to which David usually appeared unconnected). However, when he finally admitted how badly he'd behaved (mainly because Nathan confronted him), David was genuinely contrite. David spent the latter part of his life in prayer and atonement. This is what kept him from seeming a total monster.Rich details of time and placeThe author did her homework. She researched the details of time and place really thoroughly. She captures the architecture, dress, speech, food, music, transportation, animal husbandry and rituals of the time. She also gives a more sympathetic cast to Israel's neighbors (and sometime enemies), such as the Philistines. Familiar Bible personagesThe novel is peopled by characters familiar from the Bible stories: (Absolom, Joab, Solomon, Saul, David, Bathsheba, Michal, Tamar, Jonathan, Abigail, Amnon, Uriah), etc.Confusing pronunciationThe pronounciation of names is confusing, as they are given traditional (Sephardic?) Hebrew pronunciations that people may be less familiar with. Examples: Joab is pronounced Yoav, Solomon is Shlomo, Saul is Shaool, Bathsheba is Batsheva, Jonathan is Yonatan, Abigail is Avigael, the Philistines are the Plishtim, etc. This takes some getting used to, as the names are different than those many of us learned as children.What does the title mean?The meaning of the title eludes me, although it obviously refers to David's famous harp music and singing (he is said to have written many of the Psalms). It might be a symbolic reference to Nathan's prophesies.Audio readerPaul Boehmer's declamatory and majestic style of audio delivery mostly suits the material, although sometimes it seems a bit overdone and bombastic.

This book was exactly what I expected...."NOT MY CUP OF TEA"!I had no intention on requesting this book from Netgalley 'last' year...but worried my Jewish Book club might choose it for 'this' year. I LOVED "People of The Book", by Geraldine Brooks, but I was pretty sure if the blurb for "The Secret Chord", didnt sound great to me, why kid myself. But...since last year...I read other reviews -- positives and negatives. So, I recently downloaded this book from the library - thinking maybe the audiobook would grab me. A low risk...( free, and no obligation to write a review). You can laugh now! :)Well... I gave it 2 hours! Those two hours were't awful...but I just didn't care 'enough'.If my Jewish book club picks it...I'll consider taking things more serious - and getting down to business. For now...I'm letting this go.... 2 stars for 2 hours .....( and 2 stars for me - in giving this a camper try)...lol

You don't have to believe that God exists, or that the bible is the true "Word," to thoroughly enjoy Brooks' latest novel, this story reaching back in history to Old Testament times. I am a secular Jew, and think of the bible as the original written allegory and metaphor of humanity's struggles. I gambled that Brooks' storytelling skills and her finesse in stitching the drama of history to contemporary times would be sufficient to carry me along. It met my expectations in most ways: in its simplicity and lean, tactile prose; her ability to compel with character and plot, and her ideal pacing.Some of the truisms almost bordered on hokey at times, and Brooks used comfortable, familiar tropes. However, the ancient legend of King David, as with most biblical stories, provided some solid framework for future fiction-writing. So, if you can imagine this story as the provenance of storytelling, then you can imagine it as the genesis for a hundred thousand others that borrowed from ancient scriptures. Did I say fiction? Well, if you believe that King David existed, or if you didn't, you're still just as likely to enjoy it. It's a roaring, lascivious, and even tender tale. Of course, a man like David would be in prison today for his outrageous behaviors. This story has it all: adventure, drama, suspense, war, murder, sex (of many kinds!), romance, homicide, fratricide, bro-love, betrayal, incest...and music and beauty. It was occasionally sentimental, but Brooks pulled it back with the modest restraint of an author confident in her ability to satisfy literary readers, while willing to blandish the book with a mainstream potboiler.She humanized David, enough so that I understood the combination of respect and fear, and love and hatred that he reaped. It was difficult to stomach how he failed to raise his sons with any core values, and yet his last son, Shlomo (Solomon), he allowed his prophet, Natan, to mentor, which resulted in a pure and angelic boy. Brooks definitely spelled it out, i.e. her characters came with a blast of the shofar rather than the whisper of a breath. The author, in a sense, amplified every characters' honorable vs. flawed nature, and she was almost an apologist for David. But, again, she pulled back before it became too saccharine. However, don't expect high culture here; this is unapologetic entertainment, a bit pandering at times, but still fastening me at the edge of my seat.In case you don't know the story of King David--the shepherd boy-cum-anointed one, here is a rough description. Prophet Samuel realizes that Saul is not fit for king duties, which makes Saul go mad. Samuel goes to Beit Lechem (Bethlehem) and finds the seemingly unimpressive young David, the youngest brother of a large family well educated in Jewish law. Samuel feels God speaking through him, naming David as future King of Israel.Brooks story is narrated by Natan, David's personal prophet and scrivener (whose father David slaughtered in front of him)--a man, like Samuel, who hears the "Name" speaking through his body (via tongue rolling, convulsions, and other shaman-like contortions). It is the story of David's vicissitudes as a king--his loves, losses, conquers, falls, courage, cowardice, transgressions, and tragedies. I fail to understand why a benevolent God would commence to create such a violent history, but then, I'm not organically attuned to what I was taught in Hebrew School. But, despite my personal beliefs, Brooks had me at "thou." As in People of the Book, the author is skilled at writing ancient times in a contemporary style. Instead of using a stodgy, fusty Ole English translation of Aramaic, she writes with a lyrical and modern pen, all the while capturing the mood and atmosphere of the era into times past, until you are truly transformed into the days of BCE. And yet, the moral core is relatable to the times we live in today. I don't know how she does it, but I am certainly pleased with her execution of words:"...the stories that grow up around a king are strong vines with a fierce grip. They pull life from whatever surfaces they cling to, while the roots, maybe, wither and rot until you cannot find the place from which the seed of the vine has truly sprung. That was my task: to uncover those earliest roots. And he had directed me to the seedbed."

A retelling of the life of King David from the perspective of the prophet Nathan. The naming takes some getting used to, but the stories – from gory massacres to moments of triumph – are recognizable from the Old Testament. What makes Brooks's take unique is the different points of view it shows and the ways it subtly introduces doubt about David's carefully cultivated image. It's sensual historical fiction, full of rich descriptive language. Strangely unmemorable for me, perhaps because the storyline is just too familiar. Brooks doesn't offer a radical reinterpretation but sows small seeds of doubt about the hero we think we know.Note: There's a personal reason for Brooks's interest in Judaism: the Australian-American author converted to the faith after marrying a Jewish man. In the afterword she reveals the particular circumstances that inspired this novel: in 2006 her young son Nathaniel started to learn the harp; five years later, for his bar mitzvah, he played an arrangement of Leonard Cohen's "Hallelujah."(Full review in the January/February 2016 issue of Third Way magazine.)

"And there is one chord, one perfect assembly of notes that no other hand can play. The sound of it – pure, rinsing sound, void so that your spirit seems to rush in to fill the space between the notes"The Secret Chord is the fifth novel by Pulitzer prize-winning Australian author, Geraldine Brooks. David, son of Yishai (Jesse) the Beit Lehemite (Bethlehemite): a shepherd boy, a warrior, an accomplished harpist with a beautiful voice, a composer of psalms, a husband, father, lover, and second King of the United Kingdom of Israel; the significant events in the life of this charismatic figure from the 10th century BCE are related by Natan (Nathan), prophet and part of David's retinue from the tender age of ten, whose perspective is that of one both present and prescient. Natan says: "I have set it all down, first and last, the light and the dark. Because of my work, he will live. And not just as a legend lives, a safe tale for the fireside, fit for the ears of the young. Nothing about him ever was safe. Because of me, he will live in death as he did in life: a man who dwelt in the searing glance of the divine, but who sweated and stank, rutted without restraint, butchered the innocent, betrayed those most loyal to him. Who loved hugely, and was kind; who listened to brutal truth and honored the truth teller; who flayed himself for his wrongdoing; who built a nation, made music that pleased heaven, and left poems in our mouths that will be spoken by people yet unborn". He also tells us "They knew his flaws. Indeed, I think they loved him all the more because he was flawed, as they were, and did not hide his passionate, blemished nature"The subject matter that Brooks selects for her novels may well be one which a reader would not normally choose, but with this author, the reader is, nonetheless, rewarded with an eminently readable story. Brooks is skilled at making a historical subject come to life by telling the story from the perspective of one closely involved in events, and this book is no exception: all those battles, all that slaying, all the lay withs and begats that cause the eyes to glaze over when read in their original form are made into a riveting read. (For readers who have forgotten their bible stories [or never read them], Wikipedia is a great quick reference on David's life.) The small details of everyday life, the biblical–sounding language and archaic spelling of character names give the text an authentic feel. And as always, the depth of research that Brooks has done on her topic is apparent in every paragraph.Her descriptive prose is often truly beautiful: "It was as if the harp were a loom, the notes he drew from it a bright thread forming a glorious pattern….his large strong hands could draw forth a breadth of sound that one did not generally associate with the gentle harp. He could make it speak with a thousand voices, soft or stormy" and "His face – his beautiful face – was sunken and scored with lines, the hollows beneath his cheekbones scooped out as if a sculptor had driven his thumbs too deeply into the clay" are two examples.Passages like "It was the kind of thing that corrodes, like a drop of lye fallen upon linen. You don't see the effect at first, but in time the fibers weaken and fray, a hole widens, and the garment is spoiled. Only if the drop is washed away directly can the damage be gainsaid" and "… the timbre of David's voice was a thing apart. It had the tingling urgency of the shofar, and yet was not shrill. It could engender awe, as a high wind howling dangerously through mighty branches, or bring delight, as an unexpected trill of sweet birdsong" make this work of historical fiction a joy to read. Once again, Brooks does not disappoint.With thanks to TheReadingRoom and Hachette Australia for this copy to read and review

Geraldine Brooks is gifted with the uncanny ability to speak in tongues not her own. David, the second King of Israel, was "the first man in literature whose story is told in detail from early childhood to extreme old age." In this novel, Brooks writes in the voice of prophet Natan who stayed by David's side through his long life, from the moment Natan exhibited his channeling of a voice not his own--the voice of the source of all things, called 'the Name.' This is particularly fitting, since Brooks' skill in reading the past mirrors Natan's gift to read the future.While the Bible is the original source for much of David's story, Brooks used the works of more lately scholars, e.g., Robert Pinsky's The Life of David, and David Wolpe's David: The Divided Heart, to paint a picture of a complex and lavishly gifted man who failed to rein in the passions that all men harbor and to which some fall prey. It is a powerful tale of bravery and woe, justice and corruption.Through it all, we see the state of Israel taking shape, despite the tendencies of a "strife-prone people quick to fan grievance, to take sides and foment revolt." David lay a calming and just hand on the remains of many a defeated and bereaved enemy, and ruled fairly…until vigilance over his passions waned in the full throat of his power.If David's story predates Herodotus by half a century, it is the oldest piece of history ever recorded. Brooks brings back to life the characters and their environment, the violence and the adulation, the resentments and the love with such richness that we can smell zaatar on roasting bread and taste the bite of goat-cheese feta. Brooks' own perspective is rich with understanding and generosity for both the greatness and the failures of man. David's last son, Solomon (she calls him Shlomo), upon learning the details of a battle, would say, "there is nothing new under the sun;" all had happened before, if one looked back far enough in time. And so it may be.This is the tale of how an abused and neglected boy overcame his origins, slay Goliath, and became an uncommon warrior and king. And it is the story of how power will corrupt, lest one guards with unceasing vigilance one's baser instincts. Brooks points out in her Afterword that the story of David may not be just a parable but must define an actual figure "for no people would invent such a flawed figure for a national hero." David lives in these pages at least.

Instagram || Twitter || Facebook || Amazon || PinterestWhile I enjoy historical fiction, I prefer reading about time periods I know at least something about so reading doesn't turn into information overload, but I know next to nothing about King David, apart from the fact that he defeated Goliath. THE SECRET CHORD is a book about the life of King David, from valorous beginning to tragic end, told by Nathan the Prophet. I'm going to be honest with you here - if my book club hadn't chosen this as the pick of the month, I never would have bothered to finish THE SECRET CHORD. But hey, try new things, right? Maybe it'll work out.Spoiler alert: it didn't work out. I really had to force myself to stick with this one, and ended up skimming pages towards the end because I just no longer cared about the story. If this hadn't been for book club, I wouldn't have finished - it would have been chucked into the donation bin and deleted from my GR shelves.But alas. Fate had conspired to burden us with the other's enduring presence.I put off writing this review because I wanted to think about why THE SECRET CHORD didn't work for me. It's a slow book. The beginning takes a while to gather steam, and the book doesn't reach momentum until about twenty or thirty pages in, only to fall flat at several points in the narrative. Part of the reason was Nathan. I don't really like stories where the "hero" or "heroine" is actually the passive mouthpiece for the voices of others. After a while, that just makes me feel like I'm being talked at. I understand that he is a prophet and a huge part of his life is making these important prophecies that will dictate the lives of others, but oh my gee, it was so boring to read about.Ironically (considering what I just said in the previous paragraph about mouthpieces), one of the more interesting parts in the book is when Nathan is sent by King David to hear stories about him from lovers, family members and enemies. Why? Because it was interesting to see that darker side to King David. I glanced through the Wiki article before reading this, and King David was a pretty gnarly dude - he was bisexual, committed adultery, slaughtered his enemies, and killed people when it was convenient. Brooks doesn't skimp on the detail, either. Which surprised me and at the same time, didn't, because her other book - YEAR OF WONDERS - is about the plague, and I remember being really grossed out by some of the details in there, too, even though it was a much better story.THE SECRET CHORD was not badly written, but it wasn't a good story either - at least not for me. The passivity of the hero combined with a very dull storytelling made this book feel ten times longer than it should have been. It's a shame, because the subject matter is quite fascinating and has all the makings of a sensationalist bodice ripper trussed in the garbs of literature - but it would appear that lack of entertainment value is a requisite for literary merit. Boo. Hiss.P.S. What do you guys do when you dislike your book club's pick? Inquiring minds want to know. ;)1 star.

This book is a historical novel rendering of the Biblical account of King David. It's told in first person voice of Nathan, the prophet (a.k.a Natan). It follows the Biblical account quite faithfully thus includes clear portrayals of the sex, grit, blood, and violence contained in the source. In other words, this book is not to be used in a children's Sunday school. Nevertheless, this book brings the story alive in a manner that is missing in 1&2 Samuel.Geraldine Brooks is a good writer and she's done a good job with this story. My main criticism is that she followed the spirit of the religious texts too closely. She portrays Nathan as truly capable of having visions that accurately predict the future. That is biblical but unsatisfying to my secular mind. I would have preferred a Nathan who depended on his clever mind and secret spies to make it appear to others that he was able to predict the future.The following is my commentary on the historicity of the David story, based on my understanding of archaeological evidence:David's reign (if it did exist): c. 1010 – 1002 BCE (Judah only) c. 1002 – 970 BCE (Israel)The Biblical David and Solomon, if they existed, did not rule a large kingdom/empire from Jerusalem at the time that the Bible asserts because the population of Judea could not support significant cities, and there is no archaeological evidence for a city at Jerusalem at that time. The Biblical stories are probably composites of memories of Ahab of Israel and Manasseh of Judah, plus wishful thinking and a desire to center religion and power at Jerusalem. The story was probably composed in the period c. 630–540 BC by combining a number of independent texts of various ages. Judean story tellers were motivated to embellish their history to compare favorably to the history of the northern kingdom that was brought into Judea by refugees from the northern kingdom when it fell to the Assyrians.I've included the following observation from the book of Luke here because I think it strange that the genealogy contained in that book does not go through Solomon:In the Luke genealogy Joseph's line goes through a (completely) different set of ancestors than that of Matthew and traces it back to Nathan son of David rather than to Solomon son of David. Although Nathan is the third son raised by David and Bathsheba, he is the fourth born to Bathsheba. The first died before he could be named. Nathan was the first child of Bathsheba that she was given the right to name. Her first child died as an infant before being given a name, and Shammuah and Shobab were given names by David and Nathan the prophet. It is thought that she chose the name Nathan in honor of Nathan the prophet, her counselor. Solomon was third full brother of Nathan and the youngest, and of course he's the one who succeeded to the throne as king.

2 1/2 stars My expectations were very high, maybe too high, because in all honesty I was a bit disappointed. THE SECRET CHORD was certainly richly detailed and beautifully written, descriptive without being wordy. However, overall it just didn't enthral me – I didn't LOVE it. At times the story was slow moving, certainly in the beginning, and the chronological order chopped and changed as Natan related the story and for some reason decided to do this when he pleased rather than starting at the beginning and going to the end. In the end I was at times left feeling very confused. I understand that the point was to get different perceptions of David at various times of his life – but surely they could have been put in chronological order? Add to this the fact that sometimes the beautifully detailed descriptions were just too graphic, I am referring to the savagery of the battle and rape scenes here, along with some pretty horrific actions. I understand that there were part of life then – but even though I know from the Biblical David that bad things happen – and that Geraldine Brooks was fleshing out the bare bones given in the bible – I was not comfortable with it.David's story from the Bible is very familiar to me and he wrote some of my most favourite psalms. The David in THE SECRET CHORD was not so familiar to me. I know Brooks wanted to portray the historical rather than the Biblical David – but my heart wanted the man who humbled himself and repented – not the cruel and unfeeling man who I found on the pages of this book. The other problem I had was the use of the Hebrew versions of the names of the characters, so at once I was struggling to connect the book to the Biblical stories and characters I knew and loved. I confess I wrote a little note and kept it beside me so I could remind myself that Shaul was Saul, Slomo was Solomon, Batsheva was Bathsheba, Avshalom was Absalom and Jonathon became Yonatan. Even the narrator is Natan the prophet rather than the Nathan I am familier with. I am sure Brooks did this for authenticity – but it didn't work well for me. And don't get me started on all the tribes – I couldn't even keep track of them all in the Bible!!! And yes I know the whole point is that David united them so they needed to be in the story – but boy oh boy! In the end I stuck with the story and came to know a little better the David in the book – he was a complex character who did unspeakably horrible things but also did some wonderful things. A man who could kill without a second thought to get his own way, and then write the most beautiful poetry.for me - 2 1/2 stars means - Average - it was OK, but for one reason or another I found it a bit of struggle to stay focused and finish.With thanks to Hachette Australia and the author via Netgalley for my copy to read and review.

I've read just about every book that Geraldine Brooks has published and she has never disappointed me. That said, her latest book, The Secret Chord didn't impress me as much as her other books have. While it could be her writing that it is at fault, I suspect that the problem lies with the subject matter instead. For decades now I've considered myself to be an agnostic, which is to say I choose not to believe in a higher power yet have no wish to impose my nonbelief in others. With that in mind, I should be comfortable with a portrayal of King David that shows him in a less-than-holy light, but apparently, I'm not. One would think that a king supposedly chosen by god to rule over his people would exhibit behavior that is better than what one would expect from an episode of Game of Thrones. Even so, it is always a good idea to bone up on my biblical references. Who knows? This may stand me in good stead when I get around to reading Absalom, Absalom!. FYI: On a 5-point scale I assign stars based on my assessment of what the book needs in the way of improvements:*5 Stars – Nothing at all. If it ain't broke, don't fix it.*4 Stars – It could stand for a few tweaks here and there but it's pretty good as it is.*3 Stars – A solid C grade. Some serious rewriting would be needed in order for this book to be considered great or memorable.*2 Stars – This book needs a lot of work. A good start would be to change the plot, the character development, the writing style and the ending. *1 Star - The only thing that would improve this book is a good bonfire.

5★ + 5 ✡What a wonderful piece of work. Geraldine Brooks has captured the spirit and mood of this ancient, difficult time, with distinctive portrayals of Old Testament characters, some we may recognise and some we may never have heard of. Doesn't matter – they were scary times whoever they were!David was an awe-inspiring, terrifying, handsome devil. He was a charismatic ladies' man and probably bi-sexual. Have a look here at Michelangelo's famous David. http://www.accademia.org/explore-muse... Brooks's memorable descriptions of their lands and everyday daily life make it all the harder to read of the barbarism of their battles and their endless inter-tribal revenge. The closest modern comparison I can think of is the war ISIS is waging, and for much the same reason – domination over anybody and everybody. Rampages, heads-on-pikes, rapes – this has it all.In a battle, Natan says:"The man had been attempting to crawl away, dragging himself with his remaining hand while a slime of blood pulsed from the stump of his sword arm. My boot, mashing his neck flat into stone, had put an end to that. When I lifted my foot, the man gave a wet gargle, and was still. I scraped the mess off my boot onto the nearest rock and went on."But the book is about so much more than bloody warfare, as is David, a harpist, singer and composer of renown (psalms and the Songs of David), as well as a warrior and leader.Brooks has chosen the prophet Natan as narrator, and he tells the story in a Biblical style, which helps us believe it's about 3000 years old. I would have welcomed a glossary and a list of characters and/or family trees to help keep track. I expect some unofficial ones will be forthcoming. And a map. The language was perfect.David has asked Natan to write a biography of him (this book), interviewing anyone and everyone who has known him, including those whom he has banished. And who knows, this may be something like the missing book of Natan which is referred to in the Bible.I've written more, but the above will let you know I think it's a great achievement, and I thank NetGalley for allowing me to read a copy to review.Below are a few episodes and excerpts to give you an idea of how it sounds.It begins with the prophet Shmuel (Samuel) telling Shaul (Saul), the king, that the Name (God) has rejected Shaul, so Shmuel must find the new rightful king. Prophets are given some tricky tasks. It's very reminiscent of the search for the next Dalai Lama when one has died. Shmuel tracks down and selects David, the banished-to-the-wilderness youngest son of Yishai (Jesse). Banished because Yishai believed his wife had been unfaithful and David was a bastard, but that's another (good!) story.Skip forward a few years. As a boy tending goats in the hills, Natan had met the young David, famous by then for having killed Gath (Goliath), but Natan's father refused to provision David and his band of "outlaws". So David ordered his slaughter and"all of his kin that can piss against a wall". Women were just property, so no fear of vengeful retribution from them. But David recognised Natan from the hills and spared him, thinking he was "simple" (presumably too simple to be of any concern).Then suddenly, Natan spoke (his first time as a prophet). "Later, others had to tell me what I said. I knew that my lips and tongue were moving, but I could not hear my own words because my head was ringing like a stone under the blows off an iron mallet, blows that beat the blood behind my eyes. I stood there, in the crimson-misted ruins of my own life, and the words poured out. Through the red blur, I saw the faces of his fighters distort with wonder. Yoav lowered his weapon and gaped. David's own face creased, confused. Then it changed. His look became greedy. He spoke, but I could not make out his words through the thunder in my head. I saw him reach out to me, and then I fell." Natan had no idea what he had said, but David and the others recognised him as a prophet. "The voice that used my mouth foretold for him an empire and a line that would never fail through the generations." The voice is that of "the Name" or "Yah", as nobody could speak the name of God. The Old Testament God was pretty scary, after all. I imagine Voldemort, from the Harry Potter series, is based on the same premise – too scary to mention the name for fear of reprisals. Although "the voice" appeared only very occasionally, for the rest of David's life, Natan devotes himself completely to David's service, saying "he has kept me close, even when my words have blistered him".Also only occasionally, Natan has frighteningly real visions of the future through which he can prepare David for what's ahead. He does admit to sometimes using David's unwavering belief in his foresight to his advantage, attempting to sway his conscience (without having had a vision), but he is only moderately successful, and the bloody battles and murderous rampages continue. I mentioned he was banished as a child. His mother described what made him the man he became."When he was barely six years old, his father ordered that he be sent away from the beit av—the family home—to tend the sheep up in the hills. He was to live in a little hut of stone and branches, and come home only to get supplies. It was to get him away from the house, you see, so that Yishai would not have to look upon him. And this, too: the hills were full of lions then—not like now, when one rarely hears of an attack. How was a six-year-old supposed to survive out there alone? I believe Yishai hoped for his death. I wept the day he left, the crook—too large for him—threaded over his narrow shoulders, his slender wrists draped over the cane. He had the cheeses, olives and dried grapes I had packed for him tied in a cloth on his back. He looked small, and helpless, and lonely. My heart ached over it. I was in agony for him. But now I think that it was a good thing he got away from his brothers' persecutions and his father's open hatred. Those years in the hills taught him many things. You could say that they made him the man he became. For better and, yes, perhaps, for worse."

Geraldine Brooks is one of my favorite authors. Year of Wonders: A Novel of the Plague actually made the Black Plague interesting. People of the Book is one of my very favorite books ever. I was really looking forward to this book and I came away disappointed. The book is about David from the Bible. He was interesting person who was both good and very bad as most of us are. He basked in God's good grace and leaned on his seer and prophet, Natan. You'd think this would be fascinating but it started out very slow and I almost put it aside several times. It was only my admiration of Brooks that kept me going. I finally figured it what the problem was. Brooks made the choice of using the Hebrew of the Tanakh for people's names and locations. I am not sure why she made this choice but Solomon became Shlomo and Shmuel wad Samuel. I had a difficult time keeping people straight. I had trouble keeping Avigal and Avinadav, both David's sons, straight. The same with Yoav and Yonadav, his nephews. I wish she would have used the names we are familiar with. The stories about the women were horrific. What happened to his daughter and his reaction to it almost made me throw up. I am glad I was not a woman then. The ending picked up so I gave it 3 stars. I just wish Brooks had made this book more accessible to the main stream market. It's a great story but could have been told much better.

Decided to put this aside for now without rating it. I have read over half the book and there are many things bugging me. Modern language mixed with the old. Going back and forth, past, present, to future. Plus I am just not enjoying it. Will I pick it up again? Not sure right now.

There were parts of this I liked and parts I was disappointed in. Disappointment in Geraldine Brooks' books does often seem to be part of my reaction to reading her works, so I was prepared for this, also as a result of reading a friend's review (thanks, Dale!). I enjoyed the retelling of King David's story and was pleasantly surprised by how faithful the recounting of actual events was. I liked that this made me revisit the story of David from 1 Samuel 16 through to 1 Kings 2 in the Bible. I was disappointed in the motivations ascribed to some of the characters' actions - in some cases, I felt there was too much read into simple statements of things that happened/were said etc, and at other times not enough, with significant aspects being glossed over. I enjoy reading fictionalised accounts of Bible stories, with imagination used to flesh out the story with more personal details than we are often given in the Bible. Unfortunately with this one, I just did not feel that the "fleshing out" remained true to the spirit of David's story. I enjoyed Francine Rivers' effort in the novella Unspoken: Bathsheba (part of A Lineage of Grace) more than this.But I did enjoy parts of this one - I enjoy her style of writing. It is descriptive without being overly wordy. I liked her portrayal of Natan.I won this book as a First Reads giveaway so thanks to Goodreads and Hachette for my copy.

Considering all the good things I've heard about Geraldine Brooks, this book was not what I was expecting.I usually love these kind of fictional historical biographies, The Song of Achilles is a favourite. Yet this did not work for me at all. Perhaps it is, in part, due to the subject matter, I know little-nothing about David. It made it difficult for me to reconcile myself with the language Brooks uses. It's often coarse, and while i'm not afraid of bad language, I wasn't sure whether it was an attempt to reflect vocabulary/attitudes of the times (as is necessary for Greek comedy for example) or just a literary technique to shock. In any case, the mix of old/new felt like a clash, rather than an illumination. This is exacerbated by the interweaving of David's story with the narrator, his prophet Natan; in mixing both tales, neither is fully realised. We see David through the eyes of others throughout, especially Natan's, but I feel the real man is no more revealed by the end. This is certainly how evidence usually works for the ancient world, but this type of fiction aims to fill the gaps. One aspect that was certainly covered was in the private sphere: Brooks is obsessed with David's sexual life, recounting his exploits (among others) with both men and women in crass terms. It's tiresome. You wouldn't think a book about such a brutal, action filled time could be so boring. My thanks to Geraldine Brooks, Little, Brown Book Group UK, and Netgalley for this copy in exchange for an honest review.

An incredible look at the life of King David of Israel. I am no Bible scholar, so I don't know if this is really playing fast and loose with the Biblical account of David's life. However, I really enjoyed this. It shows David warts and all. For a national (and religious) hero, David has many faults. Perhaps that is why he is so loved. Personally, I like heroes with faults. Peter Parker aka Spider-Man is much more fun than Clark Kent aka Superman. The X-Men are more fun than the Justice League. Look even at my favorite tv hero, Fox Mulder. He has many faults but I love him just the same.I think that King David is the same. He wants to be worthy of the trust that the Lord has put in him. But he is continually failing and doing something that disappoints. If I can verge into the religious and ideological, I would like to point out some lessons from David's life, especially for the evangelical and judgmental right wing "Christians". David has a homosexual relationship. (He loved Jonathan more than any of his wives.) He kills many people. He has many adulterous affairs. But does God punish him for any of these "sins"? No. What does God punish him for? For taking Bathsheba, even raping her, and then arranging for her husband to be sent to his death. Perhaps this should be a lesson of what is really important, and that God is not going to punish anyone for love. Back to the book, I loved Ms. Brooks' writing and this novel has inspired me to pick up my Bible and remind myself what the story was based on.

I always struggle with the movie adaptation of a book I love. When the director makes choices about details that do not match the images I have created, I am upset. We both can't be right, after all, and I can't be wrong. That was my experience with this fictional account of the story of King David. This is obviously well-researched and Brooks is faithful to the elements of the story recorded in Scripture. But, it was all those pesky details that did not match the images in my head. Where does all the red-gold hair and the blue and green eyes come from in this part of the globe? Why is David's father Jesse and his brothers depicted as drunken brutes? (Well, maybe I should have expected that since Brooks seems to have drunken, brutish patriarchs in all her novels.) Why are people sitting at tables in chairs in the courtyards; isn't this the culture of cushions and low tables? Why does the prophet Nathan sound like a 20th century college educated American with a literary bent? If this had not been a story I knew so well, I think I would have enjoyed it much more. But just as reading a book before seeing the movie tends to ruin it for me, so did my frequent reading of this biblical account ruin this novel.

The story of King David as told through his prophet Nathan. As a child who grew up in church, the story of David fascinated me. A young boy rises from the obscurity of tending sheep to slaying the giant Goliath and eventually becoming King of Israel. As a teenager in the church, David was held up as a prime example of what can happen if one strays out of God's will. As an adult, currently out of the church, I enjoyed Geraldine Brooks' telling of the tale. More depth is given to the personalities involved with plenty of historic background. David was a complex character and I feel the author did a fine job portraying the layers of his personality. It prompted me to read with fresh eyes the Old Testament chronicle. This is an author who truly works magic with the written word. From the brutality of the time to the exquisite language of love and music, to the holy tenor of the The Name,it is all captured brilliantly. The flaws were there, but they were few(at least in my opinion) and didn't substantially detract from the story line. Great read!

I love Geraldine Brooks's books for the most part. I found March dull, but other than that - well, as Ron Weasley always said - brilliant!Obviously The Secret Chord would follow suit, especially when it's a book about the biblical King David. I guess the warnings were all over the front piece, a brutal Iron Age man, war, love, prophecies. But King D was a good king, right? And the brutality was simply the sort that happens during war. Spoiler alert now.I should've been aware of what was to come by books such as Reza Aslan's account of Jesus of Nazareth. That was as bloody and brutal an account of the way Rome despatched anyone that threatened their power as any could have been. There were priests murdered in their temples and whole towns starved and sacked.In The Secret Chord King David does this to the different tribes living in Israel at the time. If this book is based on non-fictional accounts of King D's rampages then he was a brute who allowed tiny babies to be murdered in order that no one could tell anyone what he'd done. And that is why I couldn't keep reading in the end. The character of David is so unpleasant I couldn't bear it anymore.I get that David was a man of his time, that war is brutal, but he was unkind to his women, promiscuous, bisexual (and remember, this is the biblical David whose jealous God jumped all over same sex relationships, and, btw, I found this bit of the narrative completely unbelievable). but I don't get that the David I read about as a child, the one who loved deeply, could be so cold and psychopathic. I guess Brooks did attempt to make David likeable, he was meant to be handsome and a wonderful musician, a loving new father, sweet to his older wife, but it was like a very bad bowl of pasta with a smattering of quality parmesan lightly grated on top, not enough to hide the abomination you're eating. Somehow Brooks just doesn't bring this one off - even the writing, usually so excellent - felt like it tried too hard to be like a milder version of the King James bible. There were some enjoyable descriptions, but I was very confused by the changes Brooks made to names (Philistines were called something else, Saul was Shaul, etc). It seemed an academic conceit to do this without even offering the reader a small footnote or a glossary.I got to page 150 and thought, life is too short.Very disappointed and very disappointing.

Going into this book I wasn't sure it was going to be for me. My knowledge of biblical stories is not great and about all I knew of King David was when he was a kid he killed some big dude with a rock and a slingshot. So I don't know how much of this is based on historical fact and how much is total fiction but it doesn't matter it's a great story. And if you know more about the bible you might get different things out of it than I did but I really enjoyed it. King David was a somewhat controversial king as I guess most are. He was loved but he was also hated. He did great things but he also raped women (note there is one brutal rape scene). He won battles but he didn't always win in the most honorable way. The book is narrated by his prophet Natan and starts when he is a young boy slaying Goliath and continues to is old age. There is lots to this book and I think it would make a great book group choice. If you don't mine your fiction with some dark and gritty bits I highly recommend this one.ARC from publisher

With no knowledge of the Biblical King David (beyond the old David v Goliath story) to go on, I went into this novel with no historical baggage to prejudice me. I was hoping that would be a good thing and a clean slate would help me enjoy the story all the more. Unfortunately, knowing David's story wouldn't have helped me one little bit as I found the story-telling itself here completely boring and insipid throughout. Predictably told to us by one of David's oldest servants and one who is supposed to know him best, it's written from the servant's standpoint in first person POV. I found that in itself a rather juvenile method of telling us the story and it irritated me throughout. It limited any real explanations of David's motivations for, as most people probably know, he was far from a perfect man or king. Despite his prominent Biblical position, he had many failings (unfair killings, adultery, etc and so on) and using this way of telling the story meant that we couldn't know WHY David did what he did....or rather, we're limited to the story teller's interpretation of events or his suppositions which were entirely unsatisfactory. I suppose I expected more from an award-winning author and what I got was a mediocre historical fiction novel. I finished it, but it was a slog.

It has been such a long time since I've read anything by Geraldine Brooks that I'd almost forgotten how exquisitely she writes. This book was no exception to that and although initially I wasn't particularly enamoured of the topic of her latest offering, I found myself swept up in her wonderful storytelling. Not really knowing very much about the Biblical David.....other than he killed Goliath and was King of Israel....and with no real preconceived opinions, I quite enjoyed reading Brook's version of that period in history. It was quite a brutal and violent time and Brooks doesn't hold back in her description of that. I found that for me this was more about the people surrounding David and how his actions impacted on their lives. David was definitely flawed and had a lot to answer for but that didn't stop me from feeling some empathy towards him and his lot. My favourite character by far and the one I thought was the star of this story was the prophet Natan. I think this was an enlightening read and although I did struggle a bit with some terms and names and perhaps a glossary may have been helpful, I found that this did nothing to detract from my enjoyment of the story and by that time I was so absorbed in the story I stopped noticing.

I really enjoyed this book about the rise, reign, and fall of King David. It reminded me of a cross between The Red Tent and any Philippa Gregory novel. The setting is the Middle East, yet there are a lot of royal wars, battles, rape and such. Some reviewers here were turned off because of the violence yet that is an unfortunate reality. These folks were so very clever. I always wonder how much better we would be as a society had this cleverness been used for betterment. Aside from that, the writing is superb and the storytelling is fascinating! The story is told from the point of view of King David's See-er. I listened to this on my phone while driving and walking yet I could easily envision the setting. Thank you to The Toledo Lucas County Library for lending me this book!