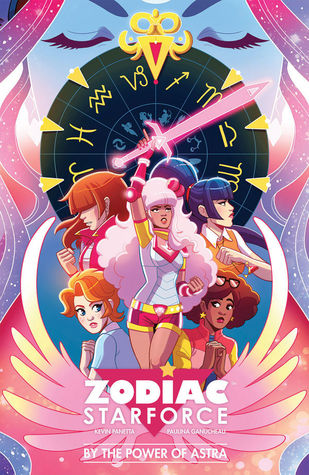 They're an elite group of teenage girls with magical powers who have sworn to protect our planet against dark creatures . . . as long as they can get out of class! Known as the Zodiac Starforce, these high-school girls aren't just combating math tests. They're also battling monsters--not your typical afterschool activity! But when an evil force from another dimension infecThey're an elite group of teenage girls with magical powers who have sworn to protect our planet against dark creatures . . . as long as they can get out of class! Known as the Zodiac Starforce, these high-school girls aren't just combating math tests. They're also battling monsters--not your typical afterschool activity! But when an evil force from another dimension infects team leader Emma, she must work with her team of magically powered friends to save herself--and the world--from the evil Diana and her mean-girl minions!From Kevin Panetta (Bravest Warriors) and Paulina Ganucheau (TMNT: New Animated Adventures, Bravest Warriors), this super-fun and heartfelt story of growing up and friendship--with plenty of magical-girl fighting action--delivers the most exciting new ensemble cast in comics! Collects Zodiac Starforce #1-#4...
| | | |
| --- | --- | --- |
| Title | : | Zodiac Starforce: By the Power of Astra |
| Author | : | |
| Rating | : | |
| ISBN | : | 9781616559137 |
| Format Type | : | Paperback |
| Number of Pages | : | 136 Pages |
| Status | : | Available For Download |
| Last checked | : | 21 Minutes ago! |
---
Zodiac Starforce: By the Power of Astra Reviews
This just proves that another magical girl graphic novel can only make your life better. Zodiac Starforce is such a brilliant team because it was formed prior to the comic's beginning. I really liked how this followed a different storyline than most magical girl series, which is like 'let's collect a new member in each comic!' I loved the diversity of the girls, I loved the transformations and the colour palette is so cosmic cute <3 Where's Volume Two???

This was a fantastic graphic novel!!! First of all, the art in this is stunning. I love how bright and happy it feels. This is probably one of the few "superhero" comics I will ever enjoy, especially because the characters are so relateable and lovable. Excited to see how the next volume is because I am already OBSESSED. also, there's a f/f romance that I am LIVING for.

Colour Palette - 5 starsCharacter diversity - 5 starsEvery outfit (background or main) - 5 starsActual Story - 5 stars. SOOOOO CUUUUTE.

Well this was cutesy. 2,5 stars. Not enough substance for a higher raiting, but it was nice nonetheless. I'll probably be checking out the next volume once it comes out. Also, I'll be basic and say what everyone else is saying about this- it totally is like Sailor Moon.

Okay seriously? If you like anything related to Sailor Moon, astrology, or ass kicking, this is the comic for you. Did I mention it's females doing the ass kicking? That's right! This comic is beyond awesome. Paulina's art is so magically colorful that I just want to stare at it for days. Really. Get this comic.

Girl power + female friendships + LGBTQ romance + bold and colorful art = when is volume two coming out??

One of those rarities that can back up being marketed as "Buffy meets Sailor Moon."I really enjoyed the graphic novel and graphic novels aren't really my thing. I really enjoyed that this first volume wasn't the journey of the girls getting their powers. I loved that it started as they had already saved the world two years ago and kind of disbanded, but not circumstances are putting them back together again. Molly is my favorite for sure. I read this graphic novel for #Diverseathon because of how diverse the characters are in appearance (Emma is biracial, Lily is black, Molly is Asian, and Kim is plus-sized) as well as the LGBTQ+ relationship!

Zodiac Starforce is a wonderful modern rendition of the Magical Girl Warrior trope. A bright, bubbly, action story which defies stereotypes on so many levels. Our quartet of heroines is diverse. The story picks up two years after the Zodiac Starforce girls saved the world and are now trying to just live out their lives. We begin both in the middle of the story and at the start of a new one. Monsters are returning, it seems like the school's mean girl Queen Bee could be more than she appears to be, and the girls need to figure out how to rebuild their friendships after the last battle broke them apart. Will they be able to get it together to save the world?! I adore the art and coloring of this graphic novel. Reminiscent of Jem and the Holograms, we have soft outlines with a bold palette of colors giving them a modern look. It's a bit retro but in a respectful and intentional way. As our girls are diverse physically, their outfits represent them as much as the Zodiac Starforce team. This is a refreshing change from identical school girl outfits for thin high school girls. Instead, the personality of each character comes through in their costume design. For example, sporty, bisexual Savanna sports sneakers and a baseball cap. But aggressive, punk Kimberly dons elbow pads and a short jacket with spikes around the collar. Each outfit is unique and practical, but the uniform look of the Zodiac Starforce girls persists. A smart, colorful, and creative read, I strongly recommend Zodiac Starforce: By the Power of Astra to all fans of the magical girl trope, and to anyone looking to discover a heartwarming story of maintaining friendship against all odds.

oh gosh, this was so good. I love magical girl stories and this one was just my cup of tea. the girls are lovely together and I love the lore with the signs. besides, the art is just jaw dropping and I love love love the colour palette. I can't wait to read more.full review here: https://catshelf.wordpress.com/2017/0...

Ultimately a fun story of friendship and magic! It definitely had modern day Sailor Moon vibes to me, even though the story is def different.

4.5 starsAhhh, I really enjoyed this graphic novel. It was beautifully illustrated and the colours are SO bright and vivid and rainbow-like (yes, my eyes have turned to hearts)! ZS is basically an all-female version of Power Rangers whereby we follow the four team members (Emma, Kim, Savanna and Molly) as they try to juggle the pressures of school life with the unexpected arrival of some giant-ass monsters! They also have to battle with Diana (another high-school girl) who's a bit of a bitch and her evil minions. It's up to Kim, Savanna and Molly to save their leader (Emma) who has been infected and close the portal which has opened up in their hometown. ZS is incredibly cute at times (especially the scenes involving Savanna and Lily) and focuses on the power of friendship, belonging and togetherness. I shall definitely be continuing on with this series because there are still seven star signs unaccounted for. I can't wait to see who Virgo is :)

from my Instagram#TBRTakeDown 4.0: Most Recent Book Haul.I'M SO HAPPY I FOUND THIS!!! I don't normally use so many exclamation points but I'm super excited for this!(!!!!!!)Two weeks ago I didn't know this comic book even existed. Then I saw a Booktube video that featured it and I was like "what is dat thing?!?!?! need dat thing right fucking now".and I got it today thanks to the oh so slow italian post service. This reminded me of all the old anime television series I watched as a kid: Magical DoReMi, Cardcaptor Sakura and obviously Sailor Moon.It's about a group of teenage girls with magical powers. ☆THE ART IS STUNNING.The colors were so vibrant and bright and I swear everything is perfect in every single damn panel. Paulina is also great at drawing clothes and details - the team had amazing costumes. I don't think you understand how beautiful the art is.☆The team is diverse. Not only we have different races / ethnicities but even different sexual orientations. ☆The plot is action-packed, the story super compelling even if the concept is not new.Also, do you notice a theme here?Apparently I like to read things with swords and feathers. ☆☆YOU SHOULD READ THIS RIGHT NOW☆☆

Okay that was so good!! I'm so excited to read the sequel! Honestly this might be my favourite magical girl comic now, it's just so wholesome

3.5 Loved the art style & bonus material at the end of this trade. 💕

I read all the volumes separately, but so it is easier to catalogue + review I have decided to go for this edition which combines all of them.So, I have been looking forward to reading this one for some time. My twitter feed was full of images and squealing people who loved this series. The art looked amazing, the story looked fun, so after waiting to make sure all 4 were out (so I could go through them in one go), I read them today.And, *sighs*, I know again why I tend to skip comics. The art is generally always gorgeous, the characters are mostly fun, the story is interesting. But I just HATE, HATE how we get dumped into a story, with seasoned characters, with teams already done stuff and more. And sure, at times we get some information on the characters, but generally it is just that readers are bumped off a cliff without preparation. I so wish, that comic artists would give us an introduction, or at least an origin story, or something at least to ease us into the world of these characters, and not feel like we missed out x number of issues or years. That is the problem I had with this story. The book starts off immediately with action, which is great, but then we find out the girl is already a Zodiac Starforce member, her friend outside is one as well, and apparently they have more friends who form a team, and they already did x number of stuff and blabahabha. Sorry, but what? Instead of making me curious it makes me frustrated. Yet another story without any introduction. Yet another story that feels like we should know more but don't get all the information.Also the situation with Alice, um what happened to her? Why is that one girl so frantic about her. Is Alice not supposed to be in the posse with the evil queen bee (which is such a cliché btw). And what is up with the cliffhanger at the first issue? Um, dark powers? Some portal? Some boss is reviving? What? What? WHATTTTT???? Sooo confused.The transformations were gorgeous though, I really felt like I was reading/watching Sailor Moon, or another Mahou Shoujo genre manga. I love the colours and how bright stuff was. I also loved the girls' special powers, each one had powers that matched their Zodiac sign, and I found that really fun and creative. Like our Taurus girl had Heavenly Bull Armour. Awesome!After a bit I did start to get into the story (though still highly annoyed with the no-origin story), and I just loved the characters. There was on other thing I didn't like. Savi (the girl with orange hair and energy for ten), I didn't like how she was in a relationship with a guy, but flirting with a girl. :| Sure, I was happy to see some girl/girl love (and later something special as well), but I wasn't happy it was done this way. I don't approve of this kind of stuff, and I also don't like to see it in a book. If it was done normally, so in other words, Savi not being in a relationship (no matter how crap), then I would have adored this part of the comic. Now I was conflicted. On the one hand I hate stuff like this, on the other hand I was squealing in joy. Also what the hell happened in issue 3? The queen bee is that kind of character? Um. WTF? Where did that come from. I never expected that to happen and I am not entirely happy if I like it. Sure, it is a nice addition, but again, it feels like I missed something important. Especially with how our girls react to it. Like it is normal, and something they were expecting to happen. The last issue has a lot of battle, lots of choices, and something big happening, and I quite liked it, though I also thought the battle was a bit too easily done and finished. I liked that we got an epilogue, that raises some questions, and makes me wonder about others. I was already wondering where the other Zodiac Starforce people were, considering I would think that for each sign their is a girl (or guy considering the epilogue). The art is absolutely gorgeous, and I just adore the colours used. I also love how the characters and the backgrounds are drawn. Really a big plus!However, with the cheating, the thrown off a cliff (aka no origin story/correct introduction), the confusion because of that. I can't give this one more than 3 stars. And I am not sure if I will continue this series. Review first posted at http://twirlingbookprincess.com

Crosspost: thereadingbelle.comZodiac Starforce was kindly provided by Edelweiss. All opinions are my own. This was review was supposed to get published last week, but I accidentally scheduled it for today. My bad. Ha ha.What a fantastic graphic novel! If you're a fan of magical girls like Sailor Moon, you should definitely check Zodiac Starforce. Let me start off with character designs, I love it. I love the "big" hair too. Reminds me of Jem & The Holograms, the animated series and not the movie.There are flaws to this first volume. The story starts with absolutely no explanation about our four protagonists. Nada. The beginning was a bit confusing because it doesn't properly introduce the characters. I had to read the beginning twice just to make sure I didn't miss anything. I would have liked for each of the girls to have their backstory revealed and how they got chosen by Astra, a celestial goddess. It feels as if I picked up a second book in a series, instead of the first book. Hopefully each girl has their backstory explained in upcoming volumes because it's a issue that needs to get resolved.As for the pacing of the story, it was a bit rushed. I would have liked for more details, but alas, that was not the case. I am hoping that the next volume does not encounter the same issues I found with Zodiac Starforce. As for the characters, my favorite had to be Kim aka Aries. She has most of the funny moments in the overall story. I am hoping that she gets much more screen time. The bond between the girls was not strong enough for me. Why? Even though the girls have gone through many perils, it is said but not seen. Lack of an introduction to each other the characters makes this story a bit weak for me.Final thoughts? Zodiac Starforce is a entertaining graphic novel. Even though I had issues with it, I still want to continue the story. Here are my reasons why you should read Zodiac Starforce?Diversity: All the girls are diverse and so are the background characters. It is quite refreshing. I can't stress that enoughMagical Girls: Who doesn't love Magical Girls?Zodiac: Each girl has a power based on their zodiac sign! That sounds awesome! Hopefully a Sagittarius gets introduced soon tumblr_inline_niyn5ntHcI1ry72eoLGBTGorgeous artwork: I can't get over how beautiful it is! Look at it:

Hmm, I don't know. I just couldn't really connect to it. I liked the characters but that's it.

This book was just not my style - I've never been a fan of the magical girl when it's played as straight as this is. The characters were very flat, and I felt like I'd been dropped into the volume lacking vital background info.

Magic. Monsters. Friendship. Zodiac Powers. Lots of cool stuff! I REALLY liked it!

I liked this! Part Jem, part Power Rangers and part Lumberjanes!?

'Zodiac Starforce: By the Power of Astra'"How is a star formed? It begins with a collapse."I have waited for over half a year for this comic to come out in my country. Seems fitting then that the book's themes orbit around the zodiac star signs - Gemini wins out!There are many reasons why this was perhaps my most highly anticipated graphic novel to date, whose hype miraculously exceeded my expectations. Mainly it's because, and this should come as no surprise to anyone who knows me, I love the Magical Girl genre. I love or at least guilty pleasure-watch a lot of anime about magical girls - not limited to 'Sailor Moon'; for there's also 'Madoka Magica', 'Princess Tutu', 'Revolutionary Girl Utena', 'Cardcaptor Sakura', 'Tokyo Mew Mew', 'Wedding Peach', really I could go on. In the West we have shows like 'Winx Club', 'W.I.T.C.H.', and 'Steven Universe'. Even 'The Powerpuff Girls' was a response to the Magical Girl-type anime of the nineties as well as a parody of superheroes. I was a huge fan of girl power shows and books long before I knew what feminism was. I've just always loved seeing girls kick butt and save the world, usually through compassion and empathy - non-violent solutions. They would solve major conflicts and other problems through talking and expressing emotions openly without fear. Having emotions is a source of strength for these characters, not a weakness. Yeah it's sexist, and the girls have to fit traditional, skinny beauty standards, and get boyfriends in the form of "true love". But similar to the early days of 'Wonder Woman', the magical girls strike a pose and make a stand for femininity as a positive thing, a force for good to all man-and-woman-kind. The typical Magical Girl themes of friendship and love may seem really cheesy, sappy and juvenile, but they are in fact important principles to live by in reality. Outside of all the magic stuff - which I also love - these girls can help to teach valuable lessons about life and hope; nobody should have to struggle alone, and people can be kind and generous enough to be by your side no matter what. This resonated with me personally growing up, and watching these young women conquer evil while being a female-centered team made me feel no longer so alone.What can I say, I am a softy at heart who adores these sorts of characters. It's why I also love superheroes and heroines who come from a planetary-wide diversity prism, reflecting real people - heroic in their own way -in our mundane, scary, harsh, but varied and rewarding world.This review became an essay on the Magical Girl genre without my intending it to. So to get back on track I'll actually talk about 'Zodiac Starforce'. It's a modern tribute to the whole genre, and to female heroes in general. A love letter that clearly knows what it is and knows who would want to read it - someone like me, who grew up in the nineties surrounded by girl power imagery. The creators love magical girls, and it shows on every colourful and beautiful page. 'Zodiac Starforce' is everything I love about a much underappreciated genre and more: A sympathetic lead (with mad and great hair); female friendships (this is a HUGE theme here); a female villain with a compelling backstory and understandable motivations; morals about the importance of love, family, and free will; and that having faith alone won't solve anything, but as long as you stay strong on the inside, persevere and never give up on hope, you'll eventually succeed.'Zodiac Starforce' doesn't outright parody or deconstruct the 'Sailor Moon' formula into extremely dark places (like 'Madoka Magica'). More like it analyzes the tropes with an affectionate eye, and through a self-awareness that's neither cynical, lazy nor jaded, it conducts its own original twists and ideas. It has depth, it has intense and exciting moments where the stakes get higher and higher - and the reader cares because they care about the characters.Ahh the characters. I remember each and every one of them:The "leader" of the Zodiac Starforce team is Emma, aka Gemini, a sensitive soul who has been dealing with a lot of tragedy and grief. But she is not as soft as she seems, and through all her tears she is no doubt the heart of the group and the whole comic. Yes her signature colour is pink, and her hair turns pink when she transforms into her magical girl self, but she isn't white, and that's a bloody big plus. Quite a stylish girl too, is Emma. Her design looks akin to that of Jem from a certain band of holograms.Kim, aka Taurus, is a boisterous "tomboy" who acts as the big sister of the group. She cares deeply for her friends and wants nothing more than to get the team back together after two years out of action (this book isn't an origin story, so it gets right into the action, with information sprinkled here and there to avoid confusing the readers). Kim possesses super strength as a magical girl, and both defends and rushes into battles like a bull (she even calls her magical armour, "Heavenly Bull Armor"). If Emma is the heart, then Kim is all the muscles pumping the life force and spirit into the heart. She also has a nice boyfriend who doesn't get in the way of the story at all. Savanna "Savi", aka Pisces, is a freckled, quick, nimble, pixie-like bisexual who like Kim is funny in her own manner. Her sexual identity is explored and developed wonderfully throughout; nothing seems forced, and it is remarkable to behold. Molly, aka Ares, at first appears to be a typical aloof, sullen and sarcastic girl. She is the most reluctant to join the Starforce again, and gets into arguments at a hair-trigger (she resembles both the manga and anime personalities of Sailor Mars). But like the others, Molly is always concerned for her friends, and is incredibly tough and competitive. She is also Asian, adding to the diversity well. Last but not least is the new addition to the Zodiac Starforce, Lily - Libra - a shy black girl who becomes more confident and trusting towards her new friends through her relationship with Savi. This even becomes a plot point and helps to reinforce the book's major themes near the end.The main villain is the ominous dark goddess Cimmeria, coming back from another dimension after her major defeat by the Starforce two years previously. She's the dark counterpart to Astra, the goddess who assembles the Zodiac Starforce soldiers to save the world from monsters. Astra isn't much better herself, however, but that's another story. Cimmeria's minion is Diana. In a fine subversion of the high school mean girl clique cliché, Diana is not evil, cruel or manipulative for the sake of it. I won't say any more due to spoilers, but her character will be difficult to hate by the end.I am just delighted by the diversity - race, LBGQ etc. - of these young women's designs and complex personalities. As well as the magic and portals to other dimensions going on, the characterization of 'Zodiac Starforce' is a fantastic, revolutionary crème de la crème.Flaws include a very fast-pace throughout the book which makes it look rushed sometimes, and with only four issues/chapters in the trade collection it is like a pilot to a much bigger story. The mini web issues, character sketches and cover art at the end are nice, though.I think I've said my piece. 'Zodiac Starforce' - A star-studded nostalgia trip, a maximum sate for modern fans of the Magical Girl genre... A celestial celebration of the entire concept of girl power and all it stands for. It's bright, charming, action-packed, fun, and gorgeous, with a lurking darkness beginning as a shadow, then turning into a total eclipse. Ending in a sparkly, galaxy-sized bang in the form of a message that loudly sings of compassion, companionship, love and hope in the midst of tragedy and loneliness.I strongly recommend 'Zodiac Starforce: By the Power of Astra' to all Magical Girl fans, and girl power fans, and fans of three-dimensional, well-rounded female characters. This star was formed, and transformed into a gem, made for me.Final Score: 5/5

This is the type of comic I normally wouldn't admit I'd read, but I ended up liking this more than I thought. Would I recommended this to other, probably not, this isn't everyone cup of tea. How much cuteness and girl power can you handle?Why am I reading this? Because I actually really like magical girls. There was a thought in my mind that I could end up regretting this based on the fact that it could just be a bunch of randomness, but it actually has a decent story. You have 4 (to start with) girls that posses the power to become like Sailor Scouts to fight monsters. Seems like a cute idea, but there some heavy drama in this comic book as well. Early on, you find out Emma's mother is dead which leads to conflict.The writing in this isn't the best sometimes, it feel off, but other time is actually pretty decent. I was surprised this was written by a man actually, you can't tell which is a good thing. What stands out with this comic though is the art. It's really cute. Not only that, but it's full of color. Might be a turn of for some, but I think with this book it helps and fit well.This book reminded me of Sailor Moon obviously, but I think fans of Steven Universe might enjoy this as well. Now I wait for the second volume and that one looks fun because it looks like they introducing new zodiac sings. Still haven't seen any Scorpio's though.

The artwork in this is absolutely stunning. The drawings, the characters, the outfits - everything is perfect! And the colours! Bright and bold and an almost dreamy mix of pinks and purples, yet it's still vibrant.This would probably be a four-star rating just because it's so lovely to look at! Luckily the story and the dialogue lives up to the artwork. It seems very influenced by Sailor Moon. There are extras in the back and one of them is a one-page story with the characters in uniforms that look very much like the Sailor Soldiers. But it's much more modern, and a lot louder and faster paced than Sailor Moon.I started reading thinking that this was the first volume, but there must have been one before this that explained the characters and where they got their powers. It keeps referring events that happened two years ago, where they fought a big bad and I think one of the characters lost her mother? So I did kinda feel like I was missing something, but it didn't impact on understanding the story in this volume.The characters are well developed and easy to tell apart. They all have their own personality and their own style. My favourite is Kim! I'm also really liking Lily.My only complaint is that I wish it were longer. I hope there's more coming soon.

Picked up in the belief it was something else entirely - a different magical girl team comic where the magic hits the wrong people, so one of them is a goldfish and another is a little old lady? - and frankly not something I have the hinterland to assess. When I read a superhero pastiche such as X-Men '92 and wonder how it would feel to a reader without awareness of the tropes it's playing on? Here, I am that reader. My understanding of Sailor Moon is limited to a couple of images and .gifs I've seen; I think there may also be a little Power Rangers in the mix, but I barely know more about that. Certainly the notes and sketches in the back suggest the creators know what they're doing with this stuff. I, alas, do not.

not really my cup of tea, kinda feel like i did not feel interested and it was boring and nothing new. sorry guys

I liked the artwork but there was nothing exceptional about the story or the writing. Felt like it was trying too hard, tbh.

notes• (I NEED MORE)• Savi is by far my favourite character.• This was fun, colourful, and empowering.• The plot felt a little squished and predictable at times, but it was enjoyable nonetheless.• Female friendship!!• A queer relationship between two of the girls!!

THIS WAS THE CUTEST ALSO THE REPRESENTATION IS 10/10. libra and pisces are so gay for eachother i frickin love it

The more I think about it, the more I like it.I think this book was natural, relatable, and realistic. The problem that I usually have with YA is that the teenagers are unrealistic, but that's not a problem Starforce has. Though it did have a small case of insta-love I didn't mind it because it was super cheesy and cute and I adored it.ITS DIVERSE! There are LGBTQ characters, the characters are drawn realistically and are all different shapes and sizes. I loved there costumes, and the clothes. Also, BIG HAIR, DON'T CAREThe artwork was gorgeous, bright, and colorful.The plot wasn't the most spectacular, but the groundwork is set and I can't wait to see where the story goes next. I wish the characters were more fleshed out, especially Diana. Lily, Kim, & Molly are my fav. THERE NEEDS TO BE A SCORPIO!!