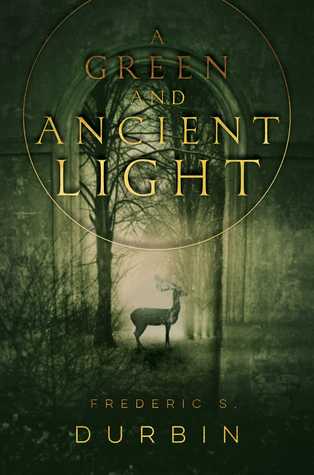 A gorgeous fantasy in the spirit of Pan's Labyrinth and John Connolly's The Book of Lost Things.Set in a world similar to our own, during a war that parallels World War II, A Green and Ancient Light is the stunning story of a boy who is sent to stay with his grandmother for the summer in a serene fishing village. Their tranquility is shattered by the crash of a bullet-riddA gorgeous fantasy in the spirit of Pan's Labyrinth and John Connolly's The Book of Lost Things.Set in a world similar to our own, during a war that parallels World War II, A Green and Ancient Light is the stunning story of a boy who is sent to stay with his grandmother for the summer in a serene fishing village. Their tranquility is shattered by the crash of a bullet-riddled enemy plane, the arrival of grandmother's friend Mr. Girandole—a man who knows the true story of Cinderella'­s slipper—and the discovery of a riddle in the sacred grove of ruins behind grandmother's house. In a sumptuous idyllic setting and overshadowed by the threat of war, four unlikely allies learn the values of courage and sacrifice....
| | | |
| --- | --- | --- |
| Title | : | A Green and Ancient Light |
| Author | : | |
| Rating | : | |
| ISBN | : | 9781481442220 |
| Format Type | : | Hardcover |
| Number of Pages | : | 320 Pages |
| Status | : | Available For Download |
| Last checked | : | 21 Minutes ago! |
---
A Green and Ancient Light Reviews
4.5ish stars.A sweet, beautifully-written, wistful book with the heart and charm of a classic that's emotionally and intellectually accessible for people of all ages. There are the obvious comparisons to books like Narnia (kid is shipped off to the house of a relative he doesn't know during wartime where he finds magic in an unexpected place), The Last Unicorn and The Secret Garden (and more than just because there's an actual secret garden) because this book exquisitely captures the innocence and wonder of childhood as well as the wisdom and melancholy that comes with aging. I'll be honest, there aren't any genre-changing revelations here or edge-of-your-seat thrills, but the purpose of this book was not to make a big statement. I think the purpose of this book was to illustrate and encapsulate the magic and discovery of youth. In that, Durbin absolutely fulfills every wish anyone could have going into this experience. While upon initially finishing the book it might have seemed light and fun and somewhat insubstantial, further rumination on the themes, relationships and final outcomes revealed that A Green and Ancient Light has its own emotional heft.I'll further be honest and confess that there isn't a ton of magic present in the traditional sense. It took nearly half the book for me to fall under its spell because I was waiting for more fantasy elements to present themselves. By the end I found that I couldn't complain. My experience in the sacred grove felt complete and satisfying and I was grateful for every fantastical morsel I was given. It's been a long time since I've known characters as real and complete and easy to love as the four friends at the heart of this novel. I was emotionally invested in my relationships with these people. How impressive it is for an author to be able to give a perfectly believable voice to a nine-year-old boy and an equally believable voice to his grandmother (what an incredible woman!)I hope everyone takes the chance to read this because it deserves all the exposure and recognition it can get. I hope you fall in love with it the same way I did. :)

Full review now posted!Original review can be found at Booknest.Sometimes you stumble onto a book that is unexpectedly beautiful. That takes your breath. And that's what I found in Durbin's novel. It was just lovely. It was sweet and mellow and sad and hopeful. I would have never found it if it hadn't been laying in wait for me on a shelf at my library. The title was mysterious and charming and I couldn't walk away from it, even though I had more books to read than I'll ever finish and this was a book by an author who was unheard of to me. I'm glad I couldn't walk away, because I would've missed something magical.There were no chapters in this book; just occasional extra spaces between paragraphs to serve as breaks. There were no names in this book. Just a nameless war, a nameless village, and nameless occupants of that village, referred to as Mrs. D—— or Major P——. This could have been anywhere, on either side of any large war after the invention of airplanes and before televisions were common in small, rural villages. Our main character could have been any nine-year-old boy visiting his grandmother for the first time. "It is a strange thing to spend your days with a person connected to you only by the link of someone you both hold dear, but the young one they knew is not quite the same as the older one you know. It's like talking to someone through a hedge. Now and then, you see an outline, the edge of a face between the leaves. You can only walk along in search of a gate."This spring and summer spent with our narrator's grandmother in the little village by the sea rocked his world. He had been born and bred in a city, and he had no idea that life could be like this. With streets that wandered and meandered like lazy streams between open shop fronts and quaint house, with benches scattered about in an open invitation to sit and chat with neighbors around every corner. "There were no posted names, no numbers on doors or lanes." Everyone simply knew where to find whoever they wanted to talk to. It was a slower, fuller life than our main character had ever experienced."After a few weeks in the village, our city began to feel like a distant dream. I knew it was real, that if I rode the train again, it would be there, and its bricks would become the reality once more, and this village would be the dream. One person, I'd come to understand, was actually many people—people of different ages, people who lived in different surroundings; these people had the same name and knew something of each other, but lived entirely separate lives."These were all things our protagonist learned before the main action of the story began. Before there was an enemy pilot in need of rescuing. Before he stumbled upon the grove of monsters, a garden of splendid statues and secrets. Before he met Mr. Girandole, the one and only character named in the book, who is his grandmother's best friend and is more than human. The grove of monsters houses a riddle that, if solved, will unlock the door to Faery and Mr. Girandole's way back home. But the garden is wild, and the riddle is muddled beneath vines and thorns and age. Does the riddle left behind by the vanishing duke even possess a solution?The writing here was exquisite. When I first started reading, I was afraid that the lack of chapters and proper names would make reading the book tiresome, but that was never the case. The book unwound around its mystery as the grove of monsters did, beautifully and mysteriously and in its own time. Durbin did a phenomenal job of dropping just enough clues for the reader to understand pieces of the riddle just a few pages before his characters drew the same conclusions, letting readers feel as though they were making discoveries of their own. This book walked the line between fantasy and magical realism, and I'm still not sure which of those genres it fits best. It reminded me of Gaiman's The Ocean at the End of the Lane, and of what Beagle's Summerlong could have been. I loved it, and am so glad I happened upon it. If you need something sweet and moving and filled with wonder, this is the book for you.

This is an unusual book in that it blends a realistic coming of age story with fantasy and a dash of historical fiction. Though I'm not sure if it could be considered historical fiction as much as a universal story from the past about life during wartime as seen through the eyes of an unnamed nine year old boy. I can't tell you his name or the names of any characters in this book except for one of them since everyone is only referred to by their initials. That's because the boy, acting as narrator, and now an adult, wanted his childhood story to be any child's story, conceivably about any child living in any country at any particular time in history. That way, anyone reading this account who had experienced similar circumstances in which their life had suddenly been turned upside down by war, could pretend it was written about him or her. What an unusual concept to build this book around. And just as unusual is much of the story's setting and the special friend of the boy's grandmother, Mr. Girandole. The young boy came to live with his grandmother for the span of one spring and one summer when he was nine. He didn't really know his grandmother since he had been living far away in the city with his parents and now with his newborn sister. But as the war hit closer to home and cities were being bombed, his father, who was serving in the army, sent him to live with the boy's grandmother where it was supposedly safer in the countryside, the mom remaining behind in the city to continue working at her new job and caring for the baby. But when a bullet-ridden enemy plane flies low over the grandmother's little fishing village and then crashes into the sea, the boy and the other residents aren't sure how safe it is there anymore, especially when there's evidence that the pilot survived the crash and might be among them. The boy is soon drawn into this intrigue and drawn into a riddle posed by the gardens in the woods behind his grandmother's house. They are filled with monstrous and beautiful statues with cryptic inscriptions that might or might not solve an age old question. With help from his grandmother and her special friend, plus an unexpected source of aid, the boy is determined to learn the secrets of the garden during his time there. What I enjoyed most about this book was the beautiful and detailed writing, and the wonderful characters and their relationships. The boy and his grandmother are virtual strangers at the beginning, bonded only by their love of the boy's father, the grandmother's son. "It's a strange thing to spend your days with a person connected to you by the link of someone you hold dear, but the young one they knew is not quite the same as the older one you know. It's like talking to someone through a hedge. Now and then, you see an outline, the edge of a face between leaves. You can only walk along in search of a gate."But day by day, through trial and error, the bond strengthens between the boy and his grandmother, independent of the father and shared bloodlines. Now, the two of them share secrets, along with their meals and a common purpose as their idyllic life along the seaside is slowly invaded by the heavy cares of the outside world and the war. But to convey this, the writing is always subtle and never sentimental to the author's credit. The characters' emotions are true and affecting, their relationships handled in a sensitive way. "Grandmother looked up with her typical restrained smile--a smile that seemed to look beyond the reason for smiling to the next ache or nuisance or grief, and still farther behind that--a long telescope of foresight.""I had reached a way-marker on the path to adulthood--the first dividing of my heart. To live in this world, I realized, is to leave pieces of your heart in various places; and to move toward any place is to move away from another."Besides the wonderful writing and characters, I also enjoyed exploring with the boy the "garden of the monsters" in the woods inspired by the real life Garden of Bomarzo in Italy. Here's a link for anyone wanting to view some of the statues that inspired those in this book. If you care to, take a look at the Villa of Wonders, or skip over this link for now, so if you read the book, you can let your imagination color in the details instead: http://www.bomarzo.net/index_en.htmlSo this was a wonderful book filled with mystery and humanity. My only complaints would be that at times I felt the blending of fantasy and realism was an uneasy alliance, and little happens for a while in the middle of the book. But it ended on a perfect note that wouldn't have been nearly as effective or affecting in less capable hands. This story works especially well as a young adult book for ages 12 and up, or a book for adults who don't mind a heavy dash of fantasy in their realistic fiction. Favorite quote:"There's pain and there's misery. We can't avoid pain, but misery is always a choice."

3 1/2 stars for this magical and cute story, this book is as simple as it gets , basically what we have here is a fairy tale for an adult population. We have a magical garden , a magical creature and legends that the forest is Haunted, sounds familiar? ... regardless what really redeemed this book was its idyllic setting, the author chose to present the forest in a way that you felt you were actually there, everything is left up to the imagination of the reader , no name of a country is mentioned , no character's name are mentioned so basically this story could had happened anywhere (which I guess was the aim of the author) . There is a moment of adventure in this book followed by a tender goodbye , it is a nice story, just lacked complexity which is not so bad if you want to fast read a book or you just looking for a fun read .

Страна - предположительно Англия. Годы - предположительно сороковые. Война - предположительно Вторая Мировая. И рассказчик, не желающий называть ни свое имя, ни деревню, в которой он тогда отдыхал. Все, что мы знаем - в то время ему было девять, и он гостил у бабушки. Эта история начинается с подбитого самолета, а заканчивается письмами. Или не заканчивается вовсе, потому что... ну как может закончиться магия? Это магический реализм настолько кружевной и прекрасный, что даже жутко. Он не захватывает с первых строк. Может не захватить и с сотых. Но в какой-то момент ловишь себя на мысли, что уже заплутал в этом волшебной саду, в этой чаще монстров, полной каменных изваяний и загадок. Итак, безымянный герой, безымянная деревня и множество ее жителей, о которых известны лишь инициалы. Миссис Д. Мистер Н. Даже бабушку свою герой нарек буквой. Лишь таинственный мистер Жирандоль удостоился полного имени, хотя по сути является самым мистическим персонажем. Он помнит все, он знает все - даже кем на самом деле была Золушка и почему туфелька подошла только ей. Именно он подталкивает героя в путешествие по неизведанному, он заставляет разгадывать загадки и узнавать этот мир. Черт, о сюжете говорить бессмысленно. Это не самая сложна книга в мире. Вообще, она скорее атмосферная, чем сюжетно закрученная. Но пазл собирать придется. И взрослеть вместе с героем. И видеть, насколько прекрасен и ужасен наш мир. И тосковать о прошлом и о будущем. Роман сравнивают с "Лабиринтом Фавна" (ну еще бы, война и магия), и что-то в этом сравнении есть, хотя эта история куда мягче. А еще по моим личным ощущением она скорее похожа на "Вино из одуванчиков" Брэдбери. Прекрасный язык, яркая и живая картинка. И никакого деления на главы.4.5 звездыПростите за сумбур)

Absolutely beautiful. I can't do this book justice, but I highly recommend it. It is slower paced but with beautiful writing and imagery. It had me sobbing while smiling and wanting to turn back to the first page.

I think this is the best book I've read in 4 years! I'll never be able to do it justice with a review. it's like putting on a comfy sweater on a crisp fall day, walking in the woods and sitting on a log, stopping to eat a pb sandwich and then finding yourself in Narnia! I know!!! Right?? Then to find out that the garden in the book is based on an ACTUAL GARDEN! Trust me!! You'll love it!

I had the good fortune to read this book twice: first, years ago, in manuscript and now in its perfect form as published novel. I don't use the term "perfect" lightly. This book is perfect.There are few books to which I eagerly return again and again. They are classics from my youth, or works that remind me of these classics: Tolkien's and C.S. Lewis's books, of course; "The Adventures of Tom Sawyer"; Natalie Babbit's "Tuck Everlasting"; "The Once and Future King". Books discovered outside of my youth would be William Hope Hodgson's works, Hope Mirrlees's "Lud-in-the-Mist", H.P. Lovecraft's and Robert E. Howard's tales.Fred's latest book is shelved with these.It does feel a bit weird to be friends with someone who now has written one of my classics, though it can't be much different than how C.S. Lewis might have felt after reading "The Hobbit" or "The Lord of the Rings". Fred's book is a classic in that it not only is a deeply engrossing story but that it teaches wisdom. I have learned a lot this summer, with this book, and through my friend. And I expect I will learn even more through the years, as I age, as I reread.This is not lightly worded. Just like the grove of monsters -- a mysterious, overgrown garden whose brushes and brambles occlude many an awe-inspiring statue -- this book hides elements of wisdom, reflections and observations about much of life's experiences. You might have to look for them. More often they seem to jump right out of the thickets at you, surprising and astounding, while you only were making your way, drawing aside vines and foliage while you were trying to find a path through the brake.One of these surprises is the nature of Faery (Fred's spelling) itself. In my forty-some years of reading, I have become a scholar of the faery in literature. I would expect that I had no more to learn, and yet Fred taught me more.A strength of this book is that the magic is kept right on the marge of faery land. To stay too long in that magical realm--or to start one's crossing at noon rather than at the right twilight time--is dangerous. Because Fred mutes these elements, the magic conversely becomes all the more real. Because Faery IS real. It's in aspects of the natural world all around us, and if anyone fully goes to the other land, as in this book, that person doesn't come back. Anyone claiming to do so and describing more than just glimpses and rumors is telling stories.I have seen that some readers have been put off by the redacted names in this book--a device not all that uncommon in eighteenth century literature but perhaps alienating for the modern reader. Many reviewers have recognized the benefit of this feature: that Fred's story, though real, is universal in its experience, mythic in its scope. Fred's refusal to specify time and place and people makes it a story for all of us. For indeed, as he says, there is no us and them, no enemy and ally, in the sacred wood.And yet the clues are there! If a reader truly wants to, why not speculate on the when and where and who of it all? This book contains a puzzle and there are clues for its solution. Similarly, in true literary tradition, the book itself might be read as a puzzle. This is the definition of the literary concept of form equals function. Besides, all names, all letters, are mere signifiers anyway. Is it really all that different or difficult to identify a character through R---- rather than, say, Roderico?Fred's latest work is a literary masterpiece and, in my library at least, permanently categorized in the mythopoeic canon. Read it.

3.75- maybe I should round it up. A sweet slowly paced story of magic statues and a young boy's summer in the country with his grandmother during WWII.

I wanted to like this book. The premise was fantastic -- a young boy is sent to live with his grandmother while his country is at war and, while there, discovers a gateway to the faerie world. This story has everything: strong characters--a tough-as-nails grandmother, a curious 9 year old boy, an injured enemy pilot, a faun named Mr. Girandole--beautiful writing, an intriguing setting, etc. but it was dull. The pacing of the story was agonizingly slow. Something exciting would happen--the discovery of the garden of stone statues in the woods--and the action would grind to a halt while the kid and grandma took a 20 page journey on a ferry just to dump the enemy soldier's gun. I found myself thinking 'I'm bored' on every page.It was sad to see poor execution of such a good idea.Not recommended.

Sort of like a kinder, happier version of Pan's Labyrinth. I enjoyed the puzzle and the descriptions of the woods, and I loved the Grandmother character and Durbin's willingness to give her an active role in the story. Books with child protagonists often seem to feel compelled to get the adults out of the story to give the children more space; this does a great job demonstrating that intergenerational adventures are possible, and gives space for both child and adult to shine. Durbin's decision to leave everyone and everything nameless, though, gave the place and characters a sense of vagueness that made it hard for me to connect emotionally. Also, (view spoiler)[if, as various characters assert, fairyland and the afterlife are the exact same place, R's determination to emigrate there permanently while still alive and everyone else's support of this goal made me way less invested in the question of whether they would successfully help him heal from his crash wounds. He is essentially trying to commit suicide, albeit in a painless way, so . . . why is everyone trying so hard to keep him from dying while he does it? (hide spoiler)]

I received a digital ARC from the publisher of this book in exchange for an honest review. The book is due to be published on June 7, 2016.There is something both familiar and fresh in A Green and Ancient Light. It's the kind of book that is at once comfortable to readers, yet compelling. The author's way of leaving out most characters' names and replacing them with mysterious first initials seems at first somewhat old-fashioned, but the technique allows readers to fill in their own blanks to the story. It could have taken place anywhere, in any small coastal village, during any war. The only character in the novel actually identified by name is the odd little mountain man, Mr. Girandole, who is very attuned to unusual circumstances in the area.The story centers around a 9-year-old boy who, because his father is conscripted into military service, finds himself sent away for several months to live with his paternal grandmother with whom he has had little interaction. The plot immediately captures the reader's attention describing the crash of a plane near the grandmother's remote fishing village. Soon a survivor of the crash is found up on the mountains behind her house, and then comes the dilemma of turning him in to the authorities, or rescuing him and thus saving his life. The problem is, he has parachuted into sacred, haunted woods filled with strange and unusual sculptures. The local villagers are frightened of the woods and tend to stay away from it. Grandmother, whose property backs onto an entrance in the forest, has no difficulty traipsing up the path and into the trees on a fairly regular basis. What powers does the place hold over those who venture in? Are they strong enough to protect those who seek to protect the mysterious survivor? Will the cruel soldiers who are looking for the enemy pilot uncover the conspiracy and discover the magical world of the stone "monsters" in the woods? Does this enchanted forest hold more than one secret? Read and find out!Frederic S. Durbin has assembled a delightful tale of believable magic, loving grandmothers, nosy villagers, spiritual involvement, and ultimately redemption. The book contains mythology, mystery, fantasy, even a little romance, all imposed over a war story. I felt both fulfilled and empty as I turned the last page and realized the story had come to an end. Thus it is with the wrapping up of many great books: melancholy upon leaving an imaginary place that we'd all love to spend more time in, like the green and ancient light of this title. Highly recommended for young readers to adults.

I picked up this book because I freakin' love Pan's Labyrinth. Both stories portray this ancient beautiful magic set against the horrors of war and loss. In the film this beauty and mystery are encapsulated by the old stone maze; in this book, it's a strange grove of stone monsters.You can make a lot of comparisons and references with this story. Narnia, The Secret Garden, even The Boy in the Striped Pajamas (narrative speaking) etc. . .but for me this book just didn't live up to that potential. It has all the elements for a larger more terrifying journey: a sassy tough grandma, a kindly magical creature, a crazy riddle, and the interference of the army. I was particularity intrigued when the story of Cinderella is retold from a rather different point of view. However, the plot is rather straight forward and not much detracts our characters from succeeding in it. If I could trace my emotional scale on a graph it would be little more than a small hill. It is a beautifully well crafted story. The imagery of the stone garden is superb. The relationship between the boy and his grandma is really sweet. But there just wasn't any bang! for me. It needed more suspense, horror, surprises, something to punch it up. I would recommend it for its beauty and visual appeal, but the story was not my favorite.

This book is beautiful. The prose is luminous. It holds your attention and makes you linger over the words. It's a little bit Narnia, a little bit Gaiman, a little bit The Westing Game. It's about puzzles and family and war and the moments that you never get to experience again.The story is a simple one. A young boy is sent to live with his grandmother during the war, while his father is off fighting and his mother is recovering from childbirth. An enemy pilot is shot down in the forests behind the grandmother's home. What do you do? Does it make a difference when a faun is involved, and the forest is the home for a garden of monsters and mystery and maybe magic? I wasn't sure if I should shelve this as adult or young adult or middle-grade, because it's timeless. This is one of those books you'll go back to repeatedly, and get something different out of it each time you read it.

Part historical fiction part fantasy. A 9-year old boy forges a charming relationship with his grandmother while staying in her village during the war (which war is never stated, but we can assume it's a World War). A garden of statues - some beautiful and some grotesque - in the mountains holds the key to the land of Fairy, and the two of them are determined to solve the puzzle. An atmospheric and bittersweet tale with a leisurely enough pace to fit gardening and naps in nicely between the action.

Probably more like 3.7 stars.What I loved best about this book was the setting of the mysterious overgrown sculpture garden out in the middle of the forest. I also enjoyed the relationship between the young boy and his grandmother and the quirky characters in the village. For me, the rest of the book was somewhat disappointing. I read it because of the comparison to Book of Lost Things, which is one of my favorite books ever - but it didn't live up to that measure.

I'll give this one 3.5 stars. It felt like a more vague, less exciting version of "Pan's Labyrinth". The two stories are very similar: a young child during WWII in Spain/Italy comes across some ancient stone wonders in the woods, and then befriends a faun. In this tale, the main character is a nine-year old boy. We don't learn his name or anyone else's name because apparently the author wanted this story to be one that anyone could have experienced? Or something? Anyway, the boy is sent to live with his grandmother at a seaside village which happens to border some woods. These woods hold spooky statues of mystical creatures and characters from mythology. They also happen to have some words carved on them, like a riddle. Apparently these statues were commissioned by a duke about four hundred years before, for some mysterious reason.Solving the riddles on the statues are one part of the plot, and the other part is that an enemy plane crashed into the sea nearby, and the pilot apparently parachuted down into the woods. The faun leads the boy and his grandmother to where the pilot landed, and they rescued and hid him so that the local army wouldn't find him. So, there's that.Overall....I guess I liked this book, but I wasn't wowed by it. Not very much happens in a lot of it except the boy and his grandmother trying to puzzle out the meaning of the carved words, convinced that they'll lead to a door into the fairy world so that the faun can return to his kind. Aside from the faun, there's really no magical elements to this story. Still, the writing was lovely, and the description of the woods and the statues will probably stick with me for a while. I'm not sure if there was enough fantasy in here for me to ever revisit this book, but it was all right. I think thus would have worked better as a middle reader book.

What an exquisite book! I do not generally give out 5 stars. I can't do a proper review and give it the justice it deserves. . So many others have stated it well. It's about life as seen by a nine year old boy who is sent to live with his grandmother during war time. It encompasses love, grace, loss, fear, and courage. There is a garden with statues that present a puzzle. The garden is based on one in Italy. Don't look at the website until after you read the book! There is a wonderful faun you must meet. One of the many things I got out of this book is the frailty of life and the marching of time. Make every moment count. The moment you just had, you will never have again. I must own this book. Some quotes: Ignorance multiplies itself better than yeast. If we could make bread out of rumors, no one in the world would go hungry. To live in this world, I realized, is to leave pieces of your heart in various places; and to move toward any place is to move away from another.

One person, I'd come to understand, was actually many people--people of different ages, people who lived in different surroundings; these people all had the same name and knew something of each other, but they lived entirely separate lives.

This was really well done. One of those books that feels like it could have published years and years ago.

A few weeks back I read the new Peter S. Beagle book and walked away disappointed. This book, on the other hand, was almost everything I am looking for when I pick up a fantasy grounded in the real world. Mystery, romance, danger, coming of age.....it's all here. And it's well-written too. It wasn't perfect--some of the characters were underdeveloped--but in this case that was a small flaw. It's motivated me to keep trying new fantasy authors.

★★★★½ out of 5 via spikegelato.com/2016/07/04/review-a-g...Summary: In an idyllic village, surrounded by sea and forest, a young boy and his grandmother embark on a magical adventure.Review: A Green and Ancient Light is a beautifully told story of love, family, the beauty of nature, and the innocence of youth. Equal parts Pan's Labyrinth, The Secret Garden, and The Chronicles of Narnia, it's a fantasy tale that could be appreciated by readers of any age.The story was scrubbed of any identifiers (no village name, no country name, no character names), but the rich setting detail provided everything you could need. Frederic S. Durbin creates a setting filled with such beautiful imagery that opening the book felt like being transported to the nameless countryside each and every time. He writes a simple, yet profound story that I enjoyed immensely.

Despite the fantasy elements, I found this book extremely boring and stopped reading after about 80 pages. The book nothing more than one long chapter with only infrequent section breaks to break things up. It makes the book hard to read because there is no break. Another thing is the lack any specifics. Its clear that the story takes place in the English countryside during WWII, but nothing has any name. One particular point is the use of M------- instead of peoples names. Coming across these in the text really breaks the immersions. Phrases, like "How are you doing today, M-------" the grandmother clearly has a name so why don't you tell us?Overall this book is a big disappointment. Fortunately, I got it from the library so it didn't cost me anything.

Lovely and enchanting, this story steals your heart in the way fairy tales used to when you heard them as a kid. Following a boy living with his grandmother during a summer plagued by a war, we are taken deep into an ancient wood and thrown into a mysterious grove of carved statues of monsters and mysteries. Riddles and myths keep the pace amped up, even as the prose soothes you. I felt young and innocent reading A GREEN AND ANCIENT LIGHT, and was sad to say goodbye.

Great premise and there were parts of this book that I really liked. The author's style of writing character names (Mrs.____, rather Mrs. Jones) was distracting to me. All-in-all, a good story.

http://www.bookwormblues.net/2016/05/...

I enjoyed this very much, the atmosphere alone is fantastic and makes it a great read

"I wish we could live all our lives in the garden," I said, wandering over to my chair. I was thinking that there was no school in the woods, no Mondays, no alarm clocks, and certainly no war- only the green, ancient light and stories in wood and stone."Well, we can't," said Grandmother. "But remember this"- she pointed a spoon at me and shook it for emphasis - "there's pain, and there's misery. We can't avoid pain, but misery is always a choice."WELL SUE ME, GRANDMA, BUT I WAS MISERABLE BECAUSE OF THIS BOOKSo underwhelming. Labi, es galvenokārt izvēlējos vāciņa+nosaukuma dēļ, bet visa tauta tā ģībst un met 5 zvaigznes, ka likās, šis būs labs.Well, I was asleep half the time. Šī ir lēnā tipa grāmata, kas balstās vairāk uz noskaņām un domām, nekā darbību, bet c'mon. Neskaitāmas reizes viņi tikai gāja uz mežu, ēda pusdienas vai grandma nosnaudās. ( Es arī pie reizes) Neeksistē nodaļu dalījums, tikai viens liels blāķis ar tekstu un pa vidu dažas ***, līdz ar to šķita kā nebeidzama rāpšanās kalnā bez apstājas. Pie anotācijas minētais Cinderella patiesais stāsts būtu svītrojams. Bija foršs twists, bet tas ir tikai vienā ainā pieminēts, un viss. Galvenais sižets - atminēt to meža akmeņu mīklu. Nu, atminēja. Ejam mājās, game over.Ugh, labi, es šodien esmu pikta, te varētu sakasīt 4 zvaigznes, ja labi gribētu. Lauku vasaras ainas ļoti dzīvas, un labi iederējās mistikas ievīšana realitātē,tā kā pat nelikās tas apstrīdami, ka apkārt vazājas fauns. Bet veči, seko spoileri, ja gribat, jo man ir wtf.(view spoiler)[ Grandma mirkļa uzplūdā izglāba un slēpa, un ārstēja pretinieku kareivi. Beigās visi best buddies, un šis aizgāja uz Faerie zemi, kas ir tā pati, kas mirušajiem.Akmens dārza figūru noslēpuma atminējums bija ceļš uz to Faerie zemi.Grandma čomaks fauns bija viņas long lost love, kurš atkāpās viņas cilvēka čomaka priekšā, un nu finālā šie vēl dabūja paskūpstīties. Bet tas nekas, jo grandma no Faerie portāla gaismas atkal izskatījās jauna.(hide spoiler)]Ughhhhhh. Es it kā saprotu, uz kādu noskaņu un pamācībām šitais gabals tēmēja, bet kaut kas aizgāja uz grunti un to īsti nesasniedza. Beigas bija daļēji labas, jo vēl ieskicēja deviņgadīgā protagonista pieaugušā gadus, kad šo notikumu vasara bija tālas atmiņas.Man patika lokācijas nenoteiktība un vārdu maskēšana,saucot tikai pirmos burtus, lai neatkostu tautību un kurā pusē karam atrodas katrs tēls.Dārza mīklas minēšana un atrisinājums bija foršs. Bet tas viss kaut kur izplēnēja. 90% cīnījos ar miegu, 5% patika ļoti, 5% kaitināja bezjēgā.Kad pati būšu ome šūpuļkrēslā, būs jāmēģina vēlreiz, bet pagaidām - ["br"]>["br"]>["br"]>["br"]>["br"]>["br"]>["br"]>["br"]>["br"]>["br"]>["br"]>["br"]>["br"]>["br"]>["br"]>["br"]>["br"]>["br"]>["br"]>["br"]>["br"]>["br"]>["br"]>["br"]>["br"]>["br"]>["br"]>["br"]>["br"]>["br"]>["br"]>["br"]>

A simple, moving fable about a boy and his grandmother. Think WWII homefront novel meets The Secret Garden and Narnia. The country, boy, and grandmother remain unnamed throughout (I suspect the author is hinting that this is a story that transcends particular people and places.) The boy's parents are involved in the war, and so he is sent to live with grandma, who lives in a village on the edge of the woods. When they discover a paratrooper hanging in a tree, they make the dangerous decision to hide him. To do so, the grandmother takes the soldier and the boy to a secret garden in the woods, the home of Mr. Girandole, who has a connection to the faerie world (I won't give away too much). The garden also has a collection of strange statues with riddle-like engravings that suggest some kind of puzzle. So begins a season of dangerous trips to the woods, a lingering mystery, and life-changing discoveries.This is a beautiful book by a little known writer that I'm going to be working to get into readers' hands. Really top notch.

Beautifully written; a visual feast that had me wanting more. A boy visits his grandmother during WWII and discovers something magical in the forest behind her house. This is an absorbing tale, unusual in that all the characters were only known by their initials, but this allows us to imagine that anyone could fill their shoes including ourselves as the reader. The author does an excellent job reflecting the thin veil between the natural and supernatural worlds and allows us as readers to dream and fantasise. It was so enjoyable to escape my world when reading this story.The story also provides a good exploration of grace but in a non-preachy perspective.I'm not a great reader of fantasy but I could read this type of style of all day everyday. If you get a chance read this novel as you won't be disappointed.