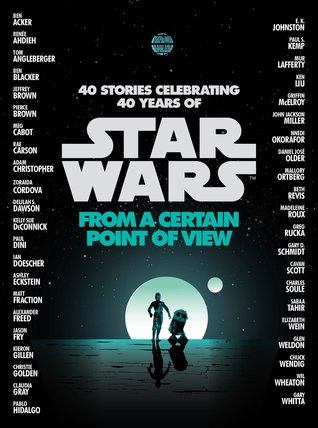 Experience Star Wars: A New Hope from a whole new point of view.On May 25, 1977, the world was introduced to Han Solo, Luke Skywalker, Princess Leia, C-3PO, R2-D2, Chewbacca, Obi-Wan Kenobi, Darth Vader, and a galaxy full of possibilities. In honor of the 40th anniversary, more than 40 contributors lend their vision to this retelling of Star Wars. Each of the 40 short storExperience Star Wars: A New Hope from a whole new point of view.On May 25, 1977, the world was introduced to Han Solo, Luke Skywalker, Princess Leia, C-3PO, R2-D2, Chewbacca, Obi-Wan Kenobi, Darth Vader, and a galaxy full of possibilities. In honor of the 40th anniversary, more than 40 contributors lend their vision to this retelling of Star Wars. Each of the 40 short stories reimagines a moment from the original film, but through the eyes of a supporting character. From a Certain Point of View features contributions by best-selling authors, trendsetting artists, and treasured voices from the literary history of Star Wars:Gary Whitta bridges the gap from Rogue One to A New Hope through the eyes of Captain Antilles.Aunt Beru finds her voice in an intimate character study by Meg Cabot.Nnedi Okorofor brings dignity and depth to a most unlikely character: the monster in the trash compactor.Pablo Hidalgo provides a chilling glimpse inside the mind of Grand Moff Tarkin.Pierce Brown chronicles Biggs Darklighter's final flight during the Rebellion's harrowing attack on the Death Star.Wil Wheaton spins a poignant tale of the rebels left behind on Yavin.Plus 34 more hilarious, heartbreaking, and astonishing tales from Ben Acker, Renée Ahdieh, Tom Angleberger, Ben Blacker, Jeffrey Brown, Rae Carson, Adam Christopher, Zoraida Córdova, Delilah S. Dawson, Kelly Sue DeConnick, Paul Dini, Ian Doescher, Ashley Eckstein, Matt Fraction, Alexander Freed, Jason Fry, Kieron Gillen, Christie Golden, Claudia Gray, E. K. Johnston, Paul S. Kemp, Mur Lafferty, Ken Liu, Griffin McElroy, John Jackson Miller, Daniel José Older, Mallory Ortberg, Beth Revis, Madeleine Roux, Greg Rucka, Gary D. Schmidt, Cavan Scott, Charles Soule, Sabaa Tahir, Elizabeth Wein, Glen Weldon, Chuck WendigNarrated by a full cast, including:Jonathan DavisAshley EcksteinJanina GavankarJon HammNeil Patrick HarrisJanuary LaVoySaskia MaarleveldCarol MondaDaniel José OlderMarc ThompsonAll participating authors have generously forgone any compensation for their stories. Instead, their proceeds will be donated to First Book - a leading nonprofit that provides new books, learning materials, and other essentials to educators and organizations serving children in need. To further celebrate the launch of this book and both companies' longstanding relationships with First Book, Penguin Random House has donated $100,000 to First Book, and Disney/Lucasfilm has donated 100,000 children's books - valued at $1 million - to support First Book and their mission of providing equal access to quality education. Over the past 16 years, Disney and Penguin Random House combined have donated more than 88 million books to First Book.©2017 Renée Ahdieh (P)2017 Random House Audio...
| | | |
| --- | --- | --- |
| Title | : | From a Certain Point of View |
| Author | : | |
| Rating | : | |
| ISBN | : | 9780345511478 |
| Format Type | : | Hardcover |
| Number of Pages | : | 479 Pages |
| Status | : | Available For Download |
| Last checked | : | 21 Minutes ago! |
---
From a Certain Point of View Reviews
The Force is strong in this anthology!This anthology is a celebration for the 40 years of "Star Wars: Episode IV – A New Hope", featuring 40 short stories written by 40 different famous authors (or pair of authors) using usually secondary characters (at least secondary in this particular film) where some of those are given names for the first time, but also there are some main characters, and each character tells their point of view of certain scene on the said movie. This anthology is part of the new canon of Star Wars.The general rating of the book is an average sum of each individual rating given to each short story contained in the anthology.RAYMUSRating: ***** ( 5 stars )By Gary WhittaWhatever Rogue One beamed us from Scarif, they really want it back.Raymus Antilles, captain of the Tantive IV, accounts the journey of the ship escaping from the Battle of Scarif, until reaching Tattoine, with hope in the hearts of all members of the crew.THE BUCKETRating: ***** ( 5 stars )By Christie GoldenThis is the tale of TK-4601, the Imperial Stormtrooper that stunned certain Alderaanian princess, where he started to question if he was on the right side of the conflict. THE SITH OF DATAWORKRating: ***** ( 5 stars )By Ken LiuHilarious tale of Arvira, Imperial Logistic Datawork Officer, onboard of the Imperial Star Destroyer Devastator, showing his uncanny mastery on the employ of reports and requisitions, to help to save the neck of Bolvan, gunnery captain who let pass certain escape pod without life signs.STORIES IN THE SANDRating: *** ( 3 stars )By Griffin McElroyThe amusing tale of Jot, the Jawa who captured R2-D2, and once inside of the Jawa Sandcrawler, Jot begins to watch holo-records of prequel aventures of the astromech droid.REIRINRating: ** ( 2 stars )By Sabaa TahirThis is the tale of Reirin, a female Tusken Raider, with desires to be more, to reach other places, out of Tattoine, and maybe the Jawa Sandcrawler can have what she needs to get her goal.THE RED ONERating: ***** ( 5 stars )By Rae CarsonHeroism is about sacrifices, and here, you'll know the tale of R5-D4, the "red" astromech droid that Owen Lars picked first.RITESRating: *** ( 3 stars )By John Jackson MillerThis is the unusual tale of A'Yark, an old Tuken Raider, along with the young Tusken twins, A'Kova and A'Vor, while travelling with a Tusken pack that crosses paths with certain young idealist farmer and a mysterious crazy old wizard.MASTER AND APPRENTICERating: ***** ( 5 stars )This the tale of the best surprising guest star. I say no more. I don't want to spoil the excitement of this reading.BERU WHITESUN LARSRating: ***** ( 5 stars )By Meg CabotHeart-breaking tale from the great beyond of Aunt Beru letting us to know how much she sacrifices to take care of baby Luke and how much she loved him when she raised him to become a young man of good.THE LUCKLESS RODIANRating: *** ( 3 stars )By Renée AhdiehThis the unlucky tale of Greedo and his last bounty mission.NOT FOR NOTHINGRating: **** ( 4 stars )This is the rocky road of the Music Band at the Mos Eisley's cantina (actually Chalmun's Cantina) to reach that said place and being able to play their so much varied catalog.WE DON'T SERVE THEIR KIND HERERating: **** ( 4 stars )By Chuck WendigThis is the curious tale of Wuher, the day-time bartender at Chalmun's Cantina (owned by a Wookie!) and how he had seen before lightsabers in action.THE KLOO HORN CANTINA CAPERRating: ** ( 2 stars )By Kelly Sue DeConnick & Matt FractionAn unnecesary long short story about the plan to steal certain item from Chalmun's Cantina.ADDED MUSCLERating: ***** ( 5 stars )By Paul DiniCool and funny access to the thoughts of Boba Fett while he was guarding Jabba, the Hutt, at the Mos Eisley Spaceport where the mob boss was talking with certain scoundrelly smuggler.YOU OWE ME A RIDERating: **** ( 4 stars )This is the sassy tale of the Tonnika Sisters, Brea & Senni, that while living (against their will) at Jabba's Palace, they plot the daring plan to steal certain YT-1300 Light Freighter.THE SECRETS OF LONG SNOOTRating: ** ( 2 stars )By Delilah S. DawsonOnce he was Garindan ezz Zavon, but now he is just Long Snoot, Imperial informer who spies around the dangerous Mos Eisley.BORN IN THE STORMRating: **** ( 4 stars )This is the hilarious and sometimes odd tale of TD-7556, a stormtrooper in the unlucky Foot Patrol 7 and its mission to find a couple of droids.LAINARating: ***By Wil WheatonThis is the tale of Ryland, a Rebel Soldier, in charge of scanning the skies in of the observation towers at Yavin 4, meanwhile he is thinking about Laina, his daughter.FULLY OPERATIONALRating: ***** ( 5 stars )By Beth RevisThis is the tale of General Tagge, in command of the Imperial Army, while he is attending certain Joint Chiefs meeting, onboard of the Death Star, where he realizes which can be the real key weapon of the Empire, and not that technological terror.AN INCIDENT REPORTRating: **** ( 4 stars )By Mallory OrtbergFull access to the official report by Admiral Motti, after suffering an uncalled choking attack by certain Imperial agent, out of the military chain-of-command but counting with the favor of the Emperor.CHANGE OF HEARTRating: **** ( 4 stars )By Elizabeth WeinThis is the tale of a stormtrooper, present during the interrogation of a Rebel spy, with Imperial Senate diplomatic background, and later guarding the Rebel spy while a whole world was being destroyed.ECLIPSERating: **** ( 4 stars )By Madeleine RouxThis is the sad tale of Bail and Breha Organa and their final moments at Alderaan until a deathly eclipse appeared there.VERGE OF GREATNESSRating: ***** ( 5 stars )By Pablo HidalgoThis is the outstanding tales of two Imperial officers, one was a politician at best, the other was an engineer at best, and how curiously, they hate each other, but if they'd realize how much they need each other for mutual survival, they could become an unstoppable force of destruction and the doom of the Rebellion, but they never value with cold objectivity each other.FAR TOO REMOTERating: ***** ( 5 stars )By Jeffrey BrownThis isn't a story but actually a hilarious cartoon about the Imperial check-up at Dantooine for any Rebel base.THE TRIGGERRating: *****By Kieron GillenThe wonderful tale of the second best surprising guest star in this anthology, while checking the remains of a former Rebel Base at Dantooine in the precise moment that a Imperial Star Destroyer appeared in orbit to check up that base too.OF MSE-6 AND MENRating: * ( 1 star )By Glen WeldonAnother unnecesary long short story about MSE-6-G735Y, a "mouse" droid onboard of the Death Star and its dealing with some Imperial officers there.BUMPRating: *** ( 3 stars )By Ben Acker & Ben BlackerSome characters are famous for their triumphs, but others can get famous for a memorable failure.END OF WATCHRating: **** ( 4 stars )By Adam ChristopherThis is the curious tale of the last minutes before the end of the current watch of Cmdr. Pamel Poul, a female Imperial officer, in command of a control center, coordinating certain hangar where there is a captured YT-1300 Light Freighter, but also coordinating certain detention cells.THE BAPTISTRating: * ( 1 star )By Nnedi OkoraforThe unnecesary tale of certain monster in certain garbage disposal.TIME OF DEATHRating: ***** ( 5 stars )By Cavan ScottThe astonishing tale of an old man at the moment when finally become more powerful than you could possibly imagine.THERE IS ANOTHERRating: ***** ( 5 stars )By Gary D. SchmidtAn old teacher had to hide in a swampy world (where actually not all year is that swampy, it also has its fair share of good weather time too), where he has had to survive without any weapon, wishing for the right moment to teach again what he knows well to his selected student, who he considers the right student, however the Force works in mysterious ways.PALPATINERating: **** ( 4 stars )By Ian DoescherAn impressive poem about the Emperor and his insidious plans for the galaxy.SPARKSRating: **** ( 4 stars )By Paul S. KempThe heroic tale of Dex, Gold Two, during the Battle of Yavin 4.DUTY ROSTERRating: **** ( 4 stars )By Jason FryThis is the curious tale of Col, bettern known as "Fake Wedge", and his role during the Battle of Yavin 4.DESERT SONRating: *** ( 3 stars )By Pierce BrownThis is tale of Biggs Darklighter, and his fateful journey from the hot sands of Tattoine until the cold space during the Battle of Yavin 4.GROUNDEDRating: **** ( 4 stars )By Greg RuckaSometimes it's easier to engage up there against the enemy, while it's harder to remain in surface, hoping for the best, even harder when you know too well all those risking their lives up there. This is the tale of Chief Nera Kase, in charge of all the fightercraft and piloting personnel at the Rebel Base in Yavin 4.CONTINGENCY PLANRating: ***** ( 5 stars )By Alexander FreedA leader's work never rest and has to be able to foresee any possible outcome when a crucial moment in the cause is finally there, since the cause can't die, the leader needs to keep it alive even if that means to leave the front and put distance, however a new hope can surprise even to the most prepared leader.The AngleRating: **** ( 4 stars )By Charles SouleA scoundrel founds out that a fellow scoundrel is risking his life for the cause of the Rebellion, but he can't understandy why since he considers that that kind of action isn't in the nature of his fellow scoundrel.BY WHATEVER SUNRating: *** ( 3 stars )By E.K. Johnston & Ashley EcksteinThe Medal Ceremony is witnessed through the eyes of an unexpected guest star from the new expanded canon, pondering about if that's the right time for medals or not.WHILLSRating: ***** ( 5 stars )By Tom AnglebergerA brilliantly hilarious tale of two historians, journalists of the Whills, in a non-disclosed time, arguing about how to begin to chronicle that phenomenon known as Star Wars.

4.5 starsPossibly the most entertaining book in the new canon. While not every story is a ten, there are really no bad stories and which ones you will like will depend on (I have to) your point of view. Variety of authors and styles writing these stories - from tragic to outright hilarious - keep things interesting.The book also answers some questions fans have had for 40 years, but, in the real Star Wars fashion, also makes you ask new ones, like what would have happened if Yoda went on to train Leia instead of Luke because seriously dedicated Princess with a sense of duty and responsibility seemed like a better candidate than immature farm boy craving adventure. For a fan who grew up on Star Wars, the anthology is a sharp reminder why galaxy far, far away is so special, it is a place where even a mouse droid, dianoga or a character appearing in a single shot in the original movie has a story to tell and a story worth telling.Highly recommended.

We're getting a story with Qui-Gon, y'all. Written by Claudia Gray, nonetheless. If you didn't want to get the book before, you should now.

Fair warning- rant ahead.I have a complex relationship with Star Wars. While I mostly enjoy the saga overall (comics, books and movies) I often find alot of the installments of the saga to be cash-grabs or "events" more than actual labors of love. (Not to say that there hasn't been some stellar, creative people whose work I admire associated with the franchise over the years, and even currently!.)And I'm feeling that now more than ever before with Disneys carefully calculated manipulation of the fanbase and the general moviegoing populace. Putting aside their Empire-like treatment of the industry and their disregard for their constituent cinemas, they just can't let it be forgotten that we're gonna get a new Star Wars film every year until the sun goes nova, and it's gonna fill in EVERY CRACK of the universe until nothing is left to the imagination anymore. "Hey, do you want to know the backstory of Salacious Crumb? You do? Well good, cuz we'll get there eventually!"All that said, I had mixed feelings on this book. While I'm not a fan of going backwards in the saga (I think they should be going forward, not rehashing old material), I found myself oddly liking this book, both in premise and execution, coupled with some compelling authors.. While it does go backwards, it also gives us a new perspective on some important moments in the saga from lesser characters in the saga (a tactic often employed sucessfully by genre TV shows). Taking this book on it's own merits, it's a solid 3.5.

My video review: https://youtu.be/7GpfnIaXnjs2.5 star-ishFrom a Certain Point of View is an interesting anthology. The stories act as a behind the scenes look at events in A New Hope from the perspective of 40 side characters. Some of these characters are completely unexpected. Take for instance, characters like: R5-D2 (the red droid sold with R2-D2 by Jawas), a female Tusken raider, MSE-6-G735Y (a mouse droid), or heck, even the trash compactor monster (btw her name is Omi). Of course there is also some more familiar faces, the story about force-ghost Qui-Gon Jinn (by Claudia Grey) being a favorite of mine. While these all might sound interesting and fun, I still had many issues with this anthology. There is a clear issue of quality with MANY of these stories. There's a few gems, but the majority of them feel amateur and I would even say boring. Thankfully the thing that kept me interested was that the stories would occasionally slip in some answers to long-unanswered questions that the fans of had relating to A New Hope. This, and the fact that all the profits go to charity are the only reasons I would recommend it. Otherwise, I feel like it just missed the mark on what could have been quite promising.I listened to the audio book version, which has a great cast of actors such as Neil Patrick Harris, Marc Thompson, January LaVoy, and Ashley Eckstein to name a few.

A long time ago, in a galaxy far, far away, the bit players were busy, too, and had their own, interesting moments and lives. Like the garbage chute monster, who gets her due, and we find out just how fascinating and wonderful she was. And the mouse droid Chewie scared, who would have thought it facilitated a relationship on the Death Star? And what about the storm troopers who decided these weren't the droids they were looking for? The brilliant and overworked and deeply caring crew chief on Yavin dealing with too much stress and grief? And reading about the destruction of Alderaan from the planet itself was particularly poignant as I had just recently read about Leia's adolescence and her relationship with Breha and Bail in Claudia Gray's book "Leia, Princess of Alderaan".These are some of the short stories in this collection which I really enjoyed. I liked the different perspectives and the chosen characters, and how each author added to and filled in bits of story that I'd wondered about. And in some cases added some humour or depth in surprising places. (My favourite pilot Wedge gets some time, too, in one of the stories.) definitely a good addition to the Star Wars story.

WILDLY uneven in the quality of the stories. Check it out from your library to read it before buying it. It did not even remotely match the anticipation of greatness (notice I did NOT say delusions of grandeur) I had when I first heard this anthology was being compiled.Of the 40 tales, an infant's handful are really good or fracking great. Several were just insulting. Most were just okay. It takes more than inside jokes and catchphrases to make a good or great SW story regardless of the length.Recommended only for the hardcore SW fans, and that recommendation is only for those who love it so much they'd read anything even remotely SW related.

Debated between 4 and 5 stars, because some of the stories in this are, sadly, not all that great. But the ones that are good are great and all combined together make this a perfect love letter to the film that started it all. Sometimes I was left a little sad because I wanted shorts to be longer, to see more through the characters POV, whereas others felt just long enough, an important moment from the movie from a new perspective.As well as some stories not being that good, my other main criticism is that there are too many focused around the Cantina. Obviously because of the array of background characters, there was always going to be a lot. But it just felt like I read the Greedo/Han Solo scene about 5 or 6 times from different characters, which seemed excessive because it's always the same scene. I did like the choice of some of them. Greedo, the bartender, a band member. But it did get a little repetitive.Some people will look at parts of this book and brush them off as pointless fan service, but I'd tell those cynics where to go because the best parts in this book were clearly written for Star Wars fans. I don't want to give too much away, but the Qui-Gon, Yoda and Boba Fett stories are among the best. I also found the latter half of the book much better than the first.

Full review on my blog here! In celebrating the 40 years of Star Wars, Penguin Random House has reunited different authors and asked them to write stories from the perspective of the side characters. The story starts out right after Rogue One Movie and the story is about Star Wars: A New Hope (duh). It was fun for me because it's a fresh take on the movie since we have different people's perspective who come from different planets. I've learnt a lot about the world of Star Wars in those pages!!!

Overall, this is a solid collection of stories. It's just too bad that the duds are kinda clumped together so sometimes you might be tempted to stop reading on account of too many stupid stories in a row. But don't give up--the last quarter of the anthology has a some really strong stories. By the end, I decided the book was a sold 4 star affair, but I will tell you, there were times, when I was certain I wouldn't be giving it anything higher than a 2 star review. I think my biggest complaint is that none of the stories got the time they deserved. In an effort to fit 40 stories in here, almost none of the authors were given the breathing room to really make something out of their idea. Next time, Star Wars, do a proper anthology with normal length stories, please. There are some ideas in this book that are astounding and deserve more attention. One of the goals of this anthology (I assume) was to allow authors to experiment a bit, and to allow some new authors a crack at the Star Wars universe. Obviously, a lot of how people react to this book is going to depend upon people's wants and expectations--perhaps more so than a novel. And I totally expect there will be people who strongly disagree with a rating or two (or twenty) of mine. But that's why it's MY review and not yours! :) Since there are 40 stories, rather than listing each story, plus a rating, plus a comment or two, I've just grouped them into the following categories that roughly correlate to a five star rating system. Finally, the number in front of each story is the order in which the story appears in the book. Okay, lot's to review--let's get crackin'!!Five Stars: The Force is strong with this one. Translation: The best of the best of the best. 8. "Master and Apprentice"Thoughts: I always thought that Qui-Gon learning how to manifest as a Force ghost and communicating with Obi-wan was kinda stupid. But it's excellent stories like this one that are changing my mind. 22. "Eclipse"Thoughts: Wow. The destruction of Alderaan. That was by far the best story I've read yet. Well written. A new perspective (but one that dove-tailed nicely on Claudia Gray's Leia: Princess of Alderaan). Emotional. Characters that sound like and act like adults. Whew. Good stuff. 30. "Time of Death"Thoughts: I will say this for the editors: they gave all of the important stories to the best writers. Obi-wan has become one of my favorite characters over the years, and this new perspective on his death is death is very touching. 31. "There is Another"Thoughts: The difference between the bad the stories and the excellent stories in this collection is enormous. Yoda, however, is still very small. I loved this story. 34. "Duty Roster"Thoughts: There are some stories in this book that I would love to see put to film, big screen or small. This is one of them.35. "Desert Son"Thoughts: I always thought Pierce Brown was a bit over-rated (sorry, Pierce). But if he keeps writing like this, I will happily change my tune.36. "Grounded"Thoughts: Holy crap, they saved the best for last. These final stories are just so damn fine. Four Stars: Impressive. Most Impressive. Translation: An excellent story that is either very well written or that adds something significant to the Star Wars canon. A must read. 6. "The Red One"Thoughts: I think a lot of readers will say that I'm over-rating this story. Which might be true. But when I read the first few lines, I thought for sure I was going to give this on a Tribbles rating. But dammit, if the author didn't just write the idea so well, that...droid feels...right here in my chest. Meh idea, but superbly written. 7. "Rites"Thoughts: I admit I love this story specifically because I love John Jackson Miller's Kenobi, and I was very sad to learn that it was not considered canon. However, this short story, which is canon, references very clearly most all of the events in Kenobi...which is about as close to being canon as you can get without "officially" being canon...right? I hope so. 13. "The Kloo Horn Cantina Caper"Thoughts: Most of the experimental styles in this anthology are pretty bad: here, is a fantastic exception. A bit noir, a bit caper, a bit personality, a bit smug, but a lot of fun, and never overdone.16. "The Secrets of Long Snoot"Thoughts: Finally a story with a voice that sounds like it was written by an adult. Tragically, such voice in writing is rare in the Star Wars universe. 23. "Verge of Greatness"Thoughts: Now THIS is how you get inside someone's head for a scene that we've all already seen in the movie. Also, again, the characters sound like adult (it's amazing how much that single fact elevates writing…), and the characters have voices that match, well, the characters. Nicely done Mr. Hidalgo.37. "Contingency Plan"Thoughts: I know that Star Wars in many ways is supposed to be fun. But Star Wars works best when it's story and it's characters are taken seriously. Wonderful story.Three Stars: Not bad for a little furball. Translation: A pretty solid story. You should read it.1. "Raymus" Thoughts: We look a bit into the head of Captain Antilles, brave leader of of the Tantive IV and soon to be throat-choked by Darth Vader. Interesting story. Not badly written. Doesn't add much of anything though.2. "The Bucket"Thoughts: A nice story about a stormtrooper with a tiny touch of a conscience. And here's my odd gripe. I know that Disney et al. are trying to humanize the Empire. But you can't make every stormtrooper and Imperial officer have a guilty conscience. Time to pull back a bit and make some Imperials that passionately believe in what they're doing. 12. "We Don't Serve Their Kind Here"Thoughts: The barkeep's past was just intriguing enough to make some connections to the Clone Wars without ever becoming melodramatic. Also...is this the third story wherein HAN. SHOT. FIRST...and Han was the ONLY one to shoot? What are you playing at here, Disney? I like it.18 ."Laina"Thoughts: A standard, if touching, recording from a dad to a little girl explaining all about the Rebellion should he not live long enough to tell her himself. 25. "The Trigger"Thoughts: The stormtrooper with a conscience done right. And Dr. Aphra to boot. Not too shabby.28. "End of Watch"Thoughts: Ever wonder what was going on at the other end of the line during Han Solo's "boring conversation anyway"? Now you know.32. "Palpatine"Thoughts: I'm an English teacher. I'm a total sucker for Ian Doescher's Star Wars: Verily, a New Hope. And I liked this one too.33. "Sparks"Thoughts: You know how you choke up just a bit at the end of Star Wars as each X-wing and Y-wing get's shot down? This brief, but very nice story, will do the same thing all over again.38. "The Angle"Thoughts: Just what the rating says: not bad for a little look into the life and times of Lando Calrissian. 39. "By Whatever Sun"Thoughts: I'm curious to know just how much Ashley Eckstein contributed to the story. Either way, she and E.K. Johnston make a good team. Nicely done.Two Stars: It could be worse. Translation: A very meh, story, but it least it hasn't sunk so low at to be grabbed by a dianoga and dragged away to the very bottom of the trash compactor. Only read it if the subject matter really interests you. 9. "Beru Whitesun Lars"Thoughts: Sorry, but the voice doesn't even remotely match what I think an elderly(ish) woman would sound like. 10. "The Luckless Rodian"Thoughts: Too short a story. Greedo is kinda a wuss. HOWEVER...Han. Shot. First. BOOM! Does this make it canon? They're trying, folks.11. "Not for Nothing"Thoughts: It's about this point that I started to think, "I don't want every character to have a back story," because now it's just starting to feel forced. Just let the band play, man.17. "Born in the Storm"Thoughts: ...but not by much. Have I mentioned yet that I want come competent Imperials? And that I want them to sound like adults? Yeah, there's none of that here.19. "Fully Operational"Thoughts: Well written, but this is merely an extended scene of the Imperial chiefs of staff meeting with Vader and Tarkin in A New Hope. Nothing new is added.21."Change of Heart"Thoughts: There's nothing really wrong with this one except, as I've already said, someone needed to coordinate these stories better. Way too many of them are way too similar. For my thoughts on this story, see my thoughts from "The Bucket" because they're basically the same story. 24. "Far too Remote"Thoughts: I'm not really a good judge of artwork, so…a single-panel cartoon. Cute. And I'm glad it only took up one piece of paper.29. "The Baptist"Thoughts: I really struggle with these weird POV stories. I don't need one about a Jawa, I don't need one about a mouse droid, and I don't need one about the dianoga. 40. "Whills"Thoughts: The last story of the anthology is a joke. No, seriously, it is--it's even mildly amusing. Which is fine, but I'd rather they started with it than put it at the very end. It feels really out of place at the end. Please don't treat Star Wars like a joke, hm.One Star: Tribbles. Translation: A story of fluffy crap that feels woefully out of place in this Star Wars book, just like a tribble. No. Stop. Don't read it. It's really bad. 3. "The Sith of Datawork"Thoughts: You know what doesn't make Star Wars interesting? Even if the concept might be very plausible? Paper work. 'Nough said.4. "Stories in the Sand"Thoughts: I don't really wanna say why I found it stupid because it's the whole premise of the story. So. It was just total fluff.5. "Reirin"Thoughts: So a Tusken has to steal something from a sandcrawler. Alright. Then what happens? The answer: NOTHING. I literally don't understand what I'm supposed to get from this story. 14. "Added Muscle"Thoughts: Aaaaand...this is why I have my "Tribbles" rating. A story off all fluff and no substance. And the Fett dialogue was badly written. 15. "You Owe Me a Ride"Thoughts: I dunno--maybe the Tribbles rating is a bit harsh, but after reading this dud, I'm forced to echo what a fellow reviewer said: apparently none of the authors coordinated their stories because after this story, I'm pretty sure every damn patron in the cantina is now in someway connected to Han Solo. It's irritating. The galaxy is huge. It's okay to have people at a bar, even one in Mos Eisley, who don't know each other! Also, this is another story where literally nothing of consequence happens. Bad writing. 20. "An Incident Report"Thoughts: Another whiney Imperial statement. And, really, we're going accuse Vader of evangelizing? Really?!?! My eyes have never rolled so hard.26. "Of MSE-6 and Men"Thoughts: I just...I...what? How is this story a thing?!?! Was it supposed to be funny? Charming? Whitty? Romantic? Because in the end it was a whole lotta nothin'. 27. "Bump"Thoughts: I'm being forced to read other reviews in order to come up with new ways to explain things. So yes, I read this somewhere else, but so many of these stories, including this one, just feel like bad fanfic. Well, that's it folks. Feel free to tell me in the comments where I'm right (obviously), and where I'm all wrong.

What a fun ode to one of my favorite movies.Seriously, who came up with this idea? It's great. For the fortieth anniversary of Star Wars (now ponderously titled Star Wars Episode IV: A New Hope), forty authors who are Star Wars- or nerd-adjacent take side or peripheral characters from the original film and write short stories from their perspectives. These stories are all told in chronological order, from the death of the captain of the Tantive IV all the way to the awards ceremony at the end of the film where we get POV from one of Leia's fellow Alderaan survivors. The affect is this strange little collage-like alterna-version of the film. You can't help but replay the real version in your head as you read about the supposed scenes that took place while you weren't looking.Highlights for me included stories from Mallory Ortberg, Glen Weldon, and Claudia Gray, but I knew going in that would probably happen, since those authors GET ME. But I was surprised by how much I enjoyed others, namely those from Alexander Freed and Elizabeth Wein, though in hindsight neither of them should have surprised me. I ugly cried at Elizabeth Wein's Code Name Verity, and Alexander Freed is an extremely talented author straight up who for some reason has so far limited his talents solely for Star Wars purposes. Both of them are magic. Other stories were up and down in terms of enjoyment, though I only disliked one of them out of forty, and that was Nnedi Okorafor's "The Baptist", which is from the POV of the dianoga, aka the trash monster. I think I just have to accept that her writing is not for me. We are like magnets pushing at each other. In my opinion, that story took a pulpy character and tried to SERIOUS IT UP. It just made me roll my eyes.Certain events get more play than others. I was really ready for them to leave Tatooine and the Mos Eisley cantina by the time, what, the fifth story? took place there. Too many concentrated there for sure. Other areas that could have used a little more spread: the destruction of Alderaan and the final battle at Yavin IV. Also, I kept worrying the whole time that the stories would contradict each other in continuity (still not convinced that some of them didn't). My favorite stories were definitely the ones that had bite and cleverness to them, rather than the ones that were trying to be profound. The longest story in the book by far was Kelly Sue DeConnick and Matt Fraction's Cantina caper. Luckily, it was also really well done and one of the more entertaining stories in the collection.All in all, well worth your time if you're a Star Wars diehard, and maybe even if you're not. I hope they do this again for the 40th anniversaries of Empire and Jedi.

This was a really good entry into the new canon. I skimmed maybe 66% of the stories, however a lot of them weren't bad, they were just focused on characters I didn't care about. Most of this book just follows really obscure side characters, and as I've said before, I pretty much am just here for the Force-users.My favorite stories where: The Red One (Rae Carson), Master and Apprentice (Claudia Grey, what a shock honestly), Eclipse (Madeleine Roux), Time of Death (Cavan Scott), There is Another (Gary D. Schmidt), and Palpatine (Ian Doescher). The top three for me would be The Red One, There is Another, and Master and Apprentice (again, I can't believe one of Grey's entries into the new canon is on there), with Palpatine being a close second.There were only two stories that I read fully that I didn't like, which are Beru Whitesun Lars (Meg Cabot) and Whills (Tom Angleberger). The Beru story was just so.... out of universe that I couldn't get into it. I just didn't like it at all, and thought it was kind of a waste of space for the book when we could have got a story following.. I don't know, Mas Amedda or something.And the Whills story was just complete bullshit. I really like the concept of the Whills in the Star Wars universe. The entire concept of it is interesting to me and this just kinda shat on it. I don't know, this was a complete dissapointment for me. Another waste of space, if I'm being honest.And so because of those two stories, I can't give this five stars. I just disliked them so much, it brings the book down.

I honestly saw this book coming out and thought, 'okay, but why do we need ANOTHER retelling of ANH? haven't we had enough of them?' Turns out we were absolutely, 100% missing this one. It's by far the most interesting and refreshing retelling of the much-loved, oft-repeated Star Wars story we all know and love. These 39 stories (I hesitate to call Jeffery Brown's one-page, one-panel comic a story) were all incredibly well-done, crafted by authors who were clearly excited to be part of such a project, and who were lucky enough to write these stories for love--for love of the craft, for love of the content, for love of the characters...for love of the story, the story we all have heard so many times... A long time ago, in a galaxy far, far away.... There were only two of the stories that seemed completely irrelevant to the retelling in any way--Sabaa Tahir's "Reirin" and Zorida Cordova's "You Owe Me a Ride"--and even then, the latter of those served to flesh out the character of the galaxy we've delved into so many times over the 40 years it's been around. Some--like Rae Carson's "The Red One" and Pierce Brown's "Desert Son" gave us insight into characters we already knew and loved. Wonder no more what was going on in Biggs Darklighter's head when he heard Luke's voice so far from the twin suns of their home, or whether or not the little red R5 unit with the bad motivator was actually pivotal to the continuing survival of the Rebellion. Other stories introduced us to new players--DeConnick and Fraction's "The Kloo Horn Cantina Caper" gave that fuzzy alien with the proboscus a name (the Muftak), and "Grounded" by Greg Rucka reminded us that the ground crew of the Rebellion suffered just as much as the pilots who left them behind for the sky. And still others provided insight into just how much exactly was really going on in that Cantina in Mos Eisley (so many), where Lando was while his ship was preforming heroics under Han's guiding hand (Soule's "the Angle"), and just how heartwrenching it was for Obi-wan to get to talk to Qui-Gon and Yoda again (Claudia Grey's "Master and Apprentice"). I was particularly delighted when members of the extended universe canon popped up without warning--Doctor Aphra appeared in all her chaotic neutral glory ("The Trigger" by Kieron Gillen); John Jackson Miller's Sand Person chieftan A'Yark from the "Kenobi" book was a grounding presence in the desert ("Rites")--and any mention of Rogue One or the Battle of Scarif (and there were a lot) left me more emotional than it should have. I cried several times while reading various stories (I'm going to keep coming back to Claudia Grey's rendition of Qui-Gon and Obi-Wan here--seriously, I died, it was beautiful), and I laughed at more. Even the ones that I was not particularly fond of were exceptionally well-written and drew me in for the time I was reading them. There was really nothing about this book that I didn't like. It was the freshest take on a beloved, if worn-out, story that I've ever seen, and was a truly engaging and energetic read from cover to cover. I would dearly love to see someone who hasn't seen A New Hope enough times to have it memorized try to read this book...I'm so very curious as to how they would follow the story, what they would make of the characters, who and what they would find important or lovable or annoying. How they would react to the garbage monster getting her--yes, her--own chapter, or how much the destruction of Alderaan would affect them. I was bawling my eyes out, but I'd be so interested in seeing the reactions of someone a little less steeped in Star Wars lore than myself. Ultimately, it was fantastic in every way. It truly was the most beautiful tribute to forty years of Star Wars, forty years of a princess with steel in her backbone, a sun-drenched farmboy, a scoundrel with the brightest heart of gold, and the galaxy they saved. I couldn't imagine a better tribute, nor would I want one. Simply put, it was perfect.

This collection of short stories will satisfy every Star Wars fan alive. The premise is genius. It takes small, seemingly unimportant moments from A New Hope and zeroes in on them. It provides names and backstories, tragedies and victories, motivations and inclinations. It satisfyingly adds to a universe already well developed.One of these stories in particular proved among my favorites. Do you remember the guy standing lookout in the crow's nest of a pole? You saw him as the X-Wings took off to intercept the Death Star? His story is written by Will Wheaton, entitled "Laina," and it is absolutely heartbreaking. There is another called "Time of Death" which features Obi-Wan Kenobi's final moments and thoughts as he faced certain death at the hands of his former apprentice. Speaking of such, Claudia Gray wrote "Master and Apprentice" which explores Qui-Gon Jinn's spirit visiting Obi-Wan on Tatooine. Still another is called "There Is Another," and it's about Yoda living on Dagobah and wishing he could train one last Jedi–someone he believes has great potential.Of course, as you can see, not all stories are directly related to a moment in A New Hope. Such as with the Yoda story, some of the stories check in on characters technically not introduced in the original 1977 classic. Boba Fett, for example, offers a first-person account during a bounty hunt. We have a story starring Lando trying to swindle someone. We have another with Doctor Aphra, a relatively new character, in the lead. Yet another stars the Emperor himself.However, these are all pretty big names in the Star Wars mythology. Most of the short stories actually utilize characters that are essentially unknown. Remember the red R2 unit that Luke and Uncle Owen almost bought? He's got a story. Do you recall the Tusken Raiders who knocked out Luke? Yep, they have a story, too. That bartender who told Luke to get the droids out of his tavern? You guessed it. Even one of those little mouse droids in the Death Star has a story.Are all forty of these short stories great? Not in my opinion, no. However, those that didn't speak to me personally may very well be your favorite. I will say this, though, the vast majority of them were exceptional. The writers' ability to take seemingly irrelevant characters and develop them into engaging, charismatic figures proved uncanny.I highly recommend this book for any Star Wars fan.

Full review to come??? But here's a quick run-down of my favorite stories in the collection:-"The Sith of Datawork" by Ken Liu: So good, so hilarious....I love watching characters run the world in ways besides the usual action-hero shoot-em-up, fly-around-em ways.-"Reirin" by Sabaa Tahir: SAND PERSON PROTAG AND I LOVE HER SO MUCH.-"Born in the Storm" by Daniel Jose Older: Stormtrooper protag with SO MUCH SASS.-"Beru Whitesun Lars" by Meg Cabot: LOVED this short monologue from our dear space-aunt.-"Change of Heart" by Elizabeth Wein: This was probably my favorite Imperial POV story in the collection because it made me believe in their belief in the Empire. Plus this is some good Leia content.-"The Baptist" by Nnedi Okorafor: I thought there was no way someone could make me care about the dianoga. I WAS WRONG.-"Duty Roster" by Jason Fry: X-Wing pilot story. I want ten seasons and a movie.-"By Whatever Sun" by EK Johnston and Ashley Eckstein: This was satisfying for fandom reasons.

Stories that gave me all the feels: Master and Apprentice, Eclipse, Time of Death, By Whatever Sun (bonus points for canonizing Jessamyn as a space name)Stories I really liked: The Red One, Reiren, The Baptist, Palpatine, The Angle, Contingency Plan, Whills, various Imperial paperwork/administration/HR storiesStories I was kinda disappointed with: Beru Whitesun Lars: I was really excited for a Beru story but I didn't care for the storytelling style. There is Another: This felt like an attempt to retcon the thing where Leia gets passed over as a chosen one possibility, but I felt even worse about Yoda and Obi-Wan after I read it oops. Stories that bored me:Most of the Cantina ones, THE KLOO HORN CAPER (I expected better from you Fraction/Deconnick), most of the rebel pilot/Yavin stories

More like 3.5, I guess? Some really good stuff but way too much about the denizens of Tatooine.

Star Wars: From a Certain Point of View is a collection of forty short stories released in 2017 to celebrate the fortieth anniversary of the original Star Wars. Collectively they comprise a complete retelling of the movie from the perspective of minor characters (such as Aunt Beru, or an Imperial officer aboard the ISD Devastator), or characters that only appeared in other films in the franchise (such as Qui-Gon Jinn, or Palpatine). All of these stories are readable, most of them are fun, and a few of them are absolutely fantastic. My top picks would be: Master and Apprentice by Claudia Gray, in which Qui-Gon speaks to Obi-Wan as a Force ghost; Born in the Storm by Daniel José Older, which is a report from one of the stormtroopers mind-tricked by Obi-Wan; and Grounded by Greg Rucka, which is the experiences of the Chief Mechanic of the Yavin 4 Ground Crew throughout the battle, as one by one her pilots and starfighters are shot down.By far my favourite, though, is An Incident Report, by Mallory Ortberg. This takes the form of an HR complaint against Darth Vader by Admiral Motti regarding being choked at a staff meeting, and it is absolutely hilarious. This story alone merits five stars. Aside from that, there are so many bits to enjoy - John Jackson Miller bringing a character from Kenobi back into canon; characters from the Mos Eisley cantina being called by their action figure names - all sorts of little touches that show a real love for the source material.Thoroughly recommended to all Star Wars fans.

"You're going to find that many truths we cling to depend greatly on our own point of view." (said Obi-Wan before he belligerently lied to Luke about his father, but whatever). To celebrate 40 years of Star Wars 40 different stories, told from the point of view of various background characters, guides us through A New Hope from the moments after the Battle of Scarif to the credits rolling after the medal ceremony. It is, first of all, an awesome concept that's executed perfectly because the differences in tone and style (one story is written entirely as a Shakespearean soliloquy) is part of the fun of turing the page to the next story. And see what characters were chosen and who brought them to life was very fascinating. Some Star Wars veterans were in the mix (E.K. Johnston, Pablo Hidalgo, Claudia Gray, Chuck Wendig) mixed in with some of of the top popular authors today (Meg Cabot, Madeleine Roux) and even some surprises (Wil Wheaton). While some stories felt like little more than sanctioned Star Wars fanfiction, some truly got you where it hurts, and some were just incredibly enjoyable to read. There's a healthy mix of humor, drama, and world building throughout all 40 chapters. Honestly? It's just plain Star Wars fun. The stories enrich the story, poke fun at it, and serve as a great way to celebrate 40 years of the greatest film franchise every created.

This will forever change the way I watch A New Hope. Forty writers joined together to tell the untold stories of the side characters in STAR WARS to celebrate the fortieth anniversary. Starting with the hand-off of the plans at the end of Rogue One, many characters get their due here. Some of the stories are sweet, some are funny, but most are tragic in the way that background characters who *aren't* the Chosen Ones often have their lives ruined. Rae Carson wrote a story about the red droid that gets passed over on Tatooine that legit made me cry. Claudia Gray wrote a conversation between Obi-Wan and Qui-Gon that is one of the best things to exist in Star Wars canon. Elizabeth Wein's second-person narration of the man who interrogates Leia is brilliant, obviously, and the only second-person POV thing I've ever liked. Mallory Ortberg's incident report from the officer who was strangled by Vader made me absolutely cackle with glee. If you have even a passing interest in the literature of STAR WARS, you must check this out. (Full disclosure: I'm not quite technically done with this yet, but it was due back at the library and it had a hold on it, so I don't know when I'm gonna get to finish it for real. Whatevs.)

This anthology is pitched as a retelling of A New Hope "through the eyes of a supporting character," which sounds great and could've been. However, the end result is rather hit-and-miss. Some of the supporting characters add depth to the story (e.g. Tusken Raiders, Jawas, Qui-Gon Jinn's ghost, Yoda, Obi-Wan Kenobi, the odd Imperial desk jockey) while others are completely fabricated and seem to have forgotten that the point is to retell Star Wars, not their own separate story. Additionally, the tone and quality of writing is all over the place (although I suppose that could be expected due to the variety of authors). In the end, I'd say this is worth reading for hardcore Star Wars fans who are willing to wade through some junk to find the good bits.**The best good bits, in my opinion: Raymus by Gary Whitta The Sith of Datawork by Ken Liu Stories in the Sand by Griffin McElroy The Red One by Rae Carson Rites by John Jackson Miller Master and Apprentice by Claudia Gray Fully Operational by Beth Revis Eclipse by Madeleine Roux Time of Death by Cavan Scott There Is Another by Gary D. Schmidt Grounded by Greg Rucka The Angle by Charles Soule

4.5/5There are some heartbreaking stories in this book. I was moved to tears several times. I refrain from giving 5 stars because the tonal shifts between serious and goofy stories can be pretty jarring, the quality is fairly uneven, and there are some gluts of less arresting stories (I felt a bit bogged down in the Tatooine ones, of which there are many).I would say my favorite stories were:Master and ApprenticeThe Secrets of Long SnootEclipseTime of DeathDesert SonContingency PlanThe AngleThere are some instances of stories that are too similar to each other, follow familiar formulas, or contradict one another. But that sort of thing must have been hard to avoid with so many authors collaborating on this project. It's nice to see so many who are new to Star Wars fiction. Overall, I really enjoyed this and would love to see a similar book of stories covering the events of The Empire Strikes Back.

A long time ago in a galaxy far, far away...First of all, I want to say YAY 40 YEARS OF STAR WARS!! That's 40 years of my favorite franchise! I'm really glad they did a book like this. And the title is absolutely perfect! Can't wait to see what they do for 50! Anyways, now to the actual review. All right, so since it's a bunch of short stories, I thought I should do separate short reviews for them. Well, here we go!The secrets to destroying it were in the hands of his princess. And he would gladly die to protect them.Raymus: Okay wow! That was really good! The beginning of A New Hope will never be the same for me... just gonna go cry in the corner now...But damn it, he'd reminded her that there was a person inside the plastoid armor.The Bucket: Not bad. I liked how it talked about the life of a stormtrooper, something you don't really hear about. But I felt like it was lacking something. I don't know what it is though. Oh well.Desk jobs in the Imperial Navy we're no less stressful than the combat ones.The Sith of Datawork: That was... interesting I guess... This provided more insight into the inner workings of the Empire but it kind of bored me. I guess I just don't like all the politics of it.He would see the stars, and write stories about each and every one of them.Stories in the Sand: OOOH I LOVE THIS ONE! The story was just really good and it pulled at my heartstrings a bit! And how it was all connected to what happened with R2-D2 I was just jumping in my seat! This maybe be one of my favorites!No use dwelling. You've made your decision.Reirin: This one sounded kind of similar to the last one so of course I liked it. And then she found a kyber crystal and I started freaking out cause KYBER CRYSTAL! So yeah, pretty good.Thank you, friend, the little blue droid called to him. You may have saved the galaxy today. I will never forget you.The Red One: OH THIS SHEDS A WHOLE NEW LIGHT ON THIS PART! I've always wondered what made the red droid blow up but iT WAS ACTUALLY HIMSELF! I just love this story so much!"Will I die?" "If you are fated to. But you will be seen to die—as a Tusken."Rites: Not bad. This one reminded me the book Kenobi, but that might just be because of the similar characters. In any case, it was a good story.As Obi-wan will soon learn, the most beautiful form of mastery is the art of letting go.Master and Apprentice: AHHHH AN OBI-WAN AND QUI-GON STORY!!! I absolutely love their relationship and Qui-gon coming to talk to him through the Force is just awesome! Thank you Claudia Gray!!So I guess things did turn out all right in the end, didn't they?Beru Whitesun Lars: This was a nice story. It was warm and heartfelt and it was cool to have something from Beru's perspective, as people don't really think about her.His last memory was that of bitter injustice.The Luckless Rodian: I hate Greedo so this story didn't really do it for me. HAHA HE GOT WHAT HE DESERVED! TEAM HAN SOLO ALL THE WAY!Tatooine was the worst place in the galaxy for Bith.Not for Nothing: I enjoyed this story. Especially because they got Greedo in trouble. HA HA HA SUCKER!"Hey!" he barked. "We don't serve their kind here!"We Don't Serve Their Kind Here: Well this story definitely shed some light on things. I like how all of it ties together and stuff. These writers are pretty good."Now that," says Myo, "is a funny joke."The Kloo Horn Cantina Caper: I honestly don't know how I feel about this one. It got weird and confusing in some places, but there was something about it that just... made sense? I don't know; this story is a mystery to me. (See what I did there😏)Jabba said to meat him at Docking Bay 94.Added muscle: I didn't like this one. I just feel like it didn't do Boba Fett justice. But that's just my opinion."We're getting off this rock."You Owe Me a Ride: This one was pretty good. I liked how it showed that not everyone who takes a bounty is in it for the money (well they still are but there's more to it, you know what I mean!) And their past relationship with Han made for an interesting story!Tomorrow I will find the droids. I will collect the bounty. And then I will leave.The Secrets of Long Snoot: I have mixed feeling about this story. I mean, it was interesting, but the main character seemed really stuck-up so I guess I was less sympathetic to his plight.I kicked my heels against the dewback and together we launched out into the desert.Born in the Storm: Okay, found the end of this one slightly weird. Like is he alive? Is he dead? IS THE DEWBACK OKAY?!?! This one was probably a reference to something else but stupid me will never figure out what it is :P"Take good care of my little girl"Laina: AW THIS ONE WAS SO SAD! Just the whole story of his family pulled at my heartstrings so much! And then it says they were headed to Alderaan and cue the sobbing on the floor. I had no idea Wil Wheaton could write this well!A weapon was meant to be fired.Fully Operational: This one was okay. Kind of boring."The ability to destroy a planet is insignificant next to the power of the Force."An Incident Report: Once again, here's a guy I couldn't care less about! He's such a big idiot and a kiss-up, Vader should have gone all the way and killed him! Hopefully he died on the Death Star! The Empire would be better without him!The hardest part of the work was keeping your feelings under control.Change of Heart: Interesting. Very interesting. I just wish there was a little bit more at the end, like does he go all the way and actually join the Rebellion? Guess we'll never know.A shadow fell across the balcony, draping them both in cold and darkness.Eclipse: And cue the sobbing on the floor. WHY!! WHY EMPIRE WHY!! I hate Tarkin even more because of this story! They didn't deserve it!!😭You may fire when ready.Verge of Greatness: Now I know I've said I dislike a lot of people, but STUPID TARKIN IS NUMBER ONE ON THAT LIST!! My hatred for him probably isn't healthy. But HE DESERVED WHAT HE GOT! That whole "leave? In our moment of triumph?" thing annoys me to hell and back. But enough of my ranting, you want more reviews so moving on!Something tells me they aren't really here.Far Too Remote: HAHAHAHAHA!"You ever shot anybody in cold blood?"The Trigger: Oooh Doctor Aphra is back! Loved her in the Darth Vader comics. This story gets really dark and deep and I love it!"We get ourselves set up on Coruscant, paint some racing stripes on you, and we start raking in the credits. You just wait, buddy. You'll see."Of MSE-6 and Men: I'm gonna take a wild guess here and say this story was based off "Of Mice and Men" but seeing as I've never read it, I couldn't tell you if it is or not. Anyways, good story. Liked it a lot.I'll return to the Death Star. I swear I will fight my way back home.Bump: So that's the stormtrooper Obi-wan tricked! He was the same one that found the droids too?! *imitates explosion* mind blown! Wonder if he got off the Death Star before it blew up?Twelve hours of supervising a skeleton crew as they monitored the largely autonomous, redundant systems of the largest battle station in the history of the galaxy.End of Watch: Not bad. It was cool to see the inner workings of the Death Star. And then you have the awesome Han Solo conversation so I was pretty happy with this story.Who will I be next time around?The Baptist: Cool! A force-sensitive creature! Those always fascinate me so A+ for this story.My name is Obi-wan Kenobi, and I am dead.Time of Death: I LOVE OBI-WAN! He's one of my favorite characters so a story with him is always good to me. And I absolutely loved reading about his thoughts on Vader and hearing about all that extra stuff with Luke!"Mourn them do not. Miss them do not. Rejoice for those who transform into the Force."There is Another: Wow this was good! I loved hearing about Yoda's thoughts and seeing his relationship with Obi-wan. And Yoda really wanted to train Leia???? I could do lots of stuff with this new information!The rebels and the galaxy entireShall call me Emperor or see their pyre.Palpatine: I hated this one! I just can't do poetry and old English! No thank you, moving on!Small sparks can start big fires.Sparks: I liked this one. It was a nice story about the battle over the Death Star. I liked seeing the some of the thoughts of the people of the Rebellion."You know I hate that nickname," Col said.Duty Roster: Like I said before, I like seeing the inner workings of stuff so of course I'd like the story about the inner workings of the Rebellion. And it has Wedge Antilles so I got bonus there."It'll be just like Beggar's Canyon back home."Desert Son: Okay, got a lot of things to say about this one. First off, I really like the character of Biggs Darklighter so a story about him? Perfect! Next, I really like the way the story was written. It made me feel like I was up in space fighting along side them, something that doesn't usually happen to me. My knuckles turned white gripping the book, wondering how it would turn out even though I already did. It was like watch the movie for the first time again and that just made this story really special to me.It ended now. Or it would never end.Grounded: YAY MORE INNER WORKINGS! This story was actually pretty sad though. Just that feeling of helplessness or wondering if you could have done more, I can relate to that.But Mon believes in victory again.Contingency Plan: I feel really bad for Mon. The way she was resigned to all the things that could happen is pretty saddening. But her willingness to do it for the cause and the galaxy make her seem even stronger than we already know. I really admire her for that even though she doesn't actually exist."To the memory of the greatest smuggler I ever knew!"The Angle: This story seems really ironic to me. He's wondering how Han fight with the rebels against the Death Star well guess what,GeneralCalrissian, you do it too! Anyways, it was a good story.But in the morning, by whatever sun, she would get up and she would rebel.By Whatever Sun: Loved this one! We got to see old characters come back and see the survivors of Alderaan and of course the medal ceremony. It was a great story to wrap up the end of A New Hope.A long time ago in a galaxy far, far away...Whills: Is it just me, or did you think this would have been something similar to when George Lucas was write the opening crawl? Obviously not the same cause we have all this extra knowledge now, but you know, similar. In any case, I felt like going back to the opening crawl was a great way to end the book. Maybe they'll do a bunch more short stories like this for the other movies. I'd definitely read those!I have to say, my favorite story was either "Master and Apprentice", "Eclipse", or "Desert Son". They just struck the deepest with me, though "By Whatever Sun" was pretty close. And I actually have a favorite quote. It's from "The Angle". It wasn't just pushing your luck, it was shoving it off a cliff and laughing while it hit every rock on the way down.Basically sums up my life!! Hahaha! Anyways, you're probably tired of reading this so I should start to wrap it up. You should definitely read this book if you're a big Star Wars fan. Even if you're not a huge fan, you should read it anyways! It added so much more depth and detail to the movie, it's just amazing. Well, I hope you all read it and hope you get to see The Last Jedi in December!May the Force be with you.

Fun concept, but the story quality is sadly uneven, and there a few places where internal inconsistencies are a bit jarring. Still, glad I got to read about Griffin's dreaming Jawa, among other highlights :)

I knew that From a Certain Point of View was a collection of short stories about minor, background characters from Star Wars. But I didn't realize that these 40 stories take the reader from the end of Rogue One through the end of A New Hope, in order—reliving the whole story of Episode IV from very different perspectives. It's a clever, but risky, concept, and it works beautifully. The stories aren't all great (probably 20 stories would have made one of the best Star Wars books ever), but a higher portion of them than I would have believed are quite good, and going through the movie this way was a lot of fun. Anyone, like me, who has endured and struggled through the new Star Wars canon will recognize almost all the authors in this collection from the mostly mediocre contributions they've already made to the Star Wars galaxy. (But where was James Luceno, one of my favorites?)After reading From a Certain Point of View, I note that there are a couple of "what not to do" rules about writing Star Wars stories. The first is that writing about Stormtroopers seems to be a bad idea. None of the stories from the point of view of a Stormtrooper work well (not every trooper who has to fight Rebels is going to have an instant change of heart; it's a great story arc for Kallus, and a so-so story arc for Finn, but it can't happen in every story about an Imperial), and most of the stories about Imperial officers are not good. And Glen Weldon's story, "Of MSE-6 and Men," about a mouse droid on the Death Star, ought to be excised from the canon immediately.One that does work? "An Incident Report," by Mallory Ortberg, is a comedy story of Admiral Motti that had me laughing in spite of myself. It reads like something from The Cooper Review. Another fantastic moment—one of my favorite parts of the book—is when Pablo Hidalgo, in "Verge of Greatness," brings in a verbatim scene from the Star Wars Audio Drama. It's a bit of dialogue between Tarkin and Motti, and as far as I'm aware, it's the first time an extra scene from the audio dramas has been brought into the new canon. Thank you!The other bad writing prompt made very apparent in this volume is any story about aliens in the Mos Eisley cantina. After a strong start, the book is almost completely derailed by a looong detour of story after story about denizens of the cantina. Not only are the stories dull, but I'm puzzled why every alien species in the galaxy seems to think exactly like humans. It's sloppy, and it's a shallow, ethnocentric way to imagine Star Wars. Even on our own world, we humans think so differently from one another that we don't understand each other. Why would a galaxy full of sentient aliens be more unified in their perspectives than that? ("More human than human"?)The only good parts of that cantina detour? Bringing Ackmena, the singing, conga-line-leading bartender, from the Holiday Special into the official canon; and showing again and again that Han shot first (and Greedo didn't shoot at all).Oh, and one other rule for Star Wars writers: Don't write from the point of view of Aunt Beru. Really, Lucasfilm—don't do that to us again.For me, the most memorable stories are the ones that fill in gaps that I've actually wondered about over the years. Gary Whitta's "Raymus" fills in some of the story of Captain Antilles, from the end of Rogue One until his ultimate confrontation with Vader. Sabaa Tahir, in "Reirin," leaves some tantalizing clues about the green kyber crystal that (we assume) will eventually make its way to Luke's lightsaber. In "Eclipse," Madeleine Roux finally answers the question of Bail and Breha Organa's last moments on Alderaan before the Death Star attack. Alexander Freed is already one of my favorite Star Wars writers, and his story, "Contingency Plan," answers the nagging question prompted by Rogue One: If Mon Mothma was at the Yavin 4 base during Rogue One, then why isn't she still there during A New Hope? The story answers that question and gives an interesting glimpse into the thoughts and griefs of the Rebellion's leader.Some of the stories fill in gaps I hadn't even wondered about very much. Cavan Scott's "Time of Death" delves into what happens at the moment Obi-Wan becomes "more powerful than you can possibly imagine," and then "There Is Another," by Gary D. Schmidt, continues that story by showing us what Yoda was doing during the events of Episode IV. Scott's story starts slow but builds to a beautiful ending, and Schmidt's is an excellent conclusion to it.But in the midst of these ups and downs comes the biggest surprise of the book: "Master and Apprentice," by Claudia Gray. For me, everything was working against it: I haven't enjoyed any of Gray's Star Wars novels; it is written from the point of view of Qui-Gon Jinn, which is a reminder of the prequels; it fills in a gap of just a few minutes during the movie, which I wouldn't have thought needed to be filled with anything. However . . . Gray has written the most sublime, perfect story of the whole Star Wars canon. It's a beautiful piece that not only brings depth to Qui-Gon and Obi-Wan's ongoing friendship, but explains a number of questions about manifestations of Jedi spirits. And it's a celebration of life even in a barren place and against all odds. I thoroughly love this story.Why does so much of From a Certain Point of View work, when barely any other Star Wars novel has been even mediocre? I wonder if it's because the short story format is better suited to Star Wars storytelling. As movies, Star Wars films are known for their fast pace, quick cuts, and great action. That's hard to convey in a novel, but perhaps it translates better to a shorter form. Also, the short form pushes authors to home in on a single emotional beat, conveying something real in a concise, potent bit of writing. I don't know why this rarely happens in novel-length Star Wars stories, but it happens a lot in this collection of short stories. Something about being freed from having to fill a full-length novel really seems to open authors up to exploring much more interesting territory. I enjoyed it, and I hope that they go on to tell the stories of Episodes V and VI "from certain points of view" (though they don't need to be 40 stories every time).

I need this like a week ago

I loved this book!!!! I wasn't exactly sure what I was getting into, but it exceeded my expectations and really made me open to reading more Star Wars canon novels in the future.First of all, I LOVED the audio book. Not only did it have sound effects (music, blaster and lightsaber noises during fights, droid beeps, and so much more), but the voice actors were SO talented. If you had told me the actors who played Obi-Wan, Yoda, Palpatine, Grand Moff Tarkin, Darth Vader, and more were the ones reading their parts, I would have believed you. I was seriously impressed. I also loved how many different styles were incorporated into this book. More than just different voices from different authors, but there were stories told in the rare second person that put the reader as a Stormtrooper, stories told from the perspective of a mechanical droid which was very robotic, comic pages, and a top favorite was Palpatine by Ian Doescher which was written in Shakespearean iambic pentameter. Like I can't even with how amazing that was. I want to read more of his books in the future for sure. My favorite stories (besides Palpatine) were Stories in the Sand, which gave an unlikely Jawa a role in R2 getting his message to Obi-Wan, The Red One, about the red droid almost chosen by Luke and his uncle in the beginning (he didn't malfunction like we thought!), The Baptist, which gave the awesome perspective of the monster in the trash compactor (her name was Omi and she was actually Force sensitive), and Whills, which was an AMAZING breakdown of writing the opening crawl and had me laughing out loud. I also loved all the ones about Stormtroopers, showing that Finn wasn't the first one to question the Empire, and that there really were consequences for the Stormtroopers who were Jedi mind tricked by Obi-Wan. I also loved the idea that Yoda really wanted to train Leia, not Luke. And I could go on and on. I seriously loved this book! I hope they do one like this for every one of the movies!

I listened to the book via Audible.If you're a fan of the original Star Wars and want to learn more about the characters that appear in and around the film, you need to give From a Certain Point of View a read. The collection of short stories roughly follows the events of A New Hope, but picks on side characters and then tells you a little bit about them in a variety of ways.For example, what was the story of 'the red one' astromech droid that Owen and Luke almost bought but blew a motivator as it rolled off with C-3PO? Or what happened to those stormtroopers after Obi-Wan mind-tricked them into letting him and Luke pass? Or what was Mon Mothma planning to do if the Death Star succeeded in destroying Yavin 4 and the Rebel base on it? From a Certain Point of View answers these questions and so many more.Each author brings their own strengths to the anthology and gives life to characters in different ways. Sometimes we learn about their pasts, other times it's focused solely on the present, and yet others it's a bit more nebulous. Every story is different and unique in a way that brings more life to the Star Wars universe in a variety of shapes and forms.I heartily recommend From a Certain Point of View to anyone who ever watched Star Wars and wondered what was going on off camera or after a scene ended. It's a great addition to the universe and an excellent celebration of the film's fortieth anniversary.

Alright, alright, I'm cheating a little. I didn't actually finish this one. I got to disc 10 of 14 of the audiobook and decided to call it quits. BUT...It wasn't the book, it was me. I actually loved the concept of this book, and enjoyed most of the stories. I'm just not totally the target demographic. I am not as enmeshed into the Star Wars universe as I would imagine most people picking up this book are. And, because the focus of these short stories are some of the more minor and background characters of the universe, I was lost a lot of the time in knowing who they were. I actually really loved some of the stories in the beginning. I loved that they interlinked with one another, and seemed to build on each other a bit. That faded as the stories progressed. Also, I think I knew enough about what was actually happening with the main Star Wars characters to see how the side characters being talked about fit in. Again, as the stories progressed, this seemed to change. I was more lost in terms of how the characters and the events fit into the larger story. So, my interest waned. Also, the main characters that I did know popped up less in the later stories, and that contributed to me feeling more lost and less invested in what was happening.My favorite story? "Master and Apprentice" by Claudia Gray. I'm sure that was partly due to it's main characters being significant and very recognizable characters in the Star Wars universe, so I knew what I was dealing with. I also liked "You Owe Me a Ride" by Zoraida Cordova. And really, honestly, just most of the stories set in or around the cantina. So, yes -- totally worth checking out. The audiobook is solid with a full cast and plenty of special effects. I think it will just be more enoyable for a more solid Star Wars fan.

It's not a bad collection of stories- none are terrible, though the Shakespearian Palpatine one is pretty boring. The main issue is that since the collection is only about A New Hope, there is way too much overlap and just not enough strong stories to be told (did we really need a story about the Dianoga in the trash compactor? No). We got three (3!) stories all about the run on the Death Star, and two of them hit all the same points. There are FIVE stories that follow the events of the Mos Eisley Cantina. Since everything that happened on-screen is so ingrained in the reader's head, there's often not a lot of tension. How will the Greedo story end? Hmmmmm. There's also a tendency to overuse shout-outs, like suddenly having a character reveal they're going to Alderaan (gasp!). Yes, we get it- they're going to die. That being said, there are some great stories- The Kloo Horn Cantina Caper and Duty Roster, to name the best. And at the end of the book, they're all Star Wars stories. That keeps it at 4 stars.