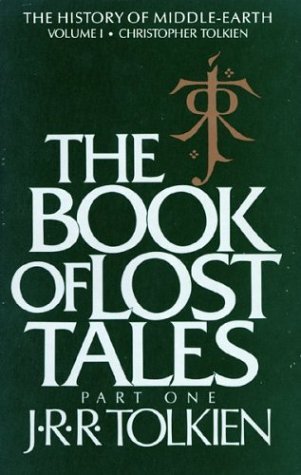 The Book of Lost Tales 1 stands at the beginning of the entire conception of Middle-earth and Valinor. Embedded in English legend and English association, they were set in the narratve frame of a great westward voyage over the Ocean by a mariner named Eriol (or Ælfwine) to Tol Eressëa, the Lonely Isle, where Elves dwelt; from them he learned their true story, the Lost TaleThe Book of Lost Tales 1 stands at the beginning of the entire conception of Middle-earth and Valinor. Embedded in English legend and English association, they were set in the narratve frame of a great westward voyage over the Ocean by a mariner named Eriol (or Ælfwine) to Tol Eressëa, the Lonely Isle, where Elves dwelt; from them he learned their true story, the Lost Tales of Elfinesse. In the Tales are found the earliest accounts and original ideas of Gods and Elves; Dwarves and Orcs; the Silmarils and the Two Trees of Valinor; Nargothrond and Gondolin; and the geography and cosmology of the invented world....
| | | |
| --- | --- | --- |
| Title | : | The Book of Lost Tales, Part One |
| Author | : | |
| Rating | : | |
| ISBN | : | 9780395409275 |
| Format Type | : | Paperback |
| Number of Pages | : | 304 Pages |
| Status | : | Available For Download |
| Last checked | : | 21 Minutes ago! |
---
The Book of Lost Tales, Part One Reviews
3.5 starsMy first attempt to read _The Book of Lost Tales_ was made way too early in my life and made certain that my response was to put it on the shelf and decide that all of this background stuff, especially taken from this early phase in Tolkien's life as a writer, was way too different from the Middle-Earth stories that I loved for me to waste any time on it. Looking at where the book mark from my first attempt still sat when I picked it up again, I noticed that I didn't even get much beyond the first several pages of the introductory chapter "The Cottage of Lost Play". I remember thinking that it was just altogether too twee for me, what with the Eldar of Middle-Earth still being referred to as 'faeries' and the, to me, bizarre structure of a wanderer coming to a tiny cottage (bigger on the inside than the outside) peopled by dancing and singing children and adults who primarily sat around telling tales and reciting pretty mediocre poetry. It wasn't really Middle-Earth now was it? Well, at the time I put down the volume and decided that I'd stick with the 'real' stuff of LotR, The Hobbit and The Silmarillion and that, as they say, was that for probably about two and a half decades. Then it came about that I discovered my greatest love vis a vis Tolkien's work was growing to be the posthumously published The Silmarillion and Unfinished Tales of Númenor and Middle-Earth, both of which contained some of the most beautiful and powerful of Tolkien's writing. I looked at the corpus of 'The History of Middle Earth' with something of a new eye and decided that I might just dip into it and see what it was like. I consciously chose to first read those volumes that dealt with the matter of the First and Second ages of Middle-Earth and were latest in the chronology of composition thus presumably assuring that I was coming across ideas and stories that were closer in tone and content to the ones with which I was so familiar and that thrilled me with their mythic reverberations. I ended up loving what I found in Morgoth's Ring and The War of the Jewels and decided that maybe this huge work undertaken by Christopher Tolkien to present the works of his father in toto wasn't an altogether bad idea after all (especially given my hunger for more material regarding the tales as told in The Silmarillion).So now I find myself re-embarking on the journey from the beginning and tackling the very Book of Lost Tales (part one) that defeated me in my youth. I'm glad I came back. Pushing through past the point in the first chapter beyond which I never made it before I actually found a fair bit to like, even though it wasn't the undiluted Middle-Earth vintage I had initially wanted. I was actually reminded a bit of William Morris' medieval romances that so influenced Tolkien as I read about the journey of Eriol the mariner upon the Isle of Tol Eressëa and once the tales themselves began to be told I saw that there was a surprising amount of coherence between these earliest versions of the myths of Middle-Earth with what eventually came to be published in The Sil. The differences themselves were intriguing and I found as the chapters sped on the framing device didn't bother me half as much as once it had. I will readily admit that much of the poetry in this volume leaves something to be desired. I am not one of those readers of Tolkien that skips over the poems, and I think that many of them are quite beautiful (esp. Bilbo's poem of Eärendil sung in Rivendell), but the early ones showcased in this volume are not really my cup of tea (though one can certainly see Tolkien's word-craft in them improving as time went on). The Cottage of Lost Play itself took on greater interest as well as I started to see some parallels between it and the ultimate development of Elrond's house of Rivendell as "a perfect house, whether you like food or sleep or story-telling or singing, or just sitting and thinking best, or a pleasant mixture of them all'. Merely to be there was a cure for weariness, fear, and sadness." Eriol the mariner, a man from medieval England who has found his way to the magical isles of the west, sits in this pleasant house and has recounted to him many of the tales of the elder days when the Elves were alone in Middle-Earth, or mankind just arising from their ages long slumber. All of these tales are ones that a reader of The Silmarillion will already be familiar with: the creation myth of the Music of the Ainur, the building of Valinor and creation of the Two Trees of Light, the battles against Melkor (here named Melko) and his initial imprisonment, the coming of the Elves to the blessed lands and their ultimate rebellion and return to Middle-Earth in pursuit of Melko, and the myth of the creation of the sun and moon upon the death of the two trees. Some of these are not very far from the more final versions that were presented in The Silmarillion, while others display drastic differences (such as the expanded legend of the sun and moon, the extensive bits that deal with cosmology and the make-up of the world, and the inclusion of Valar who mate and even include in their number some gods of war), but it is very safe to say that unless you have a deep and abiding love for Middle-Earth, and especially tales of the elder days, you probably won't get much out of this book. I would agree with those who claim this is really only for aficionados of Tolkien's tales who want more and who are interested in seeing the development of his mythology. It is indeed a fascinating peek over the shoulder of Tolkien as he writes his tales and we finally start to get a glimpse of the sheer magnitude of the effort that his son expended simply in producing from the jumble of inter-related texts about the legends of the Elves a volume as slim and relatively cohesive as The Silmarillion.I'm looking forward to tackling Book II of the lost tales and proceeding with the history of Middle-Earth texts at least up to volume 5 to continue to get my fix and maybe even get a taste of some legends of the elder days that I haven't already experienced in another form. Recommended for hard-core Tolkien fans who don't mind critical apparatus and multiple versions of tales.

STOP: Ask yourself if you read and enjoyed The Silmarillion?If the answer is 'yes', then you might like this book.If the answer is 'no, I haven't read The Silmarillion', then read that before this book.If the answer is 'no, I don't like like The Silmarillion', then you won't like this book.This book will give you insight into the early thoughts and ideas that eventually became the Silmarillion. If you are or want to be a hardcore Tolkien fan then this book is a must, but for most casual fans of Lord of the Rings and The Hobbit it isn't.

Having read The Hobbit, The Lord of the Rings, and The Silmarillion many times since I was a teen, as well as Tolkien's papers, letters, and biographies, I decided it was time to go the last mile and read his son Christopher's annotated compilation of the Professor's earlier drafts. BoLT/I is the first of the five-volume collection. It covers topics familiar to anyone who has read The Silmarillion--the creation of the world, the making of Valinor, the Valars' conflict with Melkor, the Awakening of the Elves, and the Coming of Men--but in some of the earlier drafts the details vary greatly with the "canonical" versions. What's more, all the tales in this volume are presented as having been told around a fire to Eriol, a traveler visiting the Elves living on the island of Tol Eressea. Chritospher explains how that island, in his father's imagination, was an analog to the English county of Warwickshire, and bolsters the claims of those that the Shire was an allegorical representation of England, and Middle-Earth as a whole was analogical to Europe (though the Professor vehemently denied the latter). In the tales--and most particularly in Christopher Tolkien's very careful commentary--one can also trace the evolution of the Quenya and Sindarin languages. I had often wondered where the various Elvish dictionaries got their extensive word lists from, since so little was presented in the canon; now I know, and am thrilled to find such a trove of vocabulary.

"A story must be told or there'll be no story, yet it is the untold stories that are most moving. I think you are moved by Celebrimbor because it conveys a sudden sense of endless untold stories: Mountains seen far away, never to be climbed, distant trees never to be approached - or if so only to become near trees..."

This will be my 12-volume write-up of the entire series "The History of Middle Earth".--------------------------------------------------------------------------------------This series is ONLY for the hardcore Tolkien fanatic. Predominantly written byJRR's son, based on JRR's notes on the creation of The Silmarilion andThe Lord of the Rings (much less on The Hobbit). It is somewhat interesting tosee the evolution of the story (for example, "Strider" was originally conceived asa Hobbit (one of those who "went off into the blue with Gandalf" as alluded toin The Hobbit). But the downside to this is that it isn't very fun to read. You can only read yetanother version of Beren and Luthien so many times before you're tired of seeingthe miniscule changes from one version to the next.So, overall, I slogged through this over about a year. I'd say it was worth itin the end for someone like me who loves Tolkien and his entire created worldof Arda (and Ea in general). But I'll never re-read them. They come off too muchas seeming like Christopher Tolkien just bundled every scrap of paper he could find,rather than thinning them down into a logical consistency.

Questo è il secondo libro che decido di abbandonare in questo 2016: odio mollare a metà ma non posso nemmeno torturarmi quando arrivo allo stremo... So che questo abbandono suona un po' come un'eresia ma in realtà io trovo che questa raccolta sulla mitologia della Terra di Mezzo sia qualcosa di incredibilmente complesso e perfetto, se si ha il desiderio e la pazienza di leggerla ci si rende conto immediatamente della grandezza di quello che Tolkien ha creato. Però per me è troppo pesante, un po' come lo era stato Il Silmarillion al tempo in cui lo lessi (saltando decine di pagine). Mi accontenterò di continuare a leggere e ad amare Lo Hobbit e soprattutto Il Signore degli Anelli.

Auch wenn ich für den Band verhältnismäßig lang gebraucht habe, bedeutet das nicht, dass ich keinen Spaß hatte. Vielmehr hat er so viel Inhalt, dass ich nicht zu viel auf einmal lesen konnte. Sicherlich nur für Leute interessant, die die Geschichten im Silmarillion mochten und vor allem mehr zu Tolkiens Schaffungsprozessen wissen möchten. Ich bin beim Lesen so tief abgetaucht, dass es mir tatsächlich vorkam, als würde ich ein richtiges historisches Buch lesen. Mittelerde und Co. sind für mich nochmal um ein Vielfaches gewachsen <3

I had thought that this book was a bunch of stories in the Tolkien mythology that had never been published. It was only after picking this book up at the library that I discovered what it actually is. After his father died, Christopher Tolkien first compiled, edited, and published The Silmarillion and then later made this twelve volume (yes, twelve!) set of what is essentially all of his father's unpublished and generally unfinished writings. This first book is what eventually was rewritten as The Silmarillion, but how Tolkien had first envisioned the telling of the story, as a man named Eriol who stumbles upon an elfin island and bids everyone he meets to tell him their history of the world. I've read the Silmarillion a couple of times, so I'm generally pretty familiar with the story. This is like reading Tolkien's first draft of The Silmarillion, which is a little bit weird. After each chapter, Christopher Tolkien describes how each story evolved into the final story in The Silmarillion. Ultimately, I think it's a better idea to read the author's final work rather than early drafts, but it's a little bit interesting to see how Tolkien changed various stories over time.Really, this is only a book for people who are very well acquainted with the story of Middle Earth and want more insight into Tolkien's literary practice. I would even say that it doesn't make much sense to read this unless you've read The Silmarillion more than once.

Don't pick this up unless you were very bummed about finishing the Hobbit, the Lord of the Rings, the Silmarillion, and other greats -- and are craving more. So much that you're willing to essentially sit back in a college-level literary analysis course.The stories are magical, and definitely "Tolkienesque", but at times it can be a tough read.That's primarily because most of what Christopher Tolkien (J.R.R.'s son) used to put this -- not to mention the rest of the History of Middle-Earth series -- together were fragments of stories, sometimes three or more different versions.There is a lot of academic-style commentary, complete with name comparisons, investigations of intentional vs. scrapped pieces of story, notes of geography of Middle-Earth gleaned from the tales, and so on.If you don't like that kind of commentary, go ahead and skip right to the stories. But be warned that they'll be bit confusing to piece into the Middle-Earth we know and love, and you will lose context of what's going on to understand why C. Tolkien arranged the book the way that he did.

In one sentence - I'm fascinated. This book is real gem and beacon to all blurred and unclear parts in the final version of The Silmarillion. This book is missing link to onset of Tolkien's creation of his own mythology. It's all about Valar and their deeds in creation of Arda. Also, Valar and their traits are much more developed than in The Silmarillion (but many details from The Silmarillion are unmentioned or were unknown then). Special part is devoted to Sun and Moon creation, after darkening of the Valinor, and of its hiding. From those tales, I finally found the origin and learnt about creation of the Door of Night, and Gates of Morn. Also, I recognized many Tolkien's inspirations from Norse mythology that he wove into this tales (e.g. when Orome created rainbow-bridge, or when Vanna cut off her hair for Gods to weave sails and ropes for the boat of Sun etc.).

Ever since I started reading J.R.R. Tolkiens books this month I had this strong urge to read the short stories and learn more about the "middle-earth." Now, I haven't officially read all of his books or the different series he has written that are set in the middle-earth but I still found these stories highly entertaining. I really liked how Christopher took his dads work and made it into the book of lost tales. And now after reading these I'm even more pumped to read the rest of J.R.R's books. I seriously can't wait and I'm definitely going to read the second part of these lost tales. I hope they get better!!

The History of the Middle Earth was put together by Christopher Tolkien, JRR's son. The effort involved sifting through his fathers notes and organizing them, which in itself is a difficult task. Oft time names were changed from story to story and Christopher had to decipher outlines and light pencil markings. In many a case we have just outlines and scant poems thrown around. But this is the backstory to the Simarrilion. This is where Middle Earth according to Tolkien was created. The story line that comes out of this work is the same as that of Simarillion save that you will notice that names are different and there are multiple versions of the stories told. Look at the Simarrillion as the finished product. Bear in mind that as I give you the summary I will not remember most of the names the language is difficult to work with. More over I wish to add in that at the end of each tale Christopher Tolkien included some notes. This at times helped clarify things and at other times it was rather confusing to read.Eriol, who was touched by the light of Earendel, is touched with a penchant for wandering. His marine adventures land him on the Lost Isle of Tol Erresea. While sojourning there he ends up befriending a goodly number of Elven folk. Going through the town he comes to the capital city of Kothirion which is named after the city of Kor in Valinor. It is there that Eriol comes to the Cottage of Lost play. To enter he must allow himself to become smaller. The Cottage is host to nightly gathering and revelry of story telling. Vaire and Lindo the hosts tell Eriol the history of the Middle Earth like his human ears have never heard before. Rumil tells him even more stories. At one point Eriol wishes to drink of the "Limpe" an elven drink that will give him elven immortality. but first he must hear from Queen Meril. To drink the Limpe is to side with elves until the end of time even if it means going against humans. Eriol becomes hesitant.In the beginning Illuvatar created the Ainur and the rest of the universe by making music. Once the Ainur were created they were inputted a story and taught to make music. They make music and create the universe with Illuvatar. Illuvatar makes mansions and dwelling in the astral level for the ainur, but lurking in the outer reaches corrupting everything is Melkor.Illuvatr though is able to counter Melkor. Eventually the Ainur stop making music and see the world they have created. It arda. Melkor with is dark designs goes down the arda in order to corrupt it. Several ainur choose to descend to Arada despite Illuvatar's not wanting them to. They descend.They explore this twilight world and end up creating the Island of Valinor. This is done to give the Valar a home and as a defense against Melkor. As Melkor corrupts the planet with destructing and foul created beings. The Valar confront him. Tulkas a mighty warrior does not trust him, There is not fight at this point but Melkor is wily. He agree to taking Holy light and creating two poles of if to light up the Arda. Later when the Valar have crafted their hall, Melkor destroy the light. What is left is gather into two fountain called Kullkillion and Talimpe. From these two trees grow, called Laurelin Talpion. Gold and silver light they give off. Melkor still continues with his reign of destruction. This leads to a conflict where in Manwe and Tulkas fight and deceive Melkor. They chain him up for a period time and leave him in the Halls of Mando. (Sounds like the Loki story)With the birth of the elves the Valar are happy. Simultaneously the Valar send someone to lead the first emissaries to Valinor. the three elves go back and Orome leads them through the Great Land to the shores of the West were Ulmo transports them on an island (which Tol Erresea). THe three families of elves are brought over. Some do get lost in the Great lands. At the same time Melkor is unchained a bit early and is put into the service of Tulkas. There are three families of elves the Noldori,Solimposi and the Teleri. The Teleri will learn poetry from Manwe, the Noldori will learn smithcrafting from Aule and the Solimposi become music makers on the shores.Tol Erressea used to be Ose's island. Ose is a servant of Ulmo, the sea lord. When Ose anchors the Tol Erresea to the sea floor and stopping it's use this develops a mini feud. Some Solimposi remain on the island and play music with sea shells. Ose also teaches them how to ride swans and how to build ships. Ulmo uses this later to lead them to Valinor.Unchaining Melkor might not have been such a great idea. he made some nasty friends down in Mandos and while in valinor he is prone to spreading vicious lies. He turns the Noldori and the Valar against each other. During a celebration Melkor and Ungoliant, a giant spider from the south, steal into Valinor and kill the two trees. Ungoliant drink the light from them. The silmarillion are also stolen. The Noldori are angry, under the leadership of feanor they head to Middle Earth, stealing ship from the Solimposi they flee Valinor.The further tales recount the creation of the sun and moon and the concealment of Valinor. The book finishes off with the battle of tears. A battle where men and Avari elves goe against Melkor. The men learn to speak from an elf named Nuin. For those hard core Tolkien fans this book is a must read. I liked the Simarrillion better but this gives you the inside look at a subcreated universe.

http://nwhyte.livejournal.com/1581275.htmlThe Book of Lost Tales was published in 1983, interpreted from a series of longhand notebooks started by J.R.R. Tolkien in 1917, as later interpreted by his son Christopher. Tolkien's series of linked short stories were written in his spare time from his academic career and family obligations; once he decided to abandon the Lost Tales and start over, he probably did not expect that they would ever see the light of day - this is essentially a private set of thoughts whose author did not deem them ready for publication.The book offers insights into the process of writing, crafting and drafting, trying to get it right, over the decades which led to Tolkien's great works. Occasionally one can trace particular elements to the outside world: Tolkien's town of Kortirion is very explicitly modelled on Warwick. But more often the writers are drawing on their own emotional resources and imagination, trying as it were to find the story that is trying to get out - the Tolkien drafts show constant refining to get a better result. The Book of Lost Tales is of interest more because of what it eventually led to, and also to an extent because of what fed into it, than because of the content. Of course Tolkien drew on the ancient literature with which he was very familiar in crafting his own work; but the style seemed to me to have strong links with Lord Dunsany and with the earlier and less weird Lovecraft. Dunsany's The Gods of Pegāna had of course been published in 1905, but I see that Lovecraft only started publishing horror in 1919, so I guess it is a case of two contemporaries drawing from a common well.I couldn't really recommend The Book of Lost Tales to anyone but a Tolkien enthusiast (and I have been one for most of my life, but have only now got around to reading it 27 years after it was published).

This is the first volume of Tolkien's short stories that I've read and although I enjoyed the stories themselves I did miss his usual epic endings (many of the stories here are incomplete hints at greatness) and I wasn't so keen on the lengthy notes and commentary. I think I would've preferred something more concise with each tale and longer notes to the back where I could refer to them if I wanted to. That's just my preference though and I'm sure many will love the length and detail of these. Still I'm glad I read these and will certainly look out for the second volume of lost tales as well as the rest of the History of Middle-earth series.

This is the first of a 12-book series written by JRR Tolkien's son, Christopher Tolkien. After his father died, his son collected and studied both his father's published and unpublished works, and decided to organize them into a readable collection, complete with explanations and footnotes. For anyone who loved the Lord of the Rings and hungers for more; also for anyone who is curious about how Tolkien developed his imagined world in the first place.

If you are even a little bit curious about the history of Middle Earth, this is an essential volume. This, along with part 2, elucidate some of the more obscure mythological beginnings of Arda. The commentary section at the end of each 'chapter' is very enlightening both linguistically and in terms of the development of certain motifs that crop up in Tolkien's works.I would suggest reading this after The Silmarillion (which is considered the polished product of the tales in these volumes). It may seem repetitive, but it is fascinating to see where these stories started and ended.

If you wanted to know how things came about in Middle Earth and the Undying Lands, this is a wonderful book to have for informational reference. From tales about the chaining of Melko ('Melko' was the original name, but it seems few people know that - perhaps they didn't read the book ;) ), to the coming of the Eldar, and the awakening of Men, the stories in this book are essential to fully understand the beginnings of Tolkien's world.

The Book of Lost Tales, Part One (The History of Middle-Earth #1), J.R.R. Tolkien, Christopher Tolkien (Editor)

Oh Tolkien! This book was about the beginning of Middle Earth (even though it is not called that yet) all these stories Tolkien wrote when he was young...all these poems I had never read before. There were times I would just stop and re-read something because it was so beautiful. The first story was my favorite, "The Cottage of Lost Play." It was beautiful! The description of the tree Laurelin in "The Coming of the Valor,"..."Behold from that place that had been watered from Kulullin rose a slender shoot, and from its bark pale gold effulgence poured; yet did that plant grow apace so that in seven hours there was tree of mighty stature, and all the Valar and their folk might sit beneath its branches. Of great shapeliness and goodly growth was that stick, and nought was there to break its smooth rind, which glowed faintly with a yellow light, for a vast height above the earth. Then did fair boughs thrust overhead in all directions, and golden buds swelled form all the twigs and lesser branches, and from these burst leaves of a rich green whose edges shone. Already was the light that that tree gave wide and fair, but as the Valar gazed it put forth blossom in exceeding great profusion, so that all its boughs were hidden by long swaying clusters of gold flowers like a myriad hanging lamps of flame, and light spilled form the tops of these and splashed upon the ground with a sweet noise."And of the other tree Silpion, "...the other waxed now to a stature even as lofty as Laurin, and its stock was yet more shapely and more slender, and its rind like silk, but its boughs above were thicker and more tangled and its twigs denser, and they put forth masses of bluish green leaves like spearheads...and its blossoms did not hang in clusters but were like separate flowers growing on fine stems that swung together, and were as silver and pearls and glittering stars and brunt with a white light, and it seemed as if the tree's heart throbbed, and its radiance wavered thereto waxing and waning. Light like liquid silver distilled from its bole and dripped to the earth, and it shed a very great illumination about the plain, yet it was that not as wide as the light of the tree of gold..."I love his descriptions of light being liquid. There were several poems of his I had never read before that I LOVED...one of them being "Kortirion Among the Trees,."O fading town upon a little hill,Old memory is waning in thine ancient gates, The robe gone grey, thine old heart almost still;The castle only, frowning, ever waits, And ponders how among the towering elms The Gliding Water leaves these inland realms, And slips between long meadows to the western sea -Still bearing downward over numerous falls, One year and then another to the sea, And slowly thither have a many gone, Since first the fairies built Kortirion.So so so so so pretty! It has sparked inspiration to write poetry again...I just love reading it. I love the sound of the rhymes... I love his poetry so very much! It creates such beautiful, amazing imagery. There were several in this book and I hope there are more in the next ones because I absolutely love reading them.I'll be honest and say that there were times when I spaced out because there were so many words and characters. There were slow parts, he never did finish these stories so his son edited them. But there were also beautiful moments and I loved it.This is a good book for any Tolkien lovers out there. Some might find it hard to get through..but it is truly amazing. I love his descriptions and his creation of his own myth with his own gods and goddesses and creation of Middle Earth. Also interesting are the commentaries by Christopher...he explains a lot about Tolkien's ideas and how they changed and the names and everything. Makes me realize how much time he put into his writing...all those names and meanings and languages....its amazing. Wonderful book.

Christopher Tolkien'in kitap boyunca bazı açıklamaları gereksizlik seviyesinde tekrarlansa da, tolkien kurgusal evreninin gelişim aşaması yerel mitlerin, bölgelerin, tarihi karakterlerin bu kurgudaki yerleri ve son halini alana kadar geçirdiği değişimlere detaylı şekilde yer veren, okuyanın kurgunun dil yapısı hakkında bilgisinin bir hayli artacağını düşündüğüm başarılı bir derleme. Çevirilerin yol açtığı bazı yanlış anlaşılmaların dışında okunmasını tavsiye ederim. Örneğin, Noldor,eski hali ''gnom'' berenin insan olarak değiştirilmesinden önce elf olması ve gnom denmesi bunun da çeviride genel ''gnom'' anlayışı nedeniyle ''cüce'' diye çevrilmesi gibi durumlarda kafa karışıklığı yaratması. 6:45 çevirilerinde rastlanılması ilginç bir durum değil zaten,tek alternatif olmadığı sürece kaçınılması gerektiğini söylememe gerek yoktur herhalde...

The Book of Lost Tales contains the very earliest writings by Tolkien on the mythology that would eventually make up The Silmarillion and the glimpses of the history of Middle-earth seen in Lord of the Rings. As such, the story and characters are familiar yet also completely alien, and the writing style is more archaic.Part One details the very beginnings of Middle-earth: the music of Ainur, the coming of the Valar, the creation and loss of the Two Trees, the waking of the Elves and their revolt under Fëanor, and the evil doings of Melkor (at this stage named Melko), ending of with the waking of Men and the return of the Noldoli [Noldor] into Middle-earth. All of this is framed as being told to an Anglo-Saxon man, Eriol, who has washed up on the shores of Tol Eressëa and is welcomed by the Elves and told their history. Eriol is not only a framing character to the Lost Tales but is also the in-universe explanation for the existence of for the 'lost' stories presence in the modern world (the Red Book of Westmarch functions in a similar way in Rings). It is interesting to see the beginnings of Arda, to see the seeds and roots of what was there at the very beginning and to see what has changed, gaining insight into how Middle-earth evolved in Tolkien's mind. However, it can be heavy going at times. The typical HOME disclaimer should apply: the History of Middle-earth series is for the more hardcore Tolkien enthusiasts, dealing with Tolkien's drafts and notes. It should also be noted that The Book of Lost Tales is harder going than your typical Tolkien because the writing style is more archaic – and honestly, if you struggled with Rings, if you struggled with The Silmarillion, you're most likely to struggle even more with this. To be honest, I only wanted to read this because I read Part Two some years ago and I wanted to complete the set – the stories of the Valar and the beginning of days have always been my least favourite part of The Silmarillion (a bit too Biblical). Yet here, suddenly it works for me and I'm falling in love with every single Vala I meet (except Ossë and, uh, obviously also Melko). The writing style I expected to hold me back is actually a plus here – sure, Tolkien's the type of writer that wants you to stop and smell the roses, then read a ten-page ode about them and mourn for all the lost and untold things in the world, but he writes with such beautiful imagery. At the Coming of the Valar and the Tale of the Sun and the Moon, I was near tears it was so beautiful.Even Christopher Tolkien's commentary on each chapter is not as dense and they usually are, which can only be a plus. This is probably aided by the fact that the tales themselves are on the whole complete. Only the last tale – that concerning the arrival of the Noldoli [Noldor] out of Valinor and the awakening of the race of Man – is left incomplete, which is frustrating because if it had been completed The Book of Lost Tales, Part One could easily standalone. I am so glad I decided to complete this because the writing of The Book of Lost Tales is so beautiful. Not only that, but this book has given me a new appreciation of the more divine side of Tolkien's mythology. Yet even so, I acknowledge that it is not the easiest or best book to read and if you're not a Tolkien enthusiast you should probably avoid.

I feel bad criticizing Tolkien for something published posthumously that he may not have considered worthy of publication in the state it is in. That's not going to stop me from doing it however. It is as if Tolkien went out of his way to ruin good ideas with bad execution. His prose style is turgid, tedious, and unconscionably self-indulgent. Thankfully, he refined the worst excesses in future reformulations and The Silmarillion became acceptably turgid. Occasionally, Tolkien stops tripping over himself long enough for you to enjoy the story, but it's only a matter of time before you awake in a daze, realizing that you've just "read" three pages belike it is of syntactic string cheese flavored with archaic words about gods Valar weeping over somesuch as was their wont of old to be.I defy all 4+ star reviewers. You people are hopelessly deluded by your fandom. If this book was the only thing published by Tolkien the 1-2 star reviews would be legion. No, they'd the non-existent because no one would read the damn thing. As a work of art themselves, the Lost Tales are 2 star quality, max. How anyone would ever find this enjoyably readable in itself is beyond me. Forget everything you know about Lord of the Rings and just imagine these tales in a standalone volume--no explanations, biographical interest, scholarly study, linguistic fetishes, etc.--and explain to me how this doesn't suck.The one part I did enjoy is the poetry. Some of it is pretty good and how they became the subsequent tales is often interesting.

BoLTp1 is the first half of an early attempt at what would eventually become The Silmarillian, supplied with notes and commentary by Christopher Tolkien, the author's son. Compiled from notes and drafts from a number of hand-written notebooks, BoLTp1 follows the vein of Unfinished Tales and kicks off the twelve-volume history of Middle-Earth in which Tolkien the younger explores his fathers vast and slowly-developing legendarium.I actually liked this a lot better than Unfinished Tales. It's still dry, and it will really only be of interest to Tolkien fans who actually enjoy The Silmarillian. In this early version follows a man named Eriol who encounters a cottage full of tiny faeries who proceed to walk him through the Lost Tales--stories of their history before they diminished. The framing story was eventually abandoned, and the individual tales therein are in various stages of completion, but this early rendering is remarkably insightful. The mythology feels much more like Nordic mythology than the more Christian-like version that was ultimately published. The Gods are more petty and human. Melko feels much more akin to the trickster god Loki than the Lucifer-esque Melkor incarnation of the Silmarillian.Even though the Lost Tales didn't survive, BoLTp1 demonstrates the passion of a young man (Tolkien wrote much of it in his twenties) who lives for the stories he wants to tell as he starts on a tremendous storytelling journey.

Love this book. It is only for the die hard Tolkienite however. Also if you have the desire to get yourself into this book it is a good idea to read the Silmarillion at least twice. C. Tolkien did an absolutely amazing job with all 12 volumes. The way he organizes the books and his commentaries are exquisite. The level of detail he goes into explaining the evolution of the history of his fathers world is breath taking. For me, there was never a dull moment of reading this book, every page there was something new for me to find out and it completely changes my concept of Middle-Earth and leaves me thinking "what if this idea had been kept" when i go back and read through the Silmarillion or the LOTR. Just reading through these works is an amazing experience. We, the reader, get to see what would have been lost FOREVER had not C. Tolkien compiled all his fathers decaying notes and notebooks and made these 12 volumes of pure gold. Our knowledge of Middle-Earth has the potential to grow ten-fold because of these books. One of the coolest things in my opinion after reading through this book was to see the first intended course of many of the main characters in the Silmarillion and what their fates would have been. I know its not possible, but I wish the Silmarillion was longer, filled full of more info from these books, but alas it can no longer be done :(

I've been wanting to start this massive series, The History of Middle-Earth, for a long, long time. Because as anyone knows, I bloody love Tolkien and Middle-Earth.However, it took me a while to start, mostly because I don't have more than the first two books yet and I have a feeling that I'll be wanting to read book 3 right after I finish book 1.Now, book 1.If you have read The Silmarillion, you'll know that it is largely the story of the elves, their origins and such. Way, way before the events of our beloved The Lord of the Rings and The Hobbit. And if you have read Silmarilion, you'll find that you might recognise the stories in this book, as they would later become The Silmarillion -- along with part II.This book offers an insight into the crafting of the massive and historically intricate universe that is Middle-Earth. And as such, I can't help but like it. Even if I might prefer the eventual "finished" stories of The Silmarillion.For more thoughts on Lost Tales, you can check out my review of Part II, here.Also reviewed together on my blog Bookish Love Affair.

People who have enjoyed The Lord of the Rings often stumble when they turn to The Silmarillion, since the two works are so different in tone and perspective. The books in The History of Middle-Earth series are different again. They contain sixty years of stories we've never seen before because Tolkien abandoned them completely, as well as abandoned, early versions of the stories we have met elsewhere. These books are the archaeology of Tolkien's subcreation of Middle-Earth. Through alternating passages of text, notes, and commentary, Christopher Tolkien lays out how his father developed this world, tale by tale and word by word.If that sounds interesting to you, then you may well find great pleasure in The Book of Lost Tales and the other books in this series. I know I have. That's not just because I have always been a big fan of Tolkien, but because I have also always been someone who studies books as much as I read books. I found it fascinating to discover how his conceptions of this world and these tales changed over time. If you do decide to give this book a try, I'd suggest you also lend an ear to the Mythgard Academy's free online course on this book, which is available from Mythgard's website and iTunes, and is terrific. Even for the knowledgeable fan, it's nice to have an expert guide along.

This book drove me crazy. I started it/restarted it/restarted it many times over several years, and recently determined to finish what was a very difficult, unwieldy and in some ways unpalatable chore. This is the edited recounting, by J.R.R.'s son, Christopher Tolkien of his father's notebooks, printed first in rough hand in pencil then laboriously erased and copied over in pen, with additions sent to his wife from trenches of France during WWI. This is the history of how J.R.R. invented a creation story for England, devised a British mythology to rival Greek and Norse legend, and how he made up a vocabulary with thousands of roots to build upon to make up a language whereon to build a world called middle earth. This is the story of how, over many decades J.R.R. built a lexicon history rising out of the mist, complete with a panoply of gods and heroes, traitorous villains and devils, working their effects upon elves, dwarves, goblins, and finally men. All together these "lost tales" recount the preparation required by J.R.R. to pen the final edition, called the Silmarillion, the account of how this world came to be, the foundation for the world of the Hobbit and the Lord of the Rings.

Not for casual Tolkien readers, this is more like a "making of" documentary, presenting previous drafts of stories eventually published in final versions in The Silmarillion. There are some lovely gems of poetry previously unseen interspersed here, The Song of Aryador being one that is quite haunting, set in the time of darkness before the creation of the Sun and the Moon. An excerpt: "In the mountains by the shoreIn forgotten AryadorThere was dancing and was ringing;There were shadow-people singingAncient songs of olden gods in Aryador."Such beauties are few in these pages, and much is given of revisions and alternate versions, and many pages of encyclopedic definitions and commentaries by his son, so this is why I say this is only for the true die-hards seeking every single drop of Tolkien's words.The tales herein are treats to the ear only of those who could sit and listen at Professor Tolkien's feet for days and years on end. As the subject character Eriol relates herein "...neither will Lindo ever lengthen the tale beyond my liking, whatsoever he tells, but behold this history is all to my heart."

Vote: 3,50Class: P-A3 (FP) (first volume, out of twelve!, of the History of Middle-Earth)I'm a Tolkien fan since I was a boy and I've put off reading this for many years, well knowing that this is not something like the Lord of the Rings or the Silmarillion even.Maybe we could say that this (this book at least) is not a work of fiction... Well, by J.R.R.T. this was meant to be a work of fiction like, let us say, Omero's Iliad or the Aeneid... mixed with Boccaccio's Decameron... But he couldn't finish his work and his dream to give to the Anglo-Saxon world its own mythological literature was never really acknowledged.What we have here is many interesting pieces of this dream, and I liked them a lot.Likewise I liked to understand better the beginning of the building of Middle-Earth, its people, its languages...However I didn't much care for the way this pieces were pieced together by his son Christopher, even if I know that I can't begin to understand how difficult it could be to publish J.R.R.T.'s notes and tales in any intelligibile way...I'll go on with the next eleven volumes.

I don't envy Christopher Tolkien his position. He seems to be caught in an unfortunate catch 22 wherein every time he edits and releases works from the Tolkien estate, he catches endless ire of fans who believe he's an incompetent out for the money. Yet, were he to withhold Tolkien's unpublished work, he'd be a miser, a selfish child keeping the great man's work hidden out of spite.I find his editorial voice to be able and competent, and appreciate the in depth and scholarly look into the very earliest evolution of the Silmarillion, the Elvish Tongue, and characters that eventually evolved into those I loved so deeply in my childhood. The phrase Kortirion-Among-The-Trees still evokes some perfect sense of undefinable longing in me. Read this for its academic value, and to see the nuts and bolts of the Silmarillion coming together. It's not a unified or particularly riveting tale - it's a fascinating look into the process of the author and the reader will come away with a sense of the staggering amount of work that went into creating such an immortal work.