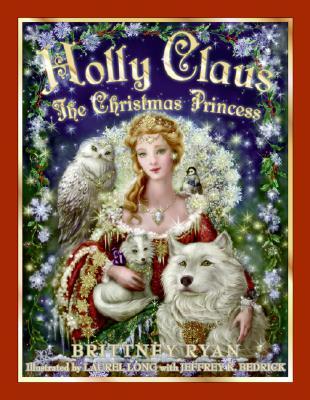 Based on Brittney Ryans novel The Legend of Holly Claus, this breathtakingly beautiful picture book features dazzling illustrations by Lauren Long and Jeffrey K. Bedrick. With fanciful characters and evocative imagery, this epic story pays homage to the great fairy tales in a richly imagined tale of the life of the daughter of Santa Claus....
| | | |
| --- | --- | --- |
| Title | : | Holly Claus: The Christmas Princess |
| Author | : | |
| Rating | : | |
| ISBN | : | 9780061440229 |
| Format Type | : | Hardcover |
| Number of Pages | : | 48 Pages |
| Status | : | Available For Download |
| Last checked | : | 21 Minutes ago! |
---
Holly Claus: The Christmas Princess Reviews
Is there some deep meaning I'm missing that brought about such high ratings? Because I thought the story was awful and disjointed. But the art was beautiful.

We couldn't have chosen a better narrator tonight than my 19-year old son. He did a great rendition of this fairy tale version of the Santa story.

Rushed and I preferred the original illustrations. Read the original. It is far better.

This was an odd story. Maybe it's better if you read the actual novel, but this one is kind of silly. My main problem is that we learn that Herrikhan was banished and had his powers taken away, and then on the very next page he uses those powers to curse Holly. And basically the entire story is based on that massive plot hole. Ah well. Maybe I'll give the full book a shot later sometime. The premise was interesting anyway.

Cute story. Beautiful artwork. I really want to read the original now!

In a letter to Santa, one little boy asks the question never before asked. What does Santa wish for? He wishes for a child of his own, and Holly Claus is born. Unfortunately, an evil warlock named Herrikhan casts a curse that encases her heart in ice and locks the inhabitants of Santa's kingdom within its gates- even Santa cannot leave to bring Christmas to the children of the world. As she grows, Holly's love for others also grows. She desires to do something that will help the children of the world. Santa tells her, "One day you will perform a unique act of kindness for the people of the world, and your generosity will be recorded here. It is your life's purpose, and it will be made clear to you when the moment is right." Holly does indeed recognize the moment. She escapes the closed gates and makes her way to the Empire City. There she befriends and quickly falls in love with a man. *SPOILER* He's the young boy who wrote the letter. Holly confronts Herrikhan and realizes that love is the only thing that can lift the curse. She triumphantly returns with her true love, having restored Christmas and the joy it brings, to the world. Her good deed is recorded in the ancient Book of Forever and everyone lives happily ever after.First off let me say how gorgeous the illustrations are! So magical and full of rich detail. I picked up this book because of the lovely portrait of Holly on the cover. The story itself is a shortened version of a longer narrative. Unfortunately that makes it seem slightly disjointed. Suddenly something else is happening without a proper bridge from one action to the next. That being said, it wasn't hard to follow the story. The big moments that would stick in a child's mind were still there, and I did enjoy reading it.

Well, I have mixed feelings about this book. I'd be more sure about what I felt if I knew exactly what this book is, and I would be able to rate it according to what it is. The problem: I'm not sure if this is a picture book, or a juvenile book.Two things qualify books as children's picture books. 1). Pictures carry the story line, giving the child a visual experience; and 2). Simplistic writing style, aimed specifically for children's understanding. This is not quite a picture book, because the pictures do not carry the storyline by themselves.Yet it is not quite a juvenile book either. Juvenile books are books for children ages 6-14, I believe; they are more like standard books, with few (if any) pictures. The writing style is still aimed at children, but is for kids who are relatively advanced in their reading skills. This book has a very basic writing style, like that of a picture book, or like a classic fable or fairytale. There are some words that may trip a very young reader as well. To add to the picture book/juvenile book debate, the library shelves this book in the JUV section instead of the Easy section, where pictures book live. *sigh. Oh the confusion. My conclusion is that it may just be a picture book for older readers. Your opinion may differ from mine, but this conclusion makes sense in my brain. I do enjoy this book's plot, as well as the pictures! They are indeed quite marvelous. Happy Christmas to you, and I hope you enjoyed my rather lengthy discussion about "Holly Claus The Christmas Princess".

I'll definitely be looking for more of illustrator Lauren Long's work. The art is incredibly vivid, seemingly alive. A cold winter wind moves across the page giving a chill, the jewels sparkle, and the overall attention to detail is meticulous; needlework on clothing, craftsmanship on furniture and candlesticks, texture on walls, etc. The scenes depicting evil are just as captivating, each frightening detail filling your heart with dread and despair...

While definitely not having the same charming, magical quality that the 500 page The Legend of Holly Claus has, the author did a nice job condensing such a large story into a picture book length story. And, as always, the illustrations are gorgeous. Small children, most especially girls, would probably adore this. I know I would have as a wee lass.

I adore this story. It is a great Christmas tale and this picturebook is adapted from the book by Brittany Ryan: "The Legend of Holly Claus". This version does not disappoint with its elaborate and ornate framed illustrations. My only regret is that its length is too long to read to little ones in the library. A beautiful book that you should check out!

A wonderful fantasy Christmas picture book. A young boy asks Santa what he would like for Christmas, and Santa decides a daughter would fulfill his dreams. Holly is born and is beautiful, and quickly is attacked by an evil warlock who traps Holly in her own kingdom preventing Christmas and Santa from going to earth. Like a Cinderella story it ends happily ever after. Incredible illustrations.

I loved, loved this christmas story and now it is in a beautiful picture book! Such a cute holiday story for all ages. The illustrations are absolutely beautiful in the picture book version. Happy Holidays and enjoy.

I'm giving it three stars because while I loved the illustrations it was still very wordy. I had read the chapter book to my daughter (excellent) and felt like this shorter version could have been shortened even more. Eh, maybe I'm wrong. Either way the illustrations are just beautiful.

My daughter picked this book out from the library and gave a deep sigh of delight, "The pictures are so beautiful!" She sold me on it after that. A magical book that delights a girly 6 year old and he mother alike.

This book was really good, it feels like it dose not have to be christmas to read it. It is my suggestion though to read this at christmas i love the fact that it is mystery to me though others say just some holiday book.

The original book is a wonder to read... This simplified adaptation loses the original's magic, but it is still a good story. I also prefer the black and white illustrations in the original novel: the coloring job here seems sloppy at points.

Okay, so the story is probably not amazing, but it's definately on my list of favorites, just because of the title. Great pictures, and it's fun to imagine that I could be the princess. What girl doesn't dream that?

Gorgeous illustrations! But the story itself was a mix of the Demeter/Aphrodite Greek mythology plus sleeping beauty plus wizard of Oz. I got quite distracted by the patchwork hodge podge if already well known stories.

Beautiful and whimsical illustrations. My girls and I love these types of books.

Another wonderful child's story...even if you are somewhat impressed with the story...the illustrations are worth the purchase of this book...(smile)

Really 3.5 stars in my opinion, but my girls would give it 5. They choose this book over and over--and it is SO LONG! Nice illustrations though. This is a once a year read.

The illustrations are absolutely luscious, really rich and vibrant. I'm puzzled about the story. There's so little emotion it it and the whole thing just fell flat.

The illustrations are beautiful. I felt the story was somewhat lacking though, it seemed a bit disjointed, like the author was trying to simplify it for a picture book but didn't quite succeed.

The cover is what drew me to this fantastic book. A great story and beautiful illustrations.AR 5.3

I had already read the novel version, but the illustrations make this a wonderful companion to the story.

This is a wonderful children's book. I really enjoyed all of the beautiful pictures.

Amazing illustrations and great story too

Wonderful illustrations, the story could use some work. it's kind of rushed. Still a beautiful book.