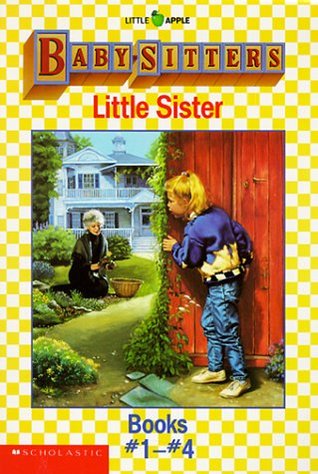 1. Karen's Witch2. Karen's Roller Skates3. Karen's Worst Day4. Karen's Kittycat Club...
| | | |
| --- | --- | --- |
| Title | : | Baby-Sitters Little Sister Boxed Set #1 (Baby-Sitters Little Sister, #1-4) |
| Author | : | |
| Rating | : | |
| ISBN | : | 9780590667173 |
| Format Type | : | Boxed Set |
| Number of Pages | : | 370 Pages |
| Status | : | Available For Download |
| Last checked | : | 21 Minutes ago! |
---
Baby-Sitters Little Sister Boxed Set #1 (Baby-Sitters Little Sister, #1-4) Reviews
Karen's friend Nancy is going to be a big sister, because her mom is going to have a baby. At first Karen is so jealous. But since Nancy is so nice she is going to share the baby with her. Now karen is pumped! Nancy might even be able to bring the baby for show and share at school. Karen cant wait any longer for the baby to be born. But will it just be all crying and no fun?

I really liked this Karen's Witch. It was pretty interesting and intertaining. I liked that no matter what her friends and family thought about the neighbor not being a witch she kept her on opinion about it.

THE ENTIRE SERIES WAS MY FAVE!!! But this was the beginning book. I had over 100 of the books :)

The books that got me hooked on reading. I went through them 1 per day!

this book is about a girl named karen who gets new roller skates but when she tries to do a super cool trick which makes her arm which is really sad because she just got her roller skates

Wow, I totally forgot about these books (though I obviously remembered the Baby Sitter's books). I read a good bit of these books, but I'd never be able to remember how many.

This is a very interested book I like it very much.

i LOVED these books and would always have 3 on my night table/shelf just incase i couldn't sleep. Oh Karen!

I remember reading this series as a young girl and loving them.

I've actually read most of the whole series but didn't feel like adding all them. Great books! I wish I had kept them, I could have given them to my best friends daughters...

I loved these books when I was a kid! I had and read them all!!