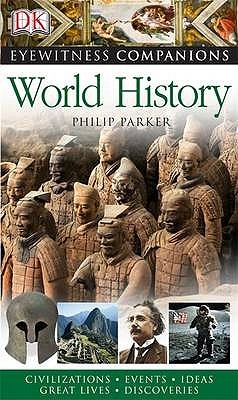 More than 10,000 years of history in the palm of your handFrom the early beginnings of human civilization in prehistoric times, to the first manned space flight and beyond, discover all about the things that have influenced our past and shaped our world today.You'll meet great rulers and politicians, philosophers and revolutionaries who have changed world history. Travel tMore than 10,000 years of history in the palm of your handFrom the early beginnings of human civilization in prehistoric times, to the first manned space flight and beyond, discover all about the things that have influenced our past and shaped our world today.You'll meet great rulers and politicians, philosophers and revolutionaries who have changed world history. Travel to mighty civilisations to explore the progress of humanity. Follow earth-shattering wars and revolutions, major achievements in the fields of science and technology and milestones in the arts.Plus, take a look at the common threads running through the world's diverse and geographically distant cultures, as well as their many differences....
| | | |
| --- | --- | --- |
| Title | : | World History |
| Author | : | |
| Rating | : | |
| ISBN | : | 9781405341240 |
| Format Type | : | Paperback |
| Number of Pages | : | 512 Pages |
| Status | : | Available For Download |
| Last checked | : | 21 Minutes ago! |
---
World History Reviews
Eyewitness Companions: World History features history starting in the very early times to the present from all corners of the world. The book divides history into 7 times periods from the prehistoric world (up to 3000 BCE) the modern world (after 1914). It has short articles on lots of subjects many with relevant photographs/illustrations of artefacts, architecture, people and the like. There are also other visual aids such as maps, charts and much more. I really like this book. I've mentioned a number of times on this blog that history is not my forte. I think it was all of the memorizing of dates and stuff in school that really turned me off. However, books like this really get me interested in it for, what feels like, the first time. I love learning new stuff and this book presents history in an interesting way. The book is a nice compact size, contains lots of great information and is beautifully laid out. Beside the articles, there are plenty of photographs and lots of quotes from various historical figures and documents. I especially like the timelines of each period, which are presented right after the introduction. These timelines list and briefly describe the major events of the era in chronological order. Lots of little things make the book visually appealing. Many two-page layouts have three or more colour photographs or illustrations. That's a lot for a book this size. There are also large, clear headings, colour coordinated boxes around the titles, nicely spaced text and photographs and an adequate font size. For me it's not the type of book you sit and read in a straight-through fashion, although, I guess it's possible to do so. I prefer to flip through it reading whatever catches my eye or use to look up stuff I'd like to know more about (like ancient Greece, the Renaissance, the terracotta warriors or WWI). The directory near the end of the book provides tons of information in chart form. I love lists, so as you can guess I love this part of the book. It lists world rulers, such as Egyptian Pharaohs, Emperors, Kings and Presidents. There are also lists of major battles in each of the wars from the Greek-Persian Wars (490 - 448 BCE) to Afghanistan War (2001-). This section also has lists of explorers, inventors and discoveries, advances in medicine, artists, architects, writers (Yay!), composers (Yay!), faiths and thinkers. The book opens with two appropriate quotes regarding history, both of which I liked:Those who cannot remember the past are condemned to repeat it. (George Santayana, 20th-century philosopher)Think of tomorrow. The past can't be mended. (Confucius, Analects, 6th century BCE)The table of contents is pretty good. It's nicely laid out and not only lists the major time periods, but it also breaks them down into areas of the world. Therefore, if you want to find out what was happening in The Americas during Medieval times, it's easy to find. The index is quite extensive and is good for finding items in the book. Recommended. For more information about this book or to browse inside, please visit the DK website.I'd like to thank Chris at DK Canada for this review copy. Eyewitness Companions: World History by Philip Parker, Dorling Kindersley (DK), ©2010. ISBN 9780756649845(Paperback), 512p.This review can also be found on my blog, Daisy's Book Journal.

While this is a physically attractive volume, well-bound and amply illustrated, its everything-plus-the-kitchen-sink approach to its subject makes the actual content of WORLD HISTORY both superficial and a bit dull. Phillip Parker, or perhaps his editors, defined their subject as "the history of everywhere and everything," which turned the book into a series of very short entries (some just 2-3 paragraphs long) on broad, mainstream historical topics: wars (lots of wars), kings, presidents, inventions. A more productive approach, I think, would have been to follow the lead of William McNeill and other world historians, and organize the book around inter-regional and global connections. Parker's entry on "globalization" depicts this as a very recent phenomenon, but in fact people have been exchanging goods, plants, animals, and ideas from continent to continent for several thousand years. One might include in such a "global history" chapters on the spread of human beings and agriculture, the growth of world religions like Buddhism and Christianity, the development of the Indian-Ocean and Silk-Road trading networks, the navigational revolution and the rise of the "Atlantic World," the emergence and diffusion of epidemic diseases, and the Columbian Exchange. Parker devotes a few pages to some of these subjects, and his book has some useful entries on East Asian history (too frequently neglected in books like this) and on the challenges of the early 21st century, but overall this book's approach to history is too dated to hold the interest of anyone but the most casual of readers. 3.5 stars.

It's a reference rather than a history. I bought it as a quick travel guide for worldwide histories combined with pictures, but it may have too little detail even for that.

A condensed version of the tedious history books we read as children in elementary school. The entries are often less than a page. Many are a couple of paragraphs highlighting the highs and lows of past and recent history. It's difficult to rate reference works so 3 stars seems fair. This is not a book to get excited about, certainly.

It's immensely difficult to write a concise world history. Deciding what to include concisely is more art than science and the author does a very good job picking the facts and laying them out in a readable way. There's enough information to send the reader looking for more details in areas they find interesting.

This book is a good visual reference for non-historians like myself. However, I was surprised to notice that there was no coverage of Armenia, which for millennia was a significant power and a major trading and cultural center in ancient Anatolia and Caucuses before the arrival of Seljuk Turks in the 11 century AD and even before the invasion by Parthian Empire in 53 BC. In the 2016 edition of this book Armenia is mentioned only in the context of being invaded by Parthian empire on p. 114 and in the context of being invaded by Seljuk Turks on p. 182. However, nothing is said about Armenia itself, such as the fact that it was the first nation to adopt christianity as its official state religion in 301 AD and the part it played in the history of the Byzantine empire. Nor is the mass extermination of Armenians, Assyrians and Greeks in 1915-1918 by the Ottomans is mentioned in the book. "Those who cannot remember the past are condemned to repeat it", said George Santayana, a 20th-century philosopher. It is not possible to understand the history of Germany without mentioning the holocaust - likewise, it is not possible to understand the history of Anatolia (now Turkey) without mentioning the genocide committed against the indigenous populations of Anatolia, particularly, the Armenians, only 100 years ago.

What a fantastic read! No matter which culture one comes from, the history education will inevitably be influenced by the region's nationalistic and geo-politic context, hence pays more emphasis on certain parts of the history than the rest.DK's world history gives its readers a quick and easy to digest chronological overview of the global human history. Opened my eyes to the lessons learnt from many cultures. A must read really, to learn more about what was important for other cultures in the world.

Quite a simple historical world history and easy to understand. It is an excellent read that provide global chronology back from prehistoric age to modern world. In between there are some maps that let reader understand the civilization during each age (I wish there were more though). In the index, it provide some interesting lists, such as great rulers, roman emperor, holy roman emperor, great wars, etc. Definitely worth reading !

More than "eye candy" but a beautiful and compact world history. It does a little more than just list events. It throws in historical quotes and is an excellent place to decide what era or subject to further immerse oneself.

One of the best one-volume histories of the world. Systematic and rather comprehensive, mentioning all the major events. One slight drawback for me - no comparison what were happening at the same time in various regions of the world. Instead the author just gives narration of the region' histories.

Fantastic book. This book is an excellent guide to further reading. The broad range of topics covered were interesting and punchy. I would definitely recommend this book if you want to expand your history trivia or get ideas on what other history topics you want to read about.

Good book for earlier age

I just love Eyewitness books.....just enough info to peak your interest, not enough to sate it.

If pictures are worth a 1,000 words, this comprehensive overview does a superb job of illustrating the full scope of human (and some pre-human) history.