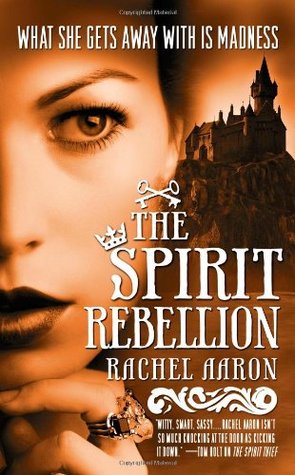 Eli Monpress is brilliant. He's incorrigible. And he's a thief.He's also still at large, which drives Miranda Lyonette crazy. While she's been kicked out of the Spirit Court, Eli's had plenty of time to plan his next adventure. But now the tables have turned, because Miranda has a new job -- and an opportunity to capture a certain thief.Things are about to get exciting forEli Monpress is brilliant. He's incorrigible. And he's a thief.He's also still at large, which drives Miranda Lyonette crazy. While she's been kicked out of the Spirit Court, Eli's had plenty of time to plan his next adventure. But now the tables have turned, because Miranda has a new job -- and an opportunity to capture a certain thief.Things are about to get exciting for Eli. He's picked a winner for his newest heist. His target: the Duke of Gaol's famous "thief-proof" citadel. Eli knows Gaol is a trap, but what's life without challenges? Except the Duke is one of the wealthiest men in the world, a wizard who rules his duchy with an iron fist, and an obsessive perfectionist with only one hobby: Eli.It seems that everyone is hunting for Eli Monpress....
| | | |
| --- | --- | --- |
| Title | : | The Spirit Rebellion |
| Author | : | |
| Rating | : | |
| ISBN | : | 9780316069113 |
| Format Type | : | Paperback |
| Number of Pages | : | 441 Pages |
| Status | : | Available For Download |
| Last checked | : | 21 Minutes ago! |
---
The Spirit Rebellion Reviews
Well this was a bit of a decline from the first book. I'm beginning to think I should not read sequels?? I always turn into a disappointed moose and someone needs to fetch me ice cream to console me because omg. I thought The Spirit Thief was sassy and fun and full of cool action scenes. But book #2 either (a) repeated the SAME SCENES, or (b) actually had zero interest heist thing happening. I mean half the point of this "heist" is that Eli didn't pull it and he has to find out who did.I mean the book is like 10% thievery, 30% getting the demon a coat, and 60% Miranda having a Spiritualist life crisis.I WAS HERE FOR SASS AND CLEVER THEFT LIKE WHY MUST YOU DISAPPOINT ME, BOOK.Plus...gonna be real here...it's a little too fluffy for me. The scene where Eli gets tortured really is...not...frightening. Like the whole book continually feels safe and cute and that's just really not my kind of epic fantasy. I need a bit of FEAR and BLOOD and LIGHTNING FROM THE SKY.THINGS I LIKED:• MAGIC!!!• I think the spirits are all great and I like their sass• Eli still had some epic sass moments that made me grin like the dork I truly am inside• I like that it features complex and intelligent women• I liked finding out a little more of Eli's backstory!!• I like the characters and I AM invested in them.• I still quite want to know more because I am a sticky beak chocolate nose.THINGS I AM VERY #NOPE ABOUT:• like why doesn't anyone eat in this series• how do they even not get hangry and kill each other because #food• Josef annoys the FREAKING LIVER out of me because he's so dumb and proud and he has 100% the same story line he had in book 1• like, mate, I've read this already• and the book didn't even do anything FUN for the first 200 pages!! Miranda was just getting yelled at by her bosses for no reason and Eli was just getting Nico a new coat. I mean???? I so bored???• no actual interesting heist went down• it's too liiiiiiiiiight• I need some daaaaark• tbh it took me forever to read and I was boredALL IN ALL: a fantastic example of SEQUEL BLUES. And I'm just going to sit here and be blue myself and also write a 900-word analysis on how fantasy people can trot all over the world AND YET NOT EAT when even writing this review made me need a snack. For goodness sakes. Also let's hope the next book actually has a plot because, not gonna lie, that'd be lovely.

I don't understand this cover or log line, I feel like it's horrible marketing for this book. Someone get that dude who did the Robert Jordan books in here, for once his art would be appropriate (Darryl Sweet, right? I really hated those covers for Wheel of Time, but for this book it would rock) I can't get over this cover, I mean Miranda is a key character, but this looks like a Danielle Steel book, like she's going to bury her grandma and can't pick the coffin. And it's a light-hearted fantasy romp about 5 or 6 characters. Who put this book in sepia, did they even read it?! Whatever.This book was SUPER enjoyable. It carries on from the first with Eli seeking trouble, Miranda getting into a lot of trouble from the plot of book 1 with the Spiritualists, at the same time there's a big bad aiming to capture Eli with a crazy OCD plan. He's actually a great bad guy because he feels super original in his detailed planning. Like an evil accountant. Not a typical fantasy baddie. The unveiling of how he uses his powers was cleverly done too.A few other characters join the fray (including a few from Eli's past), I loved what they did with Miranda's Great Spirit, and we learn more about Nico and her demon (which builds to the next book as well). I overall gobbled this one up. Better than the first, and the third I think is even better!

Solidly good. Maybe even better than the first one.

Just a few weeks ago saw the release of Rachel Aaron's entertaining and light-hearted debut novel The Spirit Thief. Now, fast on its heels, we already have the sequel The Spirit Rebellion — and even better, the third book in the series, The Spirit Eater, will be here around Thanksgiving. Isn't it wonderful when you don't have to wait a whole year for the next novel in a series?This second installment in THE LEGEND OF ELI MONPRESS takes place right after the events in the first book. Spiritualist Miranda Lyonette, heading back to the Spirit Court, finds herself on the wrong end of a political witch hunt after her involvement in the recent events in Mellinor, more specifically the escape of the notorious wizard thief Eli Monpress. Eli, meanwhile, is on the road with his companions, the swordsman Josef and the demonseed-girl Nico, as usual out for mischief but also to purchase a new coat for Nico. The Shaper wizard constructing the coat demands a certain rare sword as payment, and wouldn't you know it: one of those swords just happens to reside with the Duke of Gaol, who has recently advertised his brand new, ultra-protected and supposedly even "Eli Monpress proof" citadel. If there's one thing Eli can't resist, it's a challenge...Even though the first book in this series was quite enjoyable, its small scope and relatively short length made it feel more like an elaborate prologue than a full novel. It's nice to see that The Spirit Rebellion moves in the right direction in both regards: the story covers more ground both in terms of time and space, resulting in a more solid novel. Even better, it effectively builds on several elements that were introduced in the first book and uses them ingeniously and sometimes surprisingly. Explaining this in more detail would lead to spoilers, but suffice it to say that the brief hints at hidden depth in The Spirit Thief are further developed here, and hopefully this trend will continue.However, The Spirit Rebellion still feels a bit thin at times. Especially the plotting is at times too transparent and obvious: character A wants object B as the price for performing a service for Eli, and it just so happens that object B is in the hands of Count X, who is obsessed with catching Eli — so Eli of course heads there. Separately and for an entirely different reason, Miranda ends up being sent to the same location, inevitably leading to the two protagonists meeting again. It's all too convenient to be believable.If Rachel Aaron occasionally plays fast and loose with improbable plot manipulations, and if her characters are still a bit on the thin side, it's usually easy to forgive because The Spirit Rebellion is once again an engaging, fun fantasy romp. The characters still bicker a lot, there's once again a conversation with a door, and it's becoming increasingly clear that Eli Monpress is incapable of ever being boring. Despite the novel taking a decidedly dark turn towards the end, The Spirit Rebellion is for the most part another entertaining, action-packed and slightly silly novel that should get readers excited for the next book in the series, The Spirit Eater, due out in November. Your enjoyment of these books will vary greatly depending on how you approach them: if you're, say, a book reviewer always on the lookout for flaws and plot holes, you'll probably end up muttering to yourself quite frequently. On the other hand, if you're willing to suspend your disbelief, go along for the ride, and (most importantly) not take everything too seriously, you're once again sure to have fun with Eli, Miranda and company.(This review was also published at www.fantasyliterature.com on 10/25/2010.)

I kind of expected to DNF this which I ultimately did. This is the second book in the series and I had my doubts on the first one, but I'm just so bored with this story. Everytime I pick it up, I want to put it back down and it makes me feel stressed out. The story bores me. It's not exciting to me at all and I don't particularly care for the characters either. It's sad, but I'm glad I tried it. Now I know I don't want to continue on with this series.

Maybe 4 1/2 starsThis brings back the gang though not to Miranda's liking. Miranda is rejected by her own council, initiated by the enemy of her mentor. She is then requested to look into the providence of Gaol by the West Wind and cannot refuse without going against her morals. So her bargest and she are off to investigate.Eli and his band are going to the same providence and city looking to steal an object as payment for the help Niko received from a special maker, swords and other objects. When they arrive several things are strange, none of the spirits talk to Eli, as if enslaved yet not. In addition someone has already stolen the object claiming to be Monpress. Eli is not going to take it, besides he needs his payment.The Duke is obviously a dictator and the evil of the plot along with the spiritualist that helped convict Miranda. They seem to be working together, but do dictators work with anyone?Part of this is a repeat of the last book in that they are freeing spirits once again and saving a town. This time Miranda wasn't initially following Monpress but that is what she wants in the end. A lot is furthered in the characters. Eli is favored by a very powerful being and we get to see that-- Miranda and the organization she was working for and the politics that don't work very well, then the Demon Seed, Niko, and the demon inside that she is trying to fight constantly, and finally Josef who shows his poor swordsmanship once again. Luckily Josef has an epiphany and I got less annoyed at his ineptitude. The only character that didn't get some story told seems to be the bargest dog of Miranda.I really like these books but they seem to missing something... a connection between characters maybe. Niko and Josef seem to have the greatest connection. I'm waiting to feel more of a connection and true care between Eli and Niko or Josef, or Miranda and and anyone. They do the right thing but I want them to emotionally want to do for their friends. So other than that, they have a humor, action and story line that keep you involved. The characters are interesting and you want to know more about them all. No cliffhangers but a definite question of who exactly Eli is. I still think the series should be called, the friends and enemies of Eli Monpress or Eli's Band of Brothers or something as it isn't all about Eli. Very good read.

3.75 ✭ rounding up as GR still hasn't gotten around to more precise rating options.This was quite entertaining. Eli is more front and center this time, and it felt like more of an adventure than the first book. Though, Eli doesn't seem like a very smart thief. He walks into danger and thinks of it as a challenge; instead of, "hey, this is stupid, I could get caught and maybe get my friends killed..." His thinking is, "Oh goody, let's go!" He relies on his charming of spirits to get him out of jams. His actual thieving skills seem lacking. Josef is almost as bad. We keep hearing what a great swordsman he is...but haven't seen an iota of proof to that fact. (view spoiler)[seeing as he should have died in both books (hide spoiler)] But, thankfully he seems to have had an epiphany in TSR...so there is hope he'll live up to his rep. Finally.Miranda is still a bit pompous and self-righteous...even after being taken down a peg by the Council. Haven't decided if I like her much yet...and it's the second book! lol I will say, "she has a good heart" so, yeah...hope again.I would read the next one in the series...just not in a hurry to.

Oh Eli you little shit. I do adore you. You are an ass. You are conceited. You are single minded in your determination to be an idiot at times. Yet I adore you. Even I can't explain it. I really thought his self centered arrogance would annoy the crap out of me yet it just Endears me. What's with that??? And poor Miranda, and the others having to deal with it! Ha! This series is so fantastic and I highly recommend it. The magic, and setting in this universe is so well thought out and fascinating. I love that everything has a spirit from the greatest winds and seas to the smallest brick and roofing tile. Plus their personalities are just as varied says any humans could be. The story and pacing are excellent and I found myself listening to the audiobook whenever I had a free moment. Same as if I had been reading the real book or on my iPad. I would have been sneaking glances at the pages any chance I got. So glad I have found this series and cannot wait to continue on!

I'll say this for Rachel Aaron - she is trying, and trying hard. I really do like her style of writing and her ideas. But I wish it didn't just stop there. She still has this sort of... flat, surface-level story going, even though I can tell she's trying to twist the threads of the plot. It's more than a little frustrating, because I feel like if she just developed the characters a little more the novel would be so much more satisfying!All that said, I liked this book more than the last, so hopefully Aaron's just going to keep going up! Gaol was amazing, and I really liked the antagonist in this one. The calm, smart crazies are always the scariest (imo). And you get your fill of the psycho crazies in the form of Berek Sted. Again, it was great to read about Josef's strength of character, his insistence on doing things the hard way, and the building of his relationship with the Heart of War. It's an interesting take on the 'berserker' stereotype, I think. And, as usual, I liked Aaron's other main characters as well, I just wish there was a little more backstory, a little more trouble, a little more angst within the trio of Eli, Josef, and Nico, so that their personalities are filled out a little more. However, at least in this one we get to see a little of Eli's childhood and family, which was so interesting. I just want MOAR! I'm glad I have the next one to read right away...

This one is another one Goodreads a definite 4.5 stars if I could do it that way. But in truth I really love this series. Eli is a great character even when he seems to not be the main character of this book. Its a great universe and you get to see a little more about Eli. But a whole lot more of Miranda Lyonette. The Spirit Court which is so interesting all on its own. Miranda's dealings with her spirits and just exactly how she views them. You also learn a lot about how spirits actually work. Her great spirit and the way they work with the spirits around them. Which brings us to the Duke of Gaol and the way he runs his duchy. Terrible person who efficiently has it his way. Also to be enjoyed is the elder Monpress. But to say more would be bad. Get the book and enjoy a great tale of fantasy. This novel has great pacing as it really never slows down. Its not all just action but the tale really never stops there is always something happening and it really is enjoyable. Things I am looking forward the most is the Spirit Court. I want to see other locations and see other spiritualist work their way around problems. But I guess its Miranda from here on out.

If you liked the first book in the series, you'll like this. The character of Eli is developed further, as we learn a touch more of his backstory and meet an old friend of his. The book does have it's problems however:The other characters aren't developed any more than they were in the first book. Even more so then in the first book, I feel like Miranda is a Mary Sue character.The plot is very episodic, with little feeling that there is anything greater building. In fact, the plot is far too similar to that from the first book, and gave me a feeling of deja vu.It's very pulpy and fun, but not very deep or meaningful. I recently read The Worm Ouroboros and in that novel there was something to make me think in every chapter. In this, I don't think my brain engaged at all. I'm not sure if it's good or bad that it doesn't go for much depth. I suppose it depends on what you are looking for from a book.

Like the first, this is a deeply flawed book. I would like to ignore that, but a pattern begins to emerge.The plot is still thin, the world makes no sense and the characters stay flat. The one attempt at character development falls so pathetically flat, I felt bad reading it. The whole book feels frozen at the same stage, with enormous potential that needs to be realized but isn't.The reading is still fun, with clear action that begins to fray a bit once the spirit world gets involved, but I cannot overlook this simple fact:I began reading this book because of the potential its predecessor promised. This promise has not been fulfilled. My goodwill is fraying and I fear this will not end like I hoped.

More in the ridiculous adventures of Eli Monpress. We are introduced to more characters that we don't care about in a world that is spinning quickly into yesterday.Slorn and his daughter are very interesting. Slorn is a shaper, he manipulates spirits (and their physical forms) into their best possible configurations and wakes them up (they become sentient all the time). His daughter works as his assistant, and seems to be interesting, but is only an extra in this made for tv story.The bad guy is a Duke and wizard. A real bastard he dies without a real challenge.

So I honestly can't remember why I didn't like the first book all that much. I'm betting it was more to do with it not fitting my mood and apparently taking a bigger hit than I usually give ratings wise on that front. But who knows, as I didn't write any notes for it. Here's what I do know: whatever my criticisms were on the first book, they clearly don't hold here. This book manages to be complex but FUN (and all the while dropping even more tantalizing hints to the mysteries that surround Eli). I love the characters, and I'm definitely going to have fun reading the next book!

Still as good as the first book and an entertaining read. The only thing I can't figure out is why I fail to like Miranda as much as the author means me to. It's rather obvious where the story is headed but for some reason she just doesn't come nearly as personable as Eli. All the elements are there in theory but something is strangely missing to make that connection. Could be just me though.

Still here for book two. Still more of a Miranda story than Eli, but something keeps me reading. In this installment you get to see two spiritualists battle it out with their spirits and it seemed like a Pokémon battle. Now I'm unsure if that is a bad thing or not... Anyways, you also get to meet Monpress Sr. so you get a tidbit of Eli's past but not much and zilch on anyone else's. A fun read if nothing else.

Endlich mal wieder ein 2. Teil einer Reihe, der den ersten sogar noch toppen kann. Die Charaktere entwickeln sich weiter, die Geschichte wird komplexer und spannender und verliert trotzdem nicht an trockenem Humor. Die Geister in Alltagsgegenständen und der Natur werden so gekonnt eingebaut, dass ich meine Umgebung jetzt mit anderen Augen sehe. Pflastersteine werfen sich Flüchtenden in den Weg, Türen haben einen eigenen Willen und mögen es natürlich nicht wenn man sie schlecht behandelt, Laternen entzünden sich um Standorte preiszugeben und sogar die kleingeistigen Waffengeister sind für Überraschungen gut. Das alles hört sich albern an, passt aber perfekt in die Geschichte und zieht einen in die Welt der Diebe und Magier hinein. Konnten diese im ersten Teil die Abenteuer noch lockerflockig mit links bewältigen, wird es diesmal um einiges dramatischer und es gibt Wendungen, die einen quasi an den Seiten kleben lassen aus Sorge um liebgewordene Personen. Der Teil ist wieder in sich abgeschlossen, aber man sollte Teil 1 gelesen haben um die Welt zu verstehen.

Good read. Fun read. Precursor to things to come in a very episodic way. The characters are very well done, very interesting and Eli's always fun to read. Well, everyone but Miranda. Miranda is the dumbest little prat ever. I have see no reason why I should believe she's an exceptionally gifted, intelligent spiritualist like they keep telling me she is. She blunders from one dumb situation to the next without ever thinking. Even the dog is smarter than her. Other than that one moronic character, everything flows well, the story works. I understand that her getting into these situations is what makes Eli's bits of the plot so good, but she's still bad. If she was supposed to be a hotheaded moron, it'd be much better. Anyway, good book. Great series. Definitely worth picking up the first.

Another fantastic Eli Monpress novel. I devoured it in a day and was off hunting for The Spirit Eater the next day. I love the whole charming cast of characters, the energy and vibrancy of the writing, the wonderful dialogue, and the plot that always kept me engaged -- even when I think I know where it's going, it never fails to be one heck of a fun ride. And Aaron always manages to throw in those little surprises that blindside me in the best way possible. Props to her once again... and my heartfelt thanks, because I know I can always look to Eli when I need some literary cheering up. It's not often that I finish a book and immediately want to reread it, but I'm already itching to go back and read the Spirit Thief and the Spirit Rebellion again.

A natural evolution in quality from the first book in the series, Aaron is able to maintain the endearing nature of her main characters while presenting new antagonists that readers will love to hate.I had a real problem with the simplicity of the first book in this series, The Spirit Thief. Its sequel has improved on this a lot. While no Great Gatsby, the antagonists really made me hate them. I felt Miranda's frustration at the early parts of the book and was extremely satisfied at the resolution. Aaron's ability to bring out these emotions makes this an excellent book. The staple banter, adventure and lighthearted fun is all still there from the first book, but a better villain made this books great.

I think I found out why this book/series is not sitting with me well.The main character is a piece of shit. I've seen better thief stories portray the lead characters better than this. Eli honestly has a very difficult, very hard way of showing any friendship or care for his friends. Because of this, I have a hard time reading his portions of the book. I become more excited when Nico or Josepf show up because I find them better written and better fleshed out than Eli.The other reason I'm not digging this series is how blatantly the storyline from first was copied. I'm gonna give the third book (because I own it) one last chance. If I don't see a change in Eli or the story, I'm abandoning this series.

The Spirit Rebellion is a light-hearted, engaging fantasy that I absolutely loved! It was better than the first book in the series with more info on the characters. I love the way the spirits are portrayed. I did think of Disney's Beauty and the Beast with the talking, moving objects, only not everyone can hear these. Don't get me wrong this is not a Disney type romp, but it is fun filled. I don't think I've ever read anything quite like it. I'm not crazy about the cover. I think the covers for the omnibus editions represent the books much better than the covers for the individual books.

MehI started reading this series because people compared it to the Ryria stories of Michael J. Sullivan but it's pretty clear these stories can't hold a candle to Ryria. I would compare Rachel Aaron's books to a Michael Bay movie - lots of action, adrenaline, pretty people with lots of power but...no depth, no real story behind the scenes, no character development.A popcorn bookAnd there's nothing wrong with that if that's what you're in the mood for - at this moment I was actually in the mood for something more so this didn't hit on all cylinders for me. But it is what it is.

Still a mad dash of fun and charming adventure from start to finish! Still not a whole lot of character depth! But the characters remain entertaining and/or intriguing so it's not bothering me as much as it could. This series is really reminding me of my love for anthropomorphic objects. This cover is so much better! (French)

Just as good as the first (Spirit Thief), if not better. I cannot get enough of Eli Monpress, or the rest of them and all their shenanigans...

Series continues to deliver. Fun, action-filled, builds up the world a bit more.

Hey, some character development on top of a fun story? A fun, fast read. 4 stars!

Still not a fan of Miranda, but Eli is still awesome.

Well, now I'm addicted. Luckily book 3 is already on my kindle.