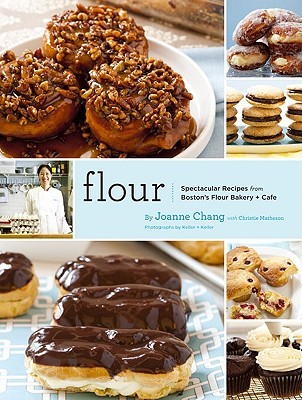 Every day 1,500 Bostonians can't resist buying sweet, simple treats such as Homemade Pop-Tarts, from an alumna of Harvard with a degree in economics. From Brioche au Chocolat and Lemon Raspberry Cake to perfect croissants, Flour Bakery-owner Joanne Chang's repertoire of baked goods is deep and satisfying. While at Harvard she discovered that nothing made her happier than bEvery day 1,500 Bostonians can't resist buying sweet, simple treats such as Homemade Pop-Tarts, from an alumna of Harvard with a degree in economics. From Brioche au Chocolat and Lemon Raspberry Cake to perfect croissants, Flour Bakery-owner Joanne Chang's repertoire of baked goods is deep and satisfying. While at Harvard she discovered that nothing made her happier than baking cookies leading her on a path that eventually resulted in a sticky bun triumph over Bobby Flay on the Food Network'sThrowdown. Almost 150 Flour recipes such as Milky Way Tart and Dried Fruit Focaccia are included, plus Joanne's essential baking tips, making this mouthwatering collection an accessible, instant classic cookbook for the home baker....
| | | |
| --- | --- | --- |
| Title | : | Flour: Spectacular Recipes from Boston's Flour Bakery + Cafe |
| Author | : | |
| Rating | : | |
| ISBN | : | 9780811869447 |
| Format Type | : | Hardcover |
| Number of Pages | : | 320 Pages |
| Status | : | Available For Download |
| Last checked | : | 21 Minutes ago! |
---
Flour: Spectacular Recipes from Boston's Flour Bakery + Cafe Reviews
I own both this cookbook and the followup, Flour Too, and the recipes are reliably great. Joanne Chang's conversational writing style is also enjoyable. I live 3 blocks from the original Flour Bakery and so haven't bothered with the trickier items like croissants -- why should I, when I can enjoy their efforts a la carte? But the cookies, pies, and cakes are all winners. The cornmeal-lime cookies and almond macaroons with chocolate ganache filling are my go-to hostess gift recipes, people really love them. I am baking the ginger molasses cookies right now. Other standouts: the chocolate eclairs, and the double two-apple pie. I haven't even done the breads yet, maybe that will be something to work on. But I use this cookbook at least once a week. Totally worth owning this.

I have never loved a cookbook the way I love Flour. Joanne Chang created a masterpiece here. The recipes are accessible and easy to follow; all the ingredients can be found in a typical grocery store and very few require specialized pans or kitchen equipment. The book itself is gorgeous; no messy dust jacket that traps flour and sugar (my cookbook pet peeve), well-made binding, gorgeous paper (hi my name is Colleen and I'm a publishing nerd...) Best of all, Chang includes personal stories for each and every recipe, which puts a great spin on the book. The first print run sold out across the country but I hear these are starting to appear back on shelves. If you're a baker, BUY THIS BOOK.

I'm trying my first recipe from the book, Flour's famous banana bread. It's it the oven now. If the taste of the batter (ok, I couldn't resist) is any indication, the bread is going to be amazing. I've never seen a recipe for banana bread put together in such a way. Having looked it through, it seems like all the recipes in the book were very carefully considered and tested for the home baker. Also, because of the beautiful photography and mouthwatering descriptions, even recipes that wouldn't normally appeal to me (cornmeal lime cookies, snickerdoodles, lemon raspberry cake) will be on my list to try. And, my husband can't wait for me to make the vanilla-cream filled donuts, yum!

I am a huge fan of Flour, a cafe not far from my office, and these recipes look delicious. This copy is from the library (and the page for Sticky Buns is a bit sticky) but I plan to buy my own copy soon. It does not include my favorite item, a lamb sandwich with chutney, so perhaps Joanne Chang is saving that for the sequel...

I quit buying recipes books years ago, because after spending about $20 I would never actually make anything because it was all too complex or needed things I never had. I came across this book because of a Pinterest post for homemade pop-tarts. I used to love pop-tarts but only the ones without the glaze and I can never find those anymore so I stopped buying them. Homemade seemed like my answer. When I saw how fabulous they looked and that they were out of a cookbook of bakery items I had to know more. I checked Flour out from the library and discovered so many delicious looking sweets. I loved the intro and the tips about toasting nuts, measuring ingredients before you start, and all the other practical stuff you see on cooking shows but never really think about unless you do a lot of cooking. I made cookies and biscotti, and I rechecked the book at the library. I made banana bread, my kids (10 & 7) made pies, and I rechecked the book again. I finally got around to making those pop tarts -- which were the most amazing and glorious mess I'd ever tasted (hey, I'm still learning to work with dough), and I bought the book. This is my go-to baking book. I haven't made everything in it, but everything I have made has been delicious. The recipes are really well written. I've always understood her instructions even with things I haven't made or techniques I haven't used before. The times and temperatures have been spot on. And I really can't say enough about how good everything tastes.

This is a beautiful cookbook. All of the recipes were appealing. I made the delicious oatmeal-maple scones, the new-old fashioned coffeecake (didn't come out great), and the chocolate chunk cookies, which came out thin and crispy, even though I chilled the dough. I plan to try the Homemade Fig Newtons next.

This is my go-to book for making great desserts, partially because of the recipes and partly because of the stories that go with the recipes. J. Chang shares many personal stories regarding her start as a baker, the hopes and dreams of her parents, as well as her struggles and success as a cafe owner.

I love this cook book. I have read all of her "teaching" items that are in the first part of the book. Then, I have cooked just about every recipe in the book. I don't think there is a single recipe that wasn't liked by anyone that ate any of the food.

Fabulously DecadentI will read anything this chef writes. She is interesting, informative and gives detailed instructions. I have now read Flour, and Flour Too. Both are marvelous and I can't wait to get started with baking these recipes for the holidays. Bravo!

Great book with great recipes. A go to book for me.

Currently obsessed with the Chocolate Hazelnut Cookie recipe.

I won this one from Make Ahead Meals for Busy Moms. The book is autographed by the author, she wrote: "Make life sweeter... eat dessert First! Joanne Chang"I only have one complaint about this book the print is a little small in the ingredients listing. It's also a bit light there and in the directions. The information included with each recipe is in much bigger and darker print. the instructions are bigger type but still a bit light and hard on older eyes.The book begins with a few in depth informational chapters to help your baking projects turn out their best. Chapters there include: an Introduction, Techniques, Equipment, Ingredients, and Joanne's Top 12 Baking Tips. The next chapters get to the goodies: Breakfast Treats, Cookies, Cakes, Pies + Tarts, Other Sweets, and Bread. At the end of the book you get Acknowledgments, the Index, and Table of Equivalents.There is some interesting reading before each recipe about how it came to be on the menu, where she came up with the idea or some memory from the author. She gives both weights and measures for many of the ingredients. She also includes tips with some of the recipes she calls Baker's Bites. With some of the recipes at the end she gives you an option to change the recipe a bit and calls this Same recipe, different flavors.The breakfast treat chapter includes recipes for scones, muffins, coffee cakes, among other things including a homemade Pop-Tart recipe and some delicious sounding granola both of which I hope to try. I have made the French Lemon-Poppy Pound Cake from this chapter and if you love lemon recipes this one's a winner.Most of the photographs in this book are full page and gorgeous. Most of the recipes are sweet, but there are a few savory ones such as most of the ones in the bread chapter, a Cheddar-Scallion Scone in the breakfast treat chapter, and a Country Ham, Cheddar, and Tomato Quiche in the pies + tarts chapter. If you love cookies there are some standard ones brought up a notch as well as some you might not find other places such as Brown Butter-Crispy Rice Treats, Homemade Oreos, Homemade Fig Newtons, Black Sesame Lace Cookies, and Lemon Lust Bars. If you have fur-babies, and make some homemade treats for them there is also a recipe for Homemade Dog Biscuits in the cookie chapter. I need to make my litte furbaby, Ruby some of those.In the Other Sweets section there are some puddings, ice creams, sorbets, Mixed Nut Brittle, and several other goodies. How does Coffee Ice Cream with Cocoa Nib Brittle, or Honey-Cinnamon Ice Cream or, Lemon Sherbet and Prosecco Sorbet with Strawberries or even, Bittersweet Chocolate Sorbet sound? There are a couple of bread puddings - Berry Bread Pudding and Chocolate Banana Bread Pudding.The recipes in this book have been served or are still being served in the bakery and cafe by the same name, so if you enjoy baking and want some tried and true outstanding recipes then this is the book for you. Chang was on Throwdown with Bobby Flay and her sticky buns won over his.

I received this cookbook as a birthday present. (Thanks MaryAnn!!!!)I had only heard of this chef because she was on Throwdown with Bobby Flay. Her winning sticky sticky buns will definitely be on my list of things to try.The author is local and two of the recipes were featured in The Boston Globe this fall. (http://tinyurl.com/2a4dc79)I made the chocolate cupcakes with crispy magic frosting. They were just OK. The cupcakes were WAY overbaked at the recommended 30 minutes. The swiss meringue frosting was light, creamy and very fun to make but I didn't find it to be crispy nor magic. My mother made the roasted pear cranberry crostata with frangipane for a football Sunday dinner. Oh my word. This was absolutely amazing. A definite 5 star "keeper". Totally my kind of dessert.My co-workers will be psyched as I try all these recipes in the book. I'm especially excited to try all of the scones, rosemary shortbread, "new" tiramisu, chunky lola cookies, almond macaroons, boozy rum cake...That should keep me busy for a while!! Updated to add: the cheddar scallion scones were terrific - just as good as at Flour. The other recipes I've tried haven't had good luck with. I'll try the cookies next and hope for better results.

Received this as an early holiday gift, and while I haven't made anything from it yet, I can hardly wait. The recipes all sound wonderful, and lots of modern twists on old classics. The recipes themselves read like Jill Homemaker wrote them, not some fancy-smancy baker. Starting with breakfast goodies, I'm looking forward to: mom's granola, new old fashioned coffeecake, lemon-ginger scones (my favorite thing to buy!), banana bread (can it be better than my current recipe?), brioche au chocolate, sticky buns, and yes, homemade Pop-Tarts (which is why I think Scott purchased the book for me in the first place). As if that wasn't enough, the second chapter contains all the cookie recipes I'm going to try this holiday season. All the basic cake flavors are covered, and while I'm certain I'll try them eventually too, my bookshelf is pretty full of cake/cupcake books already. The pies and tarts chapter is inspiring. I am not a pie maker of any sort, but I want to try her southern pecan pie, and pumpkin pie this holiday season. But I really, really want to try her toasted coconut cream pie with lime whipped cream. The final two chapters round out the bakery's menu, covering other desserts like puddings, ice creams and sorbets, and other misc. items, and breads. All in all, a nice cookbook and sure to be a go-to baking book for me.

The pictures are stunning, and the recipes sound delicious. I would love to try many of these treats if I were ever to visit Boston. However, I found the book to be rather impractical. The print is small and the recipes are long. I would not feel comfortable recommending this book to the home baker (unless they had plenty of counter space and free time.) I won't shy away from a complicated recipe, but many of the recipes in this book seemed to go overboard. One example would be a lemon raspberry cake- sounds yummy, right? Well, the recipe for this cake is three 8x11 pages long. Each page contains two columns of text. And I think the font is about 8 point. It would be nearly impossible for me to copy this recipe (or many of the recipes in the book) down into my own recipe collection notebooks, and I think that it would annoy me to have to read that much while I was trying to cook. I love cooking, and I love reading. I'm not afraid of impressive recipes. That being said, I will not be purchasing this book to add to my collection, and I couldn't see buying it as a gift for anyone other than an aspiring professional baker.

This is a beautiful cookbook with recipes that are sure to delight! Take note that this is not for beginners. You need time, patience, and all the right ingredients and kitchen tools to make the desserts come to light. The first recipe I tackled was for Lemon Lust Bars. 16 lemons later I had perfectly tart, painterly yellow goodness. Includes beautiful illustrations and fun little paragraphs that introduce each recipe. The cookbook opens with helpful sections titled "Techniques", "Equipment", "Ingredients" and "Joanne's Top 12 Baking Tips." I just realized that I assumed you, the reader of this review, knew who Joanne Chang was! Well, she owns bakery/cafes in Boston. I randomly went with a friend about a year ago during a professional conference and loved the food! A few weeks ago, I was in the Martha Stewart audience on the day Chang was featured on the show. She made a recipe from this cookbook, and each audience member left with one. Chang runs marathons and knows what she is doing in the kitchen. This cookbook would make a great gift for the baker in your life.

I've yet to go to Flour in person, but I've had their sticky buns and chocolate chip cookies a day old and they're still great. The homemade versions of her chocolate chip cookies are spectacular, and they are my favorite chocolate chip cookies ever. Her milk chocolate hazelnut cookies are equally scrumptious (though a bit more work, what with having to skin and then toast the nuts). The sticky buns were definitely time-intensive (I did them over 2 days), but so delicious- so long as you have the patient to wait for them to cool so the topping doesn't burn your tongue!I've only made three of the recipes, but I definitely plan on making more. While I am certain everything will be delicious, know that most (if not all) of the recipes take a good amount of time.

Flour Spectacular recipes from Boston's Flour Bakery and Cafe Joanne ChangThis book sounded like something I wanted to try. The tips are the beginning are priceless and exactly what I needed to hear about as I am contemplating making my own pumpkin pies for the holidays this year.Problem is I have to keep the crust low sodium and low fat but just hearing the tips of blind baking and tempering a mixture are so most helpful. Creaming and putting eggs in, never knew there was a chemical reaction taking place before you mix them together.Lots of different topics to keep you busy in the kitchen for months.I received this book from National Library Service for my BARD (Braille Audio Reading Device).

I purchased this baking book on my Kindle. That way I would be able to take it with me on my iPad wherever I go. I love this book. The peanut butter cookies are what my son in college asks for whenever he is at home (or at school hoping for a care package). They are wonderful. My neighbor who is retired Navy says they taste just like the ones served on the ship. High praise. I prefer baking books that list the ingredients by weight. This way I am sure to prepare the recipe exactly as intended. Every recipe I have prepared from this book has been great. I have made double-chocolate cookies, Chunky Lola cookies, and the peanut butter cookies. Next, I will try the breads and cakes.

Great cookbook. Good photographs and what I loved most were the explanations of how to measure flour or test your oven. Now I know why my cookies have failed and a recipe turned out one time and not another. Measuring flour by cups can vary the amount by up to 30 grams! Ms. Chang understands baking and loves it, as you'll see in her writing. The recipes are tempting and sound delicious, though I don't think most of them are something I would make for my family. I'm not a fancy baker or foodie. I'm just an ordinary Better Homes and Gardens variety cook. But I think this cookbook is worth the read just for the education, enjoyment of Ms. Chang's enthusiasm for baking, and beautiful photos. Too many of the recipes are on more than one page so they're hard to copy or read.

I just got this cookbook a couple days ago and have tried two different recipes. Both came out fantastic, I made the New Old Fashioned Coffee Cake and the Chocolate Cupcakes with Crispy Magic Frosting. My only issue which was why I gave it 4 rather than 5 stars is that the time was way off on both recipes. The cake needed less than an hour, but the recipe calls for an hour and 10 minutes. The cupcake recipe specifies 30 minutes, and sounded too long for cupcakes so I left them in for 22. But really could have taken them out at 20. So while the recipes were very good, I think you need a knowledge of baking to guess the times because they're just way off.

Well, if I can't make it to this bakery in person, I guess having this clafoutis recipe available for me to make for my own brunch in Almaty is the next best thing. I really like her descriptions about the recipes. The apple cake recipe was honest about how the batter would look and other tips that I find really helpful. I also love the cup measurements and the weight in grams too. It is super helpful to have both in a place where I purchase things by the kilo and in metric measurements. I even use some of her benchmarks to work with some of my other recipes when I don't have butter by the tablespoon, etc.I also love that she uses gobs of fruit in many items!

I judge a book on baking not only for the recipes but also for sheer practicality. In other words, are there recipes that can be made with ingredients that I have in the house, that aren't too impossible to find if I need to do some shopping, are a bit of a challenge and are worth making again. In these regards, this book is really a winner. I've made the croissants, the pains aux raisins, the brioche, the hazelnut cookies but the real winner in the book is the tiramisu which everyone loves. Really nothing in this book is terribly difficult.

Flour Bakery is my favorite bakery anywhere, and I pounced on this book as soon as it came out. In addition to including recipes for several of my favorite treats, the book is very clearly written and with many useful tips. Of the recipes I've made, the Chunky Lolas, Bittersweet Chocolate Chip Cookies, Apple Snacking Spice Cake, Heart Healthy Dried Fruit Scones, and Lemon Ginger Scones were tip-top favorites, but several recipes have not been made yet for logistical reasons - not that I'm not looking forward to trying them soon!

Flipped through the whole book and tried out by first recipe, the homemade oreoes. The oreoes came out very well, if almost too large and extravagant (even for me!). I have read that her baking times are off and I would agree that it's worth it to check early and often- don't rely on Chang's guestimates.Many of the recipes here are fussy at first glance, which makes me yearn for the upcoming smittenkitchen book. Until then, however, many of these 'cute' takes on traditional snacks and cakes will be worth a shot.

okay, let me just say this: FLOUR IS THE GREATEST BAKERY/CAFE EVER. for all of you Boston residents who haven't experienced it yet: shame on you. I recommend Sportello as well. yum yum. I'm so excited about this cookbook- the sticky buns sound amazing, even though my braces might be at risk...whatever.My stepdad Aaron, works literally RIGHT across the street from the one in the back bay, and he goes there...a lot. so tthis was his Easter present from moi. he's in food rapture right now...

I am completely biased as I think Joanne Chang makes the best treats in Boston – this is one of my favorite cookbooks of all time. The recipes are simple (mostly) and clear (always), the commentary is friendly, and the results are delicious! You would not think there are many innovations left in banana bread, but try this version and you will realize you've never really had it before. Plus Joanne has an applied mathematics degree from Harvard, so you know the recipes are all triple-tested for accuracy.

Okay, this lady LOVES what she does! She not only adds helpful hints that make your creations better (ALWAYS use unsalted butter--it's fresher!), but also includes a list of the equipment she suggests. She also defines baking techniques and how to do them. I didn't know that the chemical reaction between sugar & eggs cooks the eggs! To reduce this, whisk the eggs slightly before mixing into sugar. I really enjoyed how she explained when & why she developed her recipes. My fave recipes: Rosemary Shortbread, Lemon Lust Bars, & Classic Carrot Cake!